Is there a free version of RemotePC?
Hi. I have two Windows 10 computers. I want to establish a remote connection between them. I'm looking for remote support software. I download RemotePC, but I don't find its free plan. Is there a free version of RemotePC? Or any free RemotePC alternatives? Thanks in advance."
- Question from a user
We are sorry to tell you there is no free version of RemotePC. RemotePC only has a 7-day free trial, and after then, you need to pay. However, there are lots of free remote access software on the market. This post will show you some reliable remote desktop tools for Windows. Please keep reading.
Select your best free RemotePC alternatives for Windows [3 options]
Here are three free high-performance remote desktop worth trying: AnyViewer, Quick Assist, and Chrome Remote Desktop. You can select one that fits your demands most.
Option 1. AnyViewer [professional third-party tool]
AnyViewer is an all-in-one remote desktop solution that lets you securely connect to another device from anywhere. It supports unattended remote access, file transfer, multiple-monitor navigation, multiple sessions, instant chat, etc. With intuitive interface and easy setups, it offers fast and simple access for users.
Download AnyViewer on your devices:
Here is how to set up AnyViewer:
Step 1. Start AnyViewer on the host computer, click Sign up to create a new account, and log in.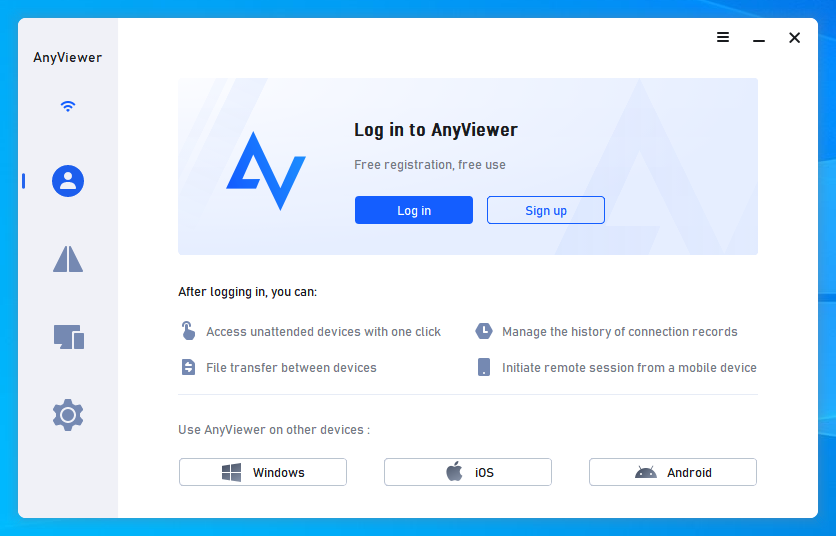 Step 2. Start AnyViewer on the client computer, and log in to the same account you just registered.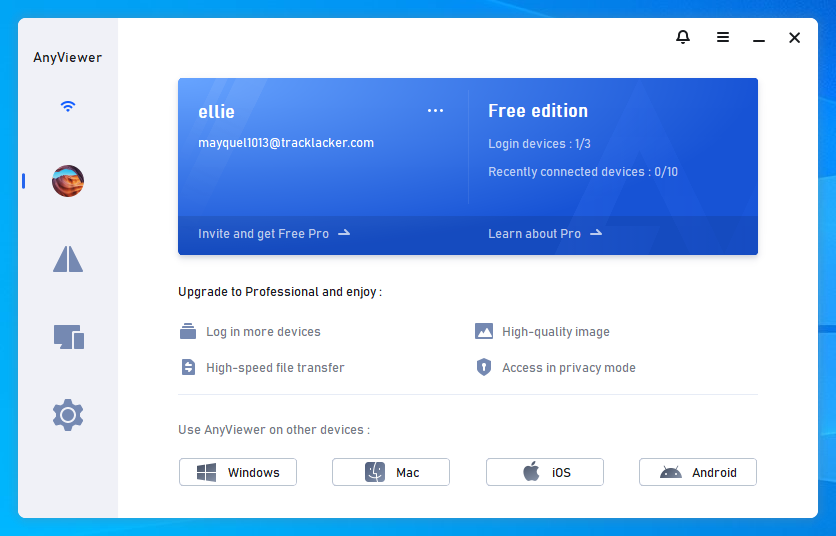 Step 3. Go to the Device section, select the computer you want to connect to and click One-click control.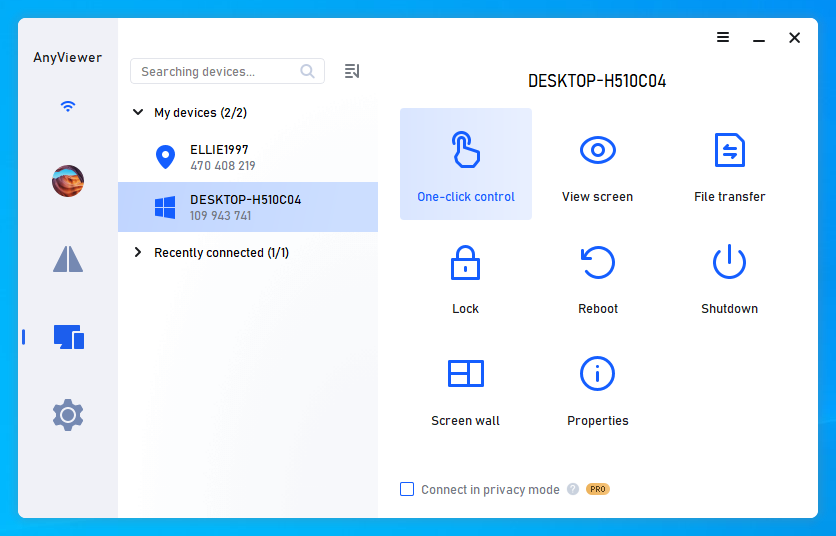 Notes:✎... If you plan to use AnyViewer for businesses. We recommend you upgrade to the cost-effective Professional or Enterprise plan to enjoy more advanced rights:

Assign up to 100 devices for unattended access.
Establish more concurrent sessions.
Access in privacy mode to well-enough protect data and privacy.
Start a connection with high-image quality.
Option 2. Quick Assist [Windows built-in tool]
Quick Assist is a Windows built-in remote desktop app for Windows 10, 11. You can easily start Quick Assist from your computer without performing extra downloading. However, it only supports remote control and screen sharing. Features like file transfer is not available on Quick Assist.
Here is how you can start Quick Assist remote control:
Step 1. Search for Quick Assist from the start menu on both computers and Open it.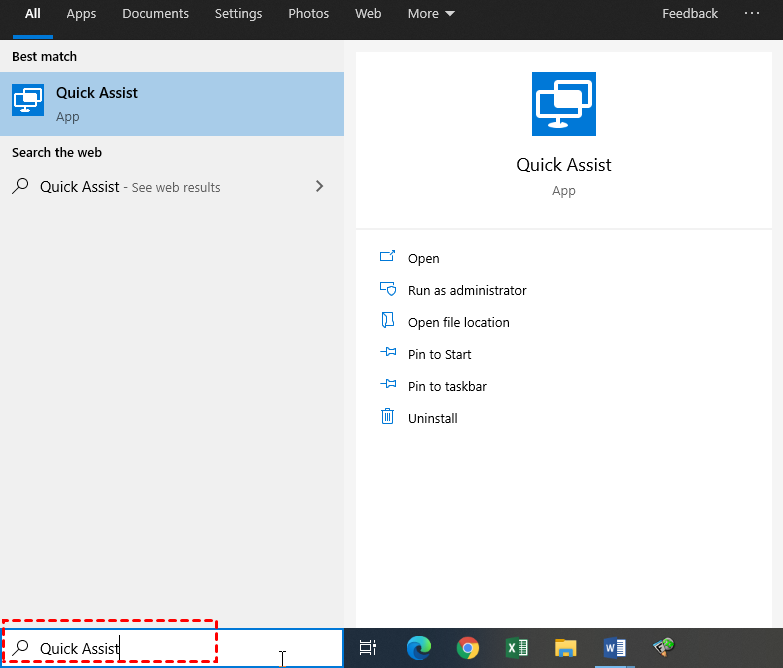 Step 2. On the client device, click Assist another person.
Step 3. Sign in to your email, phone, or Skype, and click Next.
Step 4. Then you will get a security code. Please send it to your partner.
Step 5. On the host computer that receives assistance, launch Quick Assist, enter the security code, and click Share screen.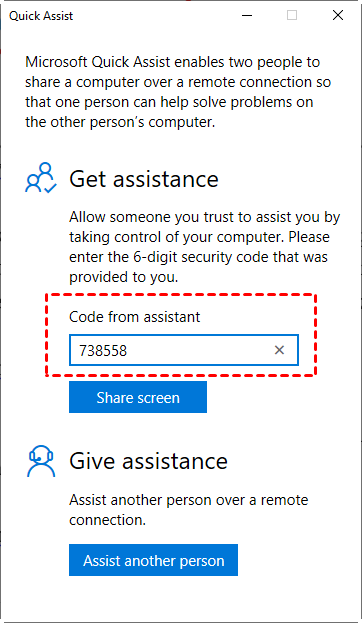 Step 6. Tick Take full control and click Continue.
Step 7. The host computer will receive a request. Make sure that the client is trusted and click Allow.

Option 3. Chrome Remote Desktop [Google web-based tool]
Chrome Remote Desktop is a Google extension that allows Google users to perform remote access via its Chrome browser. If you have an available Google account and Chrome installed, then the Chrome Remote Desktop is a great tool for personal use since it has many limited features, such as no direct file transfer option, instant chat, multiple sessions etc.
You can use Chrome Remote Desktop with the following steps:
Step 1. On your computers, open Google Chrome and log in to the same Google account.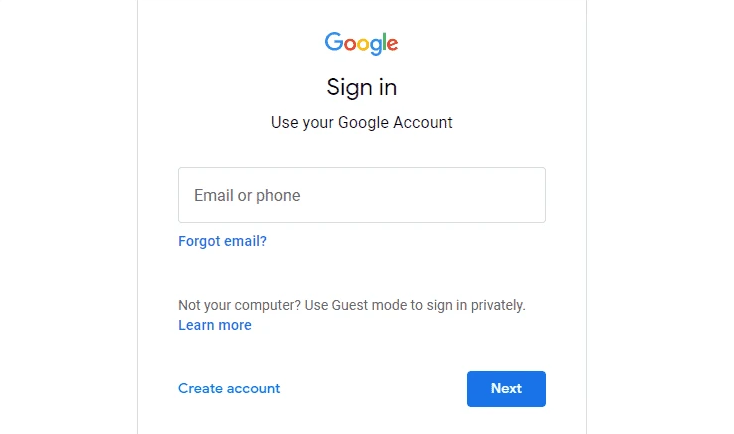 Step 2. Find Chrome Remote Desktop from Google extensions and click Add to Chrome.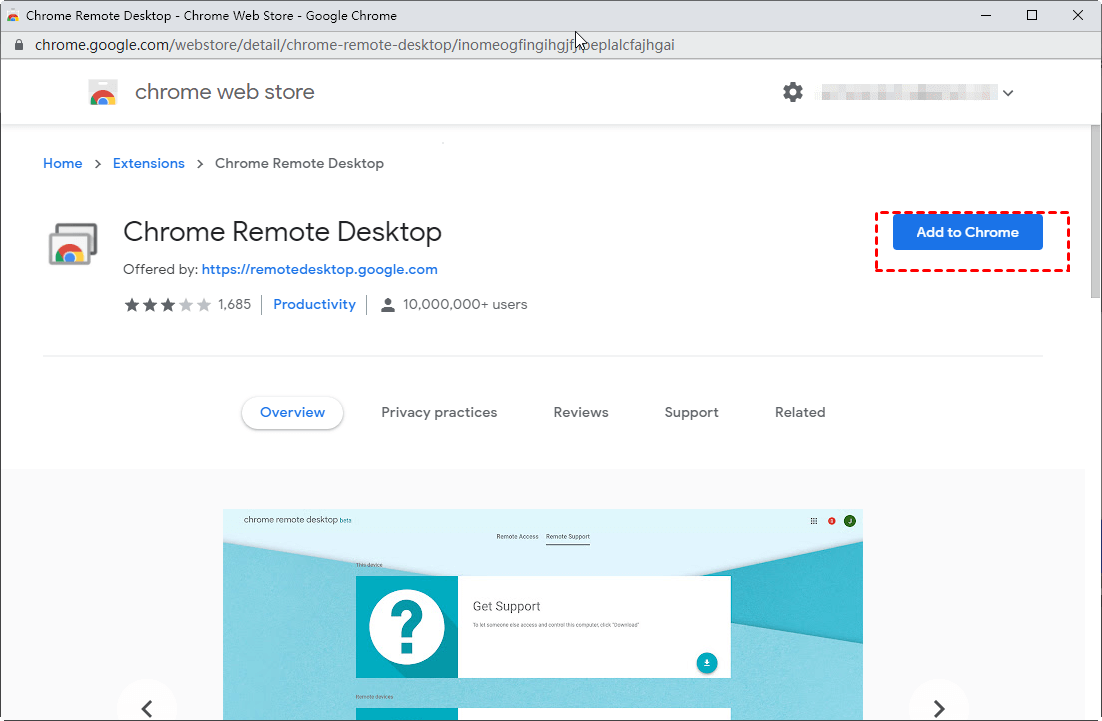 Step 3. Go to the Remote Access tab and click the download button when it is added.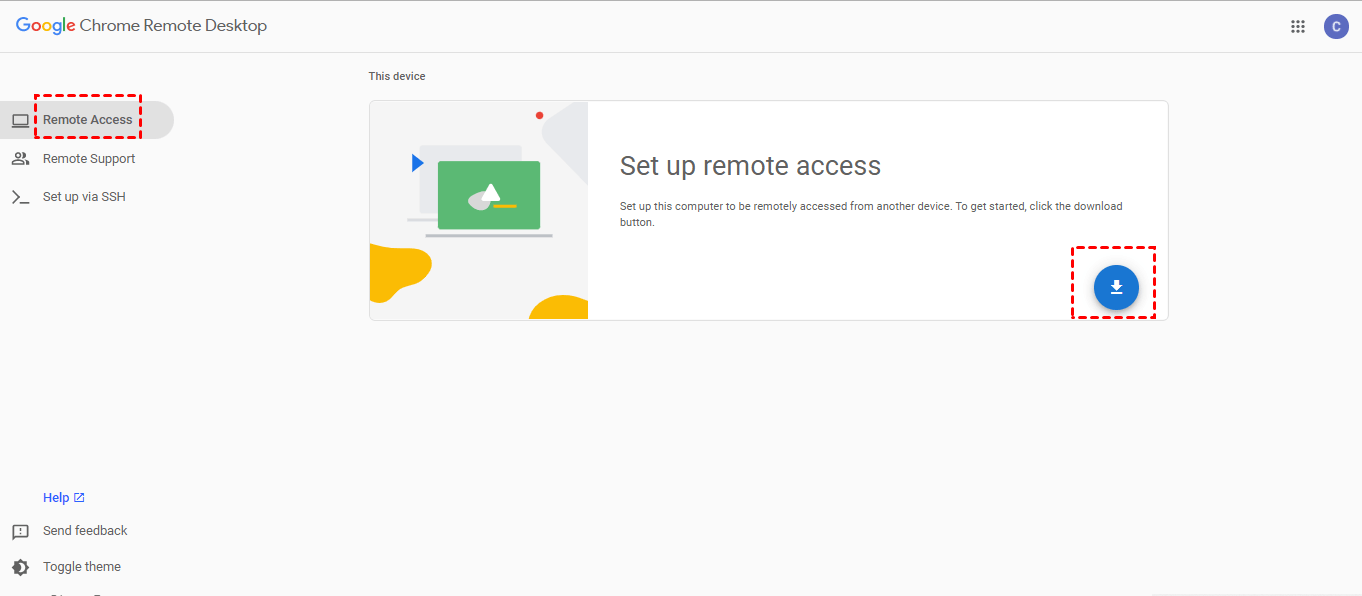 Step 4. Click Accept & Install.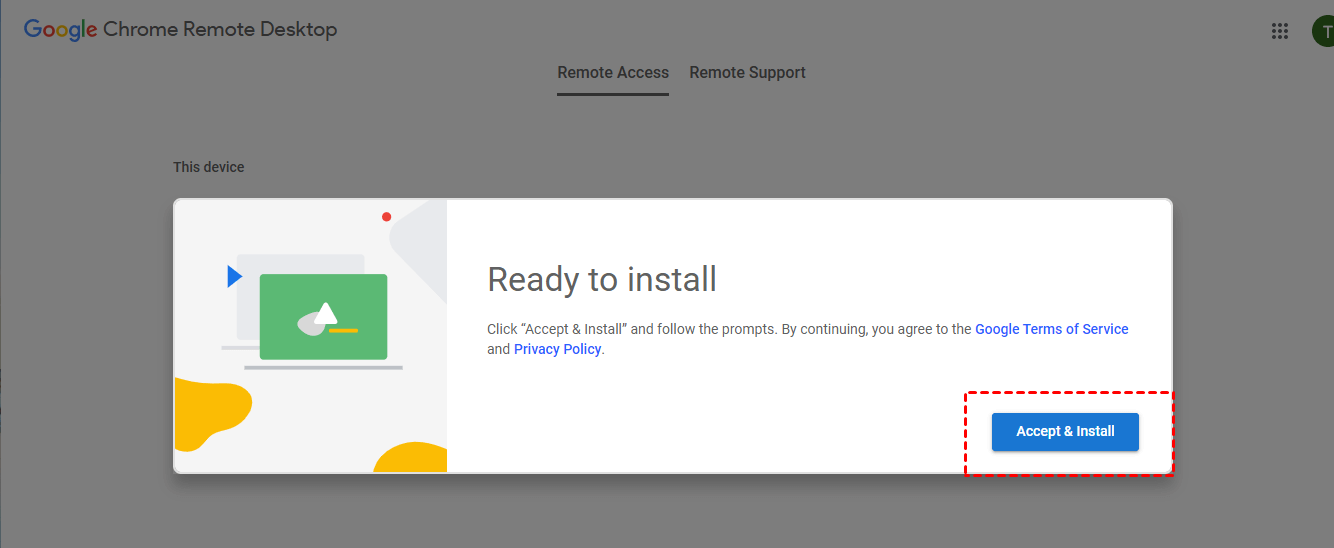 Step 5. Enter a name for your computer and click Next.

Step 6. Enter and re-enter a PIN code, and click Start.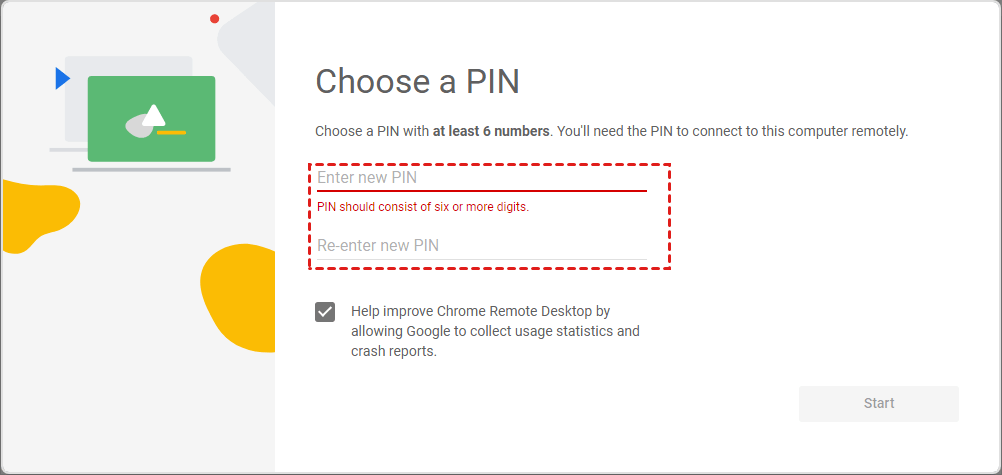 Step 7. You can see a list of available devices. On the client device, click the computer you want to connect to.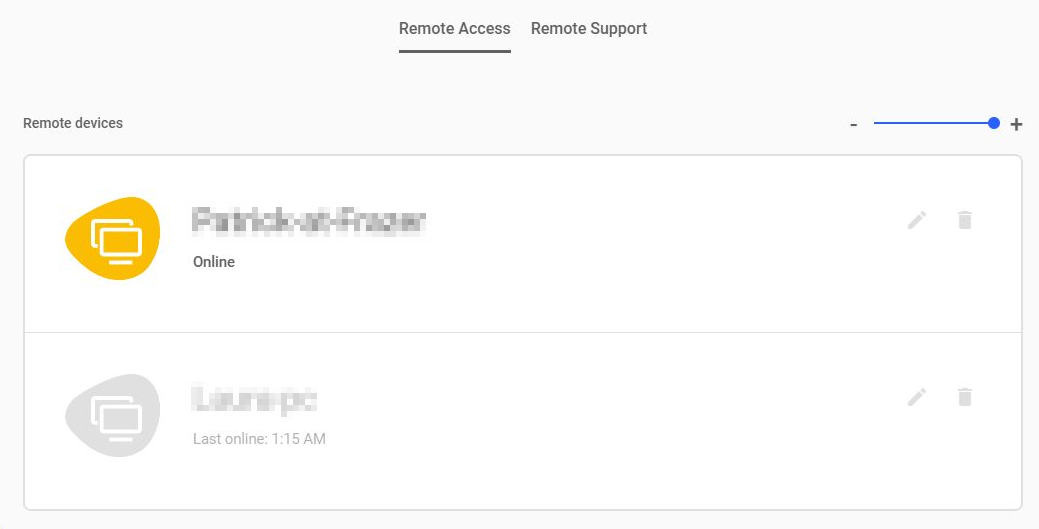 Step 8. Enter the PIN code, and click the blue arrow to start the remote control.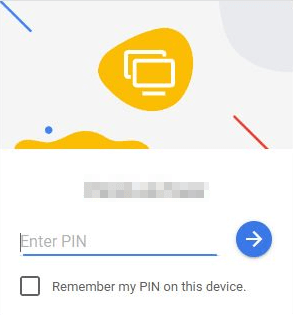 Conclusion
That's all for RemotePC alternatives. Have you decided which software to use? Try Quick Assist or Chrome Remote Desktop to avoid third-party download. If you are looking for an easy setup, stable connection, and comprehensive features, AnyViewer is the best option.