Why Remote Desktop Authentication Error occurs
An authentication error often occurs when you want to make a connection to another device, showing up with "An authentication error has occurred. The Local Security Authority cannot be contacted" pop-up window. This authentication error occurs because the authentication data you provided doesn't correspond to the ones you entered when you created a secure account in that controlled device. It often occurs after a windows update.
4 Methods to fix Remote Desktop Authentication Error
After briefly knowing the reasons that generate this authentication error, how can we solve this problem? Here are 4 workable methods to fix this authentication error and you can try to follow those steps to make a successful connection.
Method 1: Enable remote connection to your computer
If you want to connect successfully, you have to adjust some settings in System Properties with the below procedures.
Step 1. Press Windows key and R to open the run box, and then type "sysdm.cpl" and press ENTER to open the System Properties window.
Step 2. Go to Remote tab first and make sure "Allow connections only form computers running Remote Desktop with Network Level Authentication (recommended)" option is unchecked.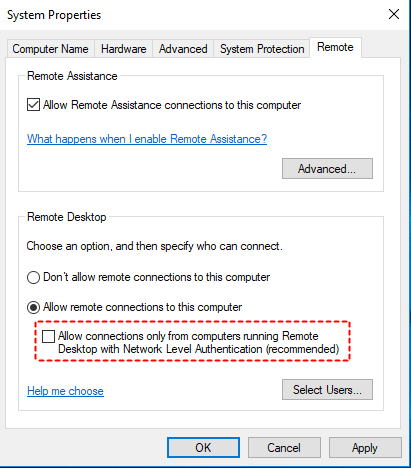 Step 3. Click Apply and try to connect again.
Method 2: Enable Encryption Orade Remediation via Group Policy Editor
To fix this authentication error, you need to enable Encryption Orade Remediation policy through the Group Policy Editor. Here are some specific steps.
Step 1. Press Windows key and R to open run box and type "gpedit.msc", then press ENTER to open the Group Policy Editor window.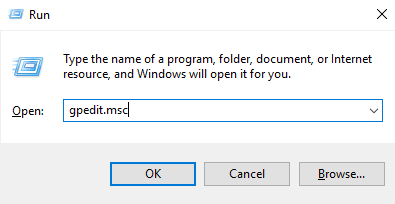 Step 2. Go to Computer Configuration > Administrative Templates > System > Credentials Delegation on the left of the Group Policy Editor window.
step 3. Click Encryption Oracle Remediation on the right side of the window to open Encryption Oracle Remediation window.
step 4. Check Enabled and select Vulnerable from Protection Level, and then click Apply.
Method 3: Change the Register Setting
You can also try to edit the value of AllowEncryptionOracle to fix this problem. Please follow the below steps to edit.
Step 1. Press Windows key and R to open the run box, and type "regedit" to open the Registry Editor
Step 2. Go to Computer\HKEY_LOCAL_MACHINE\SOFTWARE\Microsoft\Windows\CurrentVersion\Policies\System\CredSSP\Parameters.
Step 3. Double-click the "AllowEncryptionOracle" in the right of the window and set the value to 2. When you want to disable it, you can change the value to 0.
Method 4: Remove alternative updates.
As this problem usually occurs after a windows update, you can remove alternative updates to solve the problem.
Step 1. Open the run box by pressing the Windows key and R, then enter "appwiz.cpl" to open Programs and Features window.
Step 2. Click View installed updates on the left side of the window to open Installed Updates window.
Step 3. Search KB4103727 or KB4103718 update and double-click it to uninstall.
Get a free Remote Desktop alternative right now
If the above methods can't help you solve your problem or you feel tired of those tedious steps, you can choose another free remote access software. AnyViewer is a reliable and easy-to-use remote desktop software for multiple operating systems. The sample system operation and clean interface of AnyViewer get many users' praise. Follow the below steps, you can use this software with ease.
Attention:Make sure both the Internet of controller and recipient is available.
Step 1. Download, install and run AnyViewer both on the controller's PC and recipient's PC.
Step 2. Go to Setting > Recipient, the recipient can set a "my security code" to make the connection more easily.
Step 3. The controller can enter the recipient's device ID and then click "Connect". The controller can choose different methods to connect in the Request Control window.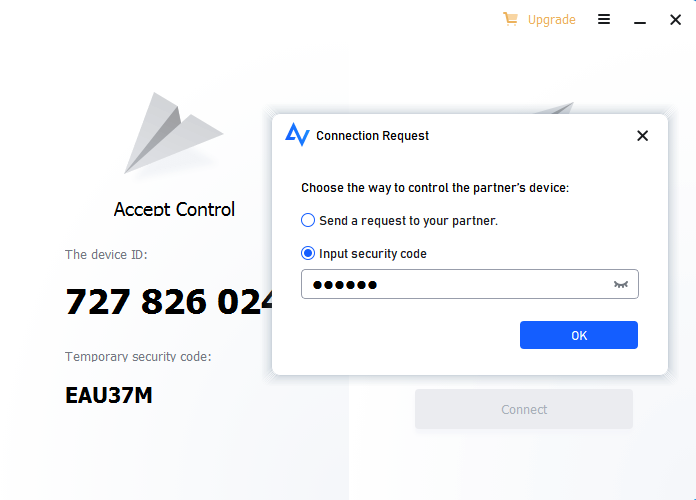 Step 4. If the controller chooses "Send a control request to your partner" option, the recipient will receive a pop-up request to control his device. If the recipient allows the request, then the connection will be successfully established. If he denies it, the connection will be canceled.
Step 5. If the controller chooses "Input security code" option, he needs to type the recipient's temporary security code which randomly changes once restart AnyViewer or "my security code" which set by the recipient to control the recipient's device straightly.