Need to remotely access a PC without admin rights
I need to remotely control the PC of my friend in a different state. Originally, it was not complicated. But what makes it troublesome is that I don't have admin rights. Can anybody give me some advice? Thanks in advance."
- Question from Spiceworks
How to get remote control to a PC without admin rights
Admin rights are permissions granted by administrators to users, allowing users to create, delete and modify items and settings. For these reasons, can we get remote control without Admin rights? Here in this part, 2 ways to get remote desktop access without admin rights will be listed. Keep reading!
AnyViewer: Easily remotely access a PC without any limitations
To remote control a PC without admin rights, here we strongly recommend free & professional software for remote access-- AnyViewer. With AnyViewer, you can get remote control to a PC whether you have admin rights or not. Apart from that, the remote connection won't be limited to the same LAN if 2 PCs are not in the same location. And you could also enjoy the following advantages:
Get a one-click connection if you log into the same AnyViewer account on 2 PCs. Then you can realize a one-click connection for the attended or unattended access.
High compatibility. It is workable for multiple Windows versions, like Windows 11, 10, 8, 7, and Windows Server. More importantly, Windows 10 Home Edition and Windows 7 Home Premium.
iOS/Android-supported. AnyViewer not only allows you to control a PC from another PC remotely but also remotely access a PC from an iPad, iPhone or Android device.
File Transfer. You're able to get file transfer with AnyViewer whether in the remote session or not.
What are you waiting for? Get one and follow me to learn the operations of remote desktop access without admin rights.
Step 1. Install AnyViewer on both 2 PCs and then open it. Go to the "Log in" tab, click on "Sign up" and fill in the information to sign up.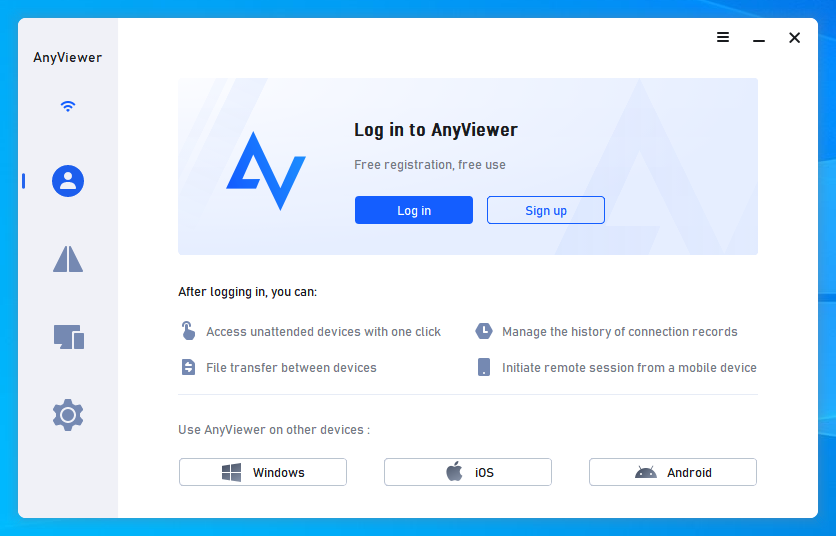 Step 2. Now you can see your interface in the following picture. And your device will automatically be assigned to the account you've logged in to. All assigned devices will be listed in the "My devices" list.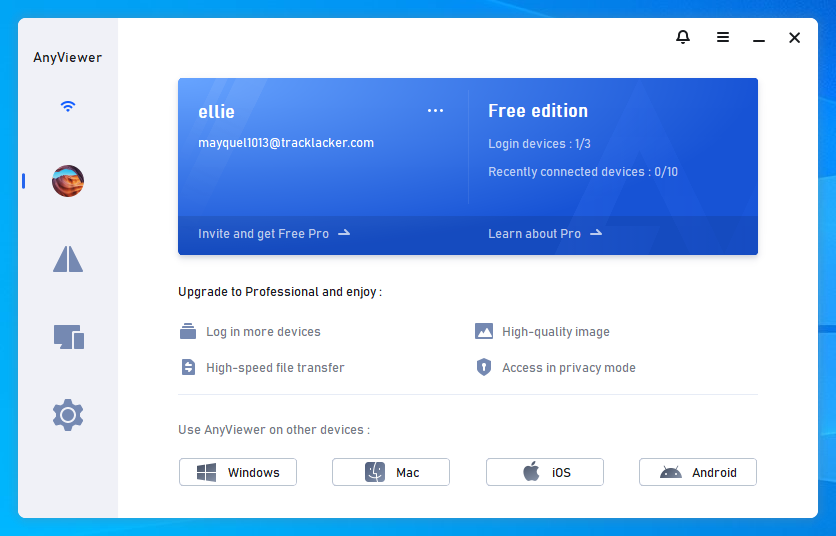 Step 3. On your local device, click the PC that you need to control and click "One-click control" to achieve unattended access with one click.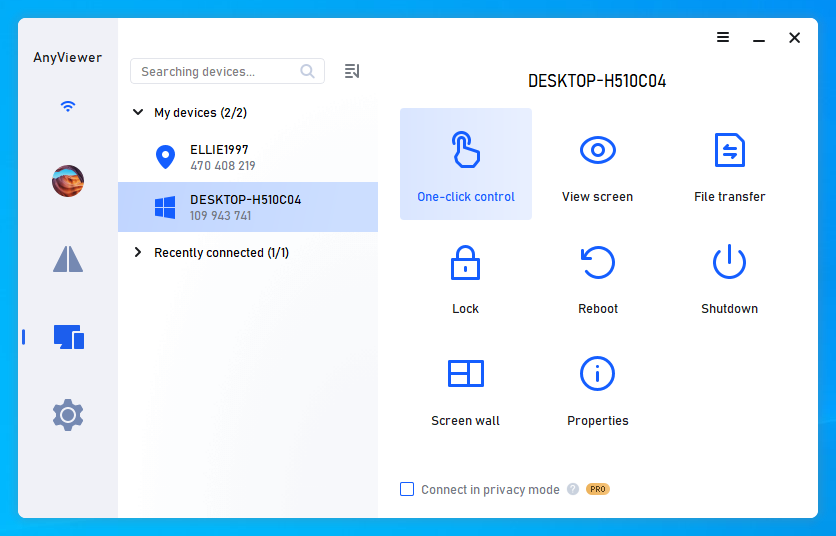 The connection is established successfully. And you can get remote access without admin rights. If you want to transfer files, you can click on File on the above line and then choose the files you want to transfer.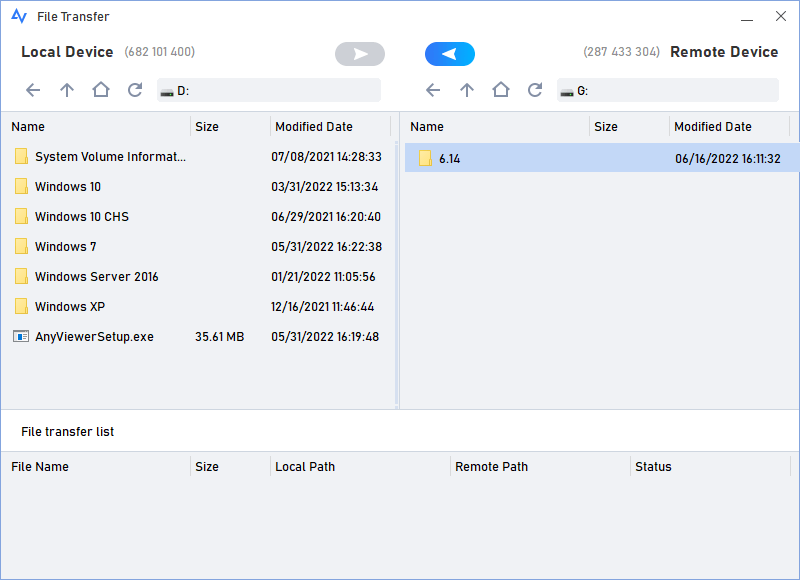 Isn't it ultra-easy and efficient? We're sure that you could get a better remote control experience than RDP. And if you want to enjoy more privileges, you can upgrade to an advanced plan with which you can enjoy:
✔ Assign more devices. With a Free edition, you're able to assign 3 devices for one-click access and remote power management and manage 10 PCs. With a Professional edition, 10 assigned devices, and 100 managed devices.
✔ Control more computers at the same time: With a Free edition, you can control 2 computers simultaneously; with a Professionial edition, you can control 5 computers simultaneously.
✔ Transfer large files. With a Free plan, you can transfer an individual file not larger than 100MB. Wiht Profesisoanl plan, 1TB.
✔ Enjoy Privacy Mode. Privacy Mode, the remote screen you control will be blackened, which means privacy is protected and is only available on Professional and Enterprise plan.
Get remote control without admin rights with RDP [on the same LAN]
Some users may ask, can I get remote control to a PC without admin rights by using RDP? The answer to this question is Yes. But before the operations, we need to perform some settings. Now follow me to operate.
Part 1: Perform the settings
Step 1. On the remote PC, press "Win + R" to invoke the dialog box and then type "gpedit.msc" and hit "OK" to open Group Policy Editor.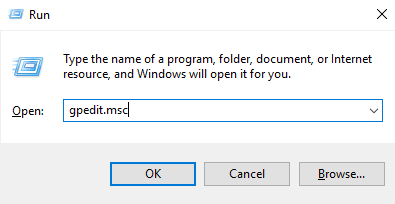 Step 2. Navigate to Computer Configuration > Windows Settings > Security Settings > Local Policies > User Rights Assignment.
Step 3. Double-click on "Allow log on through Remote Desktop Services" to open "Properties". Select "Add User or Group..."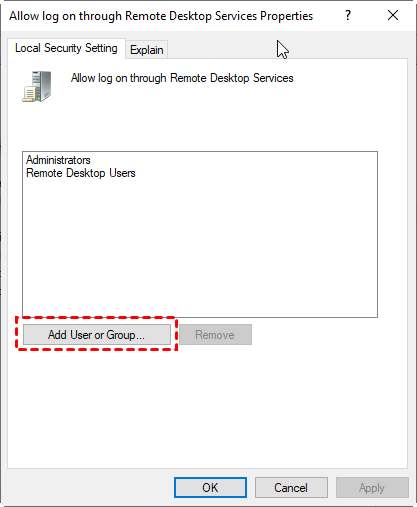 Step 4. Enter "remote" in the blank clicking on "Check Names".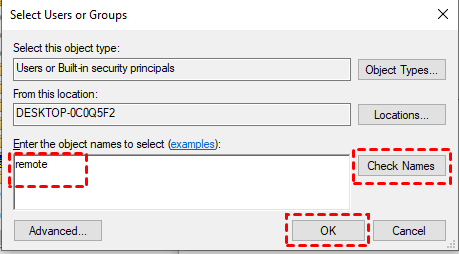 Step 5. Now you can get the name. Click on "OK".
Part 2: Get remote connection with RDP
Step 1. On the host PC, click the "Start" button and go to "Settings" > "System" > "Remote Desktop" to enable Remote Desktop. Here you can see the PC name of this computer. Keep it in mind, as you need to use it for accessing this computer.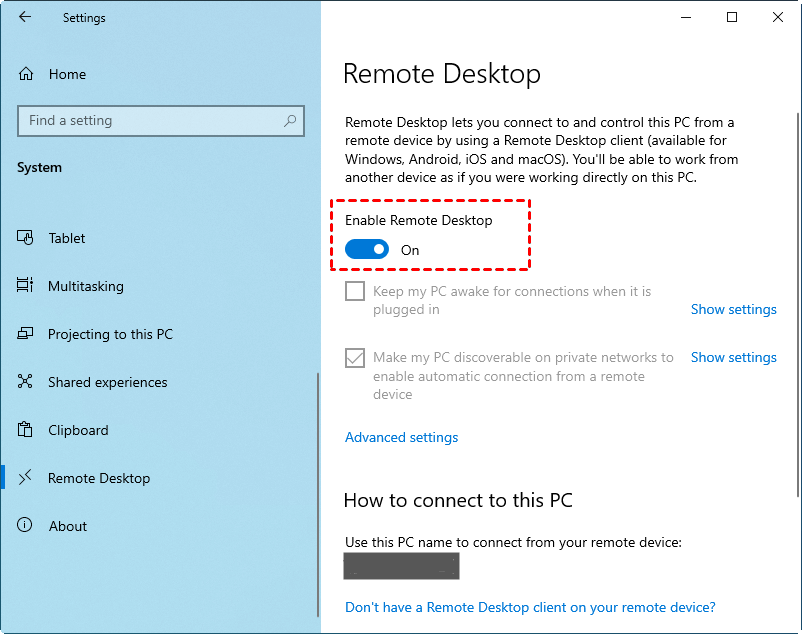 Step 2. Drag the slider to enable Remote Desktop. Then, click "Confirm".

Step 3. In that you use to control another PC, input "remote desktop connection", and double click "Remote Desktop Connection" to open it.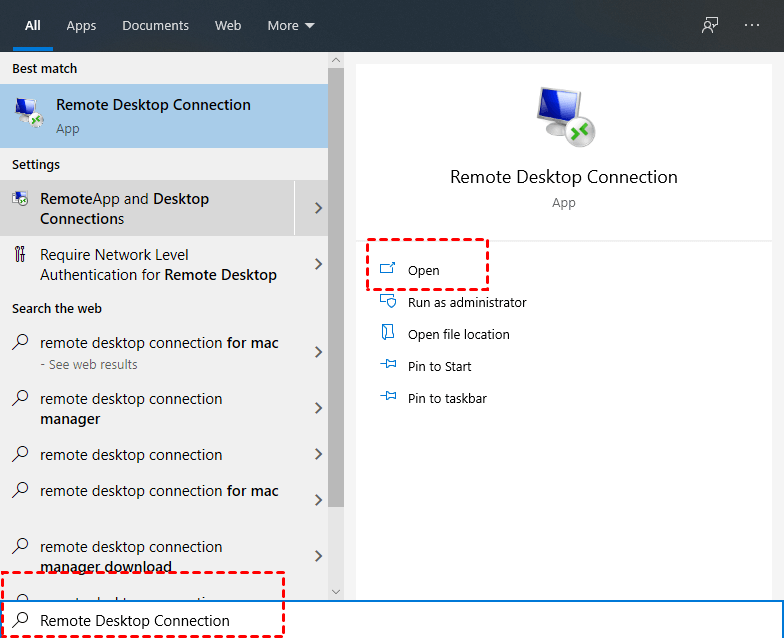 Step 4. Now, you'll be in Remote Desktop Connection. Type the PC name or the IP address of the remote PC and click "Connect".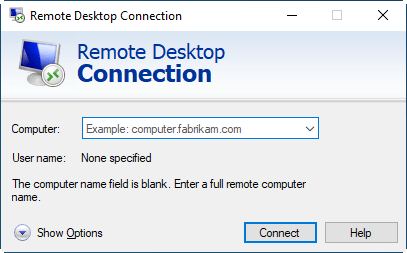 Step 5. Then, you'll be asked to input the host PC's pass, useruser name, and password to connect to it. After that, the connection can be established successfully.
Conclusion
Can we use RDP for remote control PC without admin rights? It seems not possible for now. However, here is the best solution-- AnyViewer for Whetherther you have admin rights or not, AnyViewer can give a fantastic experience with the remote control. Let's give it a shot!