Remote access technologies protocols and options explanation
Remote access makes our lives easier. With remote access, organizations and their departments can work together and do all of their work remotely. Through PC remote control apps, IT technologies can provide online support to their clients. Organizations use remote access protocols to link their servers to endpoints for remote access to function correctly.
Let's dive into remote access technologies protocols and options.
What is remote access technology?
Remote access technology refers to any IT toolkit used to control devices and remotely access data stored on a local network from other places. It differs from adopting a cloud solution in that it gives users access to an on-site environment rather than hosting data off-site in a communal space and making it accessible online.
Remote access technology is critical for businesses of all sizes that have yet to transition to a cloud-first paradigm or require access to on-premises devices or resources. Remote Desktop Services, Remote Access Software, and Virtual Private Networks are commonly used examples of remote access technologies.
What are remote access protocols?
Here we will explain remote access protocols. Remote access protocols govern the connections between remote access servers and endpoints. These protocols enable technicians to have secure remote access to endpoints. Although technical support and help desk tasks are the primary uses of remote access, they can also be utilized to transfer files between different machines.
6 common types of remote access protocols
Understanding the various remote access protocols aids in selecting appropriate remote access solutions. The six most common remote access protocols are as follows. Keep reading to learn which protocol is used for remote access.
►Serial line Internet protocol (SLIP)
The Serial Line Internet Protocol (SLIP) is an Internet Protocol encapsulation designed to operate across serial ports and router connections. On personal computers, PPP has essentially taken the place of SLIP because it is more feature-rich, better designed, and doesn't need its IP address setup to be configured before it is established. However, because of its low overhead, SLIP is still the favored method of encapsulating IP packets on microcontrollers.
►Point-to-point protocol (PPP)
The point-to-point protocol (PPP) allows technicians to use TCP/IP. Both dial-in and dial-out servers can make use of PPP. Remember that PPP is frequently a superior option for your organization when deciding between SLIP and PPP protocols because it supports multilink connections and has more excellent authentication capabilities.
►Point-to-point tunneling protocol (PPTP)
Microsoft developed the point-to-point tunneling protocol (PPTP) based on PPP. PPTP employs PPP and TCP/IP to establish secure virtual connections across networks. PPTP uses encrypted connections, known as "tunnels," to transport network data packets to servers. When the servers receive the packets, they transfer the data packets to their destinations.
►Point-to-point protocol over ethernet (PPPoE)
PPP over ethernet (PPPoE) networks provide the same advantages as PPP over ethernet networks. PPPoE allows service providers to manage many client systems, authenticate their access to its services, and track consumer data usage. Additionally, PPPoE includes functions like data compression and encryption.
►Remote desktop protocol (RDP)
With the help of Microsoft's remote desktop protocol (RDP), technicians can safely access and manage other machines. Although RDP is mostly used for Windows, it may also be utilized for Mac OS. RDP works by establishing a network channel that transfers data between the desktop and the other computer in use. TCP/IP is used for all vital data transmission.

►Windows remote access service (RAS)
Windows remote access service (RAS) is used for small networks that do not require a dial-up router. It enables technicians to connect by dialing a server's number and dialing into the server's network. RAS enables remote clients to connect to the RAS server through a telephone line or other wide-area network (WAN) link. From there, RAS enables those clients to access resources on the network. Remote users can use network resources as if they were logged on to a directly connected machine.
The best remote access option for Windows [easy & safe]
A powerful tool is essential for gaining secure and effective remote access to your desktops. AnyViewer is the best remote desktop software to offer remote support, maintain remote work productivity, or do other remote tasks.
Highlights of AnyViewer:
♦Easy setup. It offers intuitive interfaces and allows one-click remote control without technical skills.
♦Safe. It is designed with security in mind. It uses end-to-end encryption with strong 256-Bit Elliptic Curve Cryptography (ECC) algorithm to protect your data during the session.
♦Free with rich features. It has an entirely free version without in-app payment. A free account can enjoy several features, including unattended access, file transfer, multiple sessions, built-in chat, and more.
Don't hesitate to download, install, and start AnyViewer on your devices; you won't regret that!
Step 1. To create a new account on the host computer, click Sign up. After that, login.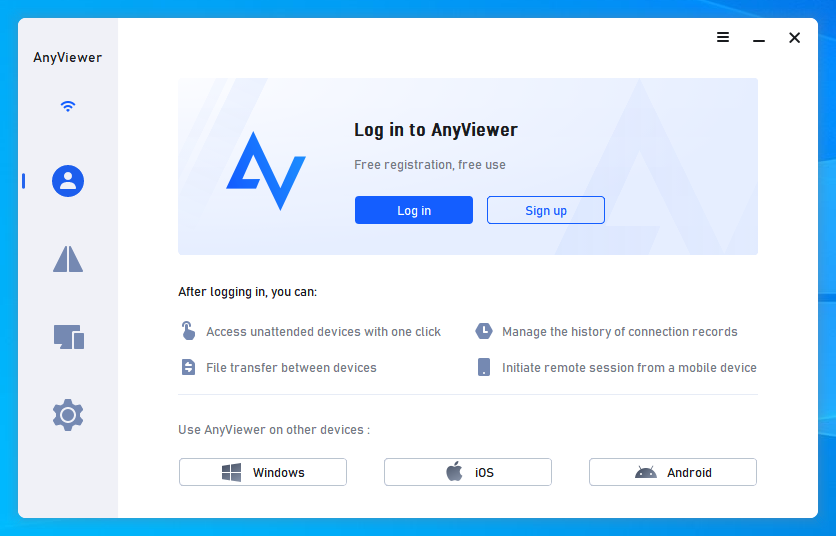 Step 2. On the client computer, sign in using the same account.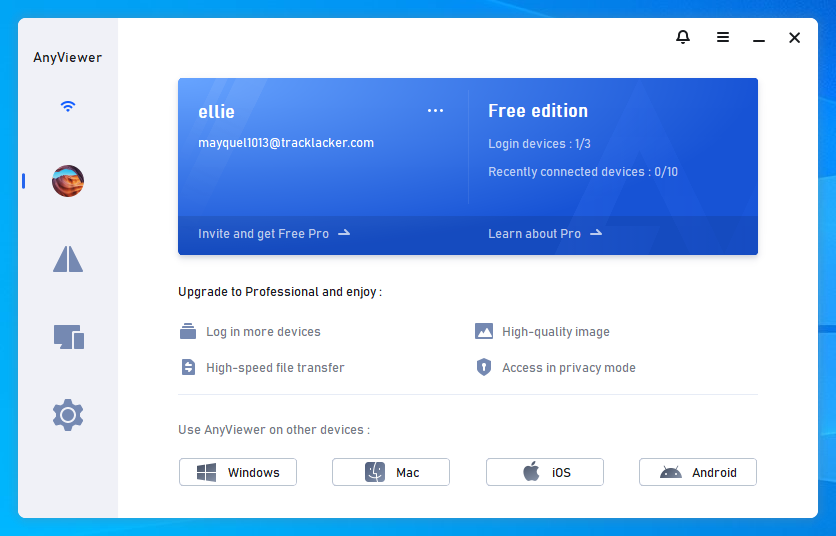 Step 3. Go to the Device interface to get a list of your assigned devices. Click the device you want to connect to, and then select One-click control.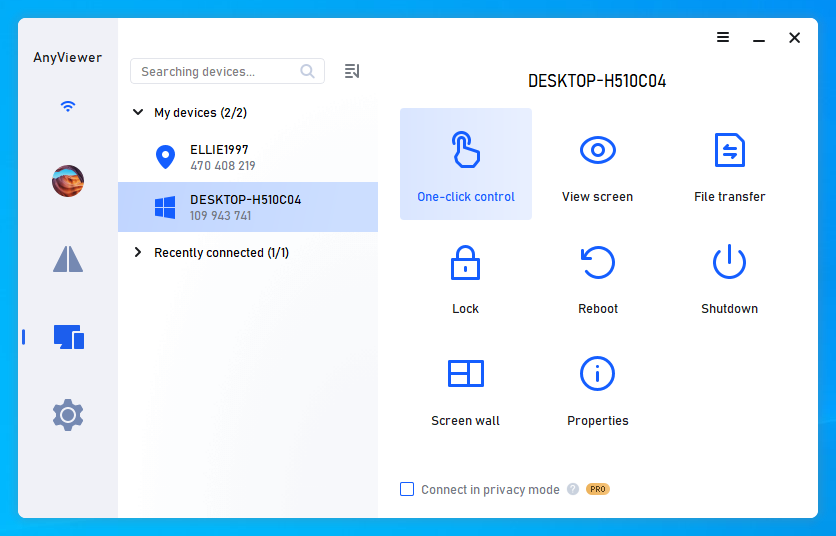 Notes:✎...We advise upgrading your account if you have over two remote PCs. With the inexpensive corporate memberships that AnyViewer offers, you may take advantage of more extensive rights.

Set up to 100 devices for one-click control.
Establish more concurrent sessions.
Create a connection in privacy mode to blacken the screen and disable the keyboard & mouse of the host PC.
Enjoy high-quality image performance.
Conclusion
After reading this post, you may better understand remote access technologies protocols and options. In addition to learning remote access technologies and protocols, selecting a powerful remote access tool is essential. If you have Windows PCs, AnyViewer is the best option to access remote computers safely without interruption.