Why is Quick Assist not working?
Quick Assist helps you control another computer to help others solve some computer problems. But have gone through this situation? When you want to use Quick Assist and open it, it is not working and stunk on loading. It is often caused by a little glitch in Quick Assist. And Quick Assist is blocked by some programs also can generate this issue.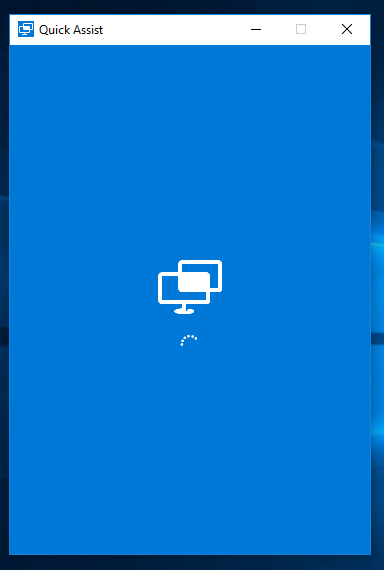 Four methods: fix Quick Assist not working.
To fix the Quick Assist not working problem, here are 4 methods to deal with it. Follow these fixes to sort out the issue on your computer.
Method 1: Uninstall and Reinstall the Quick Assist
This method is the most efficient and useful one.
Step 1.Press the Windows key and click the setting icon in the left of the window.
Step 2. Click Apps, and click "Manage optional features" in the Apps & features window.
Step 3. Click "Microsoft Quick Assist" feature and then click "Uninstall".
Step 4. After uninstalling it, click "Add a feature" at the top of the same window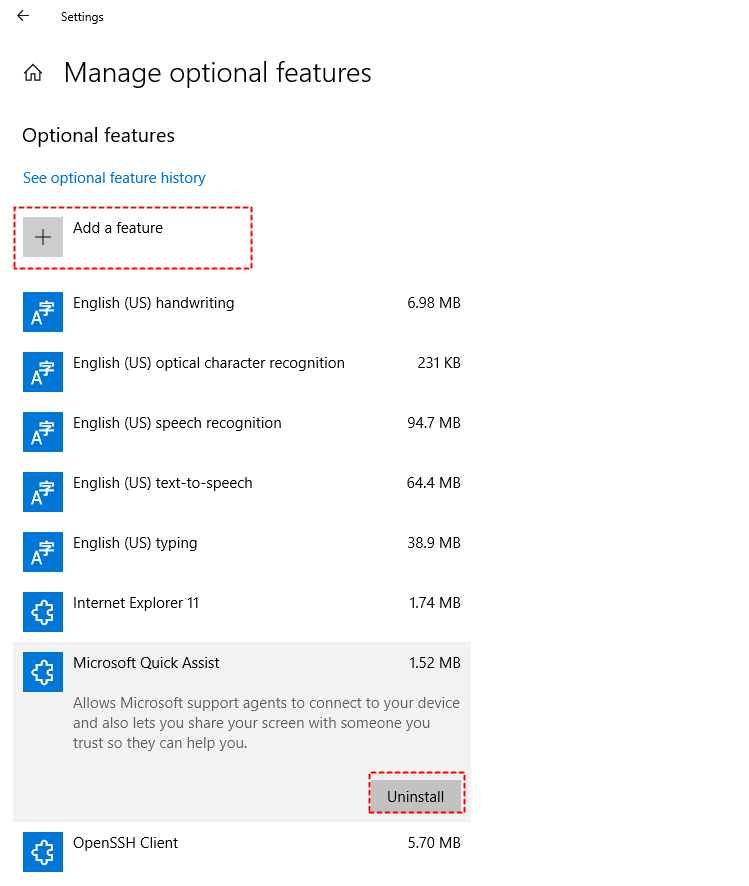 Step 5. Search "Microsoft Quick Assist" and pitch on it and click "Install"
Step 6. Try to use Microsoft Quick Assist again and see if it's helpful.
Method 2: Start a clean Boot and launch Quick Assist
You can try to start a clean boot and launch Quick Assist to solve this issue.
Step 1. Open the Run box by pressing Windows key and R.
Step 2. Type "msconfig" and click OK to open System Configuration window
Step 3. Go to General tab, and select "Selective startup" and check "Load system services".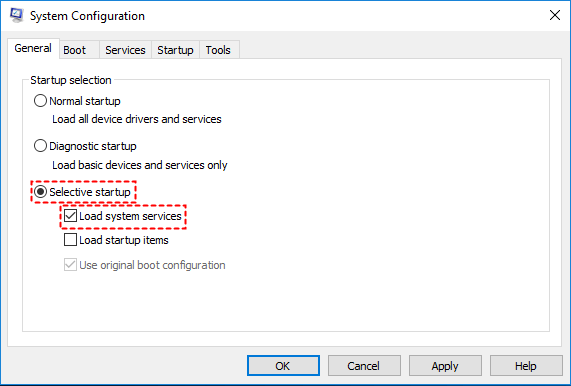 Step 4. Go to Services tab, check "Hide all Microsoft services" and click "Disable all"
Step 5. Click Apply and OK, then a pop-up window will appear, click restart. Try Quick Assist again after the computer restart.
Method 3: Create a new User Account
You can create a new user account and use Quick Assist on the new account.
Step 1. Press Windows key and R to open Run box. Type "control panel" and press ENTER.
Step 2. In the control panel window, find user account and click it.
Step 3.Click "Manage another account" in User Account window and click "Add a new user in PC settings"
Step 4.Click Add someone else to this PC and fulfill the name, password and security question answer. Click Next.
Step 5. After creating a new account, press CTRL,ALT and DEL together, choose Switch user and change the account into the account you just created.
Step 6. Try to use Quick Assist in this new account and see if it works.
Method 4: System restore
If you can't use Quick Assist suddenly, you can retrieve your system to a former state.
Step 1. Press Windows key and R, type" sysdm.cpl" in the entry bar and press ENTER.
Step 2. Go to System Protection tab, and click System Restore. In the System Restore window, click Next.
Step 3. Choose a restore point to retrieve your system to that point. Make sure in this restore point, Quick Assist can be used smoothly. After pitch on the restore point, click Next.
Step 4. Click Finish to start the system restore. Your computer will restart several times to retrieve to the back version. After the possess finishes, check if you can use Quick Assist smoothly.
Get a free alternative to Quick Assist
If you try all those methods but the Quick Assist still not working and is stuck on connecting, why don't you choose other free remote access software to use? AnyViewer, safe and free remote access software, helps you control one computer from another computer. Its clean interface and easy-to-use operation system help you use it easily. Please feel free to download it.
Here are the instructions on how to use AnyViewer.
Step 1. Install and run AnyViewer on the two computers you want to connect.
Step 2. In the host computer, go to Settings>Recipient to change some settings to make sure the connection will not be blocked. Make Sure you allow the three option box in the following picture. And you should type your security code in the entry bar.
Step 3. In the client computer, type the host computer's device ID that is set automatically by the software and click Connect. You can choose one method to connect.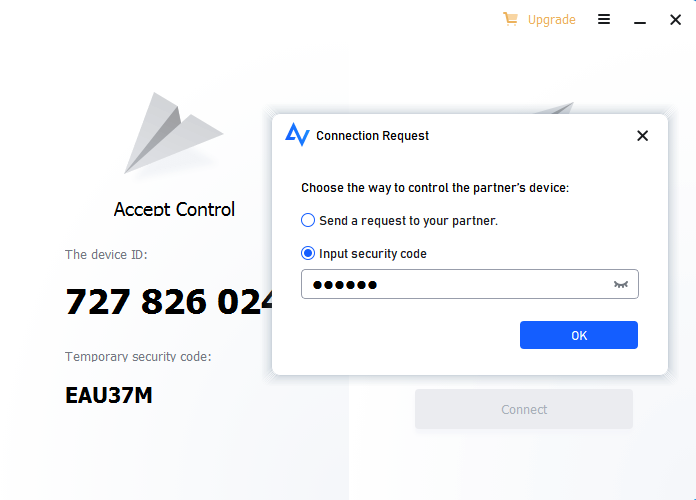 Step 4. If you choose "Send a control request to your partner", your partner who controls the host computer will receive a request. After he allows the request, you can control his computer.
If he denies, the connection will be canceled.
Step 5. If you choose "Input security code", type the code you set in host computer and click OK. The connection will be established without your partner's permission.
Conclusion
This post tells you four methods to fix Quick Assist not working which may generate stuck on loading or stuck on connection problems. You can try to reinstall Quick Assist, start a clean boot, create a new user account or restore your system to use Quick Assist properly. There is a backup plan if all those methods are not working. You can choose AnyViewer as an alternative to Quick Assist. It also can help you to establish a connection between two computers.