Is TeamViewer safe? Should I trust TeamViewer?
Is TeamViewer safe? Considering using TeamViewer for remote access to my work computer, but I'm concerned about its trustworthiness. Has anyone had positive experiences with TeamViewer's security features? Any incidents of unauthorized access? I want to ensure my data and privacy are protected before making a decision. Please share your insights and recommendations."
- Question from a user
What is Teamviewer?
TeamViewer is a powerful online collaboration tool designed to facilitate various tasks such as remote computer control, desktop sharing, online meetings, and file sharing. Its main purpose is to enable seamless remote access, allowing individuals to entrust their computers to others for troubleshooting or software installation with just a simple click. Despite the inherent need for robust security measures in this process, TeamViewer has earned the trust of millions of users who rely on its remarkable functionality and user-friendly interface on a regular basis.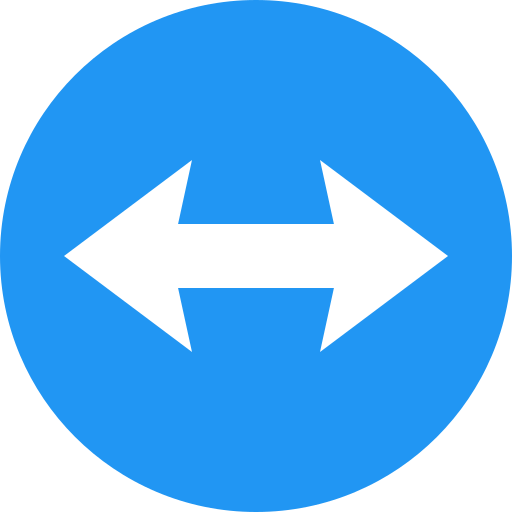 Is TeamViewer secure?
Do you know how secure is TeamViewer? When it comes tosecurity, TeamViewer generally provides a satisfactory level of safety. It implements AES 256-bit encryption, a widely acknowledged and robust standard. Moreover, TeamViewer offers additional security features such as the option to enable two-factor authentication, enforce password resets in case of suspicious activity, and create whitelists of trusted devices. You can further enhance TeamViewer's security by fine-tuning its settings according to your needs.
However, it is worth noting that TeamViewer has experienced security vulnerabilities in the past. In 2016, the platform suffered from external password breaches that resulted in unauthorized access to user accounts, leading to financial losses through unauthorized transactions from PayPal and bank accounts. Similarly, in 2017, a vulnerability was discovered that allowed hackers to seize control of users' devices during their desktop sessions. Thankfully, the developers promptly addressed this loophole and resolved the issue. To ensure the safety of your TeamViewer usage, it is crucial to diligently adjust its settings and take all necessary precautions.
How to make TeamViewer more secure [6 ways]
Discover below six practical methods to bolster the TeamViewer security.
Way 1. Activate Two-Factor Authentication (2FA)
Employing two-factor authentication provides an extra shield for your TeamViewer account. This feature introduces a verification process, ensuring the validity of your login credentials.
To enable two-factor authentication, access the TeamViewer settings on your desktop. Next, navigate to Security > Two-factor authentication for connections > Configure. Follow the prompts displayed on your screen to add a new device for approving connections.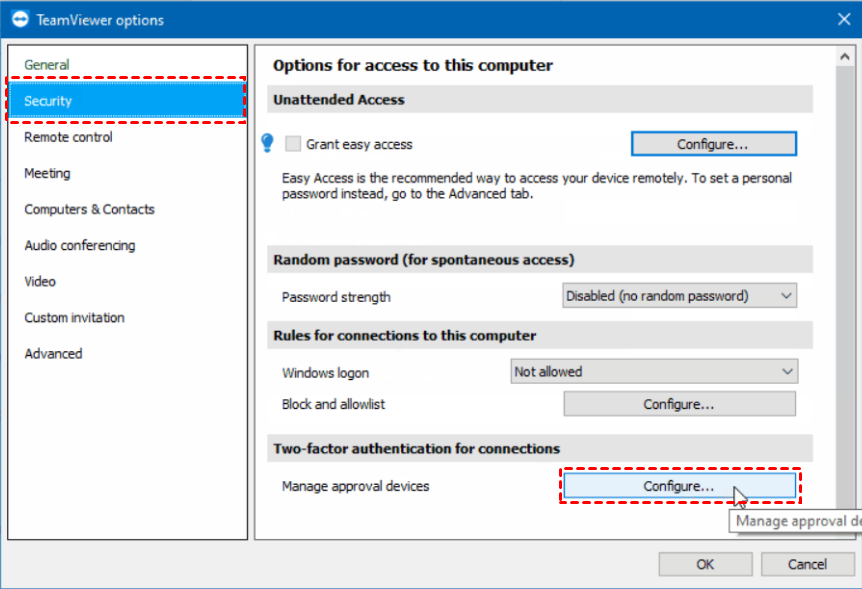 Way 2. Set up a unique strong password
Securing your TeamViewer account requires setting up a robust and unique password. Whether it's TeamViewer or any other service, utilizing a combination of uppercase and lowercase letters, special characters, and digits is crucial.
Step 1. Access the TeamViewer User Management Console.
Step 2. Navigate to your Profile settings and select the Security option. Click on the Change password button.
Step 3. Enter your current password and create a new, resilient password. Once finished, validate the changes by selecting Change password once more.
Way 3. Disable the easy access option
The easy access feature in TeamViewer permits device connections without the need for passwords, offering convenience. However, it also poses a potential risk of unauthorized access to your account. To safeguard your account, it is recommended to disable the Grant Easy Access option in the Remote Control section.
Way 4. Configure block and allowlist
With Block and allowlist option, you can easily regulate and track individuals who can establish connections with your devices. Moreover, you have the flexibility to configure a personalized Allowlist, granting access exclusively to specific partners or contacts.
Step 1. Access the TeamViewer console and locate the settings button situated in the upper right corner.
Step 2. Navigate to Security > Block and allowlist > Configure.
Step 3. Follow the on-screen instructions to specify whether to Allow or Deny access for the partners listed, based on your preferences.
Way 5. Disable TeamViewer startup with windows
A practical approach to safeguarding your computer from potential hacking attempts is to log out of the TeamViewer application. By doing so, you create an additional barrier against unauthorized access. To further enhance your security measures, it is advisable to disable the Start TeamViewer with Windows option in the Remote Control section.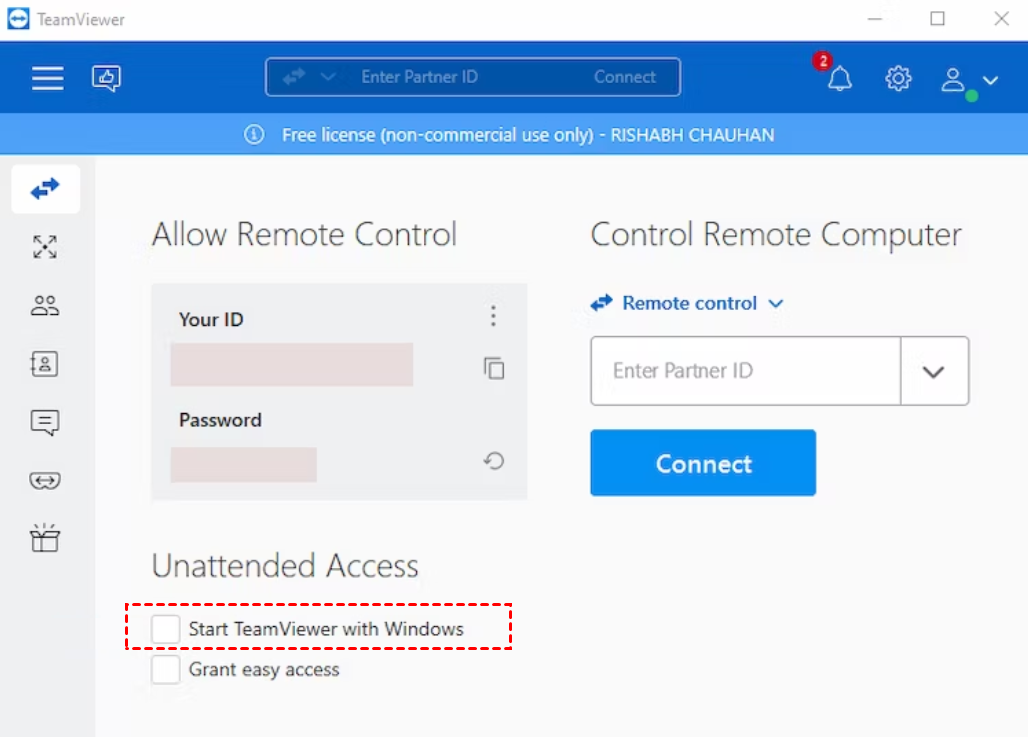 Way 6. Explore advanced security options in TeamViewer
TeamViewer empowers users with a plethora of advanced security options to customize and regulate remote access functionalities. These comprehensive security features grant users precise control over minor permissions during remote access sessions.
Step 1. Launch the TeamViewer console and navigate to Settings > Advanced.
Step 2. Locate and select the Show advanced options button.
Step 3. Uncheck the checkboxes adjacent to Close to tray menu and Clipboard Synchronization.
Step 4. Adjust the Access Control setting to Confirm all from the provided drop-down list. Apply the changes by clicking OK.
Unlock secure remote access with AnyViewer - Your safest TeamViewer alternative
Looking for a remote access software that surpasses TeamViewer in both security and performance? Say goodbye to the worries of potential breaches and welcome AnyViewer, the ultimatefree alternative to TeamViewer.
With AnyViewer, you can now enjoy a seamless and protected remote connection to your devices from anywhere in the world. Itscutting-edge technology ensures end-to-end encryption, shielding your sensitive data from prying eyes. Bid farewell to the concerns of unauthorized access and embrace the peace of mind that comes with a robust and trusted remote access solution.
Additionally, AnyViewer boasts lightning-fast connection speeds and optimized performance, allowing you to effortlessly manage your devices without any frustrating lag or delays.
Discover the power of AnyViewer today and experience remote connectivity like never before.
Follow these steps to set up AnyViewer for one-click remote access:
Step 1. Launch AnyViewer on your host computer. Create a new account and use these credentials to log in to your account.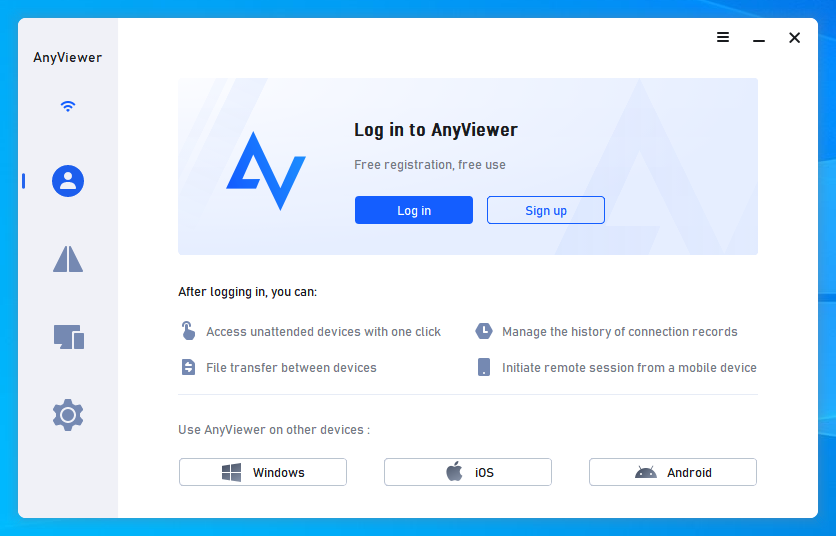 Step 2. On the client computer, launch AnyViewer and log in using the same account credentials you just created. Upon successful login, the client computer will automatically assign itself with your account.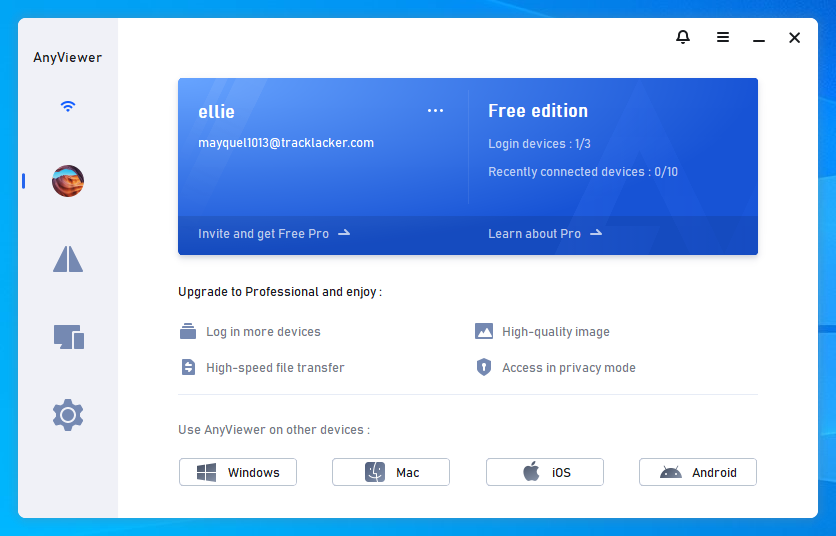 Step 3. Navigate to the Device section. Here, you will find a list of available devices. Select the specific device you wish to connect to. To establish the connection, simply click on the One-click control option.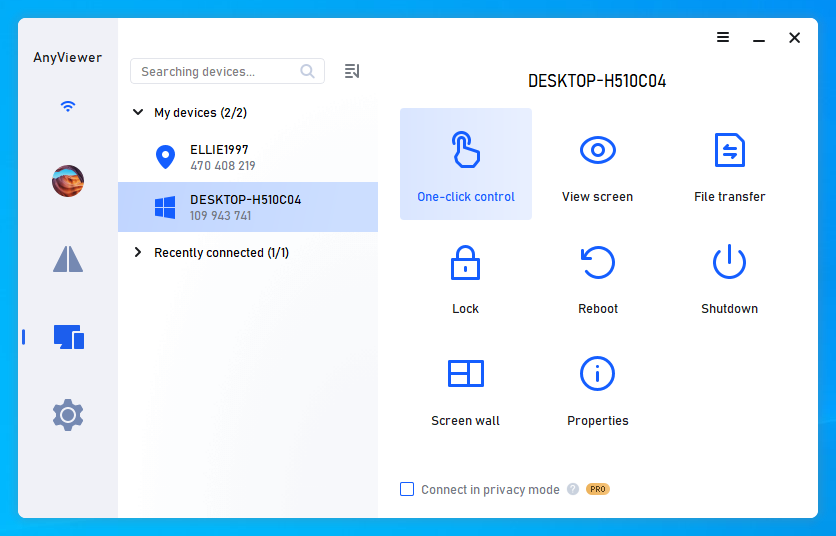 Tailored licensing options: AnyViewer's versatility for businesses
AnyViewer offers businesses a variety of flexible and cost-effective licensing options, catering to their diverse requirements. These licensing options come with a range of impressive benefits, including:

One-click connectivity to up to 100 devices.
Simultaneous connection and management of up to 10 devices.
Unlimited concurrent transfers of large files, with an impressive capacity of up to 1TB per file, enabling seamless data exchange.
Enhanced security with the privacy mode feature, which effectively obscures the host PC screen, while also disabling the keyboard and mouse.
These are just a few examples of the benefits provided by AnyViewer's licensing options, showcasing its commitment to meeting the specific needs of businesses.
The bottom line
Is TeamViewer safe? After uncovering the truth about TeamViewer's safety, it's crucial to prioritize its security. For a robust and reliable alternative, consider trying AnyViewer—an innovative solution designed to prioritize user privacy and offer enhanced protection. Safeguard your remote connections with confidence, and unlock a seamless and secure experience.