Is LogMeIn safe?
Is LogMeIn safe? Generally speaking, LogMeIn, known as GoTo now, is considered a safe and secure remote access software. It uses encryption to protect your data and has been widely used by individuals and businesses for many years.
LogMeIn's communications are encrypted and authenticated using industry-standard algorithms and protocols. It is secured using SSL/TLS (OpenSSL). The LogMeIn server's identity is verified against its PKI certificate. The host's identity is verified against a pre-assigned identifier and shared secret. These credentials are sent from the host to the server via an encrypted SSL/TLS connection. Also, no one can see or access the data transferred between your computers - not even the LogMeIn team.
However, it is essential to note that with any software, it is vital to keep it updated and use it cautiously and only with trusted devices and networks. Reviewing the privacy policy and terms of service of any software you use is an excellent way to ensure you understand how your data will be collected, stored, and used.
Is there any LogMeIn security risk?
Is there any LogMeIn security risk? Unfortunately, the answer is YES. In November 2022, the company confirmed that hackers had stolen customers' backups and encryption keys. According to the company, a hacker "exfiltrated encrypted backups from a third-party cloud storage service" and obtained the encryption key for some of them.
LogMeIn has made a quick move to cope with this security risk. The company has contacted affected customers directly to provide additional information and help them determine what action to take. Passwords for their accounts have been reset "out of an abundance of caution," and MFA (multi-factor authentication) has also been reauthorized. In addition, the affected accounts were migrated to another identity management platform to provide additional security, a platform with "more robust authentication and login-based security options".
Free & safe alternative to LogMeIn (GoTo)
LogMeIn (GoTo) doesn't have a free version for individual users. If you want a free LogMeIn or GoTo alternative, using AnyViewer, the free and safe remote access software, is highly recommended.
AnyViewer is secured by Elliptic Curve Cryptography (ECC) end-to-end encryption, providing 100% safe and clean remote access service. Besides, AnyViewer provides users free services, whether they're using it for personal or business purposes.
AnyViewer Free plan allows 3 assigned devices to each account. It provides two connection channels, allowing 2 devices to start a remote session simultaneously. It also supports two simultaneous sessions, which means that one computer can initiate remote connections to two computers at the same time. The free plan also supports unattended remote access, multiple monitors, file transfer, text chat, multi-monitor switches, etc.
Step 1. Install and launch AnyViewer on both computers. Go to Log in, and then click Sign up. (If you already have signed up on its official website, you can log in directly.)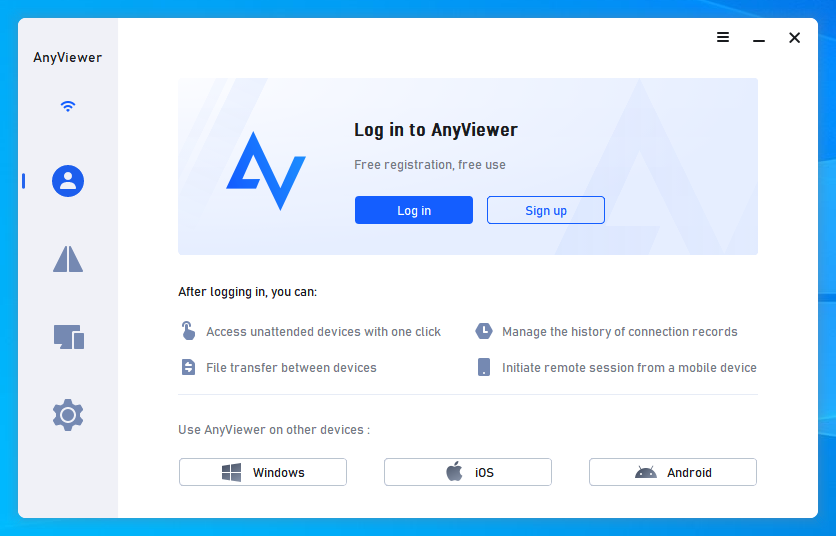 Step 2. Fill in the signup information and click Sign up to create an AnyViewer account.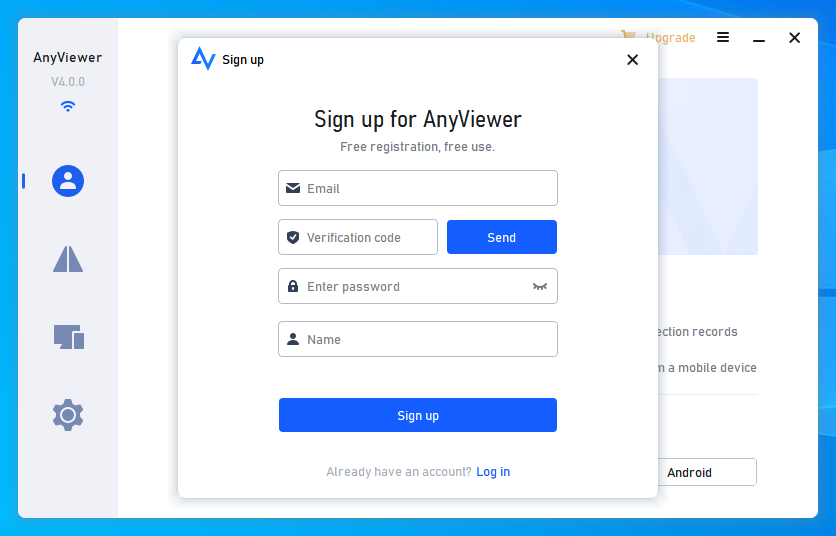 Step 3. Then you can see you successfully logged in to AnyViewer. Your device will automatically be assigned to the account you've logged in to.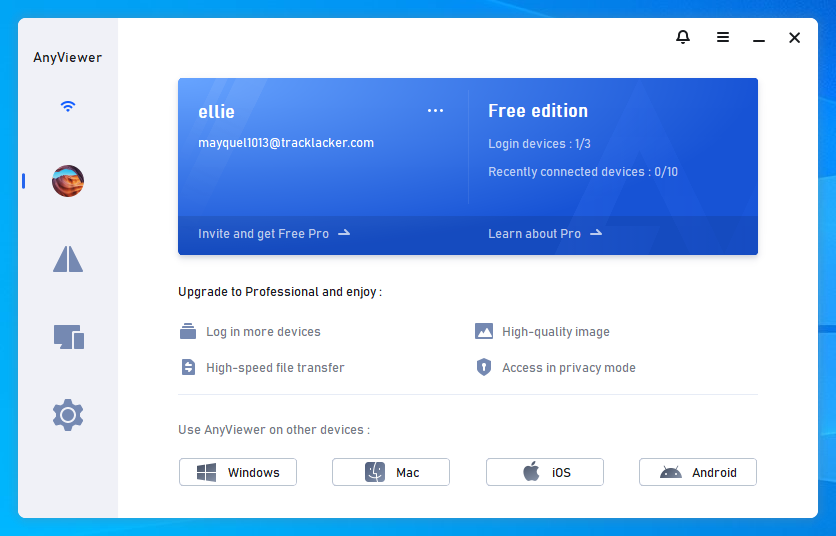 Step 4. Log in to the same AnyViewer account on the two computers. Then you can achieve an unattended remote connection by clicking One-click control after going to Device and clicking the computer that you want to access.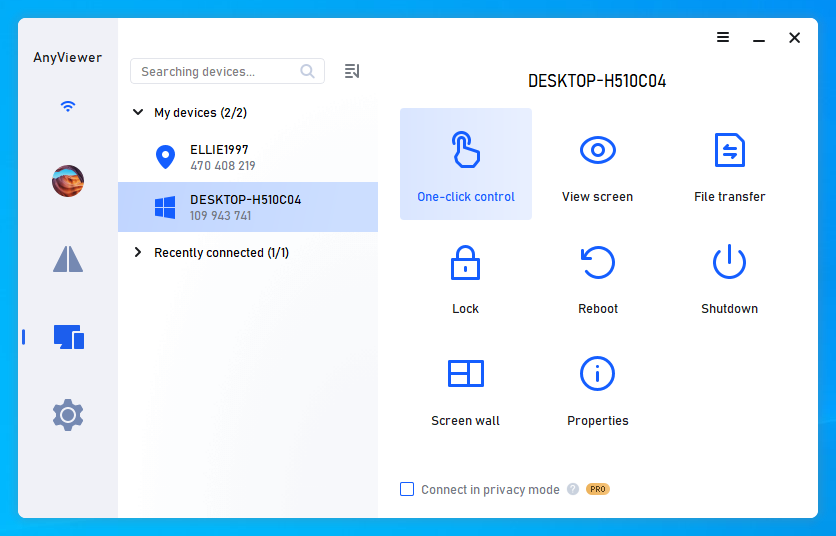 Note: If you can upgrade your account to a Professional or Enterprise plan, then you'll have more rights. You can assign more devices. Also, you can connect to another computer in privacy mode, which means you can black the screen and block the mouse and keyboard of the remote computer.
The bottom line
Is LogMeIn safe? It is still relatively safe even if there's a LogMeIn security risk. However, LogMeIn doesn't offer a free version for individual users. So if you want a free way to access a remote computer, you are advised to use AnyViewer, the best free and safe LogMeIn alternative.