Is there a free version of GoToMyPC?
I need a free remote desktop tool. Is there a free version of GoToMyPC? If not, what is the best free GoToMyPC alternative?"
- Question from Quora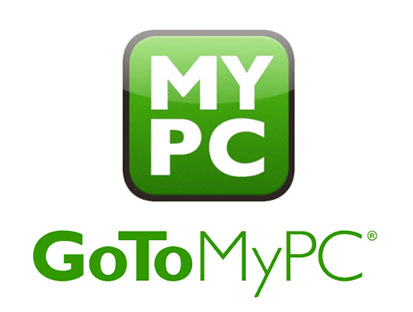 Why do you need a GoToMyPC alternative?
GoToMyPC is a remote control software service that allows users to control their computer remotely from another computer via the Internet. Before introducing the alternative, let's consider why you need alternatives to GoToMyPC.
Price
GoToMyPC has been sold in three editions—Personal, Pro, and Corporate. There's no free version, even for personal users. You can only get a free 7-day trial of GoToMyPC. This is not ideal for users looking for a free remote desktop tool.
Security
GoToMyPC remote desktop access has experienced a hacking attack on their systems before, with all users required to reset their passwords before logging in to the service. GoToMyPC published a post on their system status page later, with the company stating that they had been hit by a very sophisticated password attack.
Performance
Users reflected that sometimes there can be a bit of a lag when using while typing. Besides, at times the software goes not respond or it doesn't generate a code until the session is killed from the Task Manager.
Bonus tip: How to access a remote computer via GoToMyPC
Still, let's see how to use GoToMyPCjust in case you'll need it.
Preparation work:
Ensure that your host computer is left accessible (turned on and connected to the Internet with GoToMyPC running).
Be at a separate computer or have a mobile device at hand.
Know your email address, password, and access code.
Step 1. Go to www.GoToMyPC.com and sign in with your email address and password.
Step 2. If you have multiple GoToMyPC accounts linked to the same email address, select the one you want to use and click Go.
Step 3. Choose the computer you want to connect to from the My Computers page and click Connect. If the computer's status is Offline, you cannot connect to that host.
Step 4. To download the GoToMyPC Viewer, depending on your browser, click Run, Always, Allow, or Trust.
Step 5. When prompted, enter your host computer's access code and click OK. Keep in mind that the access code is unique to each host computer and is not the same as the account password.
AnyViewer: Best free & secure GoToMyPC alternative
AnyViewer, the best GoToMyPC alternative, is the free remote desktop software. It won't cost you anything to achieve remote control, remote support, or remote file transfer. This makes it the best free remote desktop software for business and personal uses.
Besides, your AnyViewer remote access sessions are completely private and secure. AnyViewer is secured by Elliptic Curve Cryptography (ECC) encryption, protecting your data from leakage. All data, including screen images, file transfers, keyboard, and mouse input and chat text, is perfectly safe with AnyViewer.
What's more, AnyViewer is also supported by a strong technical team, providing users with fast and stable remote connections.
Step 1. Install and run AnyViewer on both your work and home computers. Navigate to Log in and then Sign up on the Controller computer (if you have already registered on the official website, you can log in directly).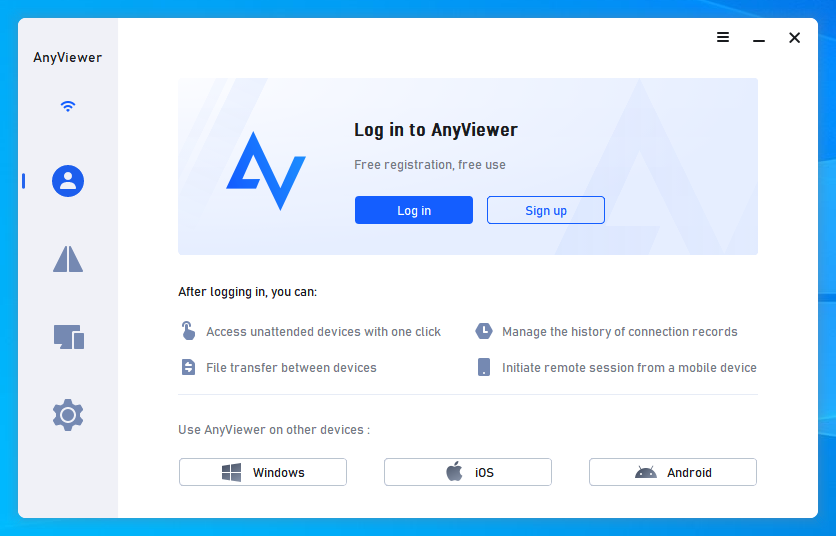 Step 2. Fill out the sign-up form.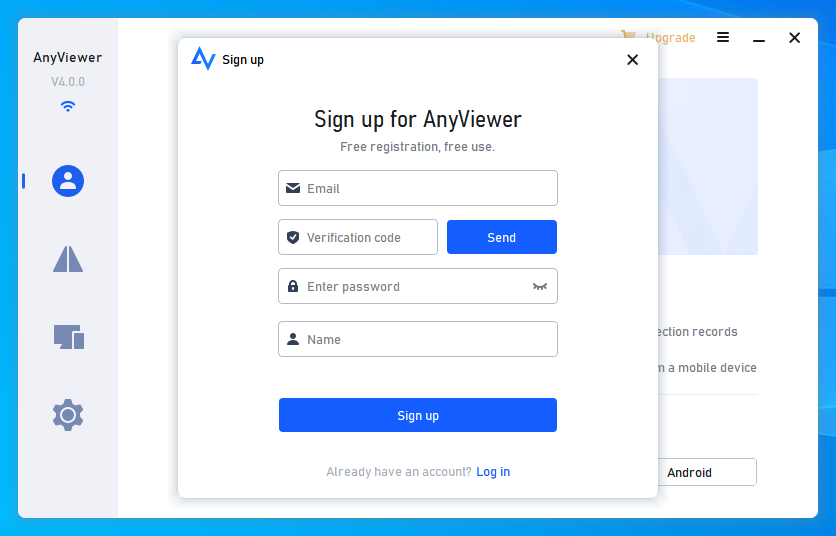 Step 3. You should now see that you have successfully logged into AnyViewer. Your device will be assigned to the account to which you have logged in automatically.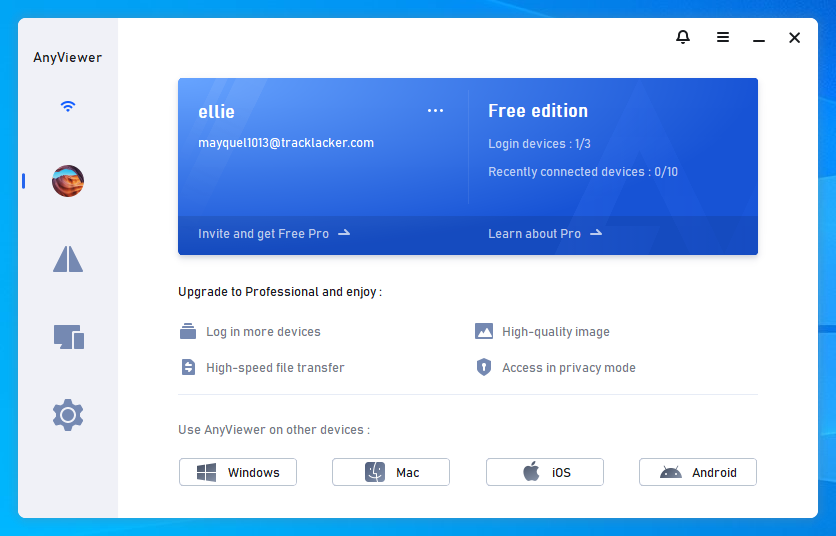 Step 4. On both devices, log in to the same AnyViewer account, then click One-click control for unattended remote support to establish a direct connection.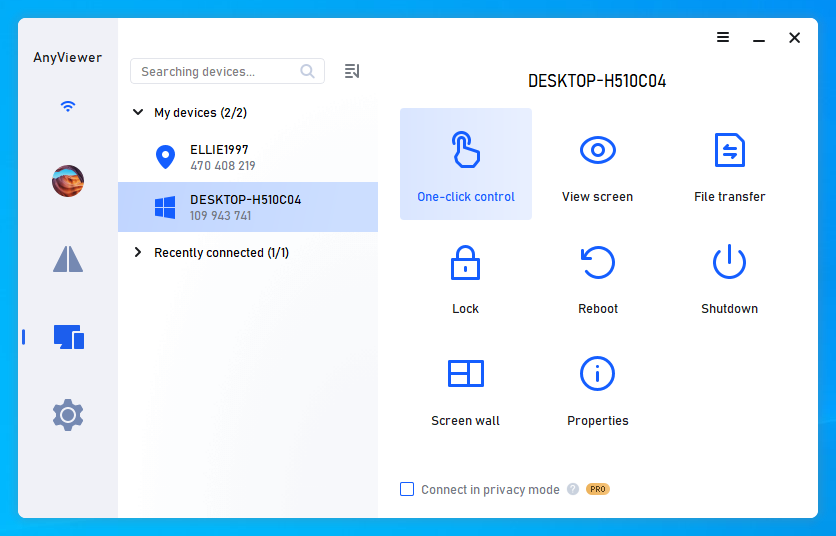 Step 5. After successfully connecting, you will see the remote desktop. Then you can control it completely and provide remote support as if you were sitting in front of it.
Note
: AnyViewer has mobile versions, supporting
iOS remote access
and Android remote access. You must sign into the same account on all of your mobile devices before you can remotely access a PC from an iPhone, iPad, or Android device.
The bottom line
This post primarily introduces AnyViewer, the best GoToMyPC alternative free. We have introduced its advantages in price, security, and performance. If you're looking for a free alternative to GoToMyPC, you can give it a try.