AnyDesk vs TeamViewer
I want remote access software to help remotely access and transfer files. At present, there is two software available for me, AnyDesk vs TeamViewer, but I don't know which one is better. Of course, I can accept a better choice."
- Question from Reddit
How to choose between AnyDesk and TeamViewer? This post makes a detailed comparison between them in all aspects. You can find the answer in the following parts.
How to use AnyDesk
AnyDesk is a remote desktop solution that can be used to remotely control computers and transfer files between computers. It is applicable on a variety of platforms and operating systems, including Windows, Linux, Free BSD, Mac OS, iOS, and Android.
Step 1. Download and install AnyDesk on the client and host computers respectively.
Step 2. Enter the connection password of the host computer on the client computer and click Connect. Once the host computer agrees, the connection succeeds.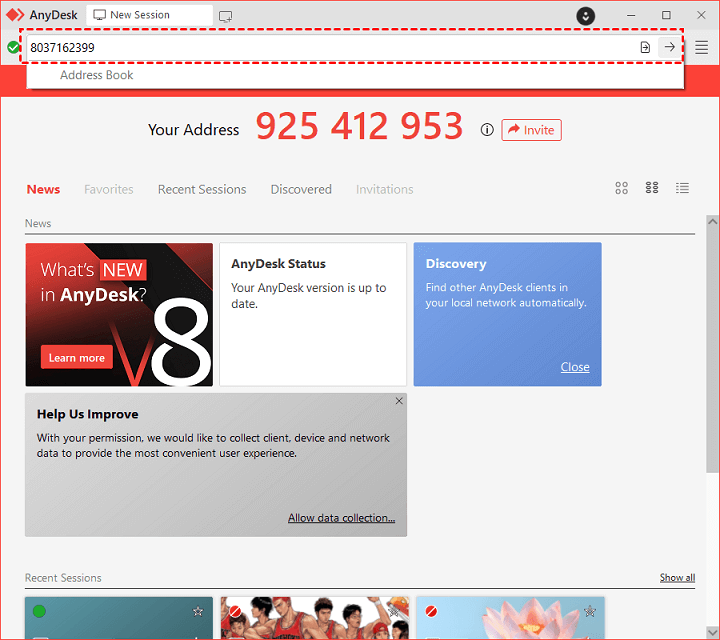 Advantages of AnyDesk:
AnyDesk is fast and efficient.
AnyDesk provides a self-managed local solution to help you save data.
Its free go.AnyDesk.com Network Client provides all users with remote access directly from the browser.
For some commercial features, its price is relatively low.
Disadvantages of AnyDesk:
The screen of the host computer will freeze sometimes.
It will lose connection sometimes because of some errors and interruptions.
The self-managed local solution provided by it makes it inconvenient as some files and data need to be downloaded locally only.
How to use TeamViewer
TeamViewer is an application that can be used for remote control in the background of any firewall and NAT agent. It has functions such as remote control, file transfer, and unattended remote access. It can be applied to multiple operating systems such as Windows, Mac OS, Linux, Android, Chrome OS, iOS, and iPadOS.
Preparation work:
Connect both the client computer (the controller computer) and the host computer (the controlled computer) to the Internet.
Download and install TeamViewer on the client and host computers respectively.
Step 1. Select the purpose (commercial or personal) for downloading this software during installation. Here, take the free version of individual users as an example.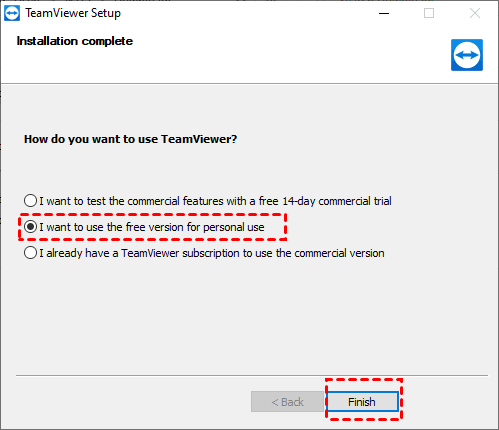 Step 2. Run TeamViewer on both computers. Select Login in the main interface. You need to create your own TeamViewer account for the first time. Click Next to complete account registration (you also need to verify the account before use).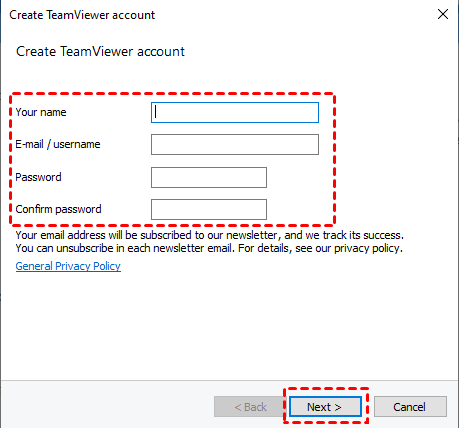 Step 3. Click Remote Control on the left side of the TeamViewer main interface on the client computer, enter the ID of the host computer under Partner ID, and click Connect.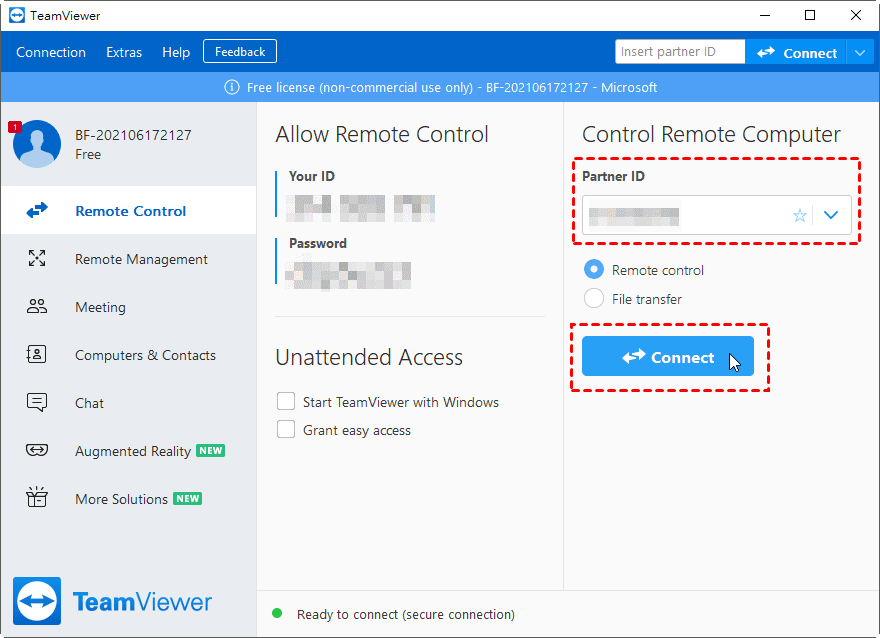 Step 4. Enter the password of the host computer in the TeamViewer Authentication window to realize the remote control.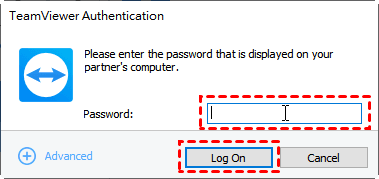 Advantages of TeamViewer:
It has a simple interface and is easy to use.
It runs smoothly without jamming.
It has a free version for personal use.
Disadvantages of TeamViewer:
Its connection is unstable; users always encounter a loss of connection. Due to the unstable connection, it is impractical to use it to transfer large files.
It is free for individual users with limited features. The commercial version with more features is very expensive.
AnyDesk vs TeamViewer: a detailed comparison
We listed the pros and cons of AnyDesk vs TeamViewer respectively. Next, we'll make a detailed comparison between AnyDesk vs TeamViewer free version. Specifically, we'll compare , AnyDesk vs TeamViewer security, and so on.
AnyDesk vs TeamViewer price. Both AnyDesk & TeamViewer offer a free version for personal use. Paid licenses for professional use of AnyDesk are available at a lower price than at TeamViewer.
AnyDesk vs TeamViewer speed. AnyDesk and TeamViewer both perform fast when it comes to offering the functionalities they are best suited for. If you use AnyDesk for remote server monitoring and remote desktop control, it helps navigate really fast. TeamViewer, on the other, performs fast when used for sharing files during cloud access.
AnyDesk vs TeamViewer security. AnyDesk On-Premises uses military-grade encryption and is a great alternative for businesses with individual security policies. TeamViewer is secured by end-to-end 256-bit AES encryption, two-factor authentication, and other industry-grade security features.
Free remote control software: AnyViewer
Another option for you is to try another free remote control software for Windows, AnyViewer. It is a free remote control solution for Windows, no matter whether you are using it for personal use or commercial use. It supports multiple Windows versions, from Windows 7 to Windows 11. Let's see why you should choose it as the AnyDesk and TeamViewer alternative.
Advantages of AnyViewer:
Professional. It is professional software for Windows, supporting multiple Windows versions, including Windows 11/10/8.1/8/7 and Windows Server 2022/2019/2016/2012 R2.
Flexible connection methods. You can ask for remote control by sending a control request or achieve an unattended remote connection by inputting a security code.
Security. It is secured by Elliptic Curve Cryptography (ECC) encryption, protecting your data from leakage during the whole remote session.
Fast connection. It is developed by a strong technical team, providing you fast remote connection with high image quality.
Easy to use. It has an intuitive and concise interface, you can easily get started with it.
Free. Its free version has various additional functions. The connection speed is fast as well.
Efficient. It provides various practical features, like file transfer, quick operation, screen share, and multiple monitors, to help increase the remote work efficiency.
Preparation work:
Connect the client computer (the controller computer) and the host computer (the controlled computer) to the Internet.
Download and install AnyViewer on the client computer and the host computer respectively.
Step 1. Launch AnyViewer on both computers.
Step 2. Go to Log in, and then click Sign up. (If you already have signed up on its official website, you can log in directly.)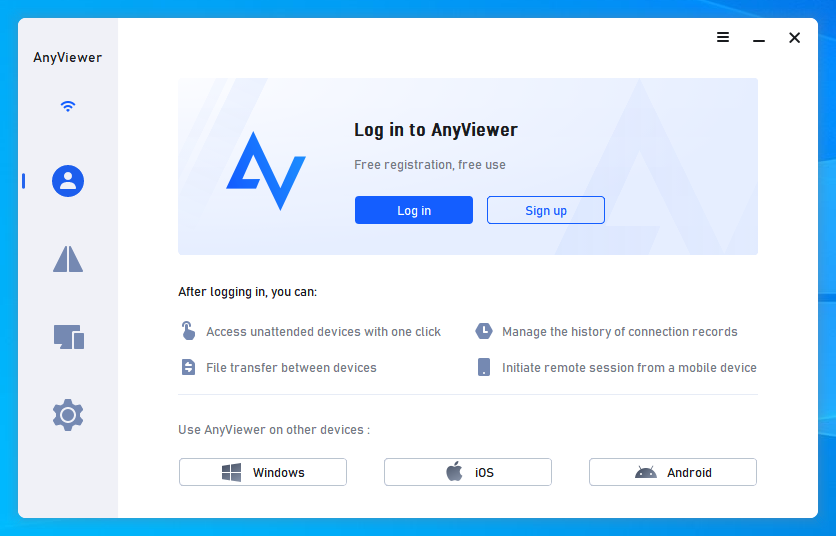 Step 3. Fill in the signup information.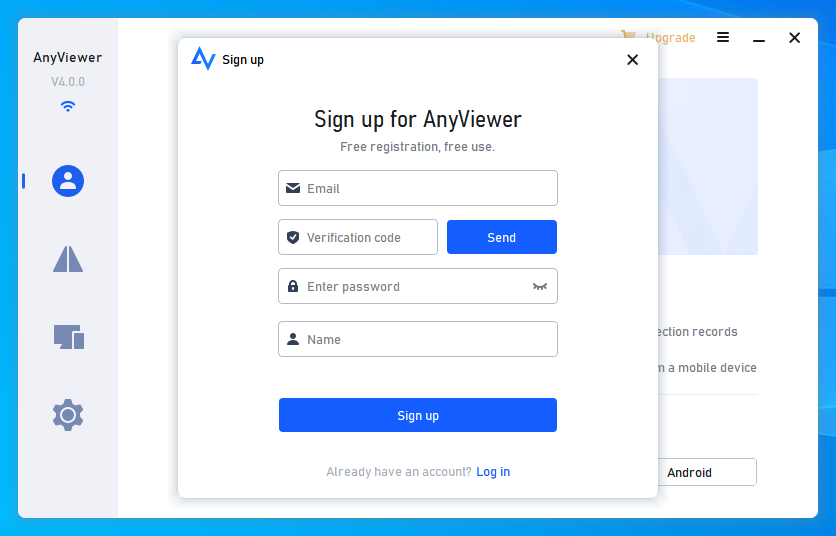 Step 4. Then you can see you successfully logged in to AnyViewer. Your device will automatically be assigned to the account you've logged in to.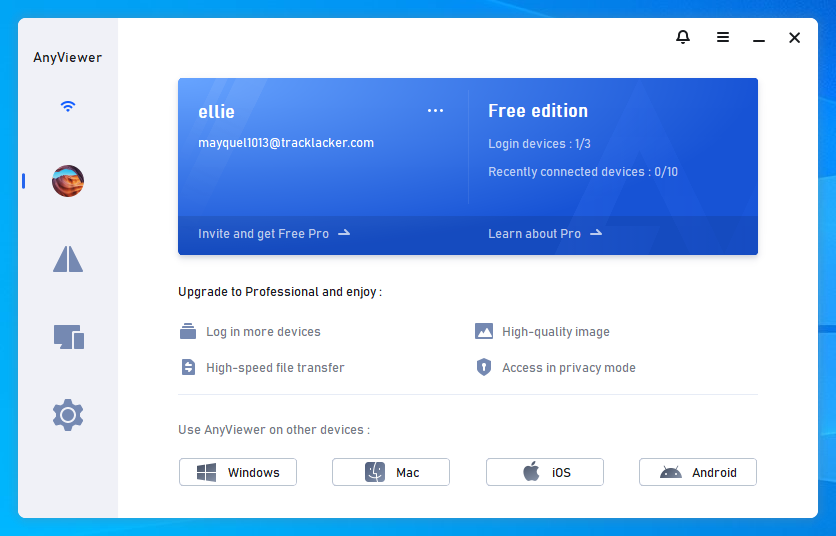 Step 5. Log in to the same AnyViewer account on the two devices, then you can achieve a direct connection by clicking One-click control.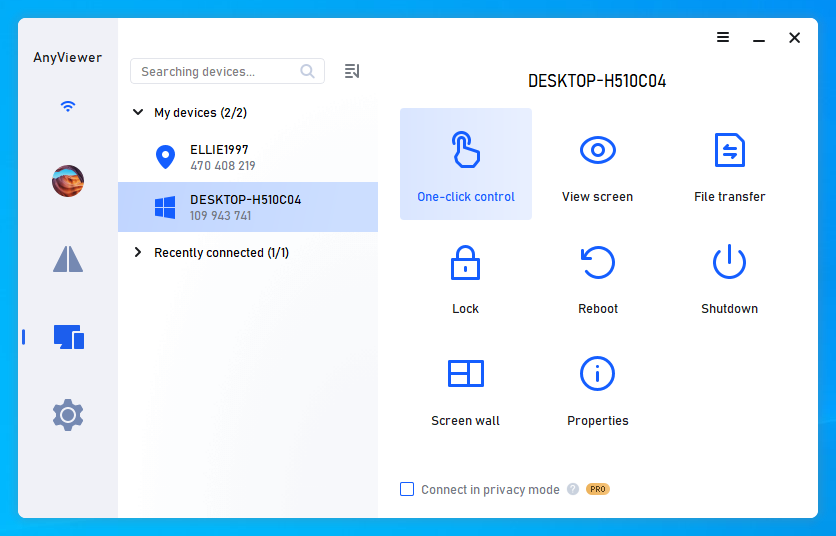 ★Note: You can also upgrade your account to a Professional or Enterprise plan to enjoy more rights: faster file transfer, privacy mode, more assigned devices...
After successfully connecting, AnyViewer can also provide various practical features suitable for remote access. For example, you can remotely lock, log out, and restart the host computer. You can also adjust the resolution and image quality. The default wallpaper hiding function also makes the remote connection smoother.

Conclusion
Although TeamViewer is free for personal use, its functions are not comprehensive enough. AnyDesk is fully functional, but it needs to be paid for use, which is not very cost-effective for individual users. Therefore, we recommend that you use the free remote control software AnyViewer. You can control any PC remotely with its simple interface and easy operation process.