AnyDesk vs TeamViewer
I want remote access software to help remotely access and transfer files. There is two software available for me, AnyDesk vs TeamViewer, but I don't know which one is better. Of course, I can accept a better choice."
- Question from Reddit
What is AnyDesk?
AnyDesk is a widely acclaimed remote desktop software, that empowers teams to effortlessly connect with any desktop, server, machine, or device, irrespective of location. Its extensive array of functionalities encompasses full mobile support, ensuring accessibility on the go, as well as the convenience of Wake-on-LAN (WoL) functionality.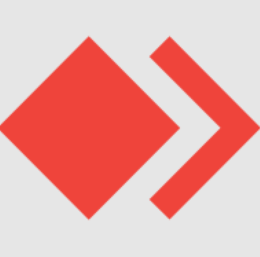 What is TeamViewer?
TeamViewer is a versatile remote desktop tool that provides access to desktop and mobile platforms, making it ideal for IT teams managing remote workforces. Its features encompass cross-platform access, unattended access, remote wake, restart, install, and multi-user support sessions.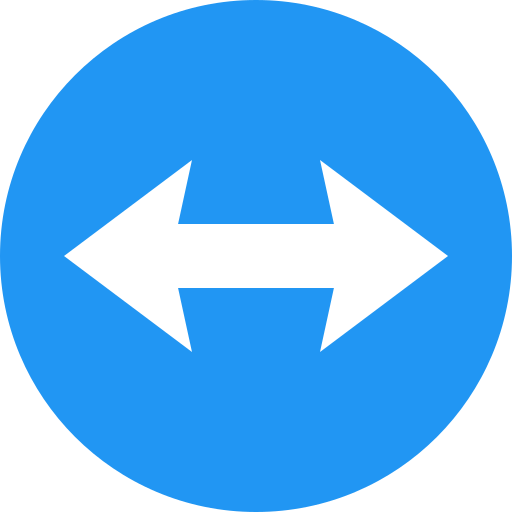 Detailed comparison of AnyDesk and TeamViewer
AnyDesk vs. TeamViewer, which should you choose? We'll make a detailed comparison of AnyDesk and TeamViewer in five aspects: compatibility, performance, features, pricing, and security. Finally, we'll look at their pros and cons.
Compatibility
AnyDesk and TeamViewer both offer impressive compatibility, ensuring users can access their devices across a wide range of platforms. Here's a breakdown of their compatibility.
AnyDesk
AnyDesk's compatibility extends beyond Windows 11 and older versions; it also supports various other operating systems like iOS, macOS, Linux, and Android. This wide range of support empowers users to establish connections and control their devices seamlessly, irrespective of the platform they are using.
TeamViewer
Like AnyDesk, TeamViewer is compatible with major operating systems such as Windows, macOS, Linux, Chrome OS, Android, and iOS. This comprehensive cross-platform support ensures seamless access across different devices.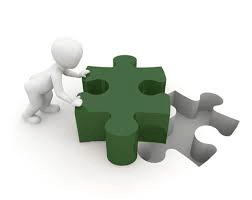 Performance
In terms of AnyDesk vs. TeamViewer performance, both of them are highly regarded remote desktop software solutions. But they may exhibit some differences:
AnyDesk
Speed: AnyDesk is known for its exceptional speed, thanks to efficient compression algorithms that result in minimal latency during remote sessions. This makes it particularly suitable for real-time tasks and applications that require quick responsiveness.
Smooth connections: Its focus on speed also translates to smooth and lag-free remote connections, providing users with a seamless experience during remote access.
TeamViewer
Stable performance: TeamViewer offers stable and secure connections, ensuring a smooth and uninterrupted remote desktop experience. The software's infrastructure is designed to handle high loads and maintain a consistent connection quality.
Low latency: In general, TeamViewer aims to minimize latency for a seamless user experience. While TeamViewer provides a responsive remote desktop experience, the latency may vary depending on factors such as internet connection quality and geographical distance between the connected devices.
Pricing
The pricing models for AnyDesk and TeamViewer differ, and each offers various plans tailored to different user needs.
AnyDesk
AnyDesk has a free plan designed for private use, this plan comes with limited features. Once your connection has been detected as commercial use, AnyDesk will block your connection. For commercial use, AnyDesk offers four plans, all of which are billed annually:
AnyDesk Solo: Priced at $14.90 per month, it grants 1 licensed user access to 3 login devices.
AnyDesk Standard: With a cost of $29.90 per month, this plan accommodates 20 licensed users within a team.
AnyDesk Advanced: At $79.90 per month, this plan supports 100 licensed users.
AnyDesk Ultimate: Tailored to individual needs, this package offers personalized features and pricing.
TeamViewer
TeamViewer offers a free version for private use, enabling users to assist friends with their computer issues at no cost. For commercial use, it makes different pricing plans for Remote Support and Remote Access & Work (all billed annually):
TeamViewer Remote Support Lite: This plug-and-play remote support solution is priced at $49.90 per user per month.
TeamViewer Remote Support Pro: Priced at $64.90 per month, this is a proactive remote support and management suite for medium-sized businesses.
TeamViewer Tensor Support: This plan suits large organizations. To obtain more price information, you can contact the sales team.
TeamViewer Remote Access Lite: Priced at $24.90 per user per month, this plan allows for unattended access to 1 remote device.
TeamViewer Remote Access Pro: Priced at $29.90 per user per month, this plan allows for unattended access to 3 remote devices.
TeamViewer Tensor Access: You need to contact the sales team for the price of this plan.
Features
AnyDesk and TeamViewer are both feature-rich remote desktop software solutions, each offering a range of functionalities tailored to meet various user needs.
Here's a feature comparison of the free versions of AnyDesk and TeamViewer.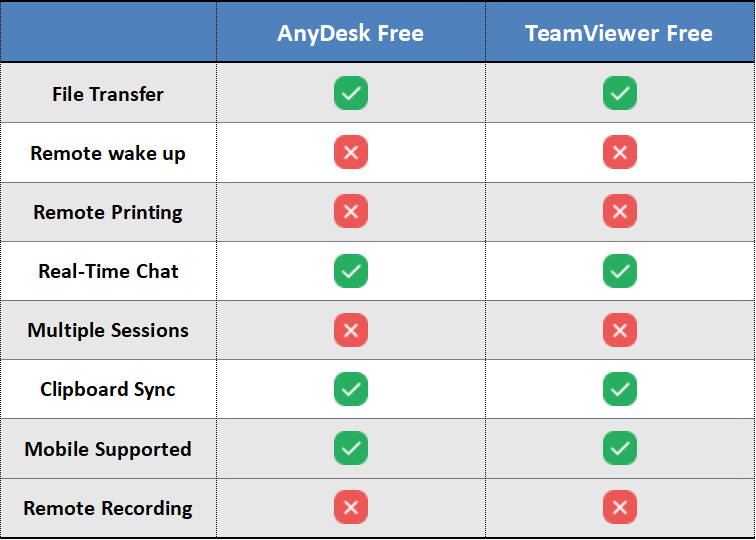 Security
AnyDesk and TeamViewer prioritize security to ensure safe and protected remote desktop connections.
AnyDesk
AnyDesk provides military-grade TLS 1.2 Standardized Protocol Technology, preventing all connections from unauthorized access. They use RSA 2048 asymmetric key exchange encryption to verify every connection. In addition, it provides 256-bit AES Transport Encryption to encrypt the data stream perfectly.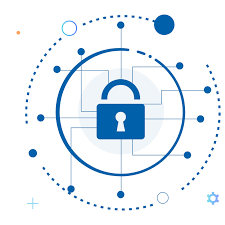 TeamViewer
TeamViewer includes RSA private/public key encryption and AES (256-bit) session encryption. This technology is based on the same standards as https/SSL and is completely safe according to current standards. The key exchange also ensures complete client-to-client data protection.
Despite its popularity and robust security measures, TeamViewer, like any widely used software, can attract the attention of hackers and bad actors. The existence of TeamViewer vulnerabilities poses potential risks, making it crucial for both developers and users to take proactive steps in mitigating these threats and strengthening security.
Pros and Cons
What are the pros and cons of AnyDesk and TeamViewer?
AnyDesk
Pros
AnyDesk is fast and efficient.
AnyDesk provides a self-managed local solution to help you save data.
Its free go.AnyDesk.com Network Client provides all users remote access directly from the browser.
For some commercial features, its price is relatively low.
Cons
The screen of the host computer will freeze sometimes.
It will lose the connection sometimes because of some errors and interruptions.
The self-managed local solution provided by it makes it inconvenient as some files and data need to be downloaded locally only.
TeamViewer
Pros
It has a simple interface and is easy to use.
It runs smoothly without jamming.
It has a free version for personal use.
Cons
Its connection is unstable; users always encounter a loss of connection. Due to the unstable connection, using it to transfer large files is impractical.
It is free for individual users with limited features. The commercial version with more features is very expensive.
How to use AnyDesk and TeamViewer
We'll take a quick look at how to use AnyDesk and TeamViewer respectively.
How to use AnyDesk
Step 1. Download and install AnyDesk on the client and host computers respectively.
Step 2. Enter the connection password of the host computer on the client computer and click Connect. Once the host computer agrees, the connection succeeds.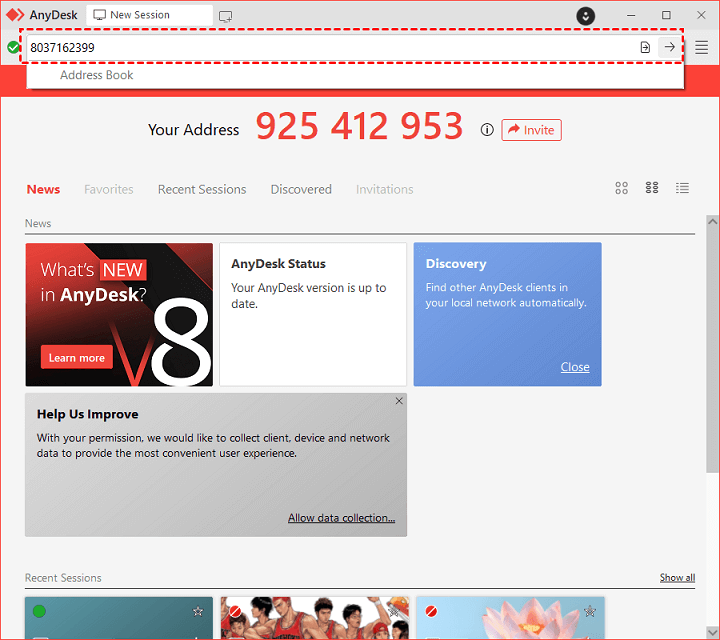 How to use TeamViewer
Step 1. Download and install TeamViewer on the client and host computers respectively. Select the purpose (commercial or personal) for downloading this software during installation. Here, take the accessible version of individual users as an example.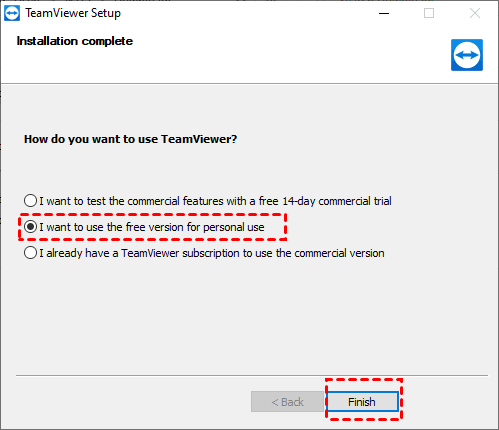 Step 2. Run TeamViewer on both computers. Select Login in the main interface. You need to create your own TeamViewer account for the first time. Click Next to complete account registration (you also need to verify the account before use).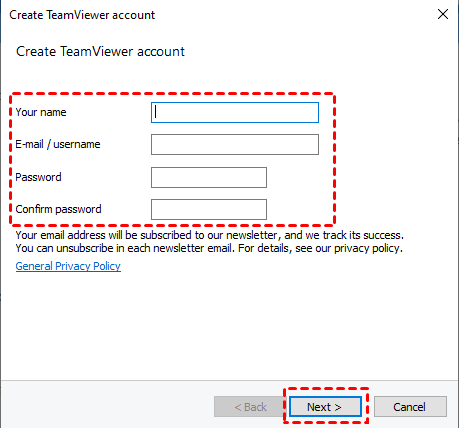 Step 3. Click Remote Control on the left side of the TeamViewer main interface on the client computer, enter the ID of the host computer under Partner ID, and click Connect.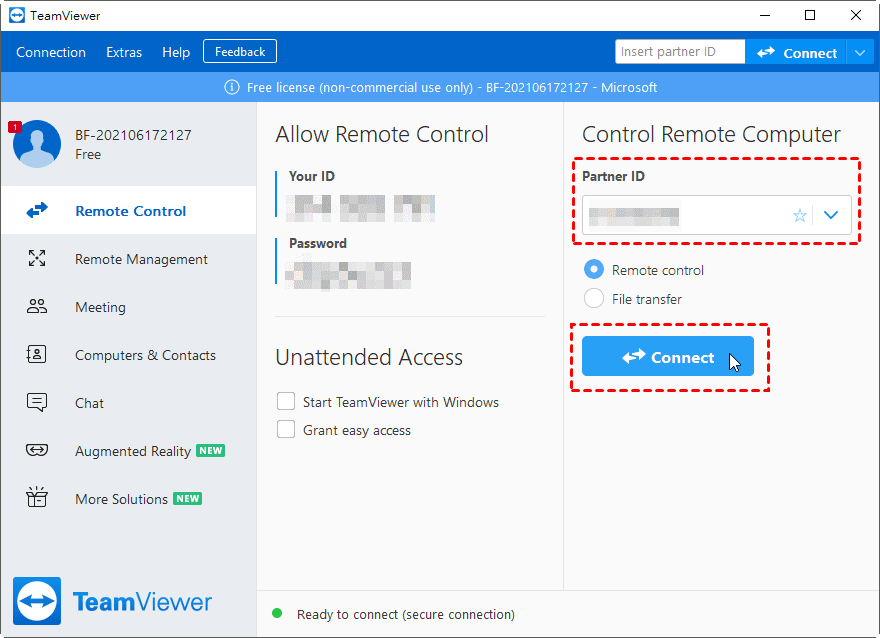 Step 4. Enter the password of the host computer in the TeamViewer Authentication window to realize the remote control.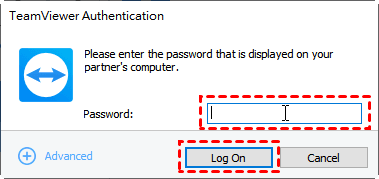 AnyViewer: Free AnyDesk & TeamViewer alternative
Another excellent option for free remote control software for Windows is AnyViewer. If you're seeking a feature-rich AnyDesk and TeamViewer alternative, AnyViewer is the ideal choice. Whether for personal or commercial use, you won't need to invest a single penny, making it a cost-effective solution for remote desktop access.
In order to grasp the advantages of AnyViewer over AnyDesk and TeamViewer, let's conduct a comparison focusing on the free versions of each software.
Give AnyViewer a try and experience its impressive features for yourself.
Preparation work:
Connect the client computer (the controller computer) and the host computer (the controlled computer) to the Internet.
Download and install AnyViewer on the client computer and the host computer respectively.
Step 1. Launch AnyViewer on both computers.
Step 2. Go to Log in, and then click Sign up. (If you already have signed up on its official website, you can log in directly.)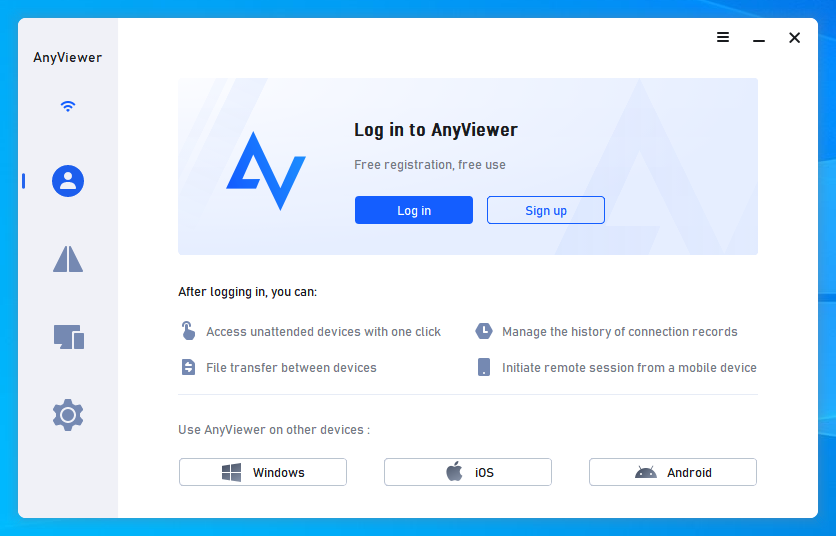 Step 3. Fill in the signup information.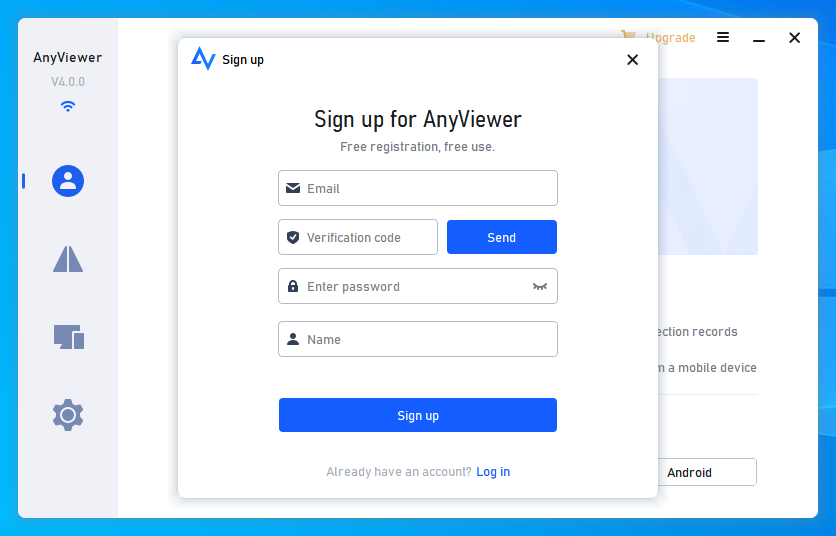 Step 4. Then you can see you successfully logged in to AnyViewer. Your device will automatically be assigned to the account you've logged in to.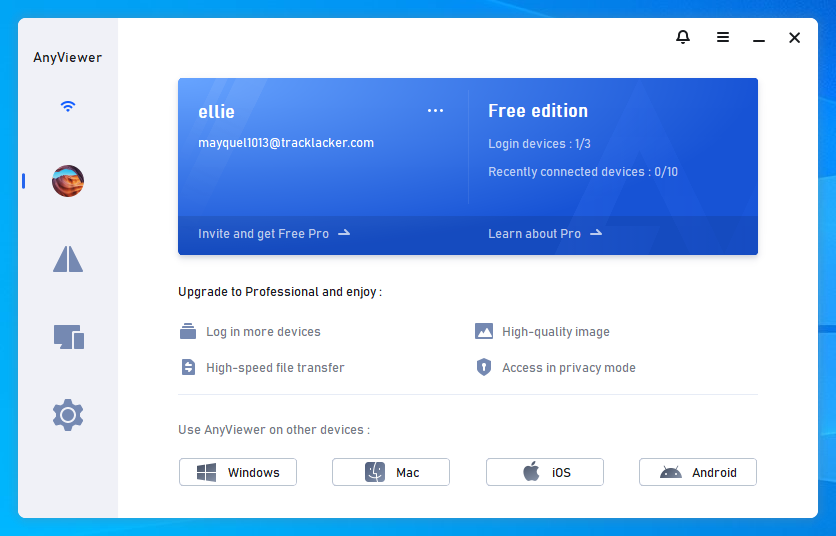 Step 5. Log in to the same AnyViewer account on the two devices, then you can achieve a direct connection by clicking One-click control.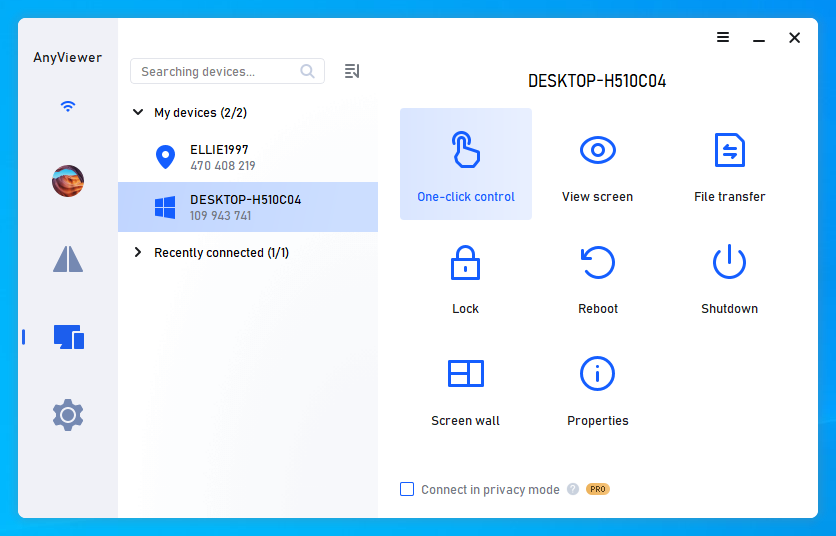 ★Tips: You can also upgrade your account to a Professional or Enterprise plan to enjoy more rights:

Increased Device Assignment: You can assign more devices to the same account for unattended remote access, providing greater flexibility in managing multiple devices.
More Concurrent Remote Sessions: Enjoy the convenience of initiating multiple remote sessions simultaneously, enabling you to handle multiple connections efficiently and effectively.
Faster File Transfer Speed: AnyViewer enhances file transfer speeds, facilitating quicker and more efficient exchange of files during remote sessions.
Privacy Mode: Connect to another computer in privacy mode, offering added security by blacking out the remote screen and blocking mouse and keyboard access for a private and secure connection.
...
After successfully connecting, AnyViewer can also provide various practical features suitable for remote access. For example, you can remotely lock, log out, and restart the host computer. You can also adjust the resolution and image quality. The default wallpaper-hiding function also makes the remote connection smoother

Conclusion
In the comparison of AnyDesk vs TeamViewer, AnyViewer emerges as a promising alternative, offering distinct advantages in its free version. With increased device assignment, concurrent remote sessions, and faster file transfer speed, AnyViewer stands out as a recommended option for users seeking efficient and feature-rich remote control software. Its impressive capabilities make it a compelling choice for those looking for a viable alternative to both AnyDesk and TeamViewer.