Why is Windows unable to transfer some files Bluetooth?
I am having a problem transferring files from my laptop to my phone via Bluetooth and vice versa after upgrading to Windows 10 from Windows 7. I got the error message as below: Windows was unable to transfer some files. How to fix this problem?"
- Question from Microsoft Community
Transferring files from phone to computer or from computer to phone via Bluetooth is sometimes the quickest method. It can, however, be difficult at times. Bluetooth was unable to transfer some data because of a variety of factors. Bluetooth, for example, is not correctly linked, something has interfered with the Bluetooth connection, or something is wrong with the device.
6 solutions to fix Windows was unable to transfer some files Bluetooth
Don't worry, here we provide you with 6 solutions to fix Windows was unable to transfer some files Bluetooth on Windows 7/8/8.1/10/11.
Solution 1. Check if Bluetooth is turned on for both devices
The first step is to ensure that Bluetooth is enabled on both of your devices. It may appear to be a little procedure, but Bluetooth can be stopped without your knowledge or consent.
Step 1. On the computer, navigate to Settings and then Devices.
Step 2. Make sure Bluetooth is turned On and then choose More Bluetooth options on the right side.
Step 3. Check the box that says Allow Bluetooth devices to locate this PC, then click OK to save the option.
Step 4. On the phone, scroll down from the top of the screen to find the Bluetooth icon and turn it on.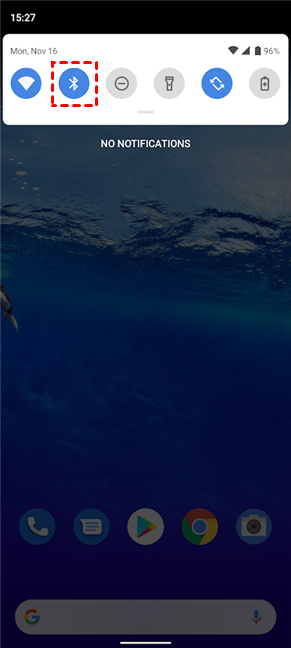 Solution 2. Reconnect the devices
To begin, remove your phone from the list of linked devices and reconnect it to your computer.
Step 1. Press Win + I to open Settings. Go to Devices > Bluetooth & other devices. Select the device that you want to reconnect and click Remove device.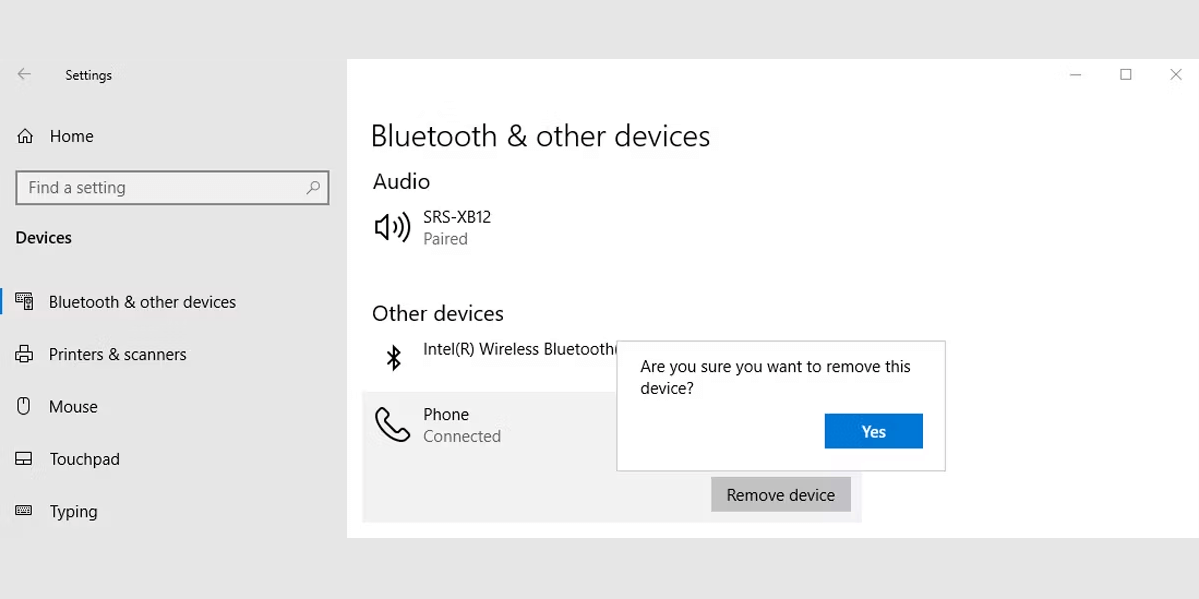 Step 2. To reconnect the device, disable and enable Bluetooth on your computer. Go to Bluetooth & other devices again, and click Add Bluetooth or other device.
Step 3. In the Add a device window, select Bluetooth and click the phone you want to pair with, and click Connect.
Step 4. Then your phone will receive a pairing request, click Pair > OK.
Solution 3. Run the Bluetooth troubleshooter
You can also run the Bluetooth troubleshooter to find out the problem.
Step 1. Press Win + I to open Settings. Go to Update & Security > Troubleshoot. Click Additional troubleshooters.
Step 2. Select Bluetooth > Run the troubleshooter.
Solution 4. Run the Hardware and Devices troubleshooter
You can also try to run the Hardware and Devices troubleshooter.
Step 1. In the Windows search box, type in "cmd", and then select Run as administrator to start Command Prompt with administrative privileges.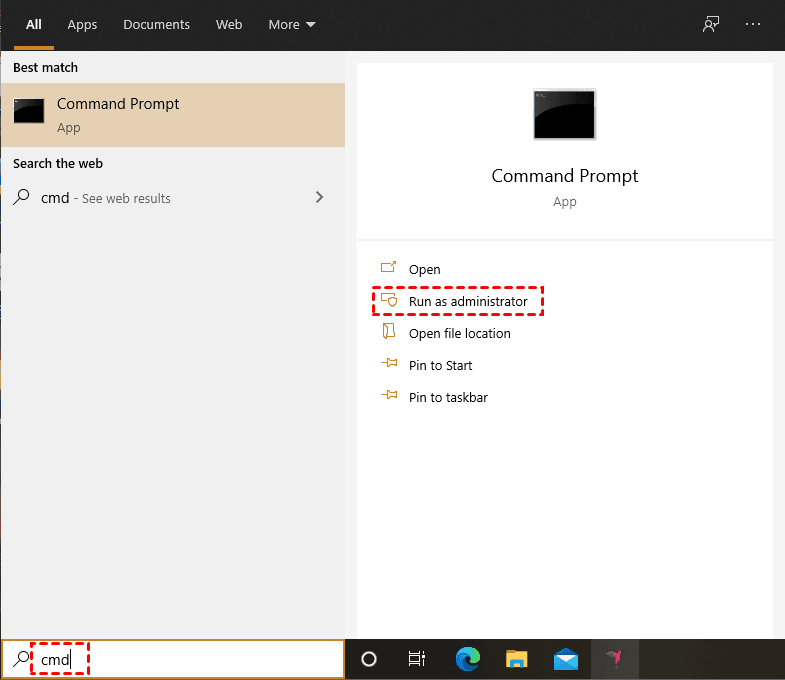 Step 2. In the Command Prompt, type "msdt.exe -id DeviceDiagnostic". Enter your password. This will activate the troubleshooter.
Step 3. In the Hardware and Devices pane, go to Advanced > Repairs automatically. To run the troubleshooter, click Next.
Solution 5. Scan for Bluetooth changes
Your file transfer issue might be caused by an outdated or faulty Bluetooth driver. You may check for updates to your Bluetooth drivers.
Step 1. Select Device Manager from the Start menu.
Step 2. Next, right-click Bluetooth and choose Scan for hardware changes. Windows will look for and install any Bluetooth driver updates that are available.
Solution 6. Restart Bluetooth service
You may also try restarting the Bluetooth-related service to resolve the issue.
Step 1. Press Win + R to open the Run dialog box. Enter "services.msc" and press OK.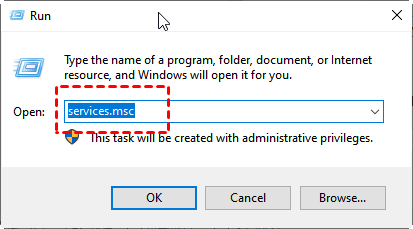 Step 2. Locate and launch Bluetooth Support Service from the Services panel. Launch it and select Stop > Start.
Bonus tip: Transfer files from computer to computer via the file transfer tool
Hope you can fix Windows was unable to transfer some files Bluetooth with the solutions mentioned above. If still not, you can try other ways to transfer files between phones and computers, for example, using a USB cable, or using software like Google Drive or OneDrive.
Here's a simple method for transferring files across computers, if you need it. AnyViewer is a free file transfer application. It allows you to transmit huge files up to 1TB at a pace of 10MB/s. It allows you to effortlessly and safely move data across computers.
★Benefits:

Wide compatibility. It works with several Windows versions, including the newest Windows 11.
Unattended remote transfer. You are allowed to share files with an unattended computer.
Fast speed. It transfers files at a really fast speed, even if transferring large files over the internet. But if the two laptops are on LAN or WiFi, the transfer speed will be faster.
Improved security. The file transfer process is secured by Elliptic Curve Cryptography (ECC) encryption, protecting your data from leakage.
Multiple features. As a remote desktop tool as well, it also allows you to completely control and manage another computer remotely. Besides, it is also a screen share tool.
Step 1. Download, install, and launch AnyViewer 3.0 or above on both Windows laptops. If your version is lower, please upgrade first.
Step 2. On one laptop, go to Log in, and then click Sign up (if you already have signed up on its official website, you can log in directly).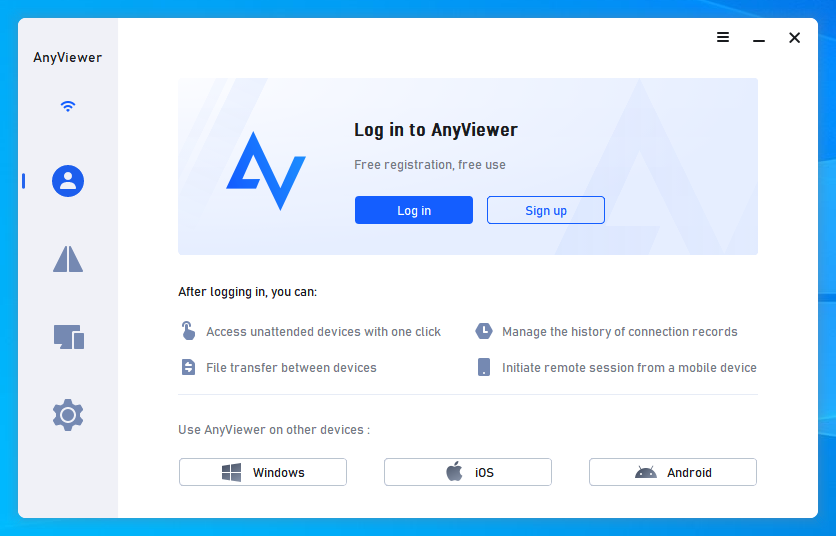 Step 3. Fill in the signup information.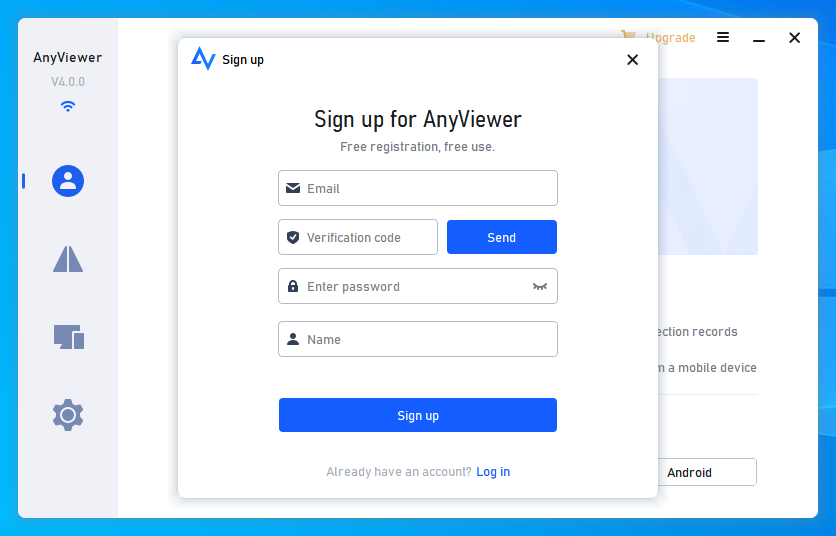 Step 4. Then you can see you successfully logged in to AnyViewer. Your device will automatically be assigned to the account you've logged in to. After this, log in to the same account on the other laptop.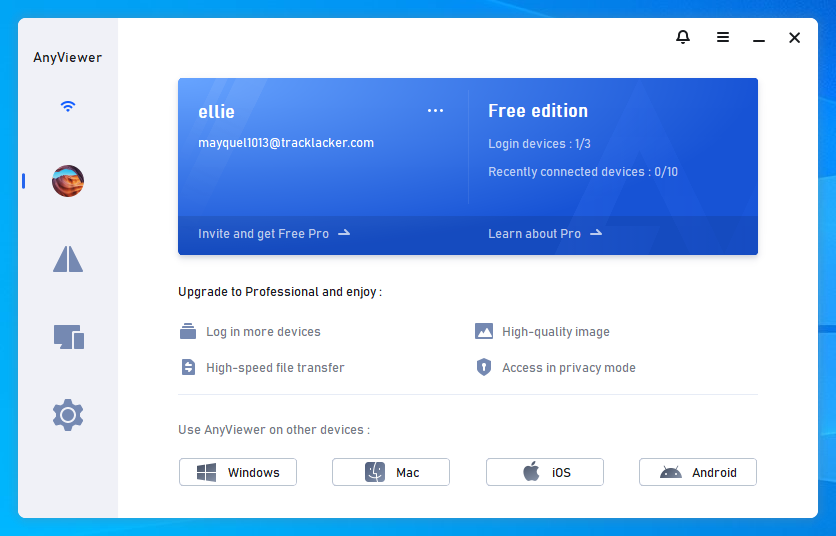 Step 5. Choose your target laptop, and then click File Transfer.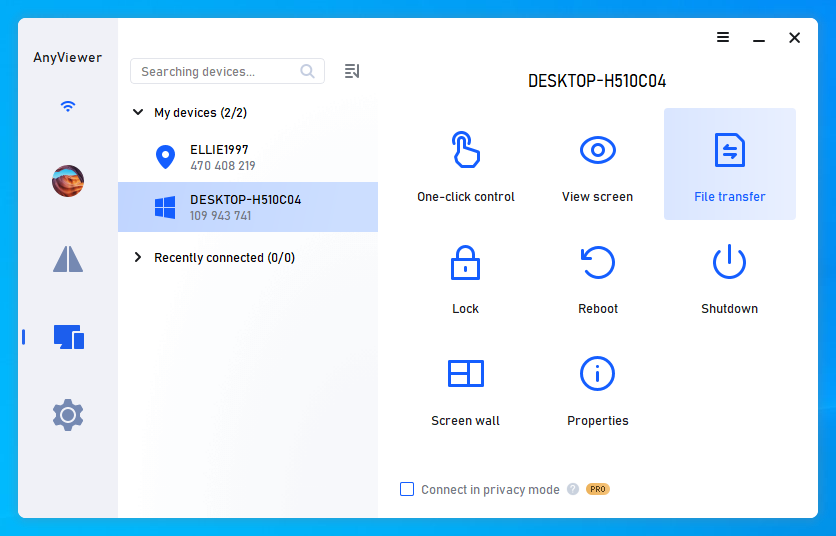 Tips:
You can also click
One-click control
to achieve
unattended remote access
to your target laptop. Then you can completely control it just like you're sitting in front of it. After the connection is successful, you can also click the
Files
button in the menu bar to transfer files.

Step 6. Then a File Transfer dialog box will appear. You're able to transfer files between devices freely by clicking the arrows after choosing the target files. You can also double-click the target file to achieve transfer.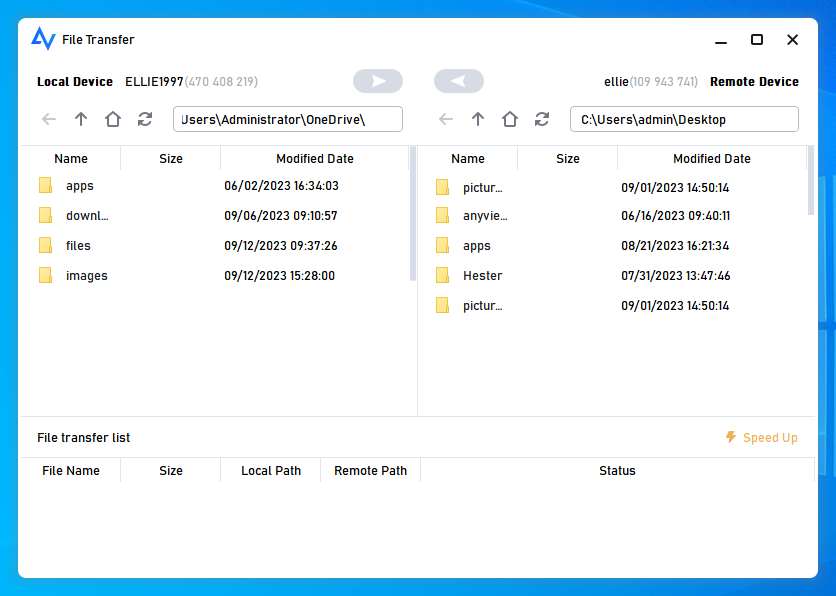 Notes:✎...

To transfer files freely, it is highly recommended to upgrade your account to a professional or enterprise plan. Here are what a professional or enterprise plan can bring to you:

Faster file transfer speed. Transfer speed for a free account is 500 KB/s, and for a paid account is up to 10 MB/s.
Increasing numbers of files are being transferred at once. For a free account, 100 files can be transferred at a time; for a paid account, this number is unlimited.
Larger size of a single file that can be transferred. The maximum size of a single file that can be transferred for the free account is 100 MB, and for a paid account is 1 TB.
Closing words
This post basically provides six solutions to the problem of Windows was unable to transfer some files Bluetooth. If you experience this error two, try the remedies listed above to resolve it. If you need to transfer files from one machine to another, AnyViewer is suggested.