What is a Terminal Server?
A terminal server is a piece of hardware that connects serial devices on a network. It also serves as a point of contact for endpoints, such as computers, to connect to a local or wide area network.
In addition to this, it allows users to log in and access remote computers from PCs tablets, regardless of the location and platform of the end-user device anytime and anywhere. It manages independent remote connections and allows them to run applications independently of other open sessions.
In terms of security, the terminal services connection is encrypted by default with the highest available security level (128 bits). Some older terminal services clients, however, do not support this high level of encryption.
How to access Terminal Server on Windows 11, 10
Here in this part, let's figure out how to access Terminal Server on Windows 11, 10. Keep reading!
AnyViewer: Access Terminal Server with one click
To access Terminal Server, here we recommend a remote access freeware--AnyViewer. Although AnyViewer is a newly-developed software, many users are benefited from its easy operation, high responsiveness, and low latency of AnyViewer. With it, you can get remote access with one click. More importantly, you can access Terminal Server from anywhere, because it won't be limited on the same LAN, which means you don't need to perform port forwarding.
Notes:
▣ You can remote in to multiple PCs simultaneously with AnyViewer.
▣ It's fairly simple and easy to set up, which can save a large amount of time for you.
Step 1. On the host PC, install and run AnyViewer; click "Log in" and click "Sign up".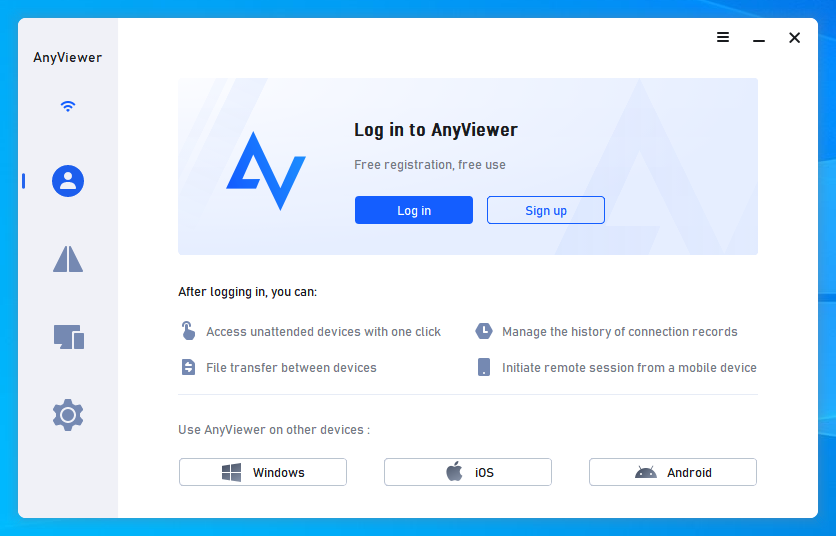 Step 2. Fill in all necessary information to create an AnyViewer account and then you'll be logged in to AnyViewer. If you have already signed up for an account from its official website, you can sign in directly.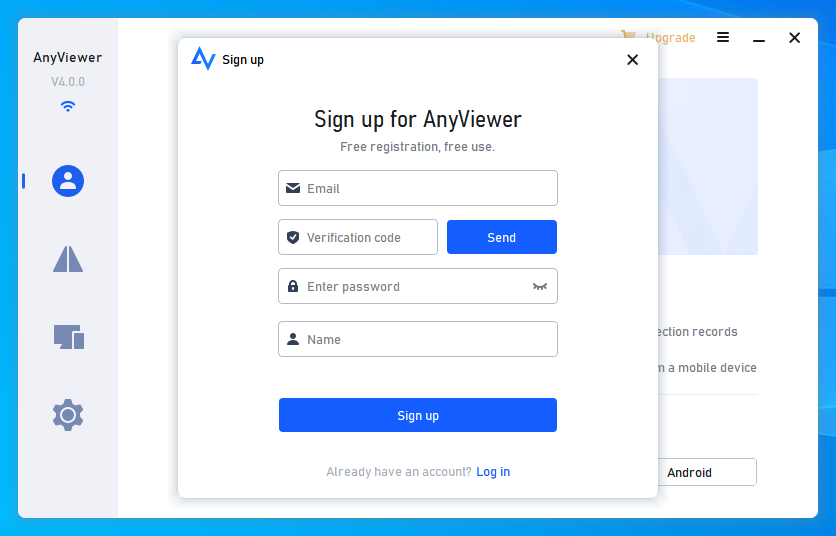 ► Note: The device will be assigned to the account automatically you've logged in.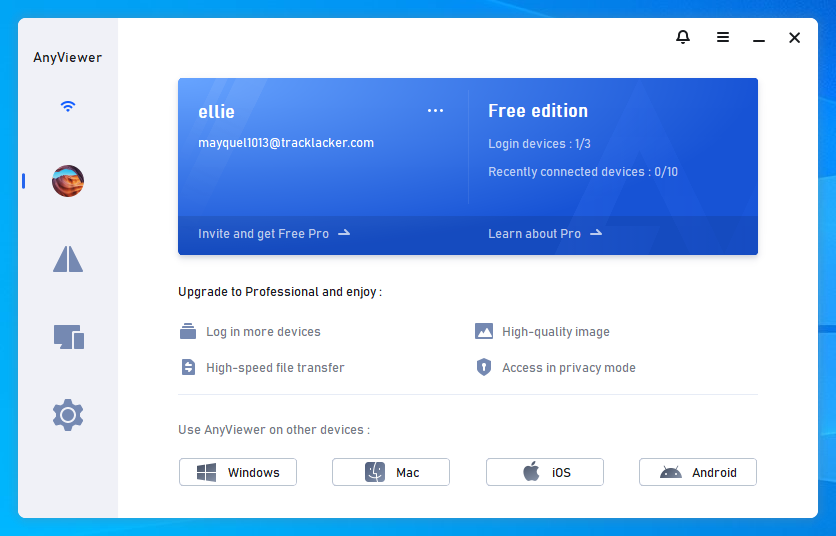 Step 3. On your local PC, log in to the same account of the remote PC and then go to "Device". Locate the remote computer, click it and choose "One-click control" to take full control of the PC.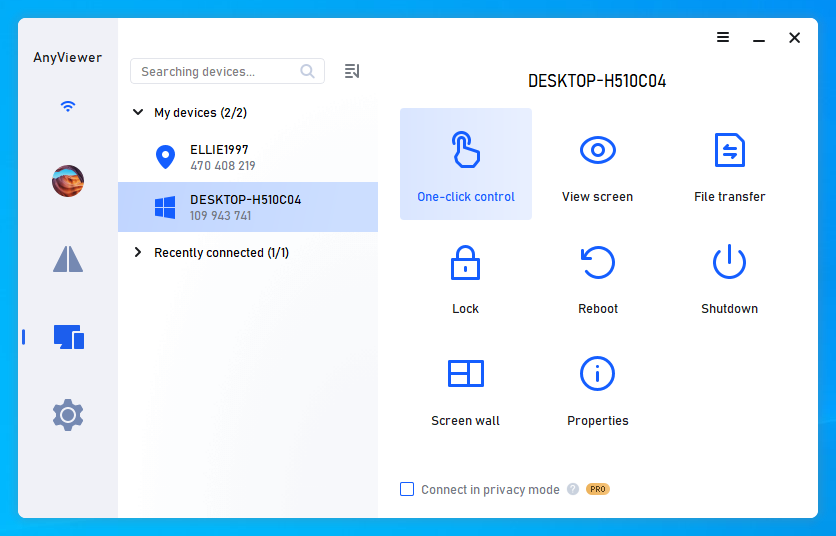 When the remote connection is established successfully, you can view the screen of the remote computer, run apps and view files on the Terminal Server.
Access Terminal Server without downloading software [On the same network]
Of course, if 2 PCs are on the same network and you're unwilling to download third-party software, you can also use Remote Desktop Connection to remote into the Terminal Server. Before the operation, you need to enable the Remote Desktop of the host PC. Otherwise, Remote Desktop can't connect to the remote PC.
Step 1. In the PC that you want to control, click the "Start" button and go to "Settings" > "System" > "Remote Desktop". Here you can see the PC name of this computer. Keep it in mind, as you need to use it for accessing this computer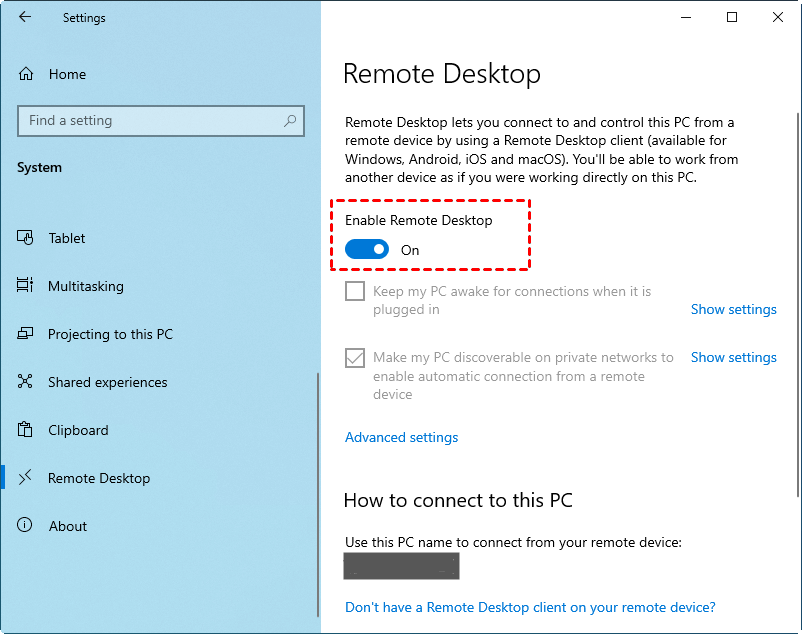 Step 2. Drag the slider to enable Remote Desktop. Then, click "Confirm".

Step 3. Type "Firewall" in the Search box, choose Windows Defender Firewall, and click "Allow an app through Windows firewall".
Step 4. Click "Change Settings" and Check Private and Public for Remote Desktop. Then, click "OK".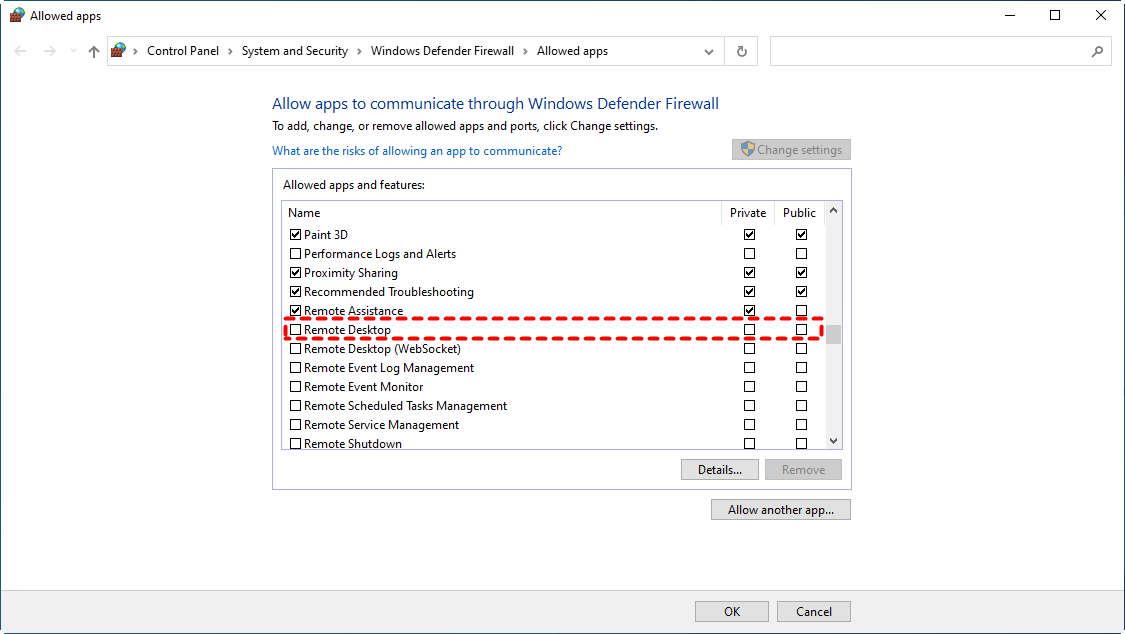 After enabling Remote Desktop and allowing the tool in the firewall, you can run Remote Desktop Connection to control the computer.
Step 5. On the local PC, input "remote desktop connection", double click "Remote Desktop Connection" to open it.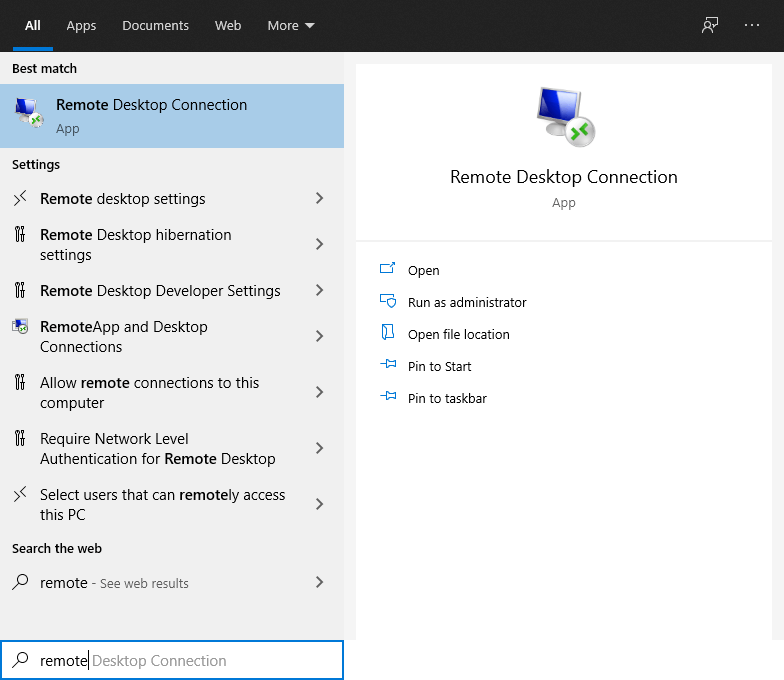 Step 6. Now, you'll in Remote Desktop Connection. Type the PC name or the IP address of the remote PC and click "Connect".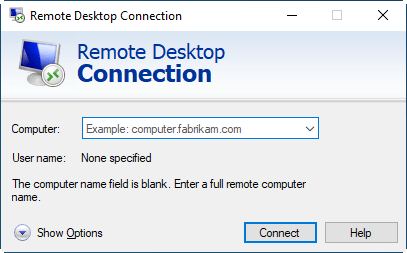 Step 7. Then, you'll be asked to input the password and user name and the password of the host PC to connect to it. After that, you can control the Terminal Server as you want.
Conclusion
Now you must know what is Terminal Server and how to access a Terminal Server on Windows 11, 10, 8, 7... By using AnyViewer, we can truly realize remote control or remote support at any time and anywhere. But if you don't want to download third-party software and 2 devices are on the same network, you can also try Remote Desktop Connection.