What is UltraViewer app?
What is UltraViewer app? UltraViewer is a remote access software that enables you to access and control a computer remotely. You can use UltraViewer for a variety of purposes. For instance, if your parent needs assistance fixing programs on their PC, you can assist them remotely. You can assist your buddies remotely without traveling a thousand miles if they need your assistance teaching them how to use the software. Or perhaps you need to log in to your home computer remotely while away for work.
Better still, UltraViewer offers an unattended access feature that allows you to remotely connect your device without needing a remote side to accept the control manually. Here's a complete guide on how to achieve UltraViewer unattended access.
How to perform UltraViewer unattended access
We divide the process of achieving unattended access into three parts: Download and install UltraViewer, set up the remote computer for unattended access, and start the unattended access from the local computer.
Part 1. Download and install UltraViewer on your computers
To begin, you need to download and install UltraViewer on both the computer you want to access remotely and the computer from which you will start the session.
Step 1. Visit the UltraViewer website and download the proper version on both computers. We recommend downloading EXE version with all features.
Note: UltraViewer is currently compatible with Windows only (including Windows XP, Windows 7/8/10/11, and Windows Server).
Step 2. Once downloaded, follow the on-screen directions to install it on both computers.
Part 2. Set up your remote computer for unattended access
Now that you've installed UltraViewer on both computers, you'll need to configure unattended access settings on the one you want to access remotely.
Step 1. Start UltraViewer on the remote computer. Check the Run UltraViewer with Windows option under Unattended access. (The Prevent Windows from going to sleep option is also preferred, but you need to buy a license to enable it.)
Step 2. Click the golden key icon.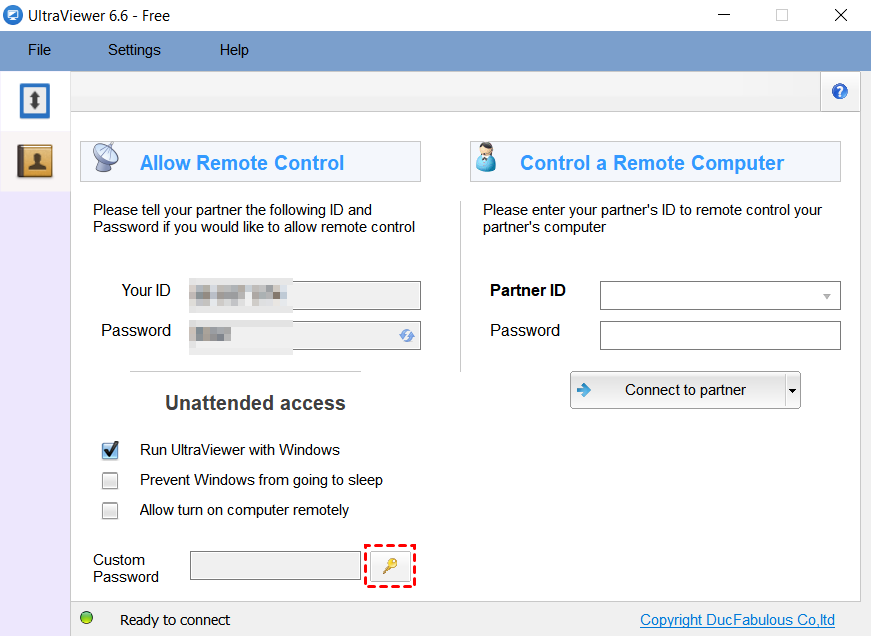 Step 3. Choose a strong and unique password for your remote PC. This password will be required whenever you attempt to connect to your unattended computer. Click OK to take effect.
Part 3. Connect to the remote computer
Now it's time to access the remote computer.
Start UltraViewer on the client computer. Enter the ID of the remote computer (This ID is displayed in the remote computer's UltraViewer window.) Then enter the password created in the previous step and click Connect to partner.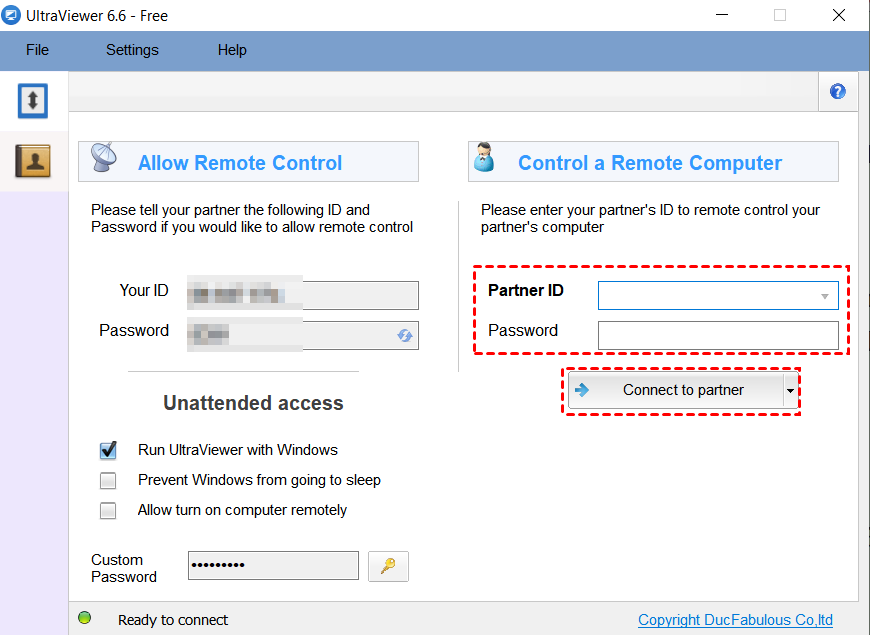 That's all for how to use UltraViewer unattended access, and now you can use your remote machine like you were sitting in front of it.
Bonus tip: One click to achieve unattended access via AnyViewer
If you think setting a password for unattended access is too complicated, we recommend using the best remote desktop software AnyViewer to achieve unattended remote access with only one click.
Compared to UltraViewer, AnyViewer has the following outstanding advantages:
►Easier-to-use. AnyViewer supports one-click unattended access between assigned devices, while UltraViewer requires a password for access each time.
►Free. AnyViewer has a completely free version with several features, including unattended access, flexible file transfer, multiple sessions, chat box, and more. You can also enable the "Prevent this device from automatically sleeping" option for free, which is only available in UltraViewer paid versions.
►Cross-platform. AnyViewer is compatible with Windows, Android, and iOS devices, while UltraViewer is designed for Windows users only.
Don't hesitate to download and install AnyViewer on your computers and start accessing your remote computer with simple steps!
Step 1. Start the application on the remote PC, click Sign up to register a new account, then log in.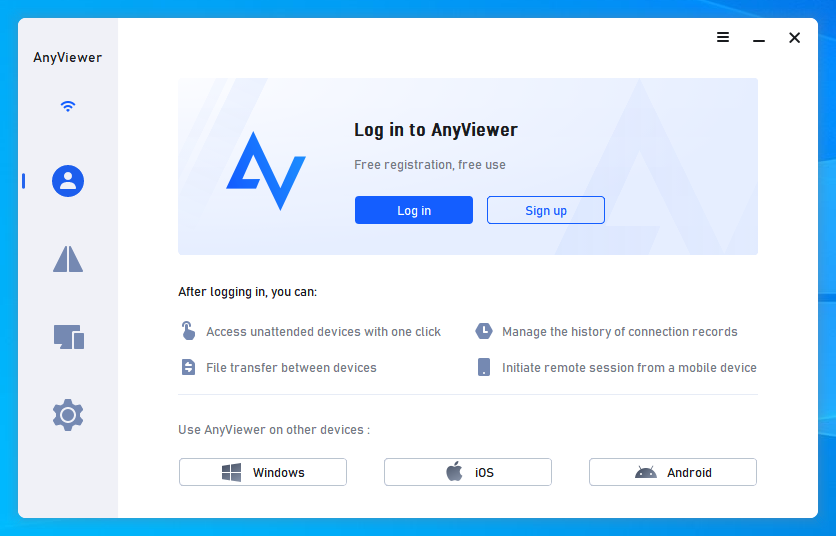 Step 2. Log in to the same account on the client device.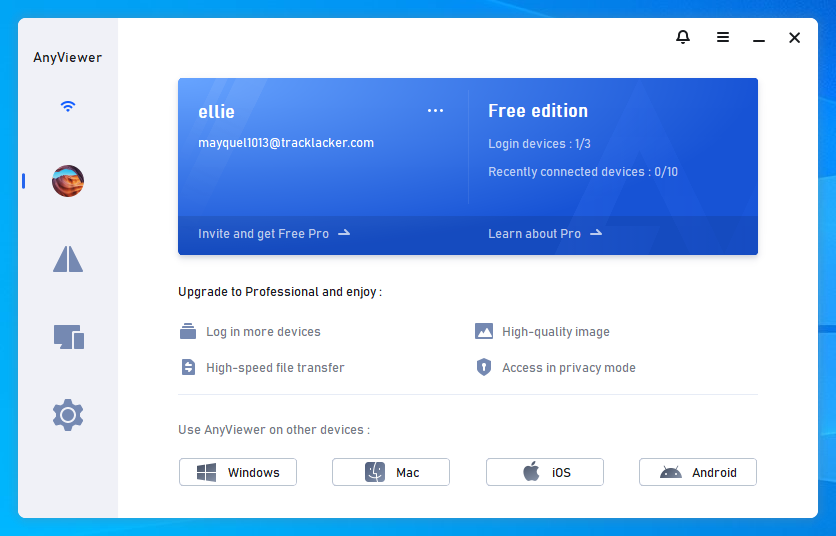 Step 3. Go to the Device interface, and then you can see a list of your assigned devices. Click the device you want to connect to, and then select One-click control.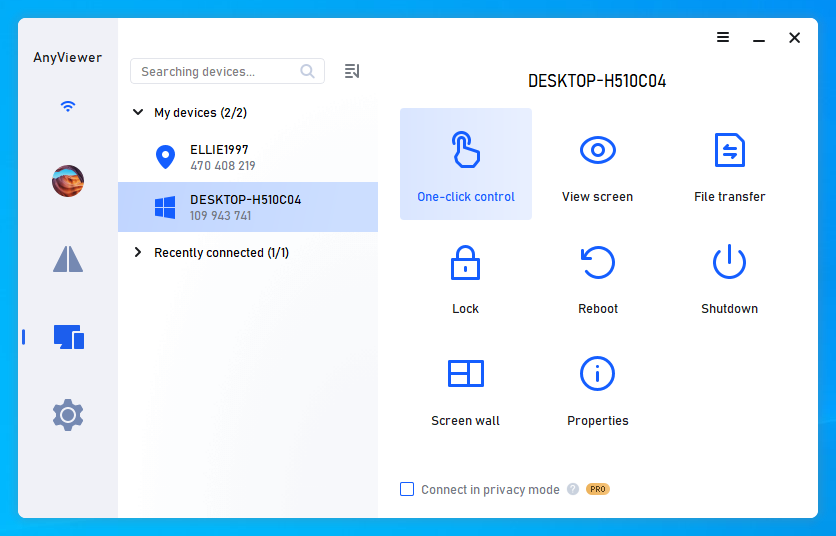 The connection will be successfully established in seconds. Then you can see and control your computer remotely. Besides, there are several options in the upper toolbar. For example, you can adjust the resolution, transfer files, open CMD, etc.
Notes:✎...AnyViewer also has cost-effective upgrading plans. We suggest upgrading your account if you have more than two remote PCs. Then you can take advantage of more extensive rights.

Set up to 100 devices for one-click control.
Establish more concurrent sessions.
Transfer large files (1 TB per file) at the fastest speed.
Create a connection in privacy mode to blacken the screen and disable the keyboard & mouse of the host PC.
Enjoy high-quality image performance.
As we said, AnyViewer client-side supports Android and iOS, which means you can access your Windows computer from iOS or Android devices.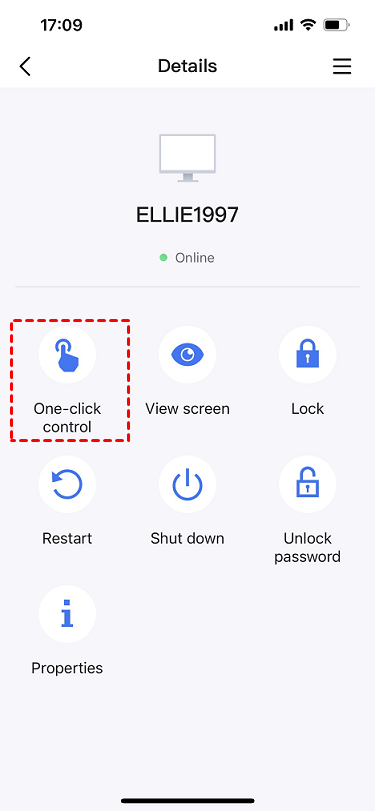 Conclusion
We hope this post is helpful to you in how to achieve UltraViewer unattended access. We also recommend giving AnyVeiwer a try to perform unattended access with only one click, which can significantly improve your work efficiency.