UltraViewer issue: connecting shows black/blank screen
When connecting to the remote computer using UltraViewer, I'm getting a black screen in version 6.2 tried connecting 3 times. How can I fix UltraViewer connecting shows black screen?"
- Question from Reddit
How to fix UltraViewer black screen [3 solutions]
Sometimes, UltraViewer will show a black or blank screen on the local computer when connecting to the remote computer. How can you fix UltraViewer black screen or UltraViewer blank screen issue? Don't worry. Here are three tested solutions.
Solution 1. Download the UltraViewer newest version
Every software will constantly release a new version to fix previous issues, add new functionality or enhance the performance of the software, and so does UltraViewer. So if you have encountered UltraViewer connecting shows black screen, you are advised to download the newest version of UltraViewer.
Step 1. Uninstall UltraViewer. Navigate to Control Panel > Programs > Uninstall a program. From the list, find UltraViewer. Right-click on it and select Uninstall.
Step 2. Then download the newest version from the UltraViewer official site.
Solution 2. Turn off the remote monitor from the local side
When the remote computer monitor is turned off by pushing the OFF button, the monitor/graphics card driver automatically turns off some display images to reduce energy consumption. Therefore, you may encounter a black/white screen or some black/white applications like games, graphics, AutoCAD, etc. So, the advice is to turn off the remote monitor on the remote side instead of turning it off from the local side.
Step 1. Make sure the remote monitor is not turned off by pressing the OFF button.
Step 2. Open the UltraViewer software, access Settings > Tools > Turn off monitors.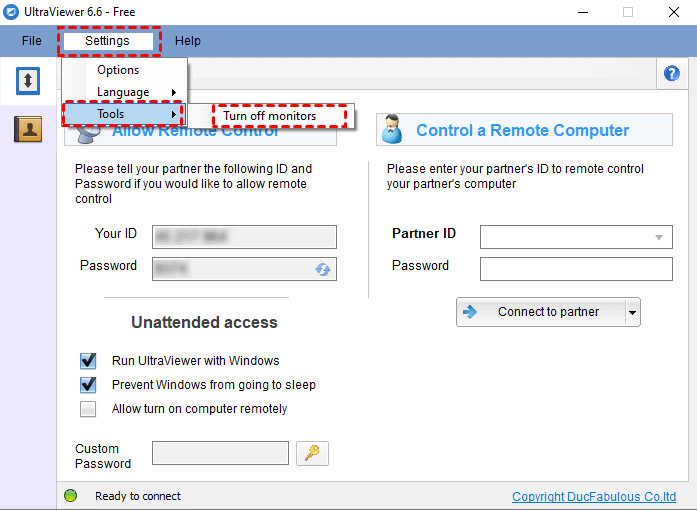 Step 3. Connecting to the remote computer with a turned-off screen will no longer have a black or blank screen issue.
Solution 3. Use an UltraViewer alternative
Another solution is to try an UltraViewer alternative. AnyViewer is highly recommended. It is a on Windows, iOS, and Android. With it, you won't encounter a black screen issue, whether the remote computer screen is turned on or off. AnyViewer also provides impressive features, like file transfer, screen share, remote restart, etc., making it the best software for remote work and support.
Step 1. On both computers, download, install, and launch AnyViewer. Go to Log in on the Controller computer, and then click Sign up (if you have already signed up on its official website, you can log in directly).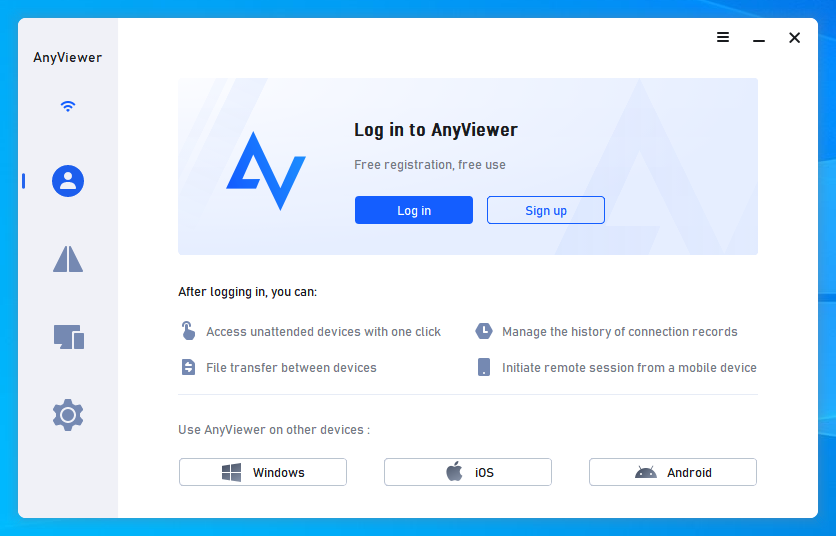 Step 2. Fill out the signup form.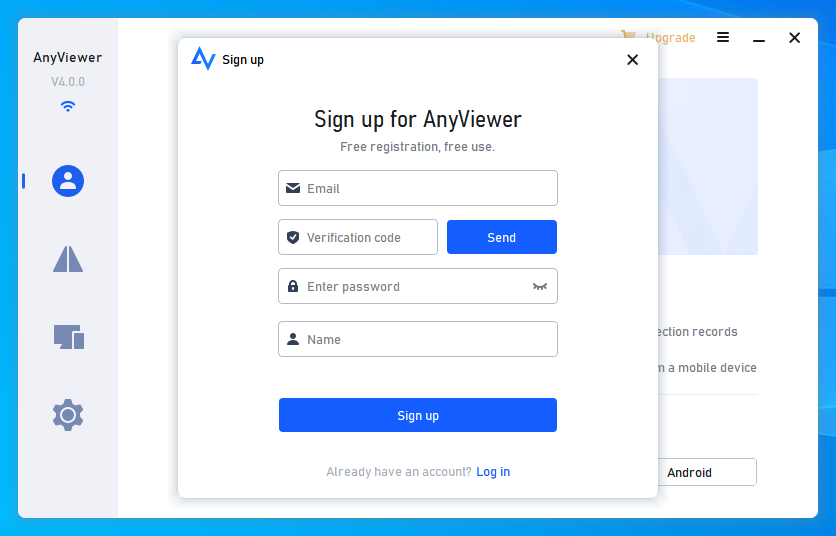 Step 3. You should now see that you have successfully logged into AnyViewer. Your device will be assigned to the account to which you have logged in automatically.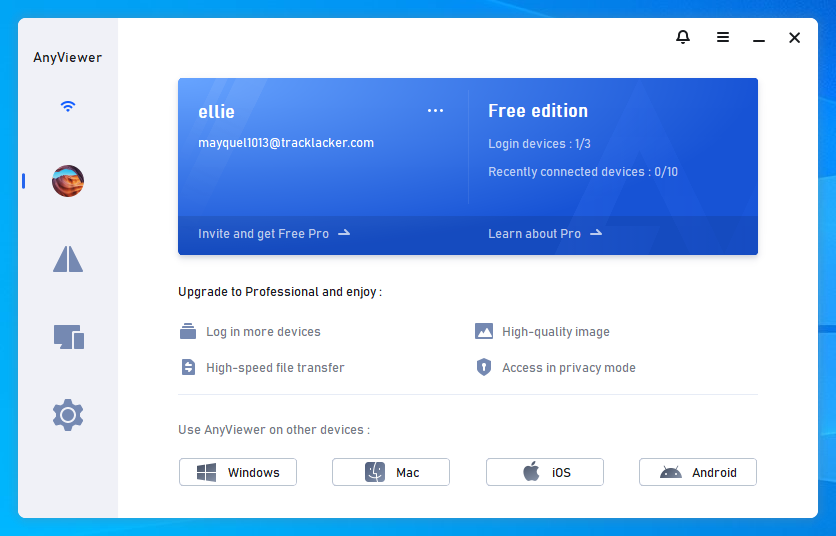 Step 4. Sign in with the same AnyViewer account on both computers, then click the One-click control for unattended remote access.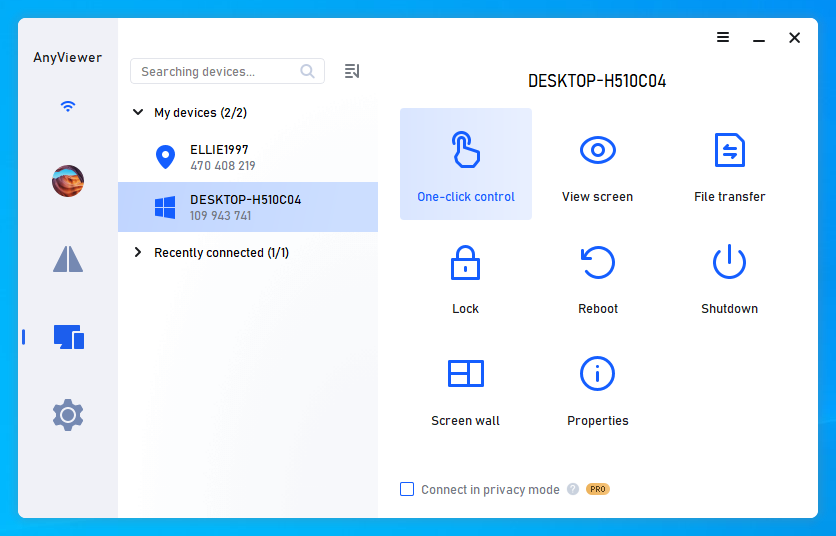 Notes:✎...

It is recommended to upgrade your account to a Professional or Enterprise plan. What can a professional or enterprise plan brings to you:

More devices will be allowed to assign to the same account for unattended access.
More connection channels for more devices to be able to start remote connection at the same time.
One device can connect to more devices simultaneously.
Black the remote PC screen and disable the remote keyboard & mouse click to protect privacy.
Transfer 1TB files at 10 MB/s.
The bottom line
This post primarily introduces three solutions to solve UltraViewer black screen or blank screen issue. You can uninstall UltraViewer and reinstall the newest version. Or you need to ensure the remote screen is not turned off by pressing the OFF button. If the problem persists, you can use the best UltraViewer alternative AnyViewer. AnyViewer provides more valuable features to serve remote access and remote support. With it, you can quickly get started. Try it right now.