Is UltraViewer safe?
UltraViewer is remote access software that allows users to connect and control systems over a distance. It is a tool familiar to people who have frequent contact with computers, need remote customer support, or work from home.
However, some users are quite disturbed and worried about not knowing is UltraViewer secure and is UltraViewer safe to use. You can set your mind at rest. Like most other remote desktop software, UltraViewer is safe to use if you're using it correctly. Some people feel that scam people may use remote desktop software to steal personal information or hack computers. Remote desktop software has taken many measures to protect users from information leakage. Here are what UltraViewer has done.
UltraViewer has been studied and configured in absolute security encryption mode. If you are supported, your affiliate can only access your computer using the personal ID and password you provided. By limiting the connection to devices verified in the active connection zone, UltraViewer has eliminated the risk of unauthorized entry into any object to steal personal information.
While the facilitator controls the computer, you can monitor the entire process they operate on the screen, including mouse movement. Controlling the mouse allows you to regain control at any time.
If you want to stop the helper control process, simply close UltraViewer. When they do, they will lose all connections to the computer they require and will no longer be able to see or control anything on your screen. If you want to reconnect with your partner, you must re-open UltraViewer and provide them with a new password that UltraViewer has changed automatically.
How to make UltraViewer safer
Here are what you can do to increase security when using UltraViewer.
To avoid information theft when accessing a remote computer, connect UltraViewer only to trusted support people you know well.
Never send sensitive personal information such as a bank account number or a citizen's identification card.
Only click on familiar or trustworthy links.
Keep an eye on the entire control process. Keep an eye out for any manipulation by the controller to keep them from stealing your data. If a hazard is detected, maintain control or disconnect immediately.
When not in use, turn off the software because the controller can continue to access the computer if you don't notice. Make a habit of changing your password after each use.
Upgrades should be updated regularly. These upgrades and bug fixes will add new features and improve the security of your computer's UltraViewer software.
Bonus tip: a safe UltraViewer alternative
AnyViewer is also a free, stable, and secure remote desktop software like UltraViewer. But AnyViewer free version is better than Ultraviewer free version. Here's a quick comparison.
Fast and stable connection. AnyViewer free version adopts an optimized connection algorithm. It automatically connects to the best server to enjoy a faster and smoother remote control experience. But for UltraViewer free version, you can sometimes be disconnected suddenly, interrupting your work.
Simultaneously remote connections. AnyViewer free version allows two remote connections at the same time. But in the UltraViewerfree version, you can only control and support one computer.
Disturbing ads. AnyViewer free version is ad-free. But you need to watch annoying on-screen ads with UltraViewer free version.
Step 1. Install and run AnyViewer on both of your computers. Navigate to Log in and then Sign up on the Controller computer (if you have already registered on the official website, you can log in directly).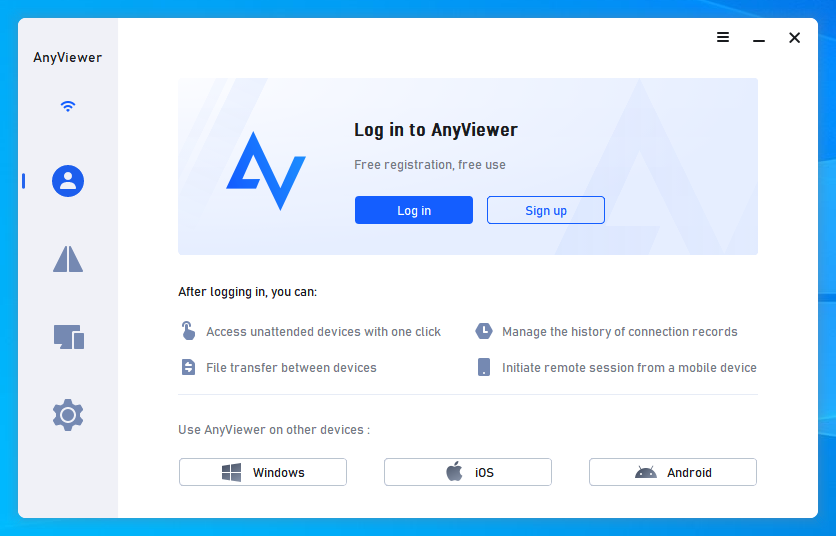 Step 2. Fill out the sign-up form.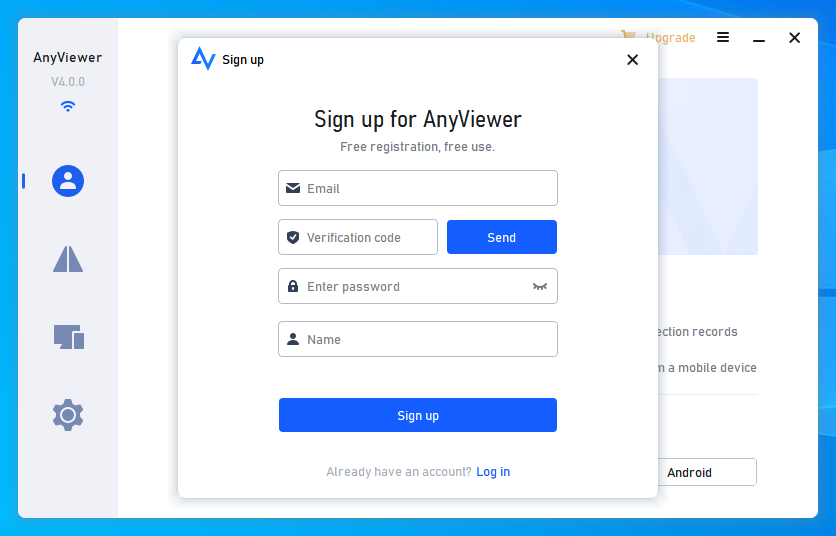 Step 3. You should now see that you have successfully logged into AnyViewer. Your device will be assigned to the account to which you have logged in automatically.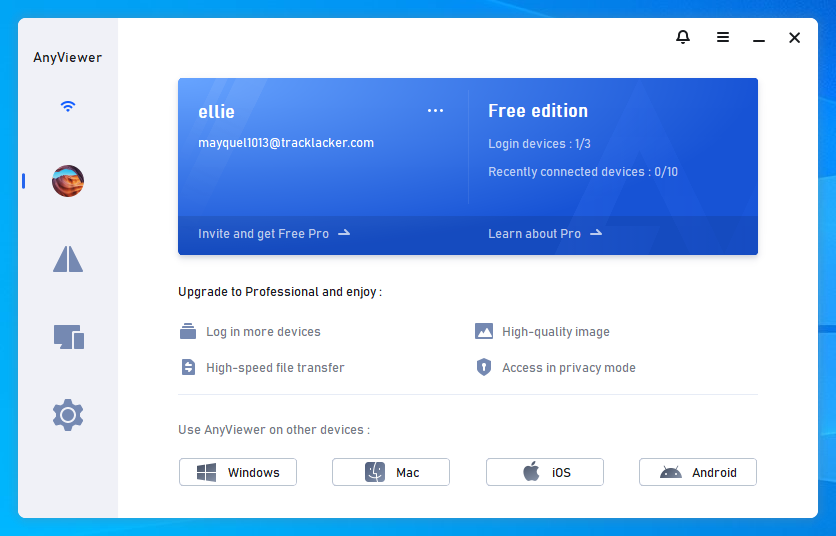 Step 4. Log in to the same AnyViewer account on the two devices; then, you can click One-click control to achieve unattended remote access, click View the screen to see another's screen or click File transfer to share files between computers.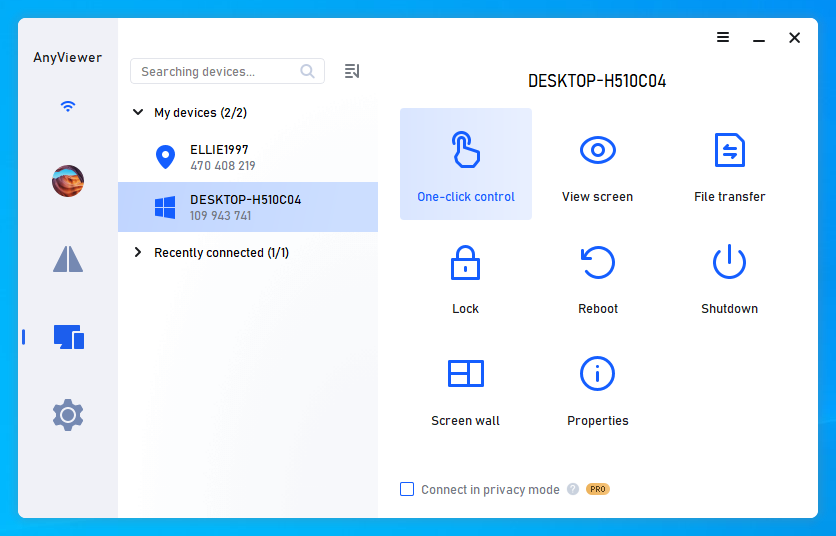 Notes:✎...

Additionally, you can change your account's plan to a Professional or Enterprise one. What a business or professional plan can provide for you is:

More devices will be allowed to assign to the same account for unattended remote access.
More connection channels for more devices to be able to start remote connection at the same time.
One device can connect to more devices simultaneously.
Black the remote PC screen and disable the remote keyboard & mouse click to protect privacy.
Transfer 1TB files at 10 MB/s.
How to secure AnyViewer remote connections
Here's something you can do to protect your computer security when using AnyViewer.
If you will leave your computer or let others use your computer for a while, you can follow the steps given below to lock AnyViewer for preventing its settings from being changed by others.
Step 1. Run AnyViewer. Click Menu > Lock AnyViewer to lock the AnyViewer screen.
Step 2. Then, the program will be locked. To use it again, you need to input the AnyViewer account password to unlock the interface.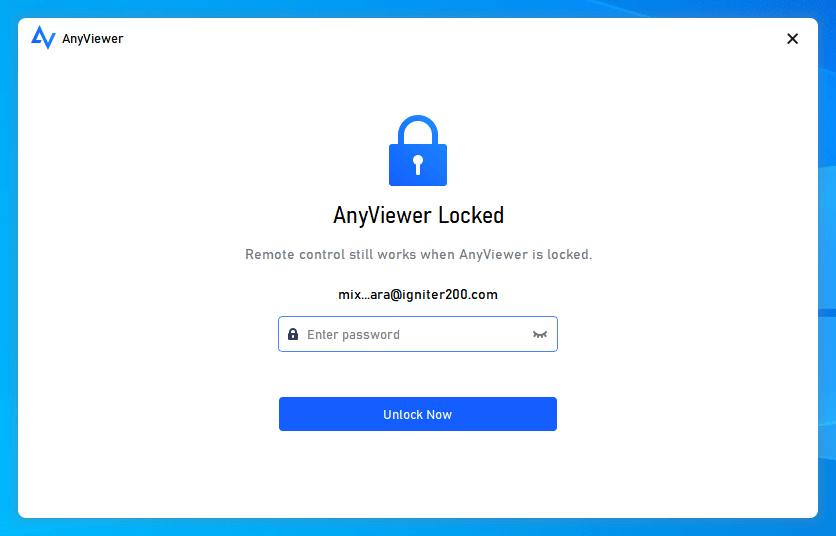 Step 3. You can also go to Settings > Security to set up AnyViewer to lock automatically on specific scenarios. You can enable the first option and adjust the time interval, or you can enable the second option Lock AnyViewer when local computer is locked to locked AnyViewer once you lock your local computer.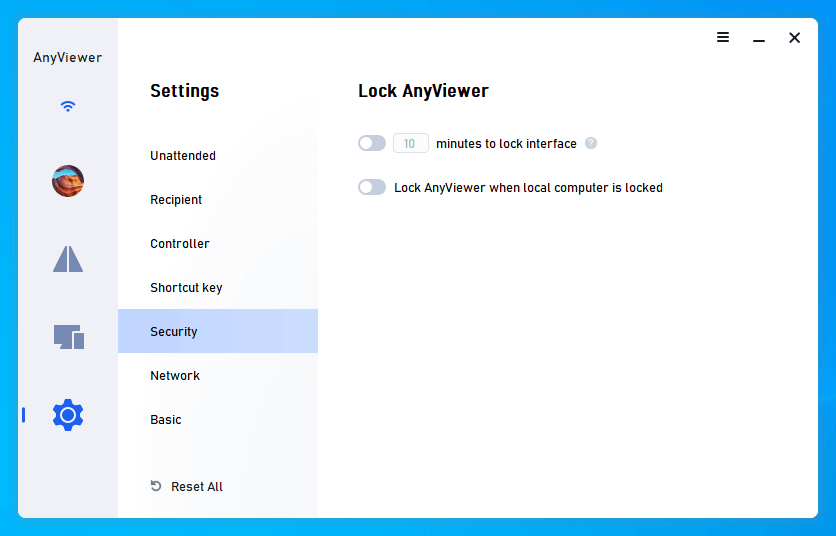 If you need to disable remote access on your computer when you don't want to use it, it is quite easy. You just need to go to Settings > Recipient, and then untick the three options; your device is not enabled to be accessed anymore.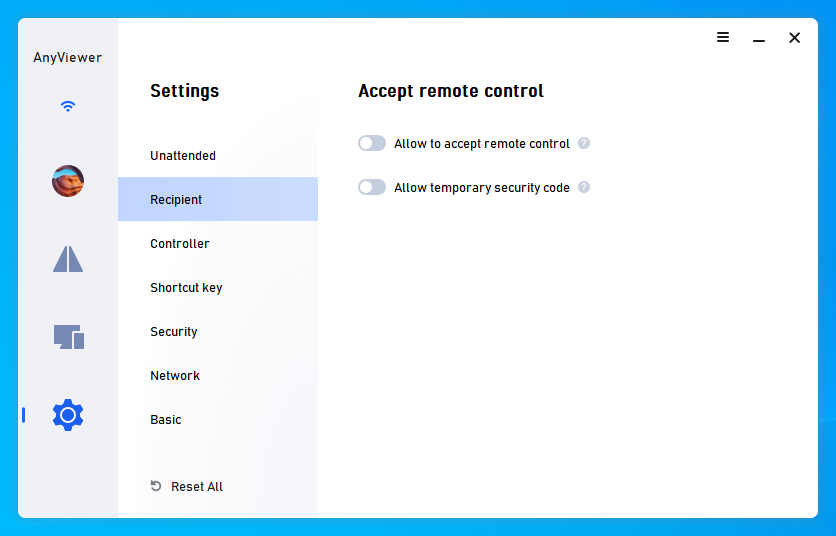 The bottom line
Is UltraViewer safe? Yes, UltraViewer is secure to use if you're using it correctly. Besides, we also introduce an UltraViewer alternative, AnyViewer. It is also a safe remote desktop tool.
Ultimately, we would like to say that sometimes it's not the tool; it's the people who use it. Even a spoon is dangerous in the wrong hands, whereas a good person won't cause problems even with a knife. Remote desktop software is suitable for convenient remote work and support. Such a helpful tool should not be used to do harmful things.