Error message: The remote resource can't be reached
"When using Remote Desktop, I ran across a difficulty. I've got an error message saying: 'The remote resource can't be reached.' It suggests I check the connection and try again or ask the network administrator for help. Is there anyone who knows what's going on? Any recommendations would be much appreciated."
Fix the remote resource can't be reached on Remote Desktop
Here in this part, we listed the detailed steps on how to fix the remote resource can't be reached on Remote Desktop Services when remote into another computer.
Step 1. Search for Remote Desktop Connection in the Search box. And then open it.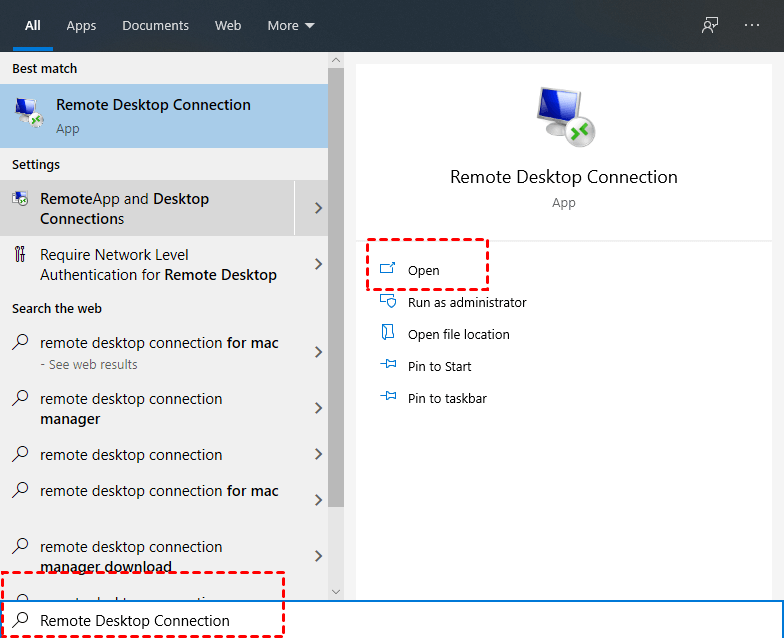 Step 2. In the Remote Desktop Connection dialog box, click Show Options.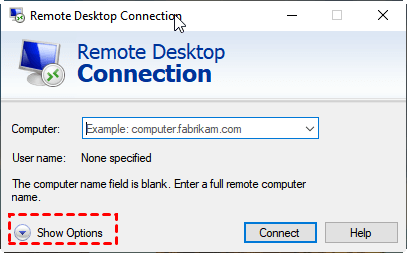 Step 3. Click the Advanced tab, and then click Settings under Connect from anywhere.
Step 4. check whether the name of the remote server is correct or not. If it is correct, then you can continue the following steps.
Step 5. Press Win + R and then type in "cmd" to open the Command Prompt. Type in: ping + space + SERVER NAME. For example, if your server name is remote.sircles.net, then you should type in: ping remote.sircles.net. Then press enter.
Step 6. If the command prompt cannot resolve the IP address, then you are either experiencing a DNS problem (in which case try rebooting your router) or you are not properly connected to the internet (try reconnecting to your WiFi or using a LAN cable).
Free alternative to Windows Remote Desktop: AnyViewer
If the method mentioned here didn't help you fix the remote resource can't be reached on Remote Desktop, then we suggest you use the free third-party remote access software for Windows, AnyViewer, which is easy to set up and quite convenient to use. Reviews from users say that AnyViewer has been pretty useful in letting them remote into other computers quickly and stably.
Next, let's learn how to remotely access another computer with AnyViewer.
Step 1. Download, install and launch AnyViewer on both computers. Go to Log in, and then click Sign up. (If you already have signed up on its official website, you can log in directly.)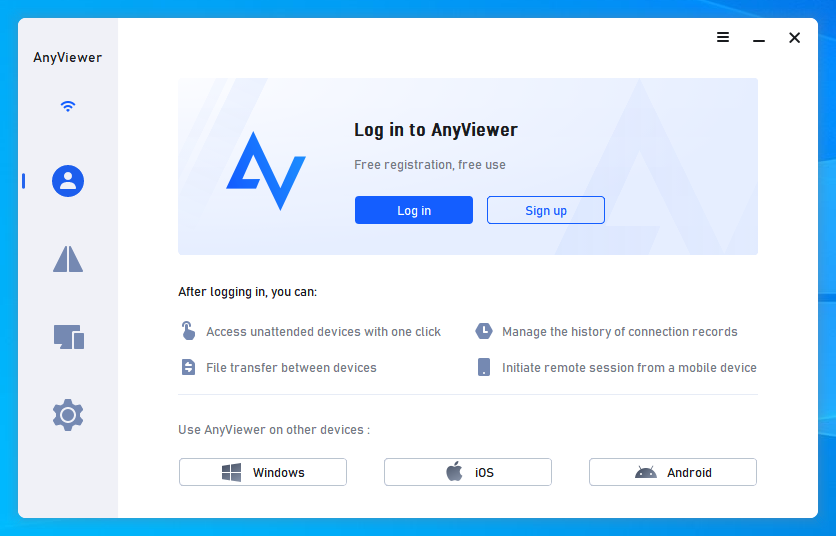 Step 2. Fill in the signup information.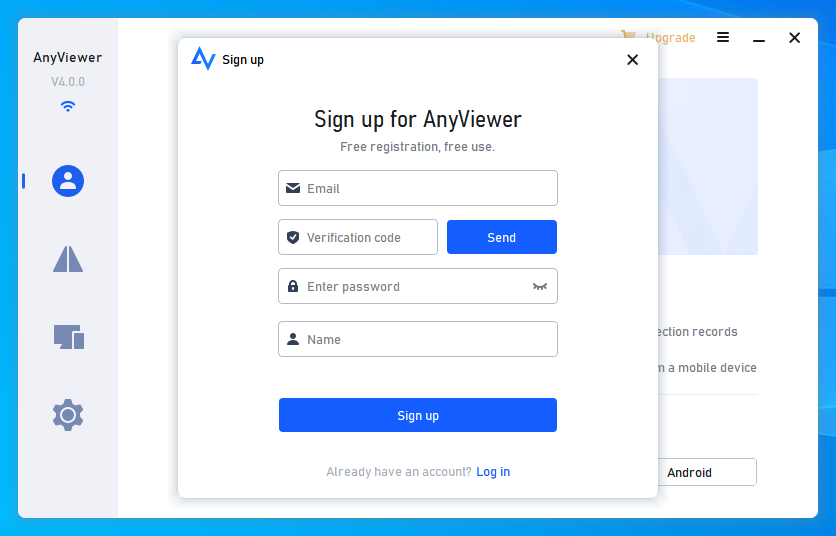 Step 3. Then you can see you successfully logged in to AnyViewer. Your device will automatically be assigned to the account you've logged in to.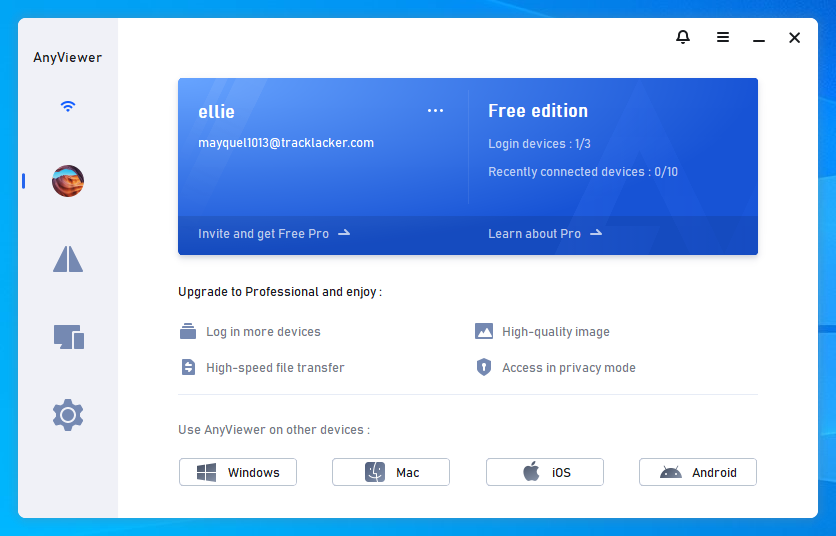 Step 4. Log in to the same AnyViewer account on the two devices, then you can achieve a direct connection by clicking One-click control.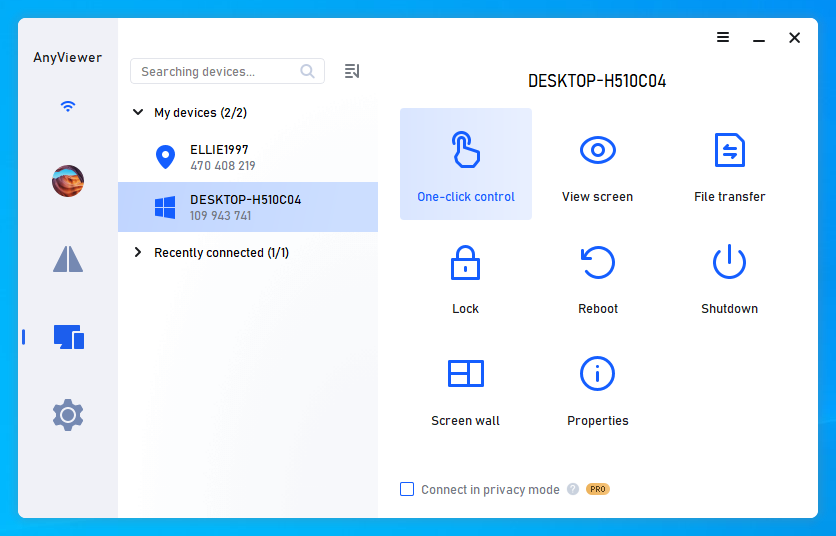 After successfully connecting to another computer, you can remotely view files, access programs, open browsers, etc. Besides, AnyViewer also allows you to remotely access multiple computers simultaneously without any lag and delay. But you need to upgrade your account to Professional or Enterprise edition.