Why does TeamViewer freeze?
When using TeamViewer to connect to my home computer from school, it establishes the connection, then functions for a short period of time before freezing as soon as I make any changes to the remote PC. After that, TeamViewer won't connect again. Why does TeamViewer freeze? And I wonder how to fix this problem, thanks."
- Question from TeamViewer Forum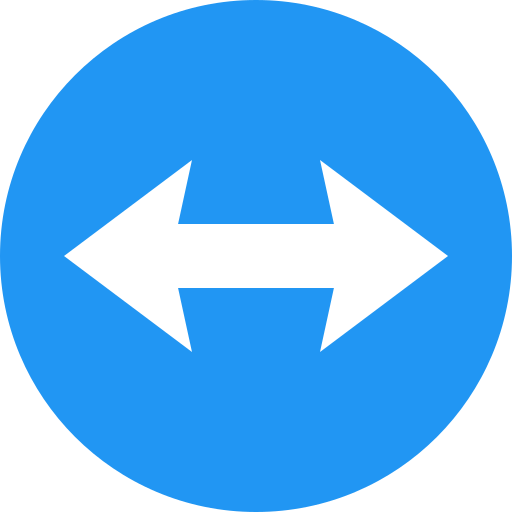 By default, TeamViewer is configured to use UDP to communicate with the host and client devices. This can create some latency over the network. Since UDP does not have any built-in error correction, then packets may arrive out of sequence or with a delay, ultimately causing the screen to freeze. Besides, an unstable network connection, a large system cache may also result in a freeze.
How to fix TeamViewer remote computer frozen
Although TeamViewer is frequently used for remote control and file transfer, users may run across a number of issues, one of which being the remote computer freezing. If you're having the same error, don't worry, we will cover how to fix TeamViewer remote computer frozen in this section.
Method 1. Restart the remote computer
Try to restart the remote computer and then re-establish a connection. Make sure you enabled start with Windows option on the remote device.
On TeamViewer main interface, click Options > General > enable Start TeamViewer with Windows.
During TeamViewer remote control session, click Actions on the toolbar and click Remote Reboot.

Method 2. Optimize speed
You can try to prioritize the speed of the traffic when your remote computer are freezing in a remote session.
From the toolbar, click Actions > Optimize speed.
Method 3. Disable UDP option
As we said, it seems to be a bug that UDP will cause a delay and screen freezes. Perform TeamViewer disable UDP option can solve this problem.
Step 1. On TeamViewer main interface, click Settings.
Step 2. Click Advanced > Show advanced options.
Step 3. Under Advanced network settings, uncheck Use UDP. Click OK to confirm the setting.
Method 4. Disable hardware acceleration
Disable hardware acceleration could also be helpful to fix the issue.
Step 1. On TeamViewer main interface, click Settings.
Step 2. Click Advanced > Show advanced options.
Step 3. Under More section, check Disable hardware acceleration and click OK to take effect.
Method 5. Switch to TeamViewer alternative [error-free]
If none of the aforementioned options work for you, the TeamViewer alternative might be your best option. Here we advise using the professional remote access software AnyViewer to conveniently perform remote tasks without errors.
★Benefits of AnyViewer:

It is developed by a strong technical team, ensuring you a stable & fast remote connection without freezing, lagging, black screen, etc.
It offers completely free version without time limitations.
It supports both attended and unattended ways to achieve remote access and file transfer, which can satisfies your demands in different situations.
It provides plenty of considerate built-in features, chat, change image quality, etc.
Download, install and launch AnyViewer on your devices and follow the next steps to establish a remote connection.
Step 1. On the remote computer, click Log in from the left pane, and click Sign up.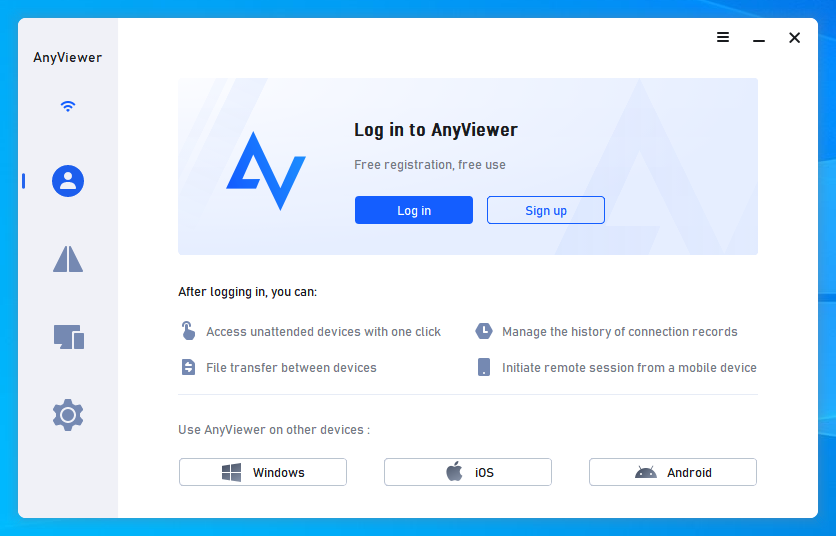 Step 2. Fill the information and click Sign up.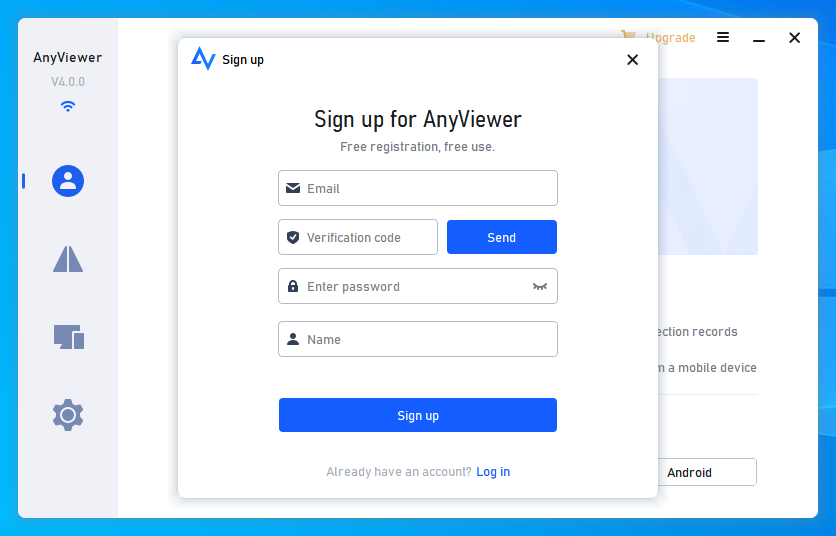 Step 3. On the local computer, log in to the same account and here you can see the assigned devices.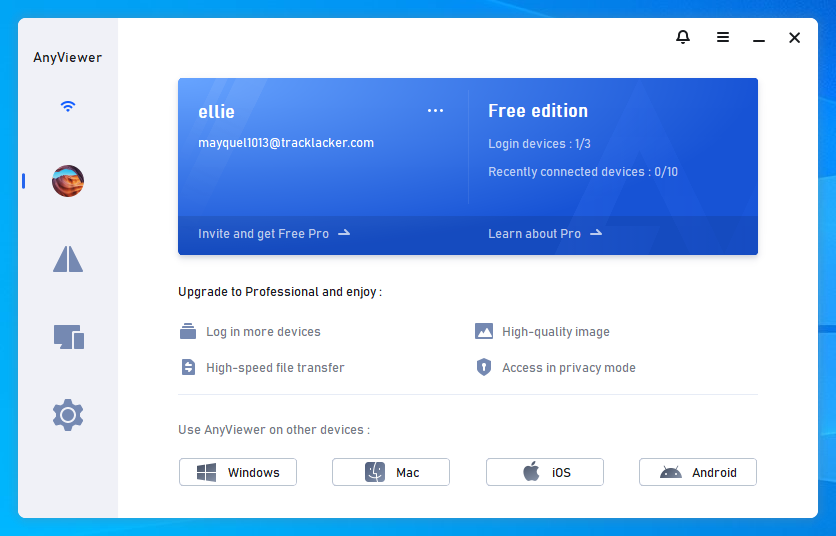 Step 4. Go to Device interface, select the computer you want to connect to, and click One-click control to performunattended remote access.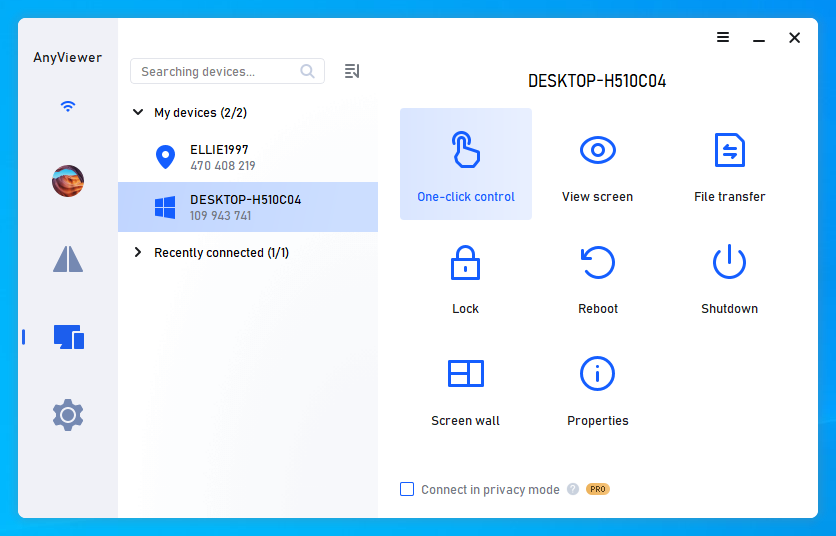 Then you can see the remote computer and directly control it.
Notes:✎...You can also upgrade to a Professional or Enterprise plan then the following rights will thereafter be yours:

Assign more devices.
More concurrent connection channels for an Enterprise plan.
More simultaneous sessions.
Connect in privacy mode to strongly protect your privacy.
High-quality image.
...
Conclusion
This post introduces how to fix TeamViewer remote computer frozen. We offer you five proven solutions to solve the problem. To avoid such errors happening again, try AnyViewer.