What to do if Splashtop username and password is incorrect?
I'm having trouble accessing Splashtop with my username and password. Even after double-checking, it keeps showing as incorrect. Has anyone else encountered this issue? Please share some tips to fix Splashtop the session password is incorrect. Thank you in advance!"
- Question from a user
How to fix Splashtop the session password is incorrect [3 solutions]
Remote access tools are indispensable in today's interconnected world. While Splashtop is popular, users often encounter the frustrating 'Session password is incorrect' error when performing Splashtop login. In this article, we'll delve into effective solutions to fix this issue.
Solution 1. Reset a new password
If you forgot your Splashtop Account password, you can try resetting it and logging in again.
Step 1. In the Splashtop Account log in interface, click Forgot password.
Step 2. Enter your account email and click Send.
Step 3. To perform Splashtop password reset, locate the email in your inbox on your email account and adhere to its instructions.
Solution 2. Create a new Splashtop Account
Suppose your password is accurate and you still receive this error message. In that case, it's likely because the email associated with your Splashtop Account does not exist on the servers. You can create a new Splashtop Account and use it as a test to see if the email exists.
Step 1. Go to the Splashtop Account login interface and click Create Splashtop Account.
Step 2. Fill in the required information, tick I agree to the Splashtop Terms of Service and Privacy Policy, and click Create.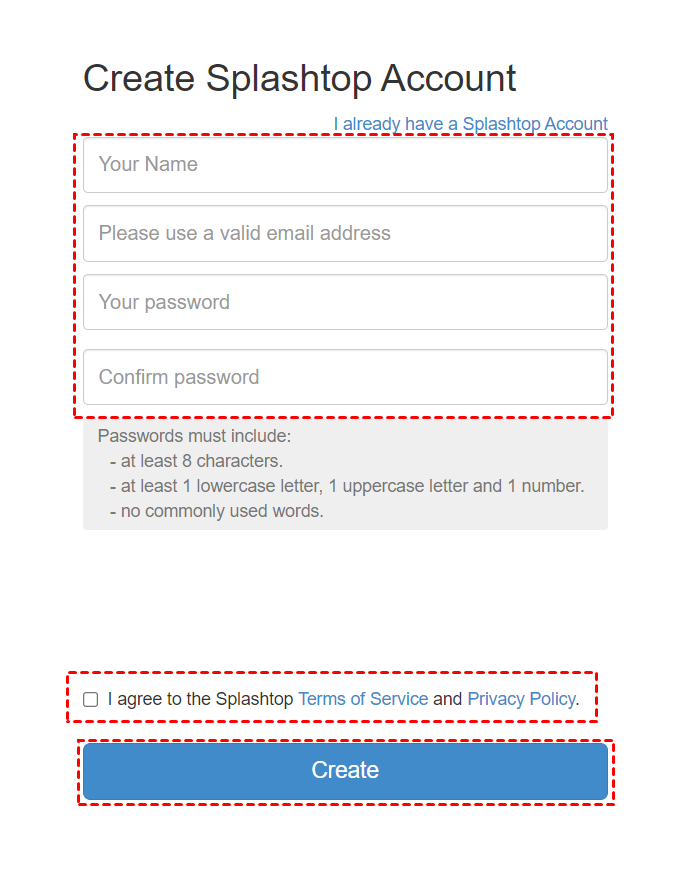 Solution 3. Check the security code
If you receive a notification that states, "Your security code is incorrect" or anything similar, this does not refer to your Splashtop Account email and password. This is the security code set up for the particular machine has been set up for the particular machine that you are trying to connect to. You can resolve this issue by checking the security code.
Open the Splashtop streamer settings and go to the Security section. Select Require security code to check your code.
Bonus tip: How to achieve remote access without a password
Are you tired of constantly facing the frustration of dealing with the infamous "Splashtop the session password is incorrect" conundrum? Look no further than AnyViewer, the ultimate remote access software that sets you free from password shackles.
AnyViewer offers an unmatched feature: safe one-click unattended access, without the need to enter a password. Imagine the convenience of effortlessly connecting to your remote devices with just a single click, no more grappling with complex or forgotten passwords.
Besides, AnyViewer supports several free features to improve remote work efficiency, including flexible file transfer, multiple sessions, multi-monitor navigation, real-time chat, and more.
Say goodbye to password woes and welcome a new era of hassle-free remote access with AnyViewer at your fingertips.
Step 1. Initiate AnyViewer on the host computer. Create a new account and utilize the provided login credentials tolog in.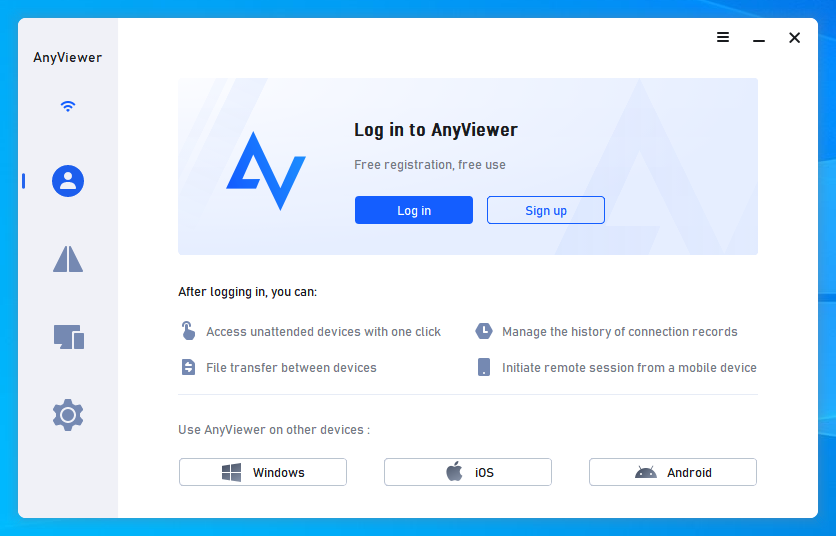 Step 2. On the client computer, commence the AnyViewer program and sign in using the recently established account. Once successfully logged in, the client computer will automatically assign itself to your account.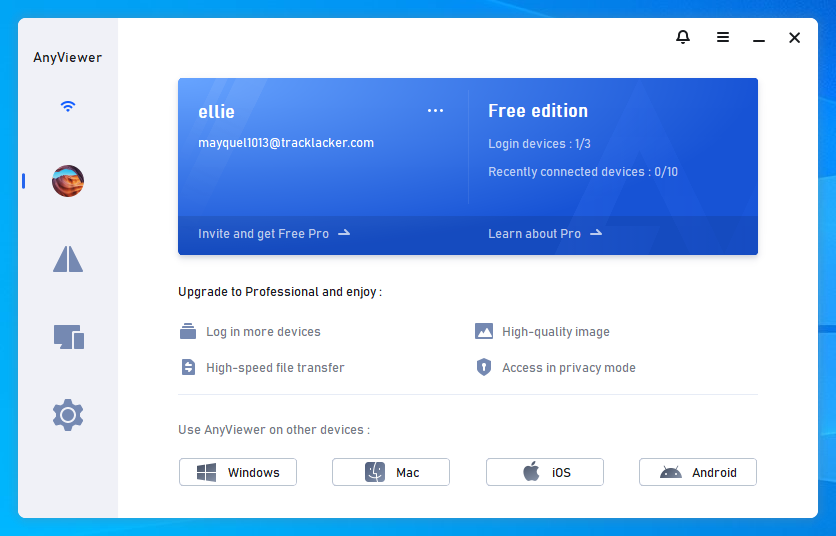 Step 3. Move to the Device section, where an extensive catalog of available devices awaits. Locate the specific device you intend to connect with and establish a connection by selecting the convenient One-click control option.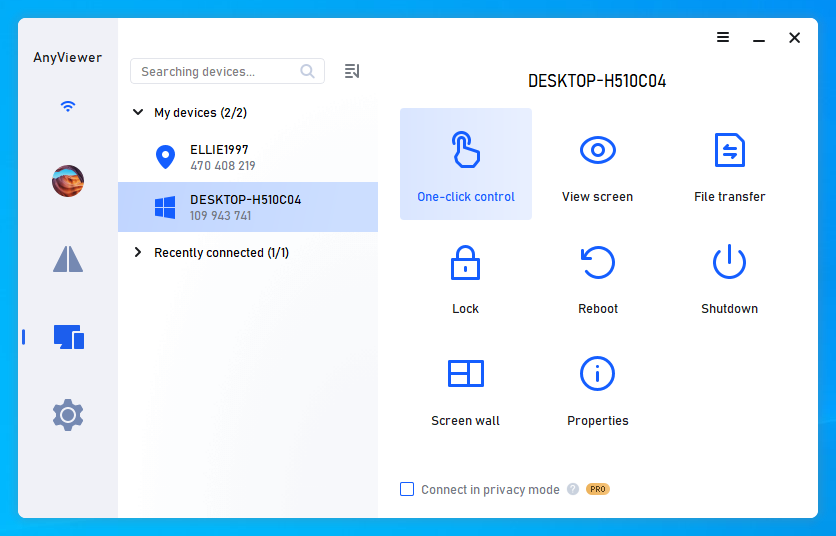 Notes:✎...If you possess more than two remote PCs, it's essential to be aware that AnyViewer presents a variety of flexible and economical licensing options that cater to diverse requirements. These licenses provide a range of benefits, including:

Simplified connectivity to a maximum of 100 devices with just a single click.
Effortless management and simultaneous connection to 10 devices.
Seamless transfer of large files without restrictions, supporting up to 1TB per file for smooth data exchange.
Heightened security through the privacy mode feature, which conceals the host PC screen and deactivates the keyboard and mouse, offering enhanced peace of mind.
Conclusion
That's all for how to fix Splashtop the session password is incorrect. Tackling the frustrating issue calls for an effective solution. Look no further than AnyViewer—an exceptional alternative that resolves this predicament effortlessly and provides a seamless remote desktop experience. Embrace the power of AnyViewer today and bid farewell to password hassles, welcoming a new era of secure and hassle-free remote access.