Splashtop blurry screen after updating to 3.5.2.0
Upon establishing a remote session with a computer, I'm encountering an issue where the screen appears excessively blurry, rendering the text and content nearly illegible. Interestingly, alternative remote desktop software solutions exhibit impeccable clarity. I kindly request your guidance and recommendations on this matter."
- Question from Reddit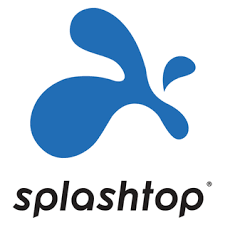 3 solutions to fix Splashtop blurry screen on Windows & Mac
There's no need to fret if you face Splashtop blurry screen when connected to a computer via a remote session. Three potential solutions exist to fix Splashtop blurry on Windows 11 and Mac. By implementing these options, you can effectively rectify the problem and enjoy a clear and crisp remote desktop experience.
Solution 1. Change resolution
By default, Splashtop streams the native resolution of the remote computer. However, you can adjust the screen resolution depending on your network limitations or personal preference for a better fit on your local monitor. Here's a comprehensive guide:
Step 1. Launch the Splashtop Business app before connecting to the remote computer.
Step 2. Locate the computer you wish to connect to and click or tap on the edit icon, typically represented by a gear-shaped icon.

Step 3. Within the settings, navigate to the Resolution option and select the most suitable setting for your needs. Here are the available options:
Native resolution of the remote computer: This maintains the remote computer's resolution, which may result in black bars on the sides depending on your monitor's aspect ratio.
Best fit to client computer: Adjusts the remote computer's resolution to match the aspect ratio of your local computer. Please note that this adjustment may cause icon positions to remain unchanged.
Specific resolutions (e.g., 1920x1080, 1600x900, 1366x768, 1280x800, 1024x768, 800x600): These options modify the remote computer's resolution to the chosen value. It's worth noting that adjusting the resolution may also result in static icon positions.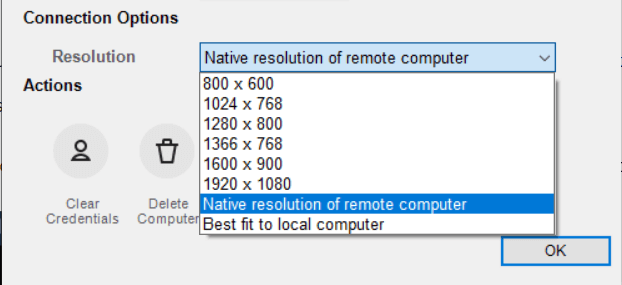 Step 4. Once connected to the remote computer, you can refine the resolution settings by clicking on the View Options icon, symbolized by an eyeball icon.
Solution 2. Change FPS
Reducing network bandwidth usage can also be achieved by decreasing the number of frames transmitted per second during a remote connection. To accomplish this, follow these steps:
Step 1. While in the remote session, locate the toolbar and select the "View Options" button.
Step 2. Within the View Options menu, you will find the setting to adjust the frames per second (FPS) rate. Here are the available options:
Ultra High: This setting aims for approximately 60 frames per second, providing high smoothness and responsiveness.
High: This option will target around 30 frames per second, balancing performance and bandwidth usage.
Medium: By opting for this setting, the FPS rate will be approximately 15 frames per second, effectively reducing network bandwidth requirements.
Low: This setting drastically reduces the FPS rate to approximately 5 frames per second, resulting in significant bandwidth savings.
Solution 3. Enable the legacy compatibility mode
Splashtop screen blurry could sometimes be attributed to video rendering or screen capturing issues. To address this, follow these steps:
Step 1. Launch the Splashtop Business app and navigate to File > Options > Advanced.
Step 2. Within the Advanced settings, locate the "Use Legacy Compatible Mode" option and ensure that the checkbox is selected.
Step 3. After making this change, it is essential to disconnect from the remote session and reconnect for the adjustments to take effect.
Bonus tip: Best free Splashtop alternative
If you continue to encounter the Splashtop blurry screen issue even after trying the suggested solutions, it might be worth considering an alternative to Splashtop. A highly recommended option is AnyViewer, a reliable remote desktop software specifically designed for Windows users. AnyViewer provides changeable resolutions and high image quality.
Here are two notable advantages of AnyViewer over Splashtop:
Generous free version. AnyViewer offers a generous free version that can be used for personal or commercial purposes. This free version includes a range of impressive features such as file transfer, chat functionality, and support for multi-to-multi monitor setups, which are not available in Splashtop free version.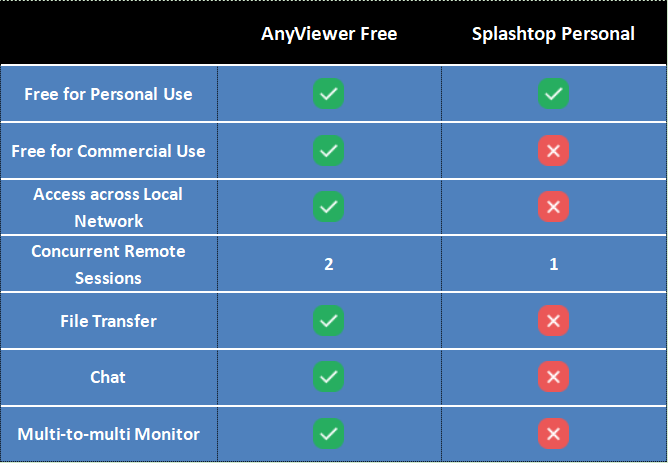 High affordability. AnyViewer is affordable, offering a pricing structure that caters to budget-conscious users without compromising essential remote desktop functionalities. By opting for AnyViewer, you can save costs while benefiting from the required features. For comparison purposes, let's consider the performance of AnyViewer Professional in contrast to Splashtop Business Access:
Step 1. Download, install, and launch AnyViewer on both computers. Go to Log in, and then click Sign up. (If you already have signed up on its official website, you can log in directly.)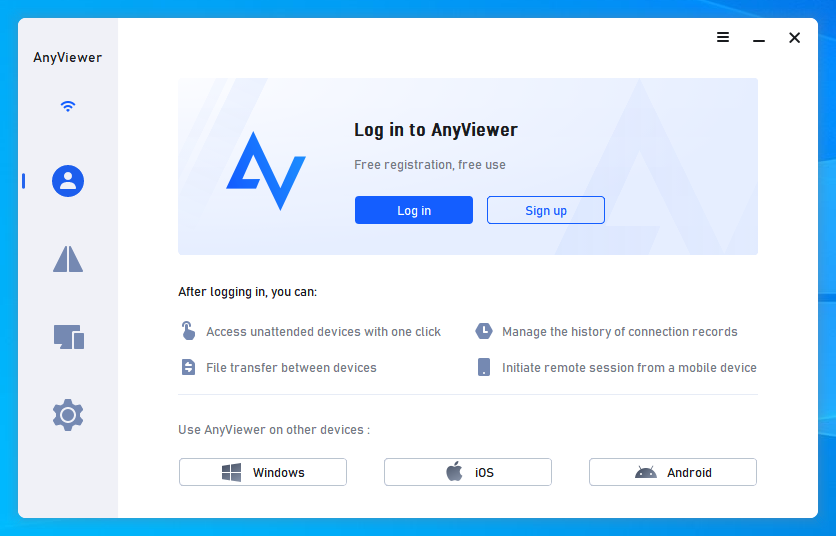 Step 2. Fill in the signup information.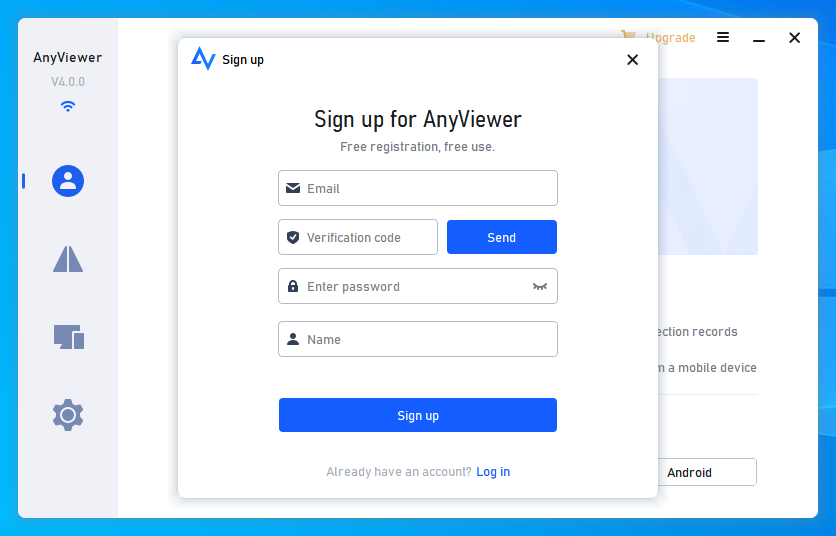 Step 3. Then you can see you successfully logged in to AnyViewer. Your device will automatically be assigned to the account you've logged in.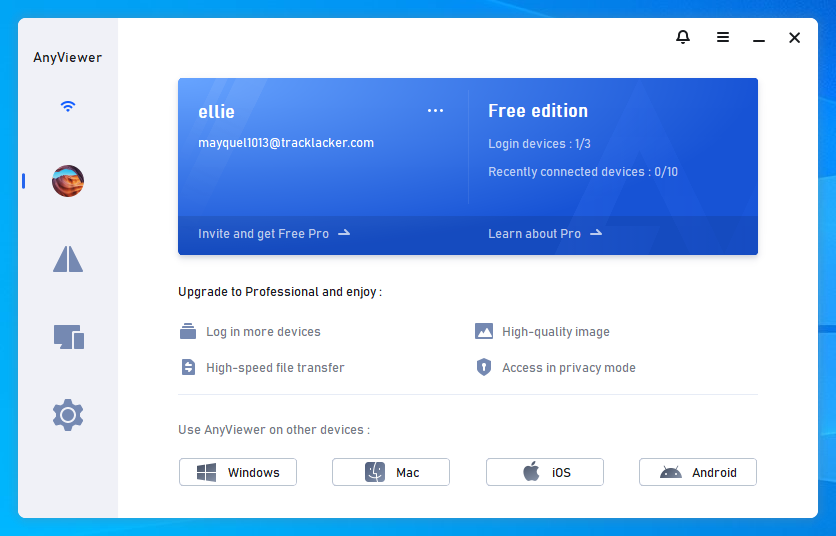 Step 4. Log in to the same AnyViewer account on the two devices; then you can achieve a direct connection by clicking One-click control.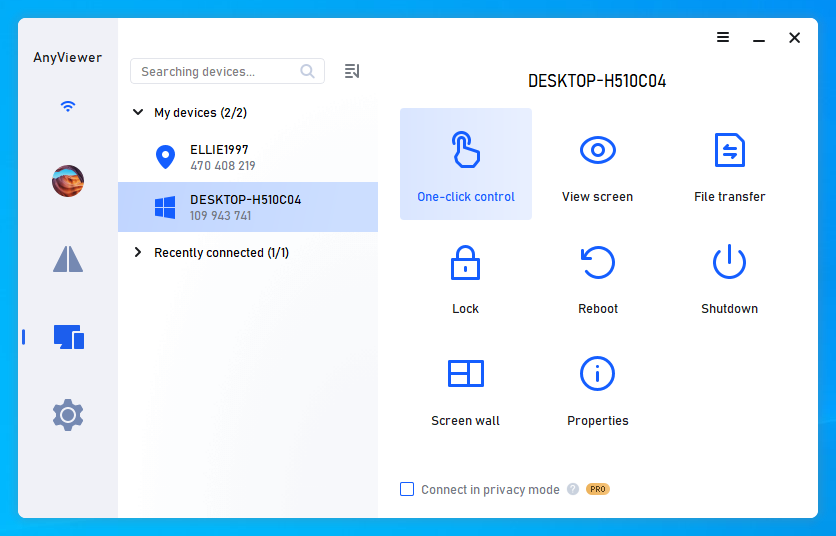 Step 5. After you've successfully connected to your Windows, you can easily change the image quality from the toolbar on the middle top of the screen.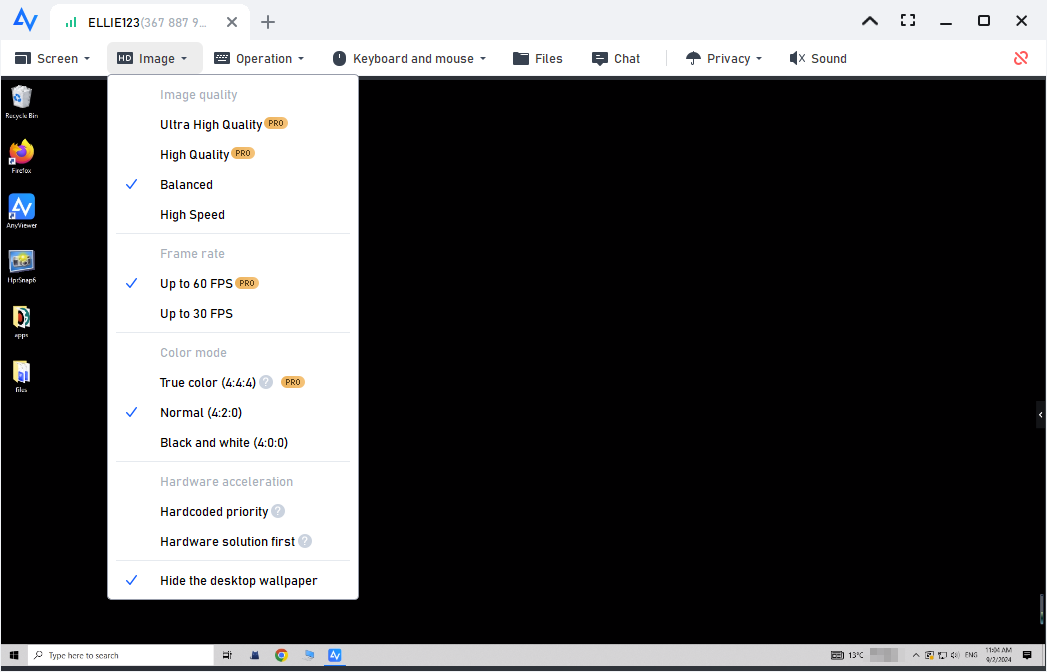 Step 6. Also, you can change the resolution according to your network condition.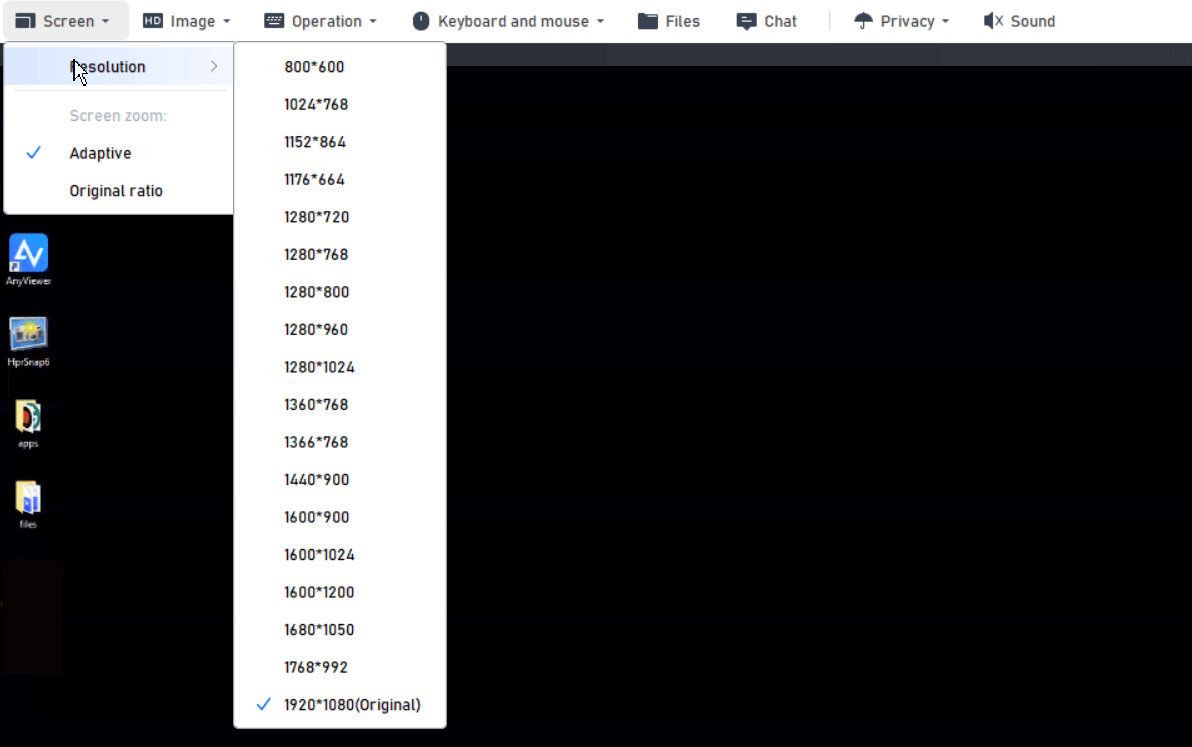 The bottom line
In conclusion, if you encounter Splashtop blurry screen during a remote session, there are several steps you can take to address the issue. Adjusting the resolution and frames per second settings within Splashtop can optimize the visual experience while conserving network bandwidth. The "Use Legacy Compatible Mode" option may resolve video rendering or screen capturing problems.
If the problem persists, consider an alternative like AnyViewer, a free and feature-rich remote desktop software for Windows. AnyViewer offers changeable resolutions, high image quality, and an advantageous pricing structure, making it a compelling choice for users seeking a reliable remote desktop experience.