Does Windows 11 Home Edition have Remote Desktop?
I have an office PC running Windows 10 Pro and a personal laptop running Windows 11 Home. Today when I enable RDP on my laptop, it says 'your Home edition of Windows 11 doesn't support Remote Desktop' How can I perform Remote Desktop Windows 11 Home?"
- Question from Windows Forum
First and foremost, you need to realize that RDP refers to both the Remote Desktop Server and the Remote Desktop Client. Microsoft only turned off Remote Desktop Server in the Home edition, which means that while Windows Home can connect to other devices via RDP, other devices cannot connect to your Windows Home PC.
However, Microsoft did not entirely remove Remote Desktop Server from Windows 11/10 Home, you can still enable RDP on your Windows Home PC without purchasing a license or upgrading your system to Pro/Enterprise. Keep reading.
How to enable Remote Desktop on Windows Home
To enable Windows 11 Home Remote Desktop, just download and install a workaround file on your PC. This approach is compatible with Windows 10 Home and Windows 11 Home Editions.
Attention:
➢This action is a violence of Microsoft Windows EULA (End User Licensing Agreement). Therefore, you are advised to perform it in a test environment.
➢Make sure your Windows Firewall allows TCP and UDP port 3389. (You can also change the RDP port)
Step 1. Download Thinstuff Remote Desktop Host on your computer.
Step 2. Execute the file and follow the installation wizard instructions to install the tool on your Windows Home computer.
Step 3. When installed, restart the computer to confirm the installation.
Step 4. Run the Thinstuff Remote Desktop Host application.
Step 5. Launch Group Policy Editor and follow the path Computer Configuration > Administrative Templates > System > Credentials Delegation, and then click Encryption Oracle Remediation from the right pane.
Step 6. Tick Enabled and select the Protection Level to Vulnerable.
Now other devices can Remote Desktop into your Windows Home computer with Thinstuff Remote Desktop Host running.
If you do not purchase a license for Thinstuff Remote Desktop Host, you will receive the following message when the connection is established. This message will disappear after 10 seconds.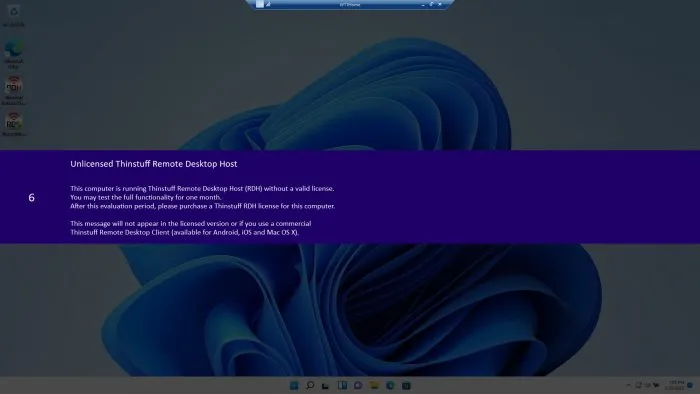 Remote Desktop alternative for Windows Home [safe & free]
While these steps are reasonable for most Windows Home users, many people are worried about the security to add unofficial features privately. In this case, we suggest using a third-party Remote Desktop alternative.
There are tons of remote desktop applications for Windows, including Windows Home Editions. Take the popular remote access tool AnyViewer as an example, with it, you can control any PC remotely on the same or over the Internet. The most important is, AnyViewer reduces the risks involved in enabling the RDP in Windows Home using a workaround. It is vulnerable to all security threats, especially when you establish a remote connection over the Internet.
Learn more about AnyViewer:
➠It supports attended/unattended remote access, you can access an unattended computer with only one click.
➠It requires no extra configurations on host/client devices.
➠It also allows you to control multiple computers simultaneously.
➠It offers quite a few built-in features: chat, hide desktop wallpaper, change image quality, etc.
➠It also released mobile and tablet versions, which means you can remote access Windows PC from iOS or Android devices.
Step 1. On the host PC, go to Log in interface, and click Sign up. Then, fill in the following information to create an AnyViewer account.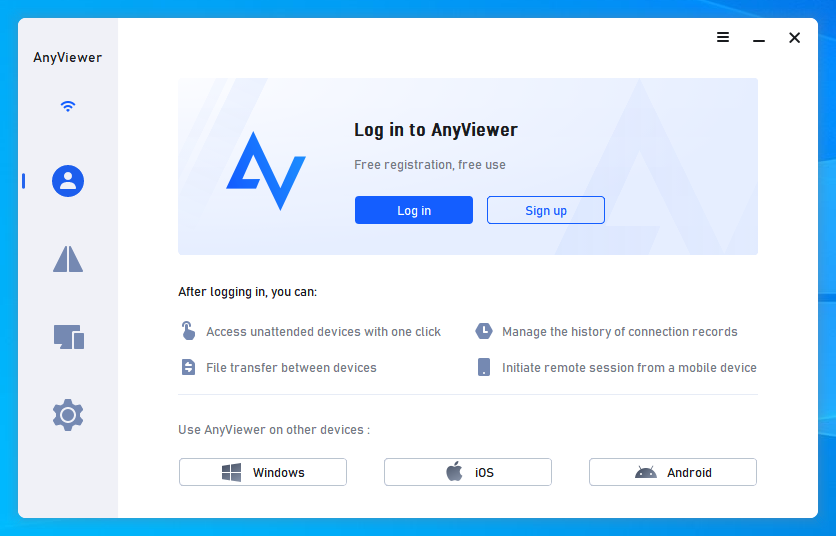 Step 2. On the client PC, open AnyViewer and log in to the same account. The device will be assigned to the account automatically when you successfully logged in.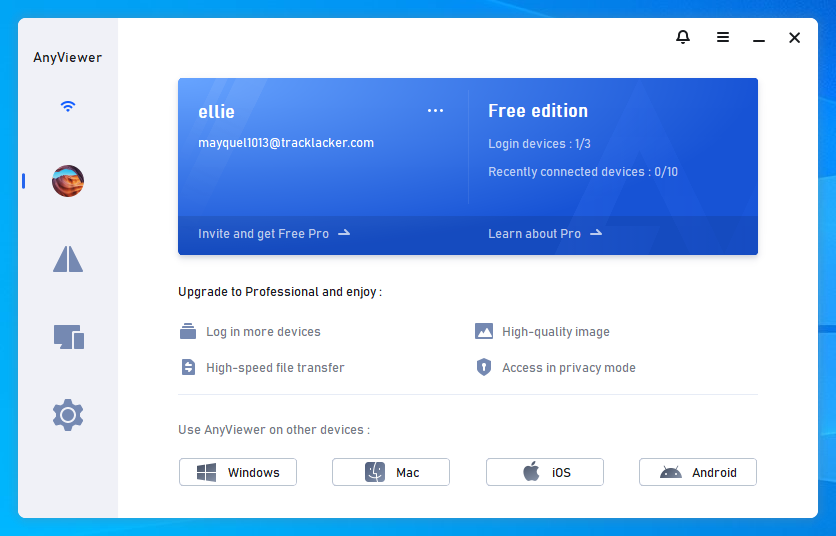 Step 3. Go to Device, select the target PC, and click One-click control to achieve unattended remote access.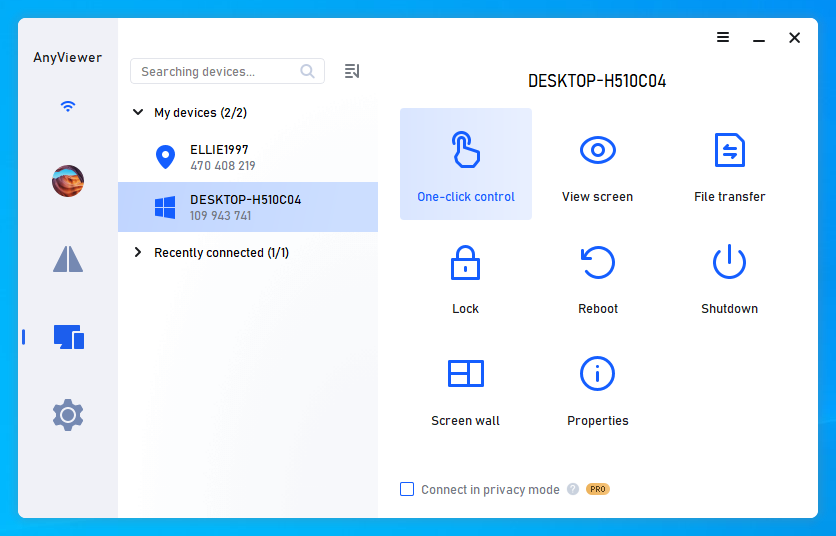 ✍ Notes:
You can also upgrade to a Professional or Enterprise plan then the following rights will thereafter be yours:
➢Assign more devices for secure one-click control. A free account allows you to assign up to 3 devices, while Pro/Enterprise supports 10/100 assigned devices.
➢Enjoy more concurrent connections. Only 2 channels are allowed for free and professional use; therefore, we recommend you upgrade to the enterprise version to enjoy 10 concurrent connections.
➢Connect in privacy mode. It will better protect your privacy by blacking the remote PC and disabling the remote keyboard & mouse.
➢High-speed file transfer. Transfer unlimited files at once at a higher speed of up to 10 MB/s.
Conclusion
This post introduces how to enable Remote Desktop Windows 11 Home with a workaround. Since this method is advised to perform in a test environment, if you rely on RDP for business processes or other important personal programs, we recommend you upgrade to Windows Pro/Enterprise or look for another professional RDP alternative. AnyViewer could be the best option for you.