Invalid connection file while using RDP
"I'm attempting to connect to another machine running Windows Vista Home Premium 64-bit Edition using Remote Desktop. When I tried to connect to the remote machine, however, I received the error notice 'Invalid connection file' with a path where I saved the RDP file. What Remote Desktop Connection Invalid connection file error appears? Any assistance will be much appreciated!"
How to fix Remote Desktop Connection invalid connection file?
Actually, the cause of this error is not specified clearly. But still, we can provide three tested methods to help you troubleshoot the Remote Desktop Connection Invalid connection file specified problem.
Method 1. Launch the file manually
One method to solve the Invalid connection file RDP error temporarily is to launch the file manually. According to feedback from some users, they received the Invalid connection file notification, but successfully open it in the drive where the file locates. For example, when the error is: Invalid connection file (Name\AppData\Local\rdclientwpf\xxxxxxx\xxxxx.rdp) specified. You can open the file in C:\Users\User Name\AppData\Local\rdclientwpf\xxxx\xxxx.rdp, it will work normally.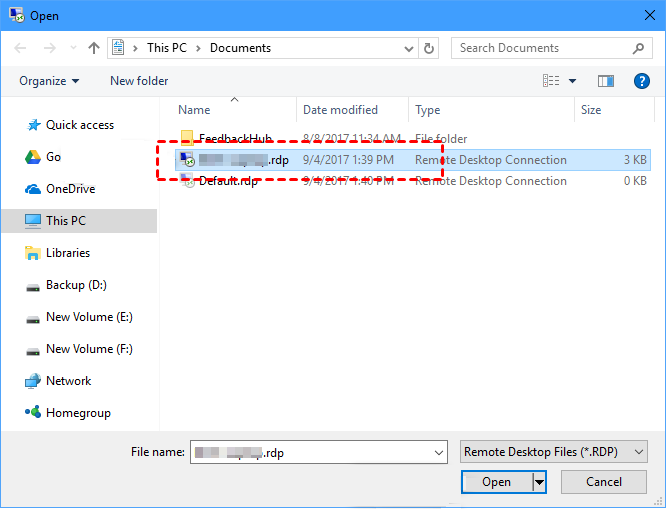 Method 2. Delete the user profile and log in again
Since there's a problem with the connection file stored before, then the solution we suggest here is to delete the RDP file on the session client and delete the user profile on the session host if it even created one and try logging in again to see if Remote Desktop Connection Invalid connection file error solved.
Method 3. Run SFC scan
The System File Checker (SFC) tool can help you scan your computer for damaged system files and repair them. Therefore, when the problem appears, you might as well use this tool to repair the file, which may solve the Invalid connection file error while using RDP.
Step 1. Click Start, find Windows System, and expand it. Right-click Command Prompt, select More and click Run as administrator.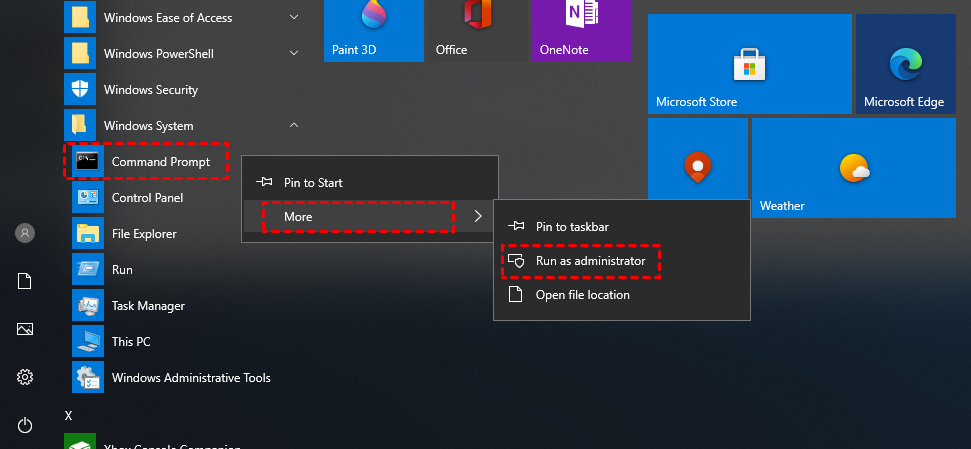 Step 2. In the Command Prompt window, enter "sfc /scannow" and then press Enter to execute the command. After that, restart the computer.
Stable Windows Remote Desktop Alternative: AnyViewer
If the above-mentioned three methods couldn't help you solve the Remote Desktop Connection Invalid connection file error, we would like to recommend a free & stable remote desktop software, AnyViewer to you. AnyViewer can be a perfect alternative to RDP for the following reasons:
AnyViewer is compatible with multiple Windows operating systems, including Windows 11/10/8.1/8/7 and Windows Server 2022/2019/2016/2012 R2.
AnyViewer is very stable. Users seldom encounter connection problems like "the connection has been lost" and the one described in this post.
AnyViewer is highly secure. It is secured by Elliptic Curve Cryptography (ECC) encryption, protecting your data from leakage.
Next, let's learn how to easily use AnyViewer. To make it more user-friendly, AnyViewer provides you with two remote control methods. One is to send a control request, and another is to input a security code to achieve unattended remote access.
Preparation work:
Connect the client computer (the controller computer) and the host computer (the controlled computer) to the Internet.
Download and install AnyViewer on the client computer and the host computer respectively.
Part 1. For unattended remote access with one-click
Step 1. Launch AnyViewer on both computers. Go to Log in, and then click Sign up. (If you already have signed up on its official website, you can log in directly.)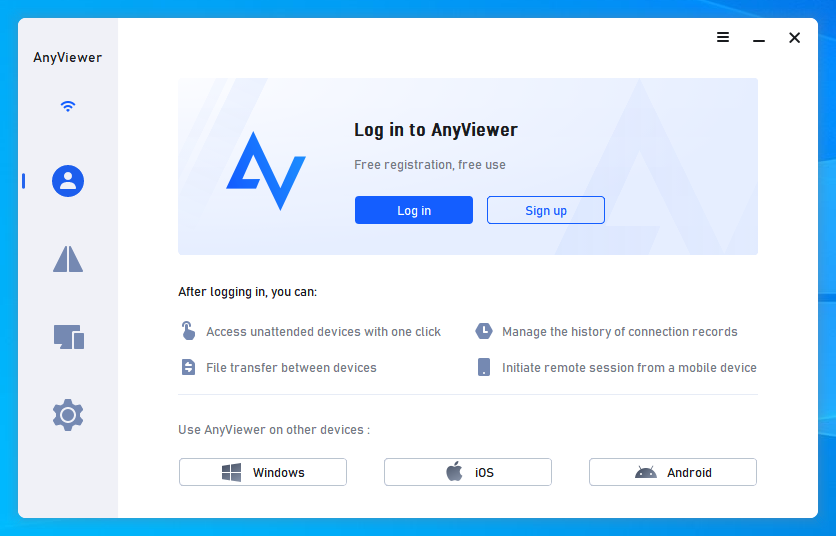 Step 2. Fill in the signup information.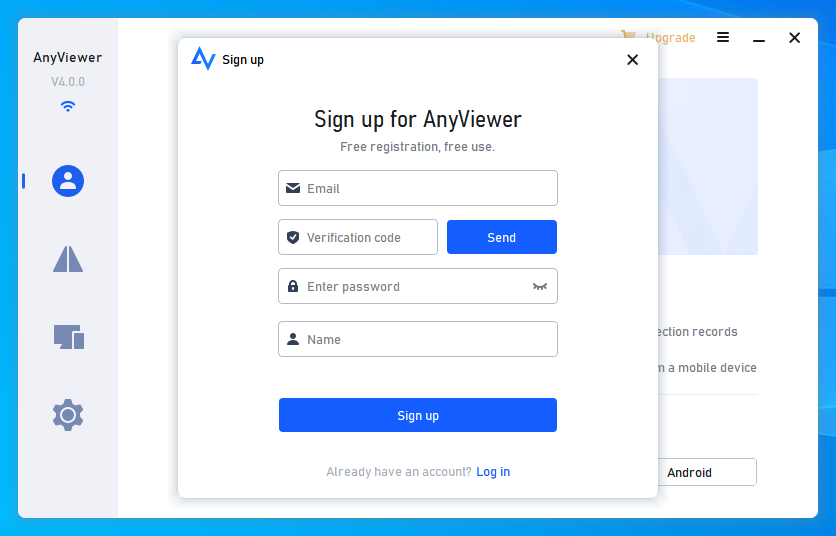 Step 3. Then you can see you successfully logged in to AnyViewer. Your device will automatically be assigned to the account you've logged in.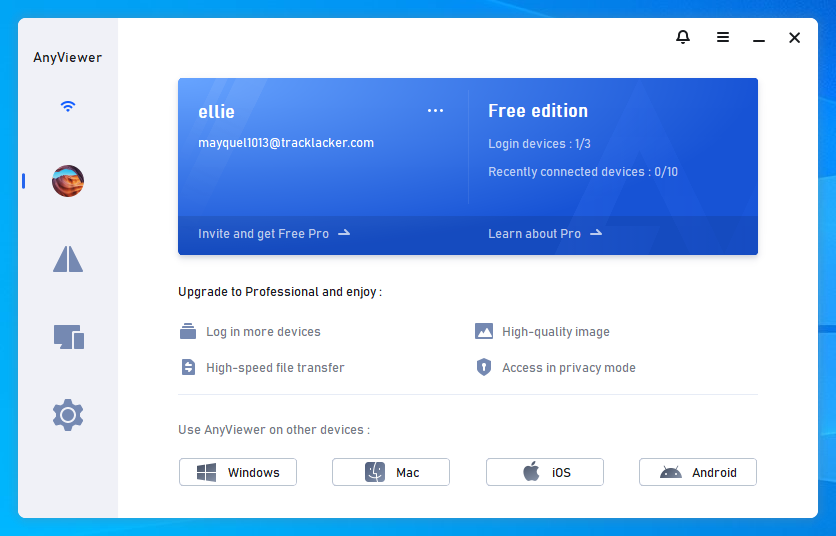 Note: If you have logged in to the same AnyViewer account on the two devices, then you can achieve a direct connection by clicking Remote control. If the two devices are not logged in to the same account, you can read the following steps to learn two more connection methods.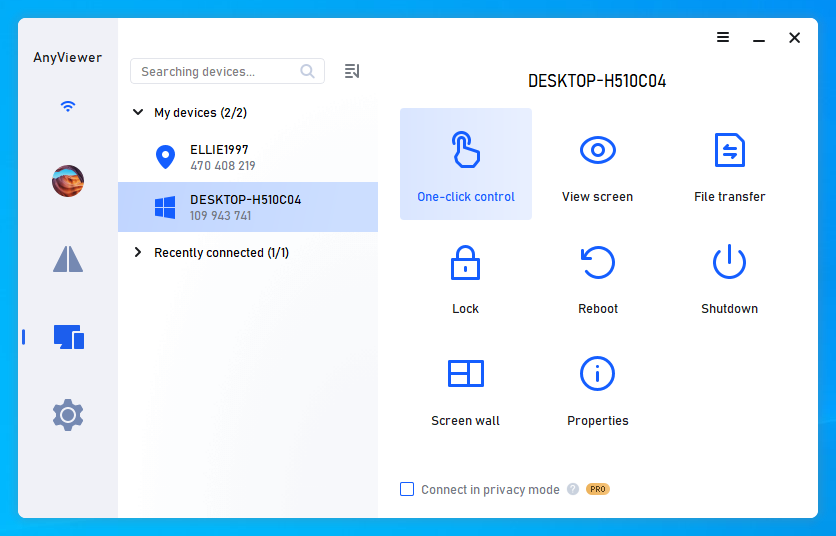 Part 2. Two connection methods
Methods 1. Send a control request to realize Windows Server remote connection
Step 1. On the client computer, input the device ID of the host computer and then click Connect.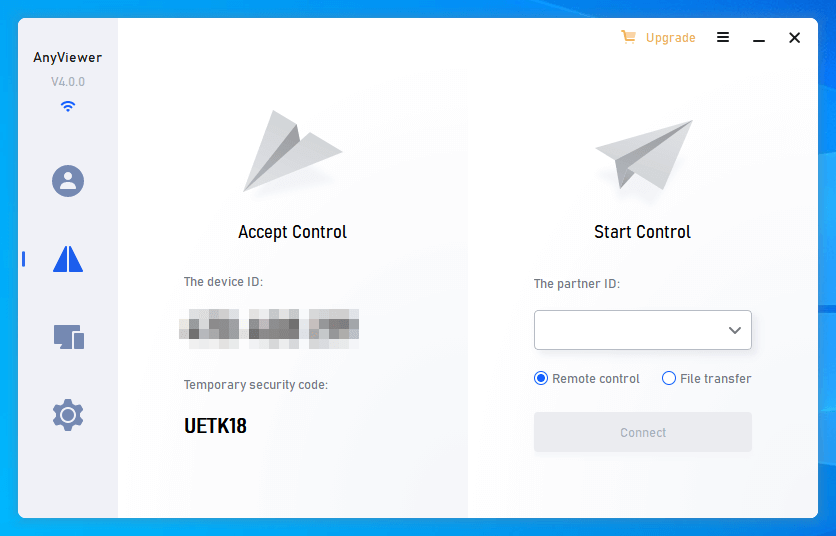 Step 2. Then there will be a pop-up window, choose Send a control request to your partner. And then click OK.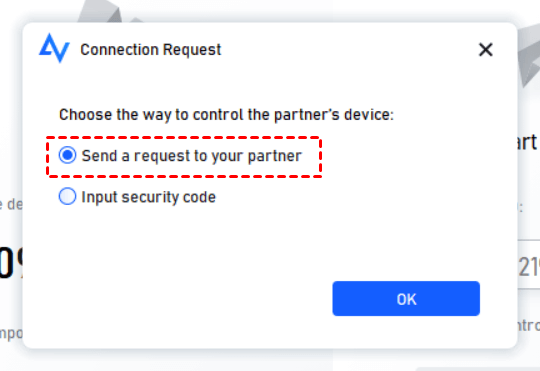 Step 3. The host computer will receive a pop-up request. People sitting in front of the host computer need to click Allow to make the connection successful.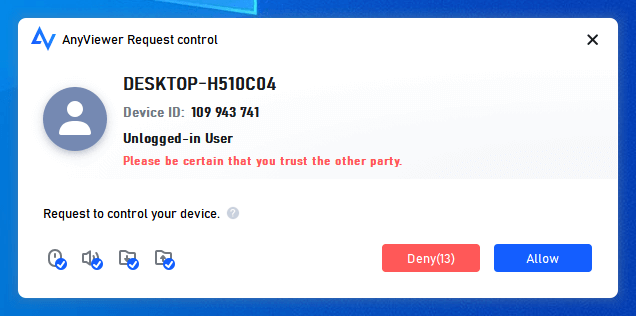 Methods 2. Input security code
There are two types of security codes:
A permanent security code is set by you in advance.
A temporary security code is automatically generated and will change every time.
Step 1. On the host computer, go to Settings > Recipient. Tick the third option and then set the security code.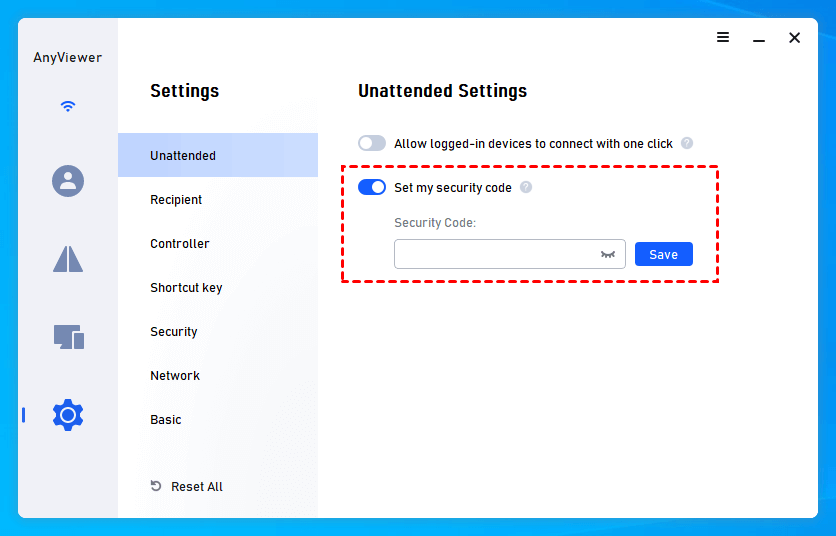 Step 2. Return to the main interface, you could see your device ID and temporary security code.
Step 3. On the client computer, input the device ID of the host computer and click Connect. Then choose Input a security code, input either the permanent security code or the temporary security code of the host computer and click OK.