Remote Desktop Connection: Can't see taskbar
When I connect to my home laptop via RDP, I maximize the Remote Connection window. Always before I could see and access the tasks on the Desktop's taskbar. But for a few days now my laptop's taskbar is not visible in the Remote Desktop Connection window. I can only access programs via the desktop or the - display.
- Question from SilvertonOregon
4 methods to fix taskbar not visible in remote desktop
It's not rare to co encounter Remote Desktop Connection can't see taskbar issue when you use it to connect to a remote PC. If you are stuck in the same situation, keep reading to realize easy and valid solutions.
Method 1: Restart the Windows Explorer Process
This method is the easiest and most effective method to solve unable to see Taskbar in Remote Desktop session.
Step 1. Press Ctrl + Shift + Esc keys to open Task Manager Window.
Step 2. Go to Processes tab and find Windows Explorer.
Step 3. Right-click Windows Explorer and click Restart to restart Windows Explorer Process.
Method 2. Change system setting through Personalize
You can also try to change some settings of personalization to see if it works to settle out Taskbar not being visible in Remote Desktop session.
Step 1. Right-click your mouse on the blank place on the desktop and choose Personalization at the bottom of the list.
Step 2. Go to Taskbar tab and make sure all Automatically hide the taskbar in desktop mode, Automatically hide the taskbar in tablet mode, Use small taskbar buttons and Use Peek to preview the desktop when you move your mouse to the Show desktop button at the end of the taskbar" are off.
Step 3. You can try to change the taskbar location from bottom to top to see if the taskbar is visible. If the taskbar is visible, you can change back it to the bottom.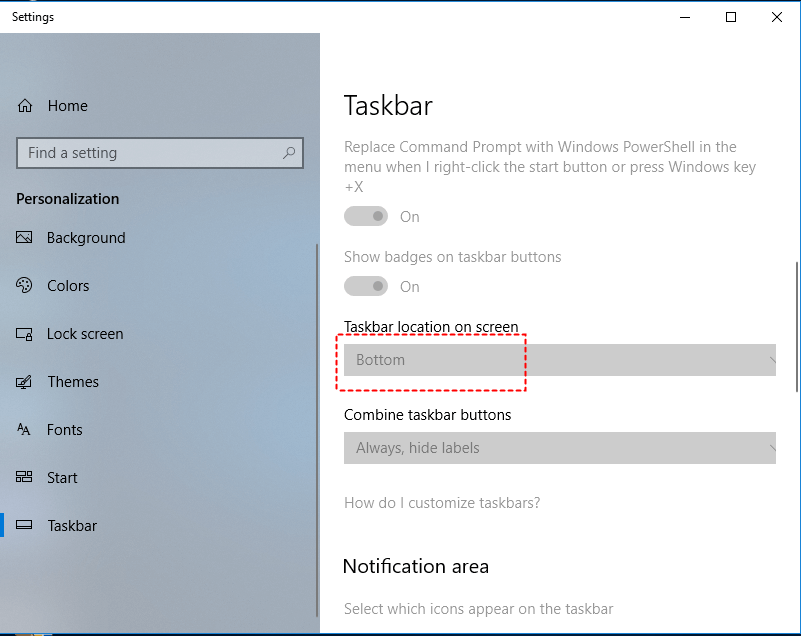 Method 3. Rollback display driver
It may generate this taskbar problem if you recently updated the display driver. You can try to roll back the driver version to solve this problem.
Step 1. Press Windows key and R to open the Run Box, and type devmgmt.msc to open Device Manager Window.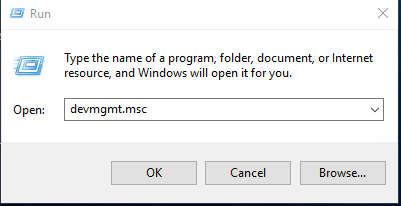 Step 2. Expand Display adapters category and double-click the below item.
Step 3. Go to Driver tab, and click Roll Back Driver to roll back to the previously installed driver.
Method 4. Switch to Remote Desktop Connection free alternative
If you have tried the three methods above and still can't see taskbar in the remote desktop, it's time to use another remote desktop software, like AnyViewer. It's very easy to operate and offers quick and stable connections. Click the following button to free download it and get a great remote access experience. Apart from supporting connections between Windows 11/10/8.1/8/7, and Windows Server 2022/2019/2016/2012 R2, it supports starting iOS/Android to PC remote control.
Step 1. Make sure the internet of both the local computer and the remote computer is available. Install and run AnyViewer on the local computer and the remote computer.
Step 2. Create an AnyViewer account and log in to this account on the two devices. Once logged in, the device will be assigned to the account automatically. And you can achieve one-click secure unattended remote access between assigned computers.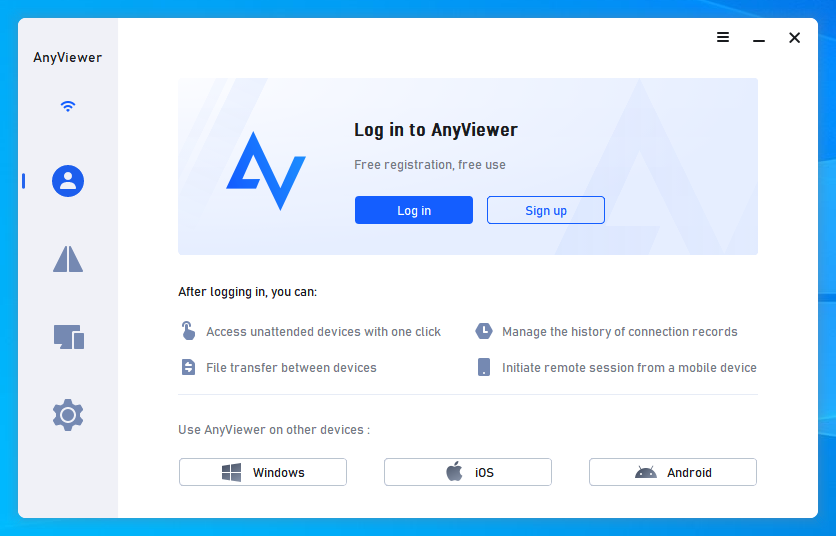 Step 3. On your local computer, click "Device", locate the remote computer that you need to control, click it and click "One-click control". If you need to access the remote computer in privacy mode, please upgrade to an advanced plan.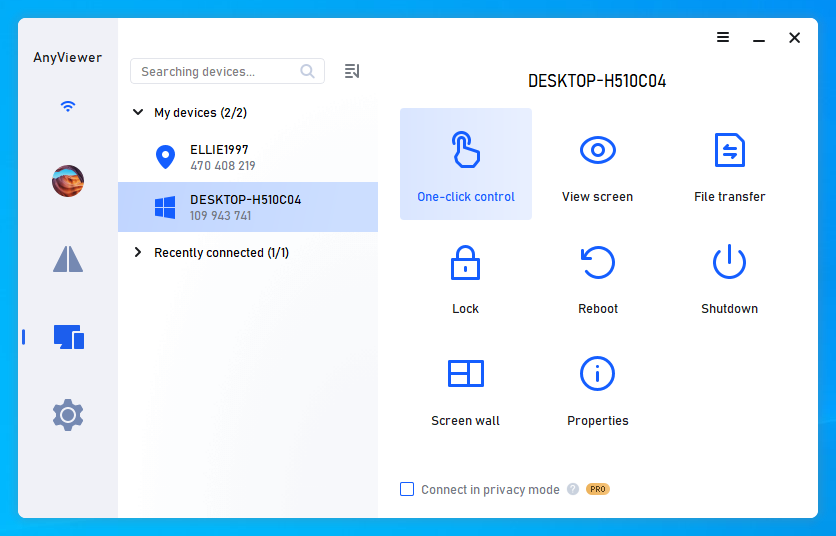 Note: If you don't want to control a remote computer via account, you can click "Connect" and achieve remote access via security code or control request.
Further reading: How to hide or show the connection bar in Remote Desktop Connection
Sometimes, you may want to hide Remote Desktop Connection bar as it interferes with your operation. Before you use Remote Desktop Connection tool to connect to other devices, you can choose to hide or show the connection bar by changing some settings of Remote Desktop Connection. Here are the specific steps.
Step 1. Press Windows + S key and type "Remote Desktop Connection" in the research box to open Remote Desktop Connection tool.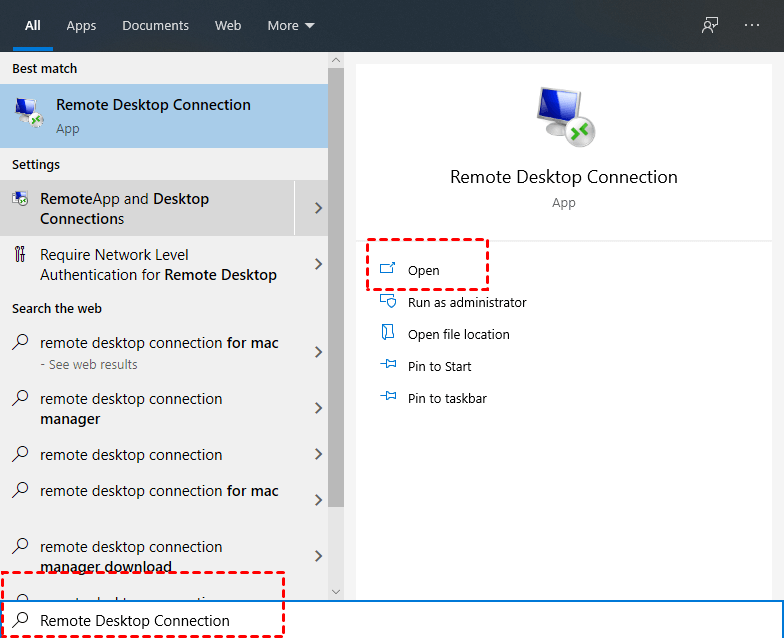 Step 2. Go to Display tab and find "Display the connection bar when I use the full screen" check box.
Step 3. If you want to hide the connection bar when you use Remote Desktop Connection, uncheck it. And if you want to show this connection bar, you can check this checkbox.