RDP Connection drops over VPN
Hello everyone, can anybody help me with ideas? Both of my computers are Win10 and suddenly I can't use Remote Desktop Connection these days. So I chose to connect with VPN, but it suddenly blacked out and showed reconnect dialog. What's going on?
How to fix "RDP Connection drops over VPN"
In most cases, you'll need to configure the VPN when you have to use RDP to connect two computers under different networks, for example, remote into your office computer from home. And some users also choose RDP over VPN for security. But what should we do to the issue "RDP Connection drops over VPN"? Here we come up with 3 solutions to help you out. Follow me to have a look.
Fix 1. Check the network connectivity
Sometimes, the issue is related to the network. If the network is in an unstable state, then RDP Connection drops frequently and it even keeps disconnecting over VPN. Therefore, checking the network connectivity is necessary.
Step 1. Search "Settings" in the search box (or press Win + I) and then find Network & internet.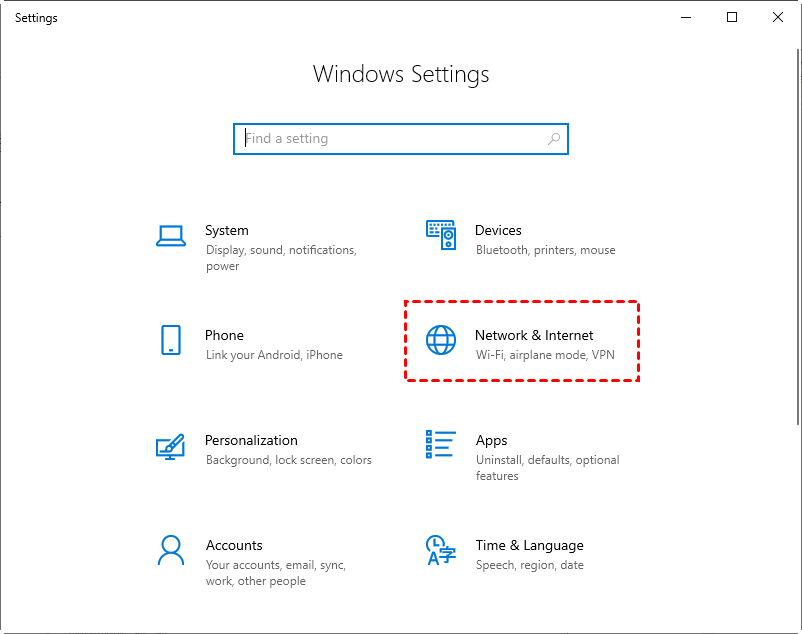 Step 2. The status of your network connection will appear at the top. You can easily figure out whether your network is accessible.
Fix 2. Create RDP Connection without VPN
To check whether the issue is due to RDP or VPN, you can disable VPN for a while and then connect RDP. If you connect successfully, then the issue "RDP Connection drops" is related to VPN. Disabling it and creating RDP Connection without a VPN seems a good solution.
Step 1. Go to Settings > Network & Internet.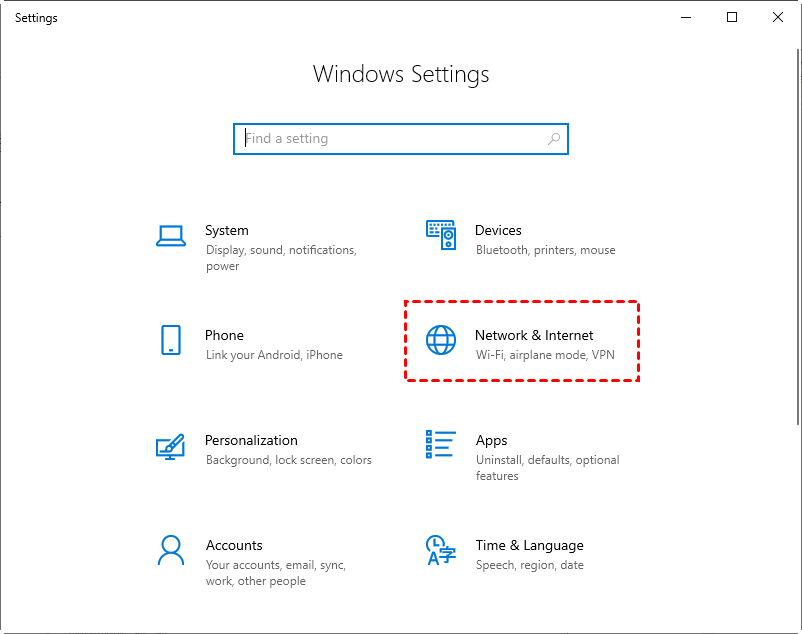 Step 2. Select VPN in the left-side menu.
Step 3. Select the VPN connection you want to disable.
Step 4. Click Remove.
Step 5. Search Remote Desktop Connection in the search box and open it.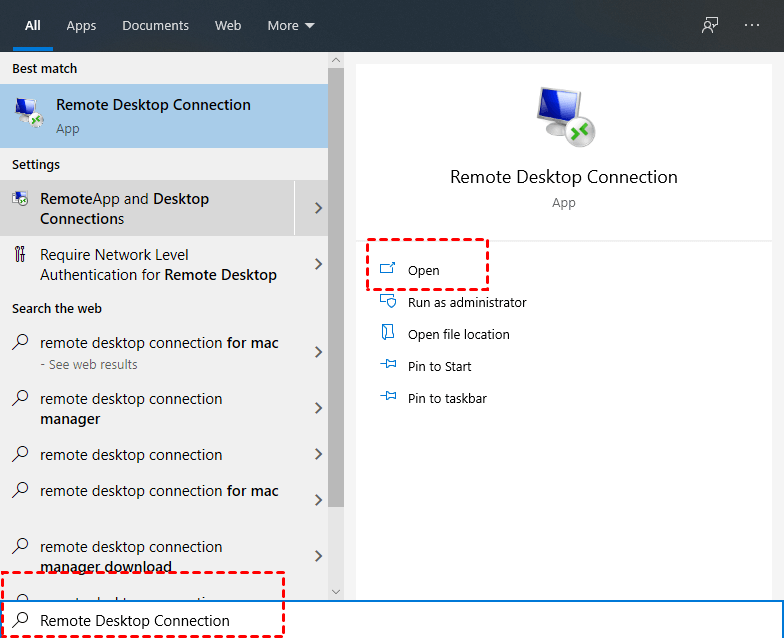 Step 6. Enter the IP address and the username, and then select connect.
Fix 3. Disable UDP
According to some users, the issue disappears when they disable the UDP. Since most Internet applications work in TCP protocol, it won't have any effect on Internet access.
Step 1. Press Win + R and then input "gpedit.msc", and then press the "Enter" key.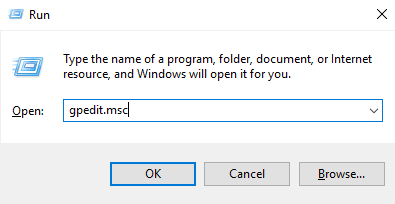 Step 2. Navigate to Computer Configuration > Administration Templates > Windows Components > Remote Desktop Services > Remote Desktop Connection Client > Turn Off UDP On Client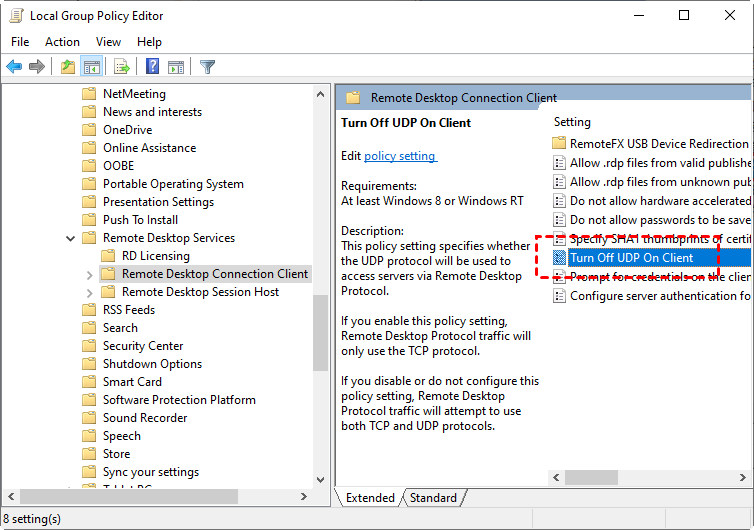 Step 3. Double click on "Turn Off UDP On Client" and then tick "Enabled", and then click on "OK". After that, "VPN RDP disconnect" would be fixed.
AnyViewer: get smooth & secure connections
Through the 3 solutions above, have your issue "RDP Connection drops over VPN" been fixed? If it's not, or you don't want to meet with the RDP error "Remote access to the server is not enabled", it's wiser for you to choose third-party access software--AnyViewer.
Developed by a strong technical team and secured by Elliptic Curve Cryptography (ECC) encryption, it serves you a totally secure and smooth connection. You won't need to worry about the remote session if the two PCs are not on the same LAN. More importantly, it works for multiple Windows versions like Windows 11/10/8.1/8/7 and Windows Server 2022/2019/2016/2012 R2.
Before the connection:
The network is accessible.
Download and install AnyViewer.
Part 1. Sign up and log in to AnyViewer
Step 1. Download, Install and launch AnyViewer on both computers. Go to Log in, and then click Sign up.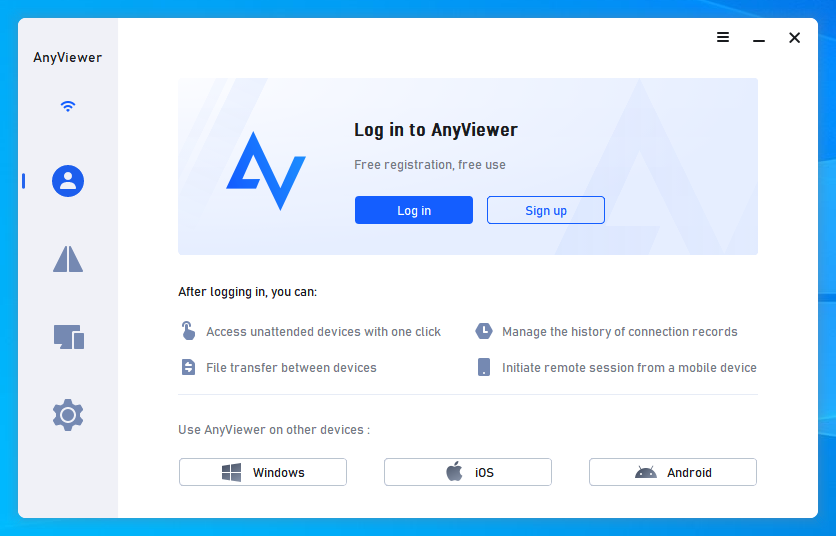 Step 2. Fill in the signup information.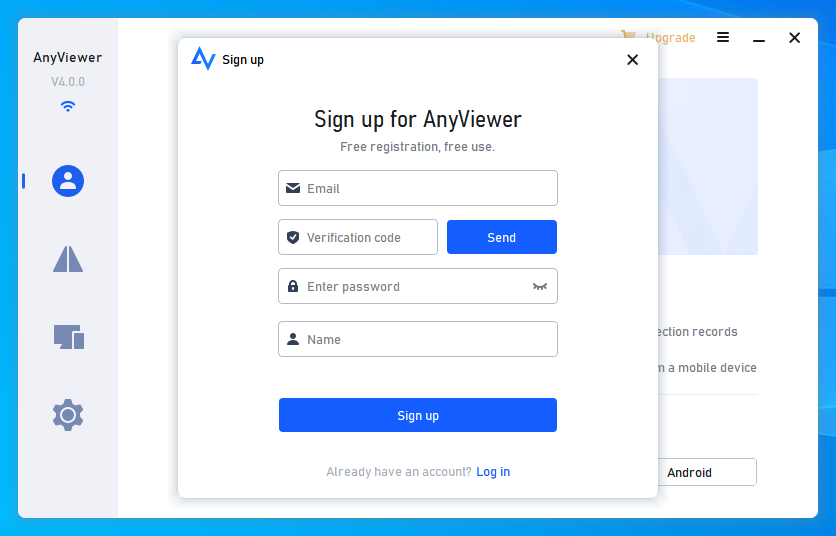 Step 3. Then you can see you successfully logged in to AnyViewer. And your device will automatically be assigned to the account you've logged in to.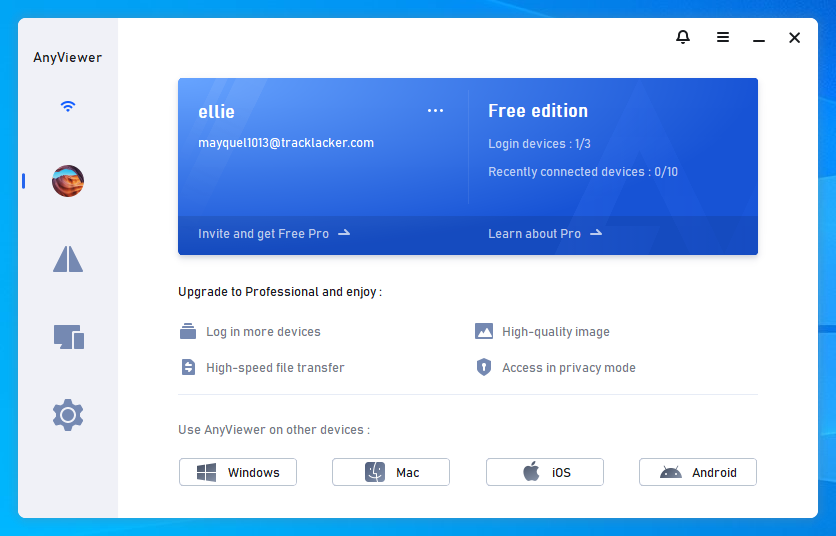 Note: If you have logged in to the same AnyViewer account on the two devices, then you can achieve a direct connection by clicking One-click control. If the two devices are not logged in to the same account, you can read the following steps to learn two more connection methods.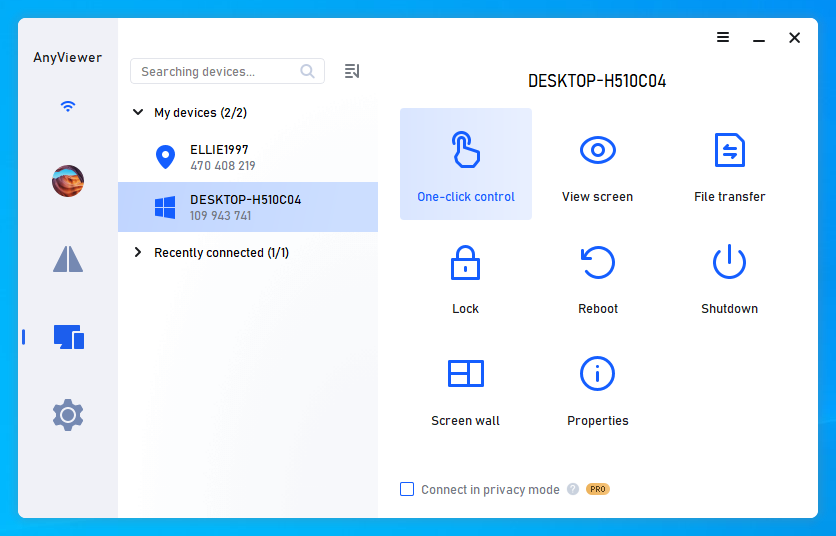 Part 2. The concrete steps of AnyViewer
If you don't want to log in to an account, connecting by access code is also available.
Step 1. Open AnyViewer, find the position of the device ID and Settings.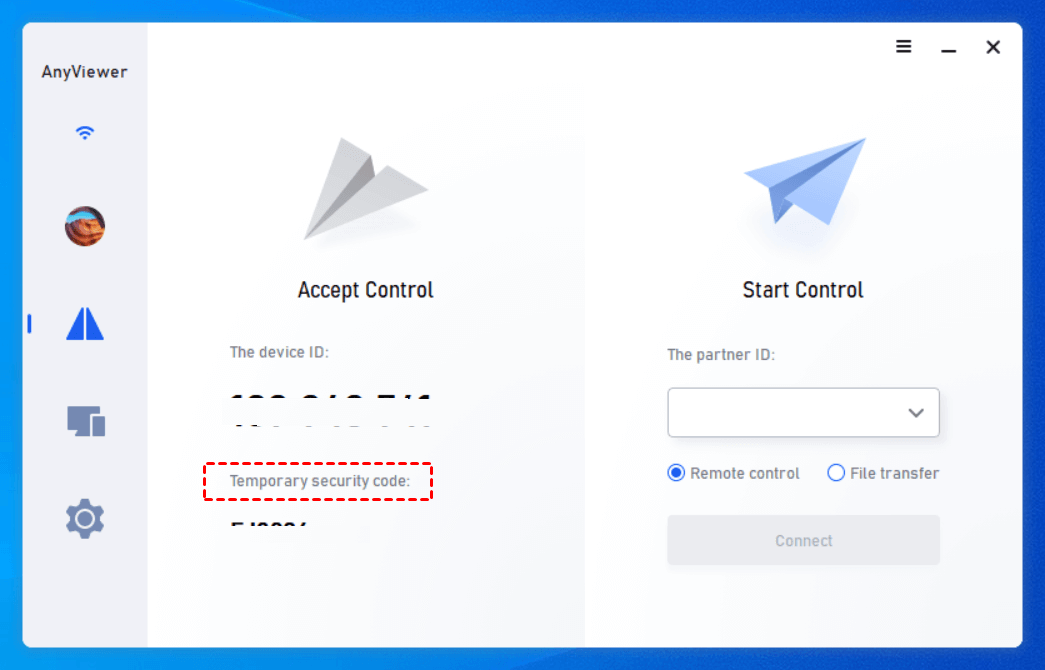 Step 2. On the host PC, Click on Settings> Recipient > Set my security code, enter the security code and then click on "OK".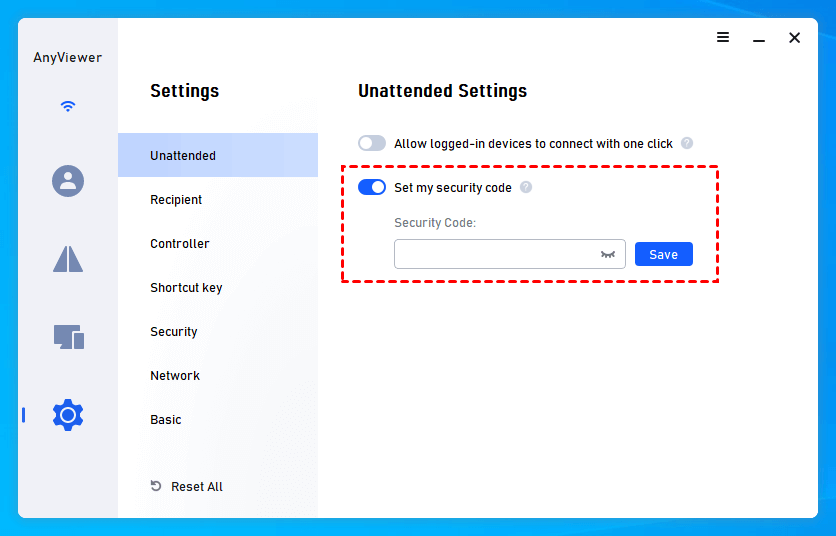 Step 3. On the local PC, input the device ID in the partner ID box, and then click on "Connect".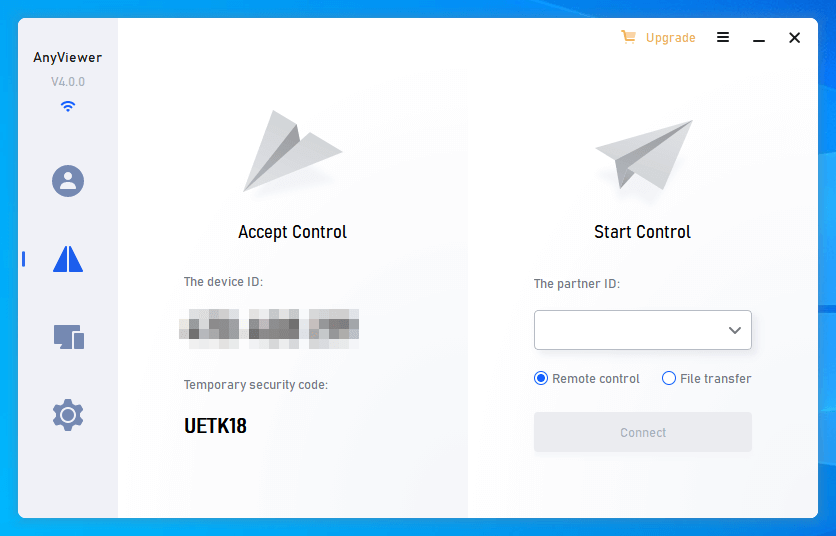 Step 4. Tick the second option "Input security code", and then click on "OK".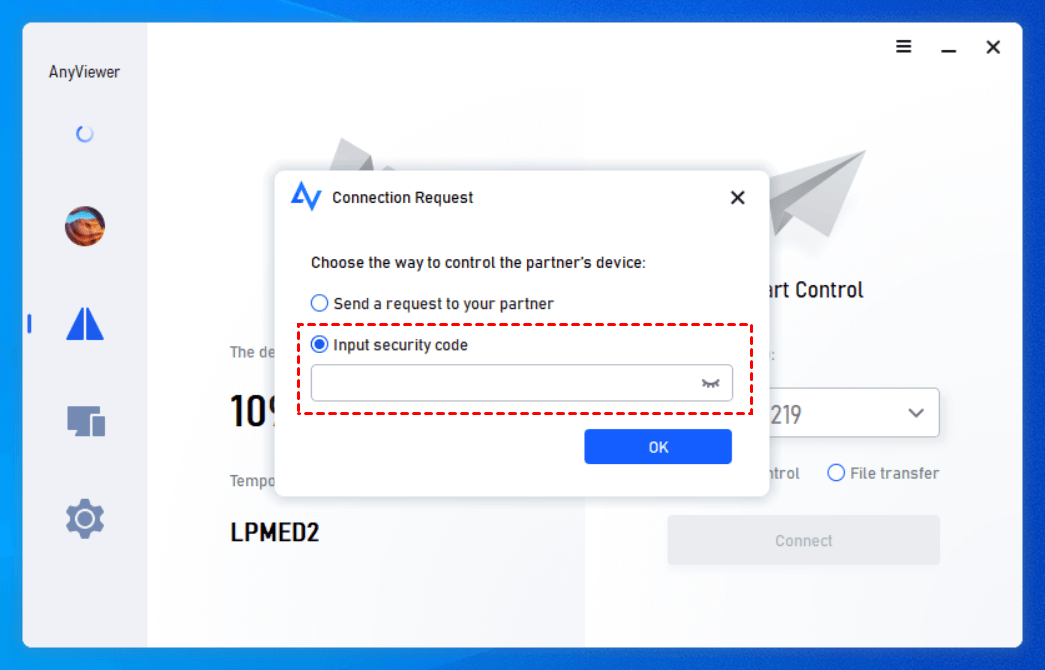 Step 5. The connection is been successful.
Note: Looking for some information about unattended access? "Send control request" can help you.
Conclusion
How do we fix the issue "RDP Connection drops over VPN"? Here we list 3 solutions to help you totally out of the problem. However, if they are not working for you or you don't want to disable VPN, we recommend AnyViewer to give you smooth connections without pressure.