Is RDP safe without VPN?
RDP (Remote Desktop Protocol) is a Microsoft-developed proprietary protocol that allows a user to connect to the graphical interface of another computer via a network connection. While a VPN (Virtual Private Network) protects your online identity, hides your IP address, and protects your online data from third parties by encrypting your internet traffic over unprotected networks.
Returning to our original question, is RDP secure without a VPN? The answer is NO! In fact, connecting to a network using RDP without a VPN is quite risky. RDP traffic is encrypted by default, but it is still vulnerable to ARP (Address Resolution Protocol) poisoning, in which an attacker can modify the target computer's MAC (Media Access Control) address and attack an Ethernet LAN by changing the ARP cache with forged ARP request and reply packets.
How to secure RDP without VPN
Although RDP without VPN is not that secure, we still have some options to set up a more secure remote desktop connection.
✍Disable RDP when not used. If you do not use RDP quite often, you can enable it for as long as you need it and then turn it off when you're done. This will slightly reduce the likelihood of someone malicious getting in.
✍Restrict access using firewalls. It is highly suggested to use firewalls (both software and hardware where applicable) to restrict access to remote desktop listening ports (the default is TCP 3389).
✍Enable Network Level Authentication. NLA is enabled by default in several Windows versions. It adds an extra layer of security before establishing a connection. When NLA is disabled, your connection is vulnerable to attacks. Therefore, it is recommended just to let it be enabled.
✍Use third-party remote access services. Most third-party remote access software utilizes an outgoing connection rather than an incoming connection, which allows the router to be configured to block incoming connections. Exploiting this software is significantly harder as they have a full IT team ensuring their exploits are patched, making a brute force attack very unlikely.
AnyViewer: Establish a safe remote connection without a VPN
As mentioned above, using secure third-party remote access software can provide users with more safe remote connections. An example of this includes AnyViewer, a free yet secure remote control software for Windows. AnyViewer is quite reliable. Developed by a strong technical team and secured by ECC (a strong algorithm) end-to-end encryption, it provides you with a fast, stable, and secure remote connection and at the same time, protects your data from leakage. What's more, it is featured with Lock interface, allowing you to lock AnyViewer program for preventing others from changing its settings when you let others use your machine for a while.
Next, free download the software and let's see how to start safe remote access with AnyViewer.
Note: It supports you to start PC remote access from mobile devices as well; go to App Store or Google Play to download AnyViewer mobile app.
Part 1. Unattended remote access with one click after device assignment
Step 1. Install and launch AnyViewer on both computers. Go to Log in, and then click Sign up to create an AnyViewer account. (If you already have signed up on its official website, you can log in directly.)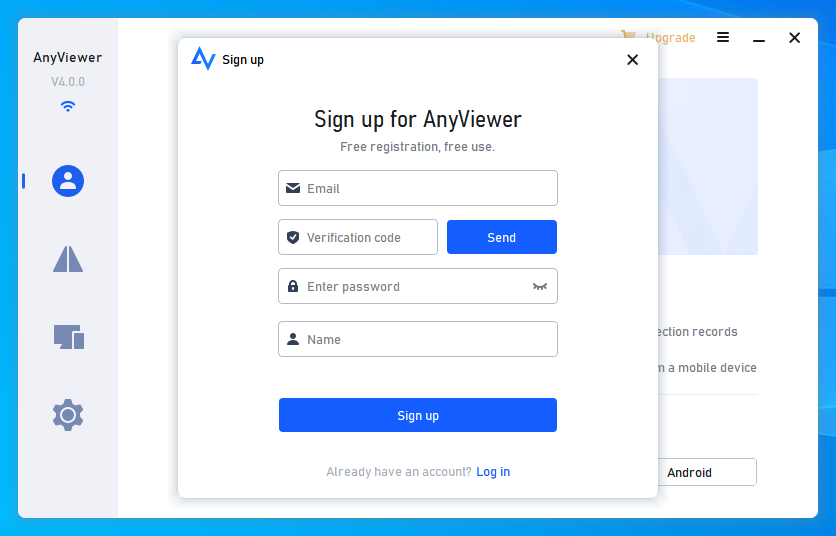 Step 2. Log into the same AnyViewer account on both devices. Once logged into an account, your device will automatically be assigned to the account and displayed on My Device list.
Step 3. On your local device, go to Device and click the remote computer; then you can achieve unattended remote assistance by clicking One-click control.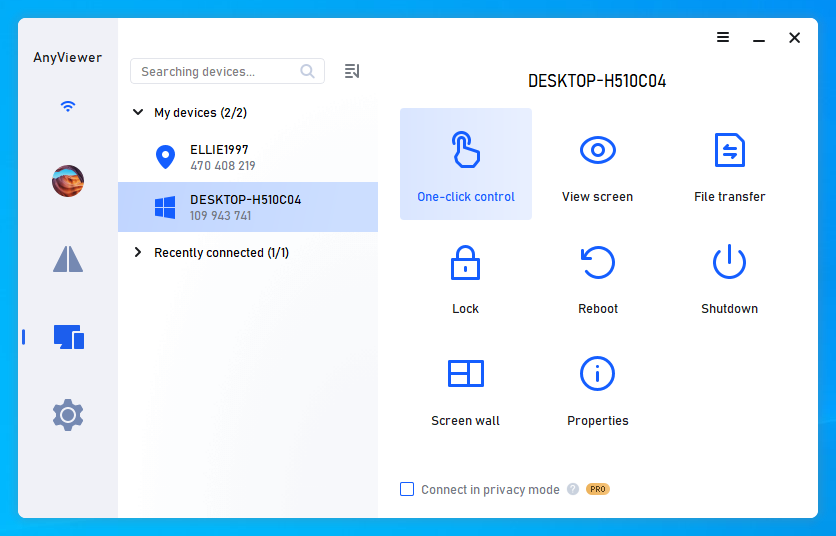 ✍ Upgrade your account to a Professional or Enterprise plan and enjoy the following rights:

Assign more devices: You can assign more devices to the account for secure one-click access.
Control more computers: You can control more computers from one at the same time.
Connect in privacy mode: You can black the screen and block the mouse and keyboard of the remote computer when accessing a remote computer.
Transfer files at a faster speed: Transfer speed for a free account is 500 KB/s, and for a paid account is up to 10 MB/s.
...
Part 2. Unattended/ attended access without logging into the same account
If you do not want to log in to the same account on the two devices for any reason, we also provide you with other two connection methods. But you should note that you're unable to enjoy some features, for example, transferring files between computers using these two connection methods, as they are designed for logged-in users.
Connection method 1. Attended access via control request
Step 1. On your local device, input the device ID of the remote computer and then click Connect.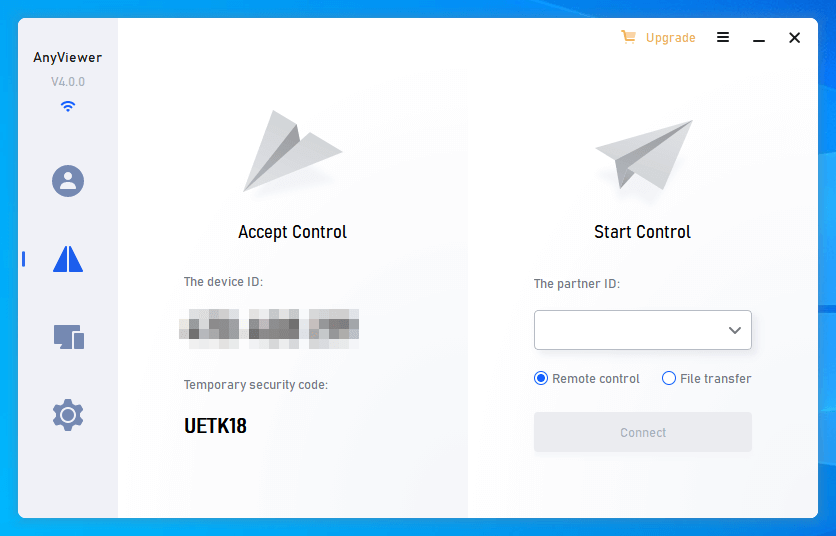 Step 2. Click Send a control request to your partner.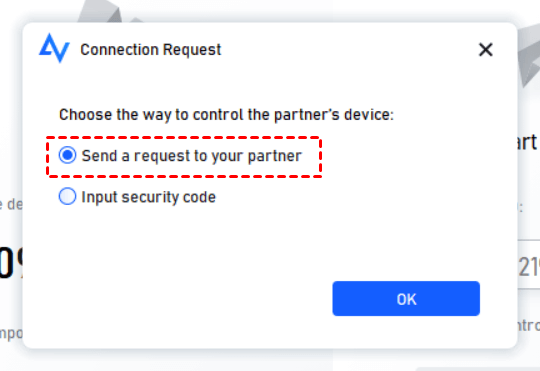 Step 3. On the remote computer, click Allow to make the connection successful. Allows to control the mouse and keyboard can be unchecked. If it is unchecked, you can only view the screen but can't operate the remote computer.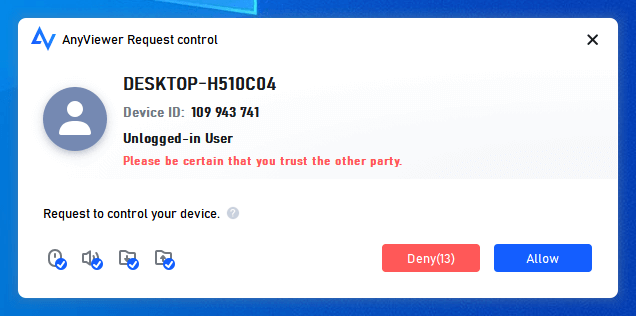 Connection method 2. Unattended remote access with security code
Step 1. On the to-be-accessed computer, go to Settings > Recipient. Tick the third option and then set the permanent security code.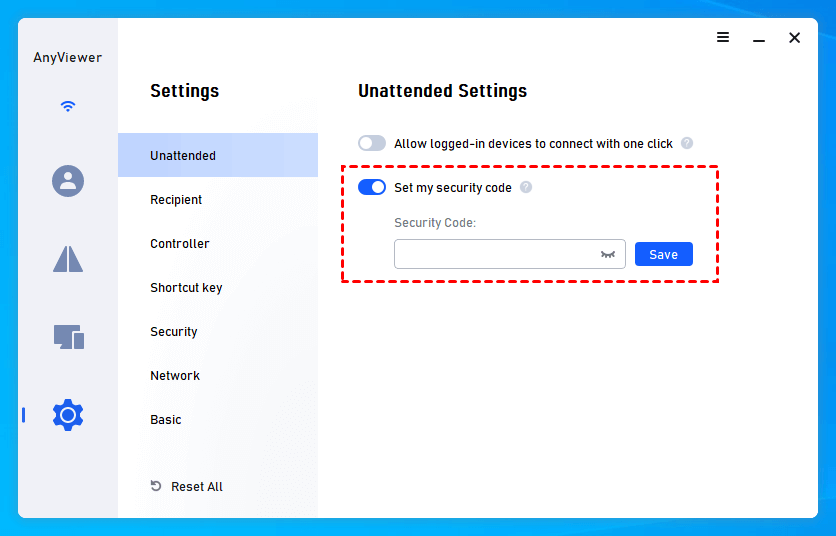 Step 2. On the local computer, input the device ID of the host computer and then click Connect. Choose Input security code and enter the code. Click OK to achieve remote access.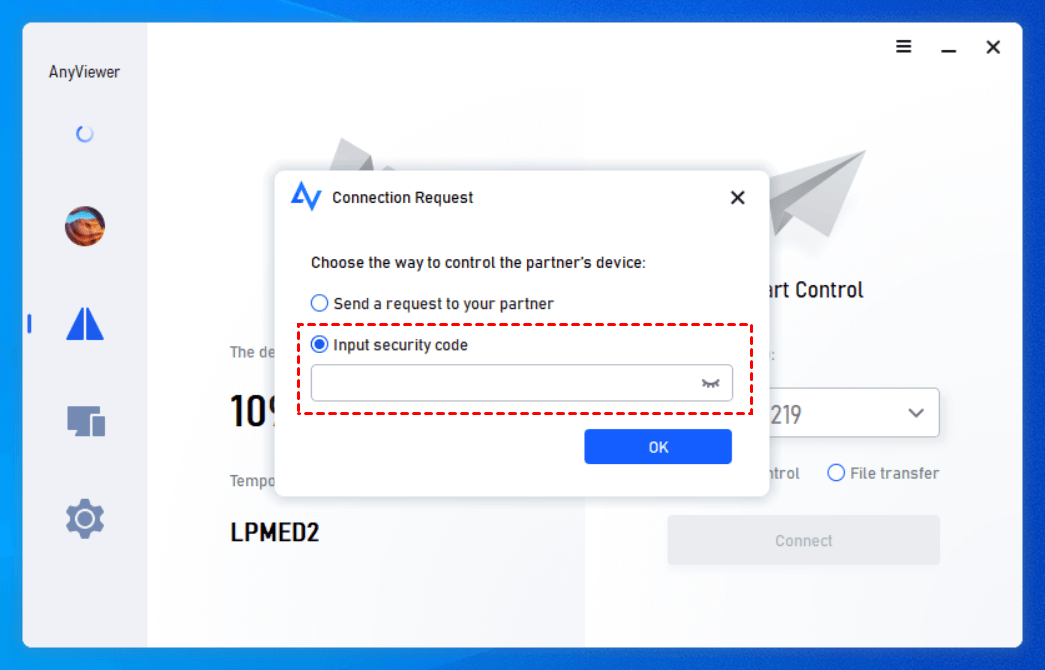 Conclusion
Is RDP safe without VPN? Unfortunately, the answer is NO. However, there still are options for us to improve the security of remote desktop connections. For example, you can disable RDP when not used, restrict access using firewalls, use third-party remote access services, etc. As for third-party remote access software, you can use AnyViewer, providing you with free service to ensure the safety of remote connection.