Why my RD Client iOS app has no sound?
"I use the RD client software on my iPhone to gain remote access to a Windows computer running Windows 10 Pro. Everything on the remote access works perfectly, except I can't get the sound from the remote to go to my iPhone. How can I resolve the vexing RD Client iOS no sound issue?"
How to fix RD Client iOS no sound
When you use Remote Desktop iOS version RD Client to remotely control a PC from iPhone, you may find it has no sound. Before turning to the solutions, you need to check the following two things first:
✍ The first is to make sure that you have your iPhone and computer's sound turned on.
✍ The second is to uninstall and then reinstall the latest version of RD Client on your iPhone. Sometimes this fixes everything.
If RD Client still got no sound after you've checked the two things, you can start to try the following fixes. Here we listed two fixes for you. One is to fix this problem from the mobile device side, and another is from the computer side.
Fix 1. Configure remote audio setting on the iPhone side
Step 1. Click the "+" sign first and then choose Add PC.
Step 2. Find and click Sound.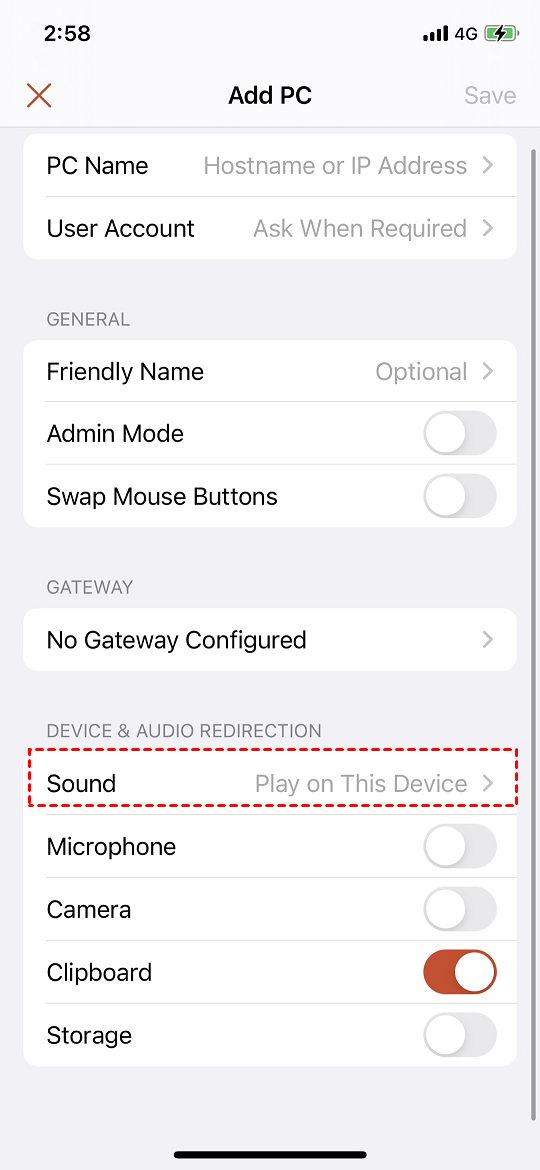 Step 3. Choose Play on This Device.
Step 4. Then back to the previous page, and then add the computer IP address to start the remote connection again to see if the Microsoft Remote Desktop app no sound problem has been solved.
Fix 2. Configure remote audio setting on the computer side
Step 1. Open Remote Desktop Connection on your computer, then go to the Local Resources tab, and then click Settings under the Remote audio column.
Step 2. Click Play on remote computer and then OK.
Step 3. Use your iPhone to connect to the computer again to see if the sound could work or not.
AnyViewer: The Best RD Client iOS alternative
After you've tried the above solutions, we believe you've got the RD Client iOS no sound problem fixed. Here in this part, if you don't need to play the sound on the remote device, we would like to recommend another free remote desktop software for iOS devices and Windows computers. It is AnyViewer. It has the following benefits over RD Client:
RD Client requires an IP address or computer name to achieve remote connection, while AnyViewer doesn't.
RD Client requires the two devices to be under the same network, while AnyViewer doesn't.
RD Client can't be used to connect to Windows 10 Home edition, while AnyViewer supports any devices running iOS 10.0 or later and multiple Windows.
Actually, you can basically achieve remote connection to Windows computers from iOS devices with AnyViewer as long as both devices are connected to the Internet and have AnyViewer installed previously. In addition to its benefits over RD Client, it has many other advantages:
Flexible connection methods. You can ask for remote control by sending a control request or achieve an unattended remote connection by inputting a security code.
Security. It is secured by Elliptic Curve Cryptography (ECC) encryption, protecting your data from leakage during the whole remote session.
Fast connection. It is developed by a strong technical team, providing you fast remote connection with high image quality.
Easy to use. It has an intuitive and concise interface. Besides, its iOS version has a gesture manual, which helps you easily get started with it.
Conclusion
Users always encounter all kinds of RD Client not working problem on iOS devices. Here the problem in this article is RD Client iOS no sound. We provide you with two fixes, namely, configuring remote audio settings on both the iPhone and the computer sides. Besides, we recommend the best RD Client alternative to for you. If you're looking for remote desktop software that is easy to operate, you can give it a try.