How do I make LogMeIn run faster?
Hi everyone! I've been relying on LogMeIn to remotely access my work computer, but lately, I've noticed that the performance has become quite sluggish. It's been affecting my productivity, and I'm looking for some expert advice to make LogMeIn run faster.How can I fix LogMeIn slow? Thanks for your suggestions."
- Question from a user
There are several reliable methods you can take to make LogMeIn run faster: Change LogMeIn preferences, optimize internet connection,update your systemetc. To learn the specific steps, keep reading.
How to fix LogMeIn slow [5 solutions]
LogMeIn is a widely used remote desktop software that allows users to access their computers or servers from anywhere in the world. However, encountering slow performance while using LogMeIn can be frustrating and hinder productivity. Why is my LogMeIn connection so slow? This is most likely because of an unstable network or an improper LogMeIn setup.
This guide will explore various troubleshooting steps to help you speed up LogMeIn performance.
Solution 1. Adjust color quality
To fix LogMeIn slow connection, you can adjust color quality toadjust the color quality settings, which can help optimize the transfer of information during remote control.
Step 1. Locate the Remote Control toolbar and click on Options, then select Color Quality.
Step 2. Choose the most suitable setting for your needs.
Tip:
If you prefer a hassle-free approach, you can select "Automatically adjust color settings." This allows the host to detect the optimal setting automatically, and the change will be applied immediately.
For a balance between image quality and performance, you can select either "Medium quality" or "High quality."
If your main priority is achieving the best possible image quality, you can select "HD quality." This setting minimizes latency and ensures smooth transitions by automatically adjusting the resolution.

Solution 2. Adjust your network connection speed during remote control
If you're facing issues with LogMeInslow, adjusting your network connection speed can help improve the situation while using remote control.
Locate the Remote Control toolbar and click on Options. Select "Network." and choose the "Slow" option to optimize your connection specifically for lower speed connections.
Solution 3. Check your internet connection
Ensuring a stable and reliable internet connection is essential for optimal performance when using LogMeIn. Slow network speeds can significantly impact its functionality. To check your internet connection and address any potential issues, follow these steps:
Step 1. Accessthe Windows Settings app. Locate and click "Network & Internet."
Step 2. On the left side of the screen, click on the "Status" tab. This section will provide you with an overview of your current connection status.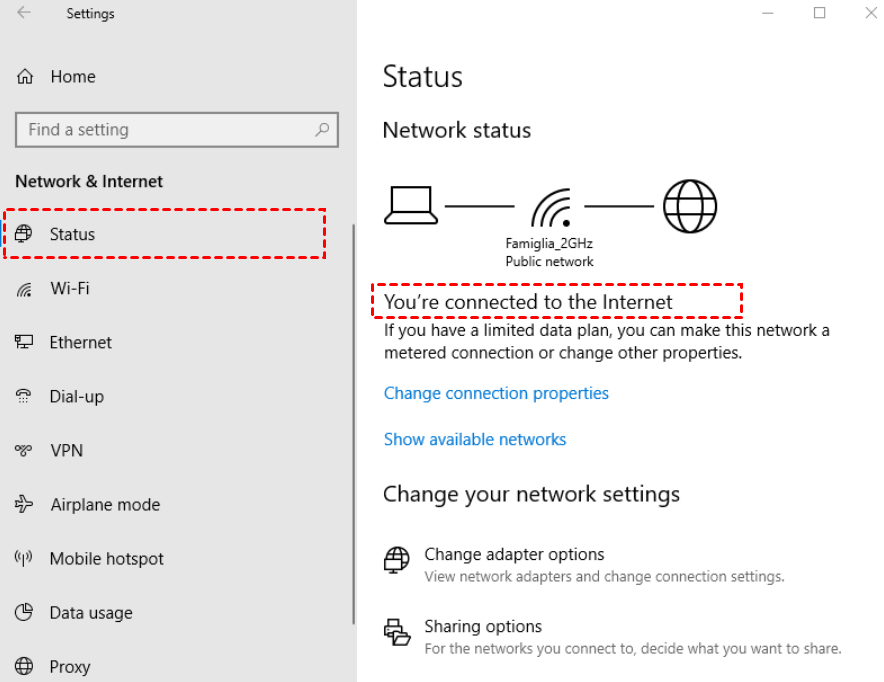 Step 3. If you encounter any difficulties related to your network, there's no need to worry. Simply scroll down within the "Status" interface until you find the "Network troubleshooter" option. By selecting this, Windows will utilize its diagnostic capabilities to identify and resolve any issues that may be affecting your network connection.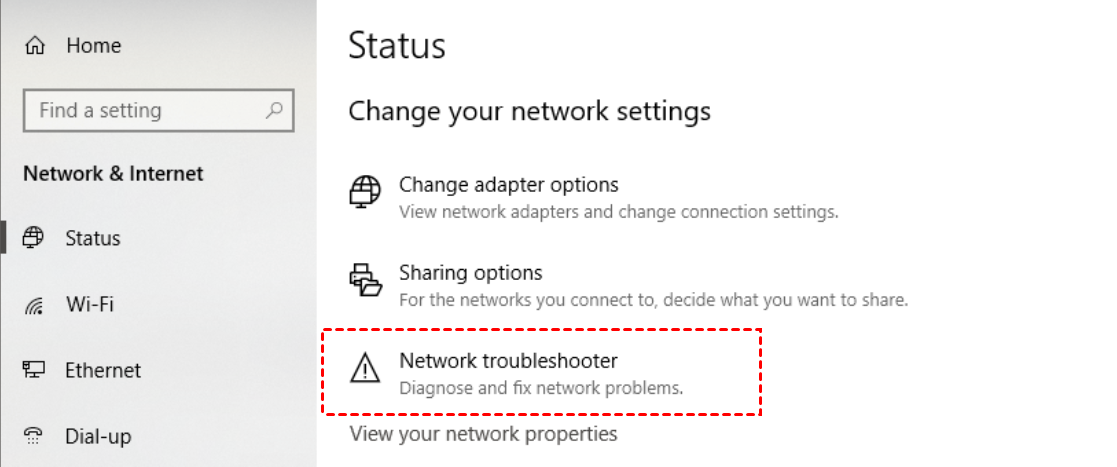 Solution 4. Check for LogMeIn updates
To ensure that your LogMeIn software is equipped with the latest bug fixes and performance enhancements, it's important to keep it up to date.
Open the LogMeIn software on your device.Navigate to the "About" section and click the "Check for updates" option.
Solution 5. Check for computer updates and restart
An outdated Windows system can significantly contribute to slow performance in LogMeIn. To address this issue, it is recommended to update your Windows operating system.
Open the Settings menu on your Windows device.Select the "Windows Update" option. If there are any available updates, choose the latest one from the list and click on the "Install now" button to initiate the installation process.
Get the fast & easy LogMeIn alternative for seamless remote access
If you've been experiencing frustratingly slow performance with LogMeIn, it's time to discover the superior LogMeIn alternative – AnyViewer.
AnyViewer is a cutting-edge remote access software designed to revolutionize the way you connect with your devices and systems. With its exceptional speed, ease of use, enhanced security, and robust features, AnyViewer empowers businesses and individuals to unlock a new level of efficiency and productivity.
AnyViewer is free download now, which means you can enjoy rich advanced features like one-click unattended access, remote desktop file transfer, multiple sessions, real-time chat for free. Don't let slow performance hinder your progress. Make the switch to AnyViewer and unlock a world of fast, reliable, and effortless remote access!
Getting started with AnyViewer is incredibly easy. Just follow these straightforward steps:
Step 1. Open AnyViewer on the remote computer.Create a new account if you don't have one already and log in using your credentials.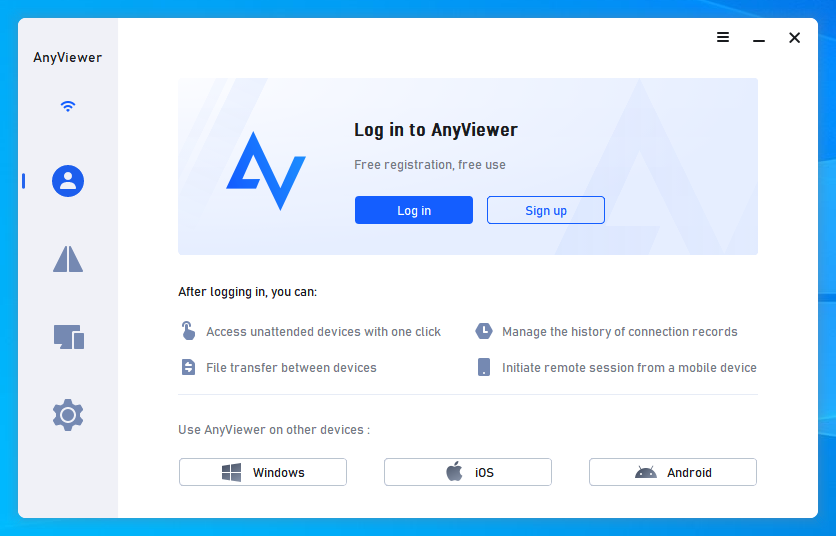 Step 2. On your local computer, open AnyViewer and sign in using the same account you just created. The program will automatically assign the computer to your account.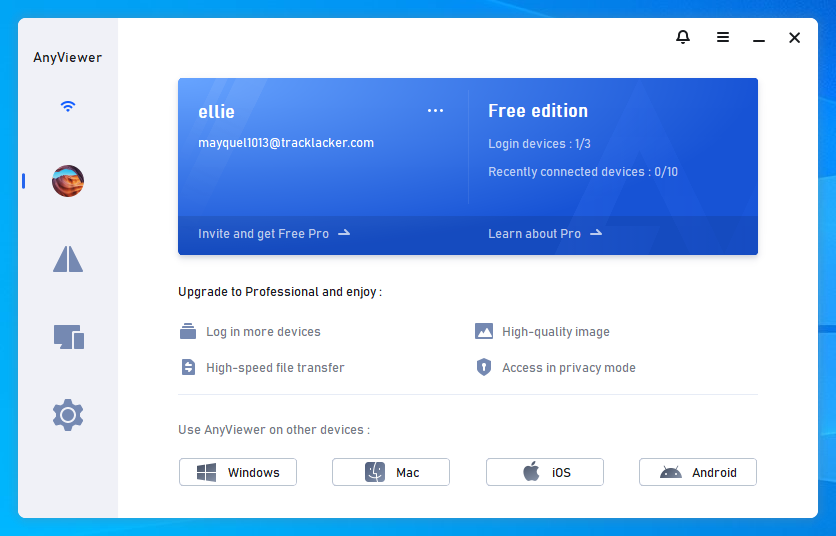 Step 3. Navigate to the Device section. From the available list, select the specific computer you wish to connect to. To establish a connection quickly, opt for the One-click control option.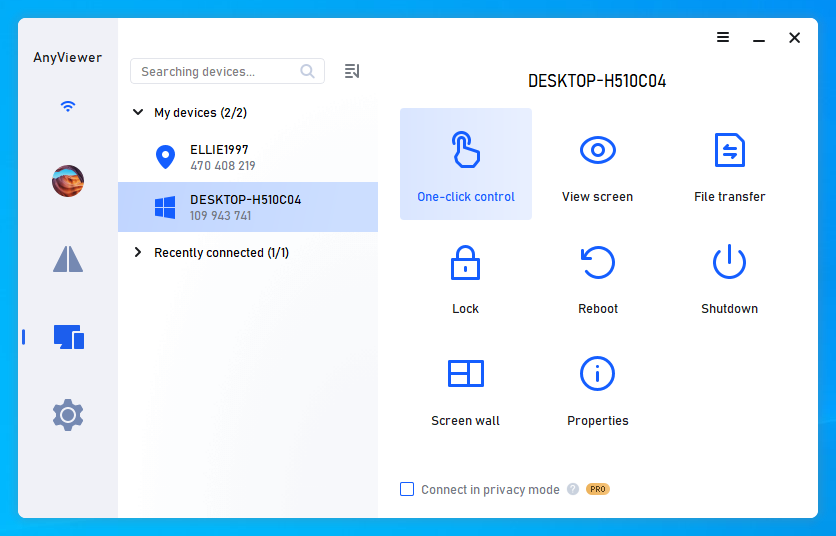 Notes:✎...For users managing three or more remote PCs, AnyViewer offers versatile licensing options designed to cater to different requirements. These licenses come with several advantages, including:

Convenient access to a maximum of 100 assigned devices, all accessible with just a single click.
Establish simultaneous connections to up to 10 devices.
Hassle-free file transfers with no limitations, supporting file sizes of up to 1TB per file. This ensures smooth and unrestricted sharing of files between devices.
Enhanced security through the privacy mode feature. This feature conceals the host PC screen, disables the keyboard and mouse functionality, and thereby provides increased privacy and protection during remote sessions.
The bottom line
That's all for how to fix LogMeIn slow. if you're tired of dealing with slow LogMeIn connections, it's time to make a switch. Embrace the lightning-fast performance of AnyViewer and unlock seamless remote access. Don't let lag hold you back—experience the speed and efficiency you deserve today. Try AnyViewer and elevate your remote working experience.