How do I remote into my computer using LogMeIn?
I'm facing a dilemma and would greatly appreciate your guidance. I'm currently away from my office and need to access my computer remotely using LogMeIn. Could someone kindly walk me through how to use LogMeInremote access? I've tried exploring the LogMeIn interface, but I'm unsure about the exact steps required to initiate the remote session. Thank you in advance!"
- Question from a user
How to use LogMeIn remote access on your computers
LogMeIn, an innovative software application, empowers users to assume command of a remote computer from any corner of the globe. By leveraging this cutting-edge tool, individuals can effortlessly retrieve crucial files stored on their work computers, whether they find themselves at home or enjoying a well-deserved vacation. Below, you'll find a step-by-step guide on how to set up LogMeIn remote access.
Part 1. Install LogMeIn on the client computer
First, you need to install LogMeIn on your client computer.
Step 1. Access the LogMeIn website and click the "Start for Free" option positioned in the top-right corner of the browser window. If you happen to possess an existing account, you may opt to log in instead.
Step 2. Please enter your email address and password. Then, opt for the "Pro" option and click on "Start My 14-Day Free Trial."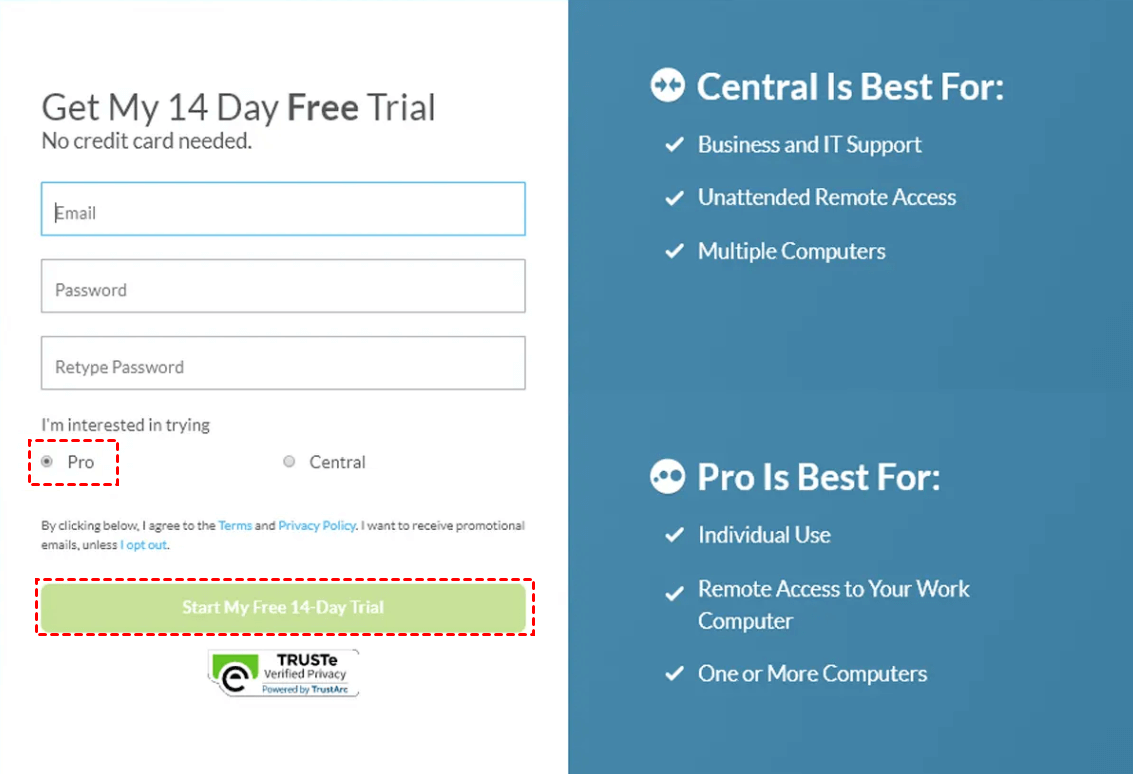 Step 3. Find and choose the "Download & Install Software" feature. If prompted, specify the desired destination for the installer to be downloaded.
Step 4. Access the folder where you have saved the downloaded installer. In case you haven't designated a specific location, kindly inspect either your "Downloads" folder or your desktop.
Step 5. Execute the installer by double-clicking on the downloaded file. To finish the installation procedure, carefully follow the on-screen directions. Once accomplished, both the LogMeIn Client window and the LogMeIn Control Panel will be unveiled.
Step 6. Direct your attention to the Client window, positioned on the left-hand side, and click the "Log Me In" button to proceed.
Step 7. Furnish your username and password diligently to successfully sign in to your LogMeIn account.
Part 2. Install LogMeIn on the host computer
Both the computer you want to operate and your computer must be running LogMeIn to connect remotely. Here's how to remotely install LogMeIn on the host computer or instruct someone else to do it.
Step 1. Launch the LogMeIn Client application on your computer and sign in. Make sure you launch the LogMeIn Client application and not the LogMeIn Control Panel application.
Step 2. Proceed by selecting "Add Computer," conveniently located at the bottom of the window.
Step 3. Subsequently, click on "Copy to clipboard."
Step 4. Paste the copied link into an email and transmit it to the user whom you intend to access remotely. Alternatively, you can paste the link into a text message or employ any other preferred method to share it with the recipient.
Step 5. On the other computer, open the provided link. If the link was sent via email, the recipient will need to access the email from a different computer and click on the embedded link, thereby opening a new browser tab.
Step 6. Place a checkmark beside "I have received this link from a trusted source" and click "Continue." This action will prompt a screen to appear, displaying instructions on downloading and installing LogMeIn.
Step 7. Proceed by clicking "Download Now."
Step 8. If prompted, designate a location to save the installer.
Step 9. Open the folder containing the downloaded installer and execute it. Once the installation is completed, either login or sign up within the Client window.
Part 3. Start remote access with LogMeIn
With both computers equipped with the LogMeIn application, you can now commence the process of remotely accessing and controlling the target computer. Follow these instructions on howto use LogMeIn to access the remote computer.
Step 1. Launch the LogMeIn Client App on the client computer and sign in to your account.
Step 2. Subsequently, identify and click on the specific computer you wish to access. This option will only be visible if the other computer has accepted your invitation and clicked on the link you previously sent them.
Step 3. Locate and select the computer icon, which resembles a computer monitor with a mouse pointer. This icon can be found positioned to the left of the house and folder icons.
Step 4. Proceed by entering the login credentials for the computer you intend to access. Please note that you will need to input the username and password associated with the target computer, not the ones utilized for your current computer. These credentials are typically the ones used to log in to the computer upon startup.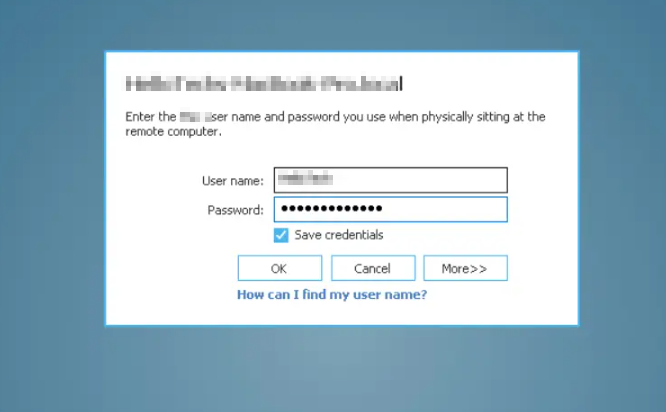 By diligently following these steps, you will gain control over the remote computer, allowing you to navigate and operate it as desired.
Bonus tip: The ultimate alternative to LogMeIn for effortless remote access
In the ever-evolving landscape of remote access software, it's crucial to explore alternatives that offer enhanced functionality and streamlined operations. Enter AnyViewer, the unrivaled LogMeIn alternative that promises to revolutionize your remote access experience.
With AnyViewer, simplicity takes the spotlight, as it boasts intuitive operational steps that make connecting to your devices a breeze. Beyond its simplicity, AnyViewer excels in providing unmatched convenience with its support for one-click unattended access. No matter the circumstances, you can rely on AnyViewer to establish secure connections to unattended devices, ensuring uninterrupted productivity.
But that's not all. AnyViewer distinguishes itself with its rich functionality, catering to a wide range of needs. Seamlessly transfer files, utilize multi-monitor support, and control multiple devices simultaneously. The possibilities are endless. Embrace the future of remote access with AnyViewer, where simplicity, convenience, and comprehensive features merge to offer an unparalleled user experience.
Step 1. Launch AnyViewer on your host computer. Create a new account and use these credentials to log in to your account.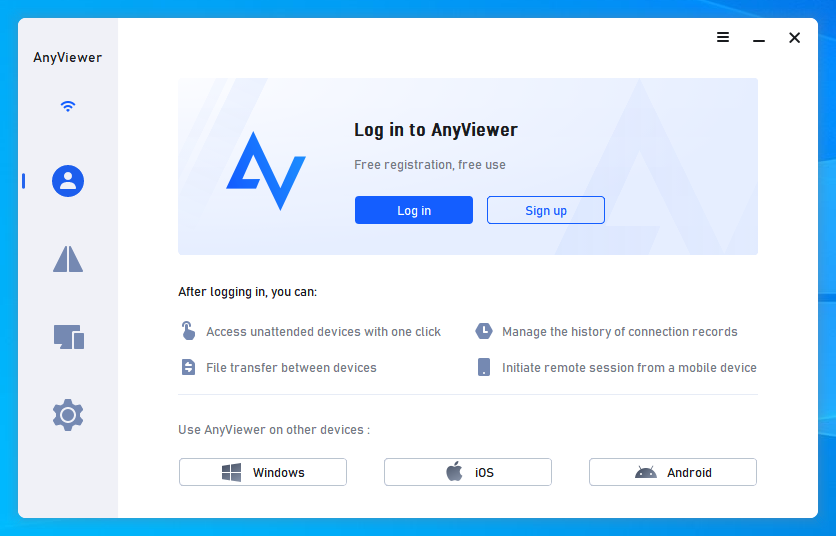 Step 2. Launch AnyViewer on the client computer and sign in with the newly established account details. Upon successful login, the client computer will automatically assign itself to your account.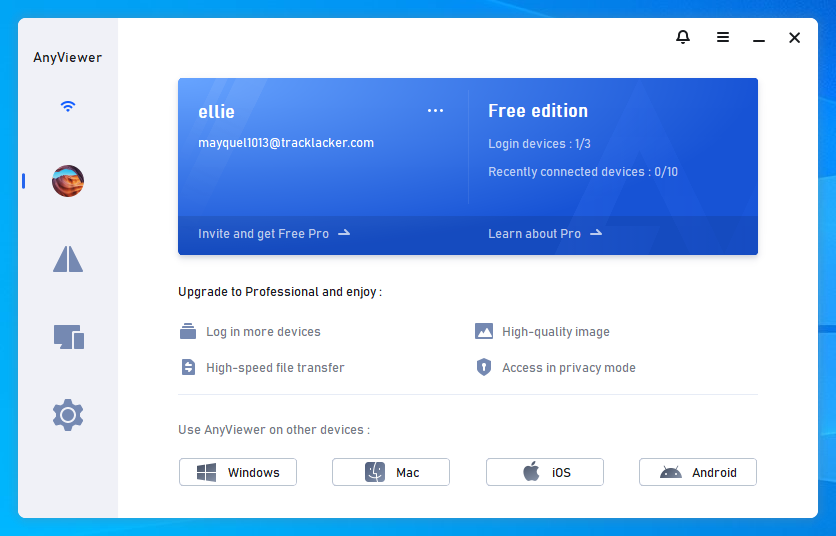 Step 3. Navigate to the Device section. A list of the available devices is provided below. Choose the precise device to which you want to connect. Simply select the One-click control option to make the connection.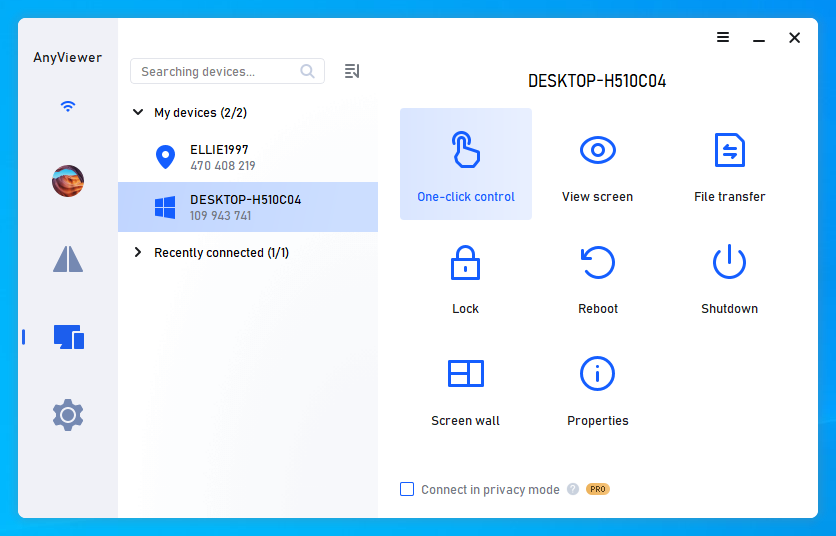 Notes:✎...AnyViewer offers businesses a variety of flexible and cost-effective licensing options, catering to their diverse requirements. These licensing options come with a range of impressive benefits, including:

One-click connectivity to up to 100 devices.
Simultaneous connection and management of up to 10 devices.
Unlimited concurrent transfers of large files, with an impressive capacity of up to 1TB per file, enabling seamless data exchange.
Enhanced security with the privacy modefeature, which effectively obscures the host PC screen, while also disabling the keyboard and mouse.
Conclusion
That's all for how to use LogMeIn remote access. LogMeIn Remote Access offers a comprehensive solution for remote connectivity. However, for a refreshing alternative that provides seamless control and enhanced features, consider trying AnyViewer. Discover a new level of simplicity and efficiency in remote access, making your workflow a breeze. Try AnyViewer today and elevate your remote experience!