Overview: GoToAssist vs. LogMeIn
Remote support software is a critical tool for any IT support team. It enables IT technicians to connect to any remote desktop or device to provide remote support and perform maintenance quickly. Both GoToAssistandLogMeInare popular remote desktop software. But GoToAssistvs.LogMeIn, which should you choose?
What is GoToAssist?
GoToAssist, now called GoTo Resolve, is an all-in-one IT tool. It is the all-new IT management & support product of the GoTo family; another is GoTo Connect for the unified-communications-as-a-service (UCaaS). With GoTo Resolve, you can experience the same powerful remote support features as GoToAssist, with added device management, background access, ticketing, and automation wrapped in zero trust architecture.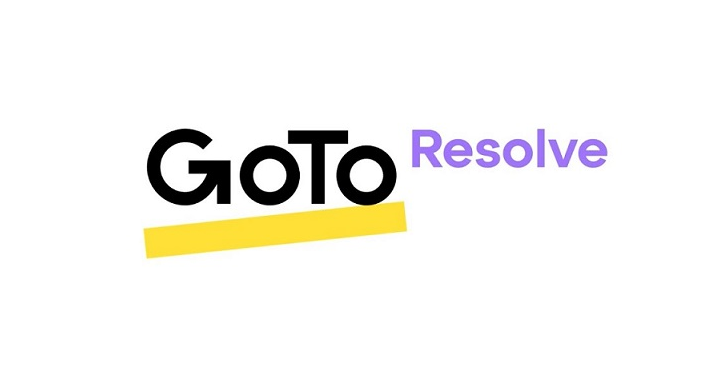 What is LogMeIn?
LogMeIn, Inc., a recognized leader in remote-work technology, announced it has re-branded as GoTo to reflect its deep dedication to making IT easy anywhere. This means LogMeIn now owns GoToAssist and the rest of the GoTo family of products. Besides, LogMeIn has remote desktop products, such as LogMeIn Rescue, Central, and Pro.
Comparison of GoToAssist vs. LogMeIn
GoToAssist and LogMeIn share similar functions. If you must choose between them, you must know their differences.
Cross-platform compatibility
Can you use GoToAssistand LogMeIn for any device?
GoToAssist
GoTo Resolve supports Windows, Mac, iOS, Android, and Web browsers, including Google Chrome, Mozilla Firefox, Microsoft Edge, Internet Explorer, and Apple Safari.
LogMeIn
LogMeIn works on various operating systems, including Windows, Mac, iOS, and Android, but only macOS and Windows can be the hosts. Besides, it doesn't support Linux, Chromebook, or Windows RT.
Pricing plans
What pricing plans do GoToAssistand LogMeIn offer to customers?
GoToAssist
GoTo Resolve Free is free for device monitoring and behind-the-scenes troubleshooting.
GoTo Resolve Standard, priced at $57 per month (billed annually), is ideal for growing teams that need universal remote access, monitoring, and automation.
GoTo Resolve Premium is ideal for established teams wanting to deploy true RMM and proactive IT management and support. You need to contact sales for customs.
GoTo Resolve Remote Support, starting at $40 per month (billed annually), is ideal for teams focusing on ad-hoc remote sessions and ticketing.
LogMeIn
Unfortunately, LogMeIn does not offer a free plan, requiring users to pay for access.
LogMeIn Pro for Individuals, priced at $30 per month (billed annually), allows access to up to 2 computers.
LogMeIn Pro for Power Users, priced at $70 per month (billed annually), allows access to up to 5 computers.
LogMeIn Pro for Small Businesses, priced at $129 per month (billed annually), allows access to up to 10 computers.
LogMeIn Rescue is priced at $108.25 per month (billed annually).
LogMeIn Central starts at $80 per month (billed annually), allowing for the management of 25 computers.
Features
Here's a feature comparison of GoTo Resolve Premium and LogMeIn Rescue.
Security
Let's take a look at LogMeIn vs. GoToAssist security.
GoToAssist
GoTo Resolve is fortified with zero trust security, a banking-grade authentication service that offers enhanced security when remote controlling a device. All sessions stay secure with government-approved 256-bit Advanced Encryption Standard (AES) and Secure Sockets Layer (SSL). Multi-factor authentication also adds access control security that makes credential attacks extremely difficult.
LogMeIn
LogMeIn uses 256-bit SSL end-to-end encryption for all connections. The user logs in using an email address and password and can select additional verification steps, such as one-time-use codes from a pre-printed sheet or emails. Users can authenticate using a personal password or an RSA SecurID two-factor authentication when logging in from a new remote location.
Bonus tip: Best free remote support software - AnyViewer
If you want free remote support software, LogMeIn is out of your choice as it does not offer a free plan. You can use GoTo Resolve for free. But we would like to introduce a GoTo Resolve alternative to you, AnyViewer.
AnyViewer is a free remote support software. It offers users a completely free service. Let's compare the free versions of AnyViewer and GoTo Resolve.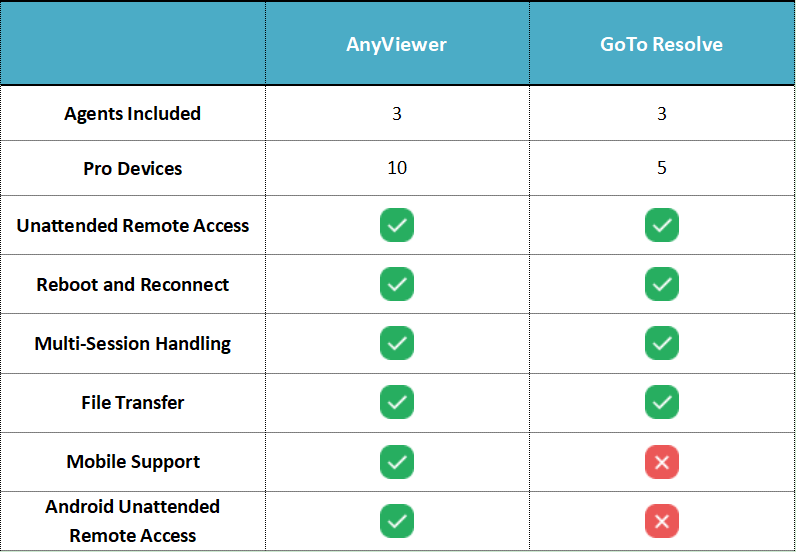 Step 1. Download, install, and launch AnyViewer on both computers. On the Controller computer, go to Log in, then click Sign up (if you already have signed up on its official website, you can log in directly).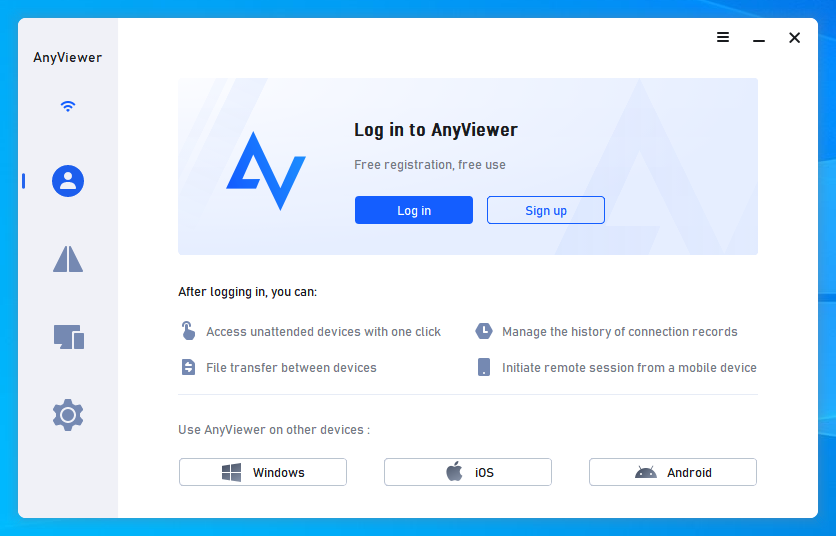 Step 2. Fill in the signup information.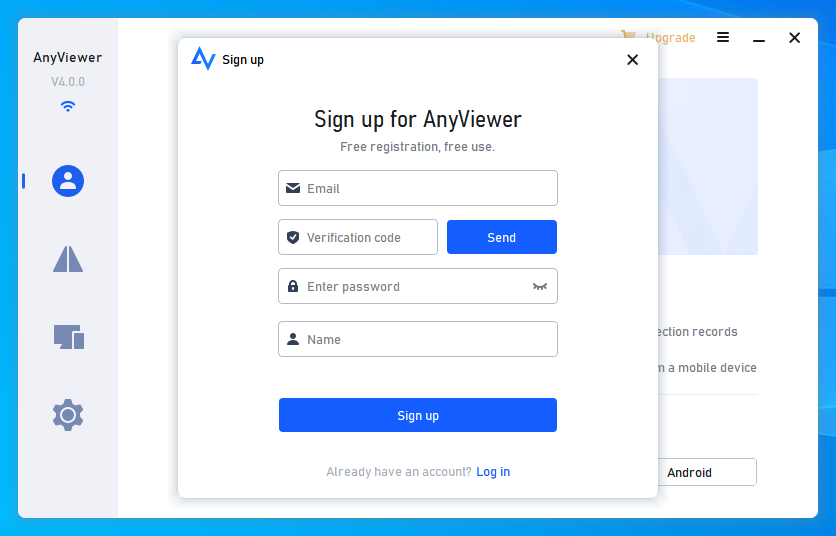 Step 3. Then you can see you successfully logged in to AnyViewer. Your device will automatically be assigned to the account you've logged in to.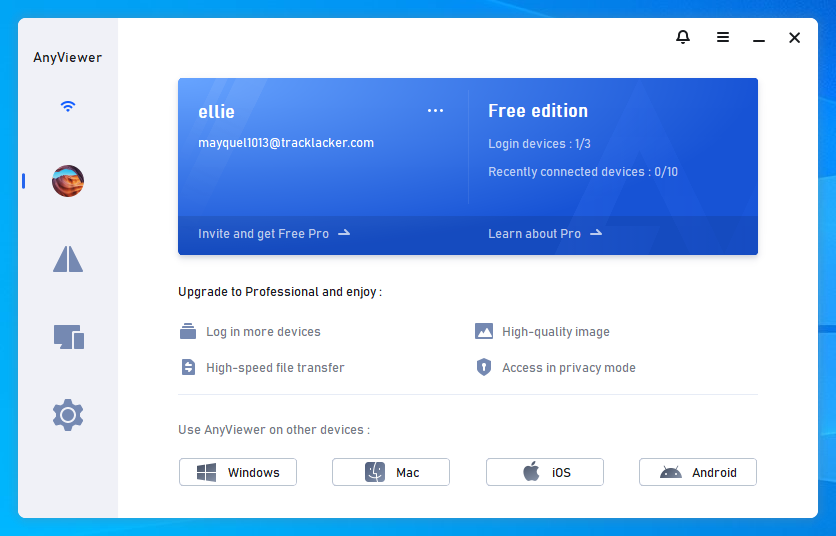 Step 4. Log in to the same AnyViewer account on the two devices; then you can achieve a direct connection by clicking One-click control.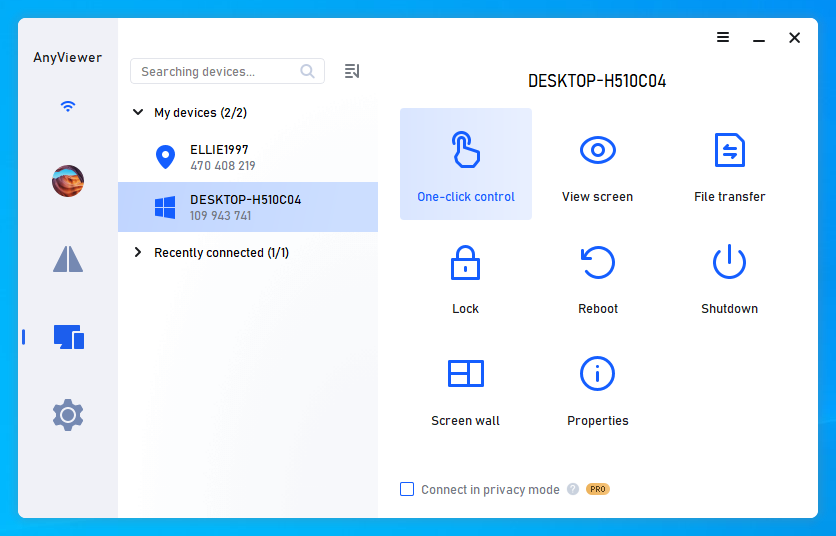 Step 5. After connecting successfully, you'll see the remote desktop.
Notes:✎...

You can also upgrade your account to a Professional or Enterprise plan. What can a professional or enterprise plan brings to you:

More devices can be assigned to the same account for unattended remote access.
Connect in privacy mode to protect privacy, which means the Controller can black the remote PC screen and disable the remote keyboard & mouse click.
Faster file transfer speed. Transfer speed for a free account is 500 KB/s, and for a paid account is up to 10 MB/s.
The bottom line
This post primarily compares GoToAssist vs. LogMeIn. Besides, it also introduces AnyViewer, the best GoTo Resolve and LogMeIn alternative free. AnyViewer is a free remote support tool with many impressive features. Download it and try it right now.