What is Lenovo server remote management?
Lenovo offers remote management capabilities for its products through various software and tools. One of the key solutions provided by Lenovo for remote management is the Lenovo ThinkSystem Management Console (TSMC), which is designed specifically for Lenovo's ThinkSystem servers. With Lenovo server remote management capabilities, system administrators gain secure and convenient access to servers, even when they are located in geographically dispersed locations. This eliminates the need for physical presence, enabling efficient remote support, configuration, and monitoring tasks.
How to utilize Lenovo remote management
The steps to use Lenovo remote management tools may vary depending on the specific software or tool you are using. Here is an overview of the fundamental steps to commence using Lenovo remote control management:
Step 1. Identify the remote management tool that suits your Lenovo product. Lenovo offers a range of tools, such as the ThinkSystem Management Console (TSMC) for servers and Lenovo Vantage for desktops and laptops, designed for different product lines.
Step 2. Download and install the relevant remote management software onto your local computer or device. Access the software from the Lenovo support website or the product-specific support page.
Step 3. Launch the remote management software and establish a Lonovo control connection to the desired Lenovo device for remote management. Depending on the software, you may need to provide the device's IP address or hostname to establish the connection. Ensure that both the local and remote devices are connected to the same network.
Step 4. Upon successful connection, you will typically be prompted to enter your login credentials. Provide the necessary authentication details, such as a username and password, to gain access to the remote device. Ensure that you possess the appropriate permissions required for remote device management.
Step 5. Once logged in, you should have access to a range of Lenovo server remote management features and tools, depending on the software employed. These may encompass firmware updates, hardware monitoring, system configuration, remote control capabilities, and troubleshooting options. Take the time to acquaint yourself with the available features and navigate through the software interface to accomplish your desired tasks.
▶It is crucial to note that the precise steps and options can vary depending on the specific remote management tool and Lenovo product you intend to manage. Always refer to the official documentation provided by Lenovo or consult their customer support for detailed, product-specific instructions tailored to your software version.
Bonus tip: Leveraging third-party tools for enhanced remote management
While Lenovo's native remote management tools offer an extensive range of features, complementing them with versatile and user-friendly remote desktop software like AnyViewer can enhance the remote management experience even further.
Here are the key benefits of AnyViewer:
►Secure and seamless access. AnyViewer provides secure and encrypted remote access to Lenovo servers, enabling administrators to control and manage servers effortlessly from anywhere in the world. Its intuitive interface and easy setup ensure a smooth and streamlined experience for both seasoned administrators and newcomers to remote management.
►One-click control. AnyViewer supports one click to perform unattended remote access. It allows administrators to remotely connect to and manage Lenovo servers without the need for user interaction or permission. This feature brings a new level of efficiency and convenience to server administration, saving time and resources.
►Collaborative troubleshooting. AnyViewer offers collaborative features that enable multiple administrators to connect to a server simultaneously. This functionality fosters seamless teamwork, allowing experts to collaborate and troubleshoot server issues collectively, leading to faster resolution times and minimizing service disruptions.
►File transfer and clipboard sharing. AnyViewer simplifies file transfer between local and remote systems, making it convenient to move files securely without the need for additional third-party tools. Clipboard sharing functionality facilitates the easy transfer of text, images, and other data between local and remote environments, enhancing productivity and streamlining workflows.
Download and install AnyViewer on your computers:
Step 1. On the host computer, start AnyViewer and sign up for a new account using your email address and password.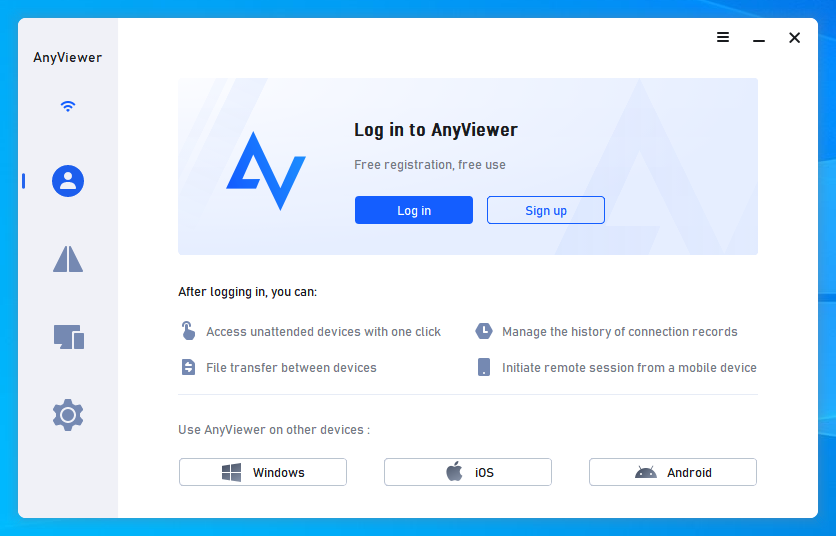 Step 2. On the client computer, launch AnyViewer and log in using the same account credentials. Once logged in, the client computer will be automatically assigned to your account.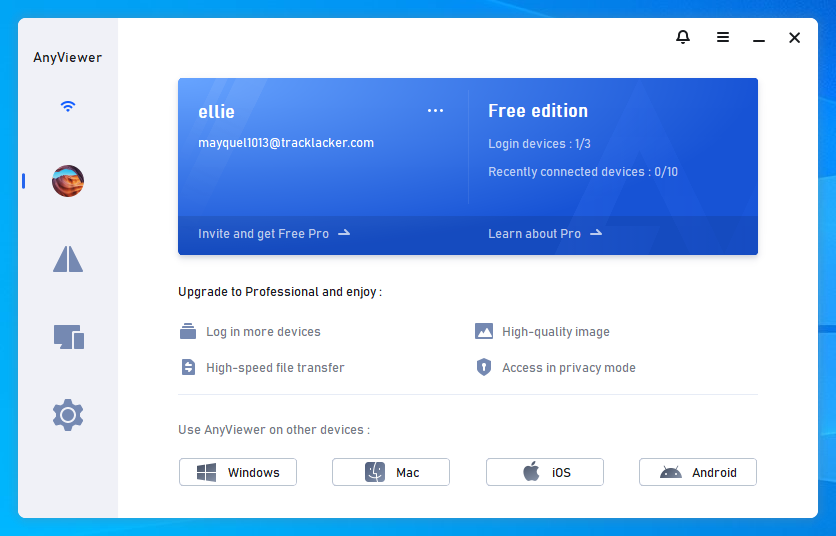 Step 3. Navigate to the Device section and select the specific device you wish to connect to. Click on One-click control to initiate the connection.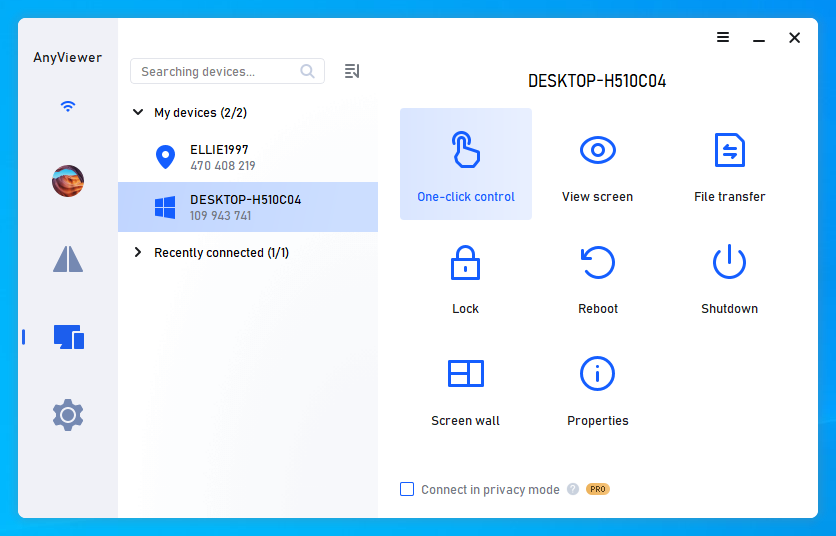 Once connected, you can seamlessly access and control resources at remote sites with the confidence that your data remains secure.
Notes:✎...AnyViewer offers flexible and cost-effective licensing options to cater to commercial needs. If you require a reliable remote support solution for your business, AnyViewer has you covered with its affordable pricing tiers and benefits:

Gain the ability to manage up to 100 devices effortlessly, enabling convenient one-click control over your remote resources.
Connect to up to 10 devices simultaneously, ensuring efficient multitasking and seamless collaboration.
Perform unlimited simultaneous transfers of large files up to a remarkable 1TB in size per file.
Connect in privacy mode that safeguards your sensitive information by blackening the screen and disabling the keyboard and mouse of the host PC.
...
Conclusion
That's all for Lenovo server remote management. If you are looking for other convenient tools to remote control Lenovo servers, AnyViewer stands out as the ultimate solution. With seamless control, efficient multitasking, unlimited file transfers, and robust privacy features, AnyViewer offers the perfect blend of functionality and security. Embrace the power of AnyViewer and optimize your Lenovo server management experience like never before.