How do I transfer large files to my USB?
I'm attempting to copy a 5GB file from my computer to a USB flash drive with approximately 26GB of free space. However, I was unsuccessful and received the following error message. Why, and how can I transfer large files to my USB?"
- Question from Reddit
2 options to fix large file transfer to USB software failed
If you have encountered a large file transfer to USB software failed error, here we offer you 2 options on how to achieve a large file transfer.
Option 1. Format FAT32 USB flash drive to NTFS or exFAT
Windows's most common file systems are FAT32, NTFS, and exFAT. The maximum file size that FAT32 supports for a single file is 4GB. Therefore, you can transfer files as large as the drive's capacity to a FAT32 USB flash drive, but each file should be no larger than 4GB. As a result, if you can't transfer a 5GB file to a USB flash drive with enough unused space, the USB flash drive is almost certainly formatted with the FAT32 file system.
Therefore, you must switch to another file system, such as NTFS or exFAT, because the FAT32 USB flash drive can no longer save any single file larger than 4GB. The exFAT is a newer format that may not be recognized by older computers, whereas NTFS is the most commonly used file system and can support a single file up to 16TB. So, when the USB transfer file too large, you can change the file system from FAT32 to NTFS.
Caution: There's a problem with converting FAT32 to NTFS, or exFAT will cause data loss. When you have essential data on a FAT32 USB flash drive, you must first back up the data to another hard drive and then format it.
Step 1. Connect the USB drive to your computer and make sure Windows recognizes it. To open Windows File Explorer, double-click This PC/My Computer, then right-click the USB flash drive and select Format.
Step 2. Then, choose the NTFS in the File System drop-down menu. Click Start.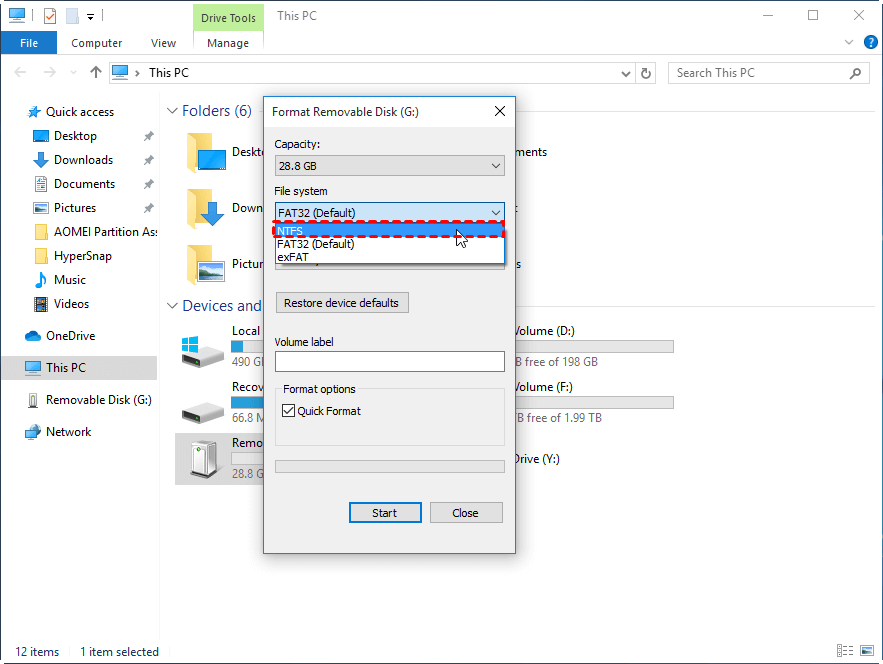 Step 3. Windows will warn you that the data on the USB will be erased totally after formatting. Click OK to continue.
Step 4. After converting, you can transfer large files to your USB drive and move the data you have backed into it.
Option 2. Transfer large files via the file transfer tool
If you tend to transfer files between computers via a USB flash drive, here's a more accessible option to transfer files from one PC to another directly without any error; no more intermediary USB is needed. AnyViewer is a free remote desktop tool as well as a file transfer tool. It allows you to transfer large files up to 1TB at a 10MB/s transfer speed. With it, you won't encounter any USB large file transfer problems anymore.
Step 1. Download, install, and launch AnyViewer on both Windows computers.
Step 2. On the Controller computer, go to Log in, and then click Sign up. (If you already have signed up on its official website, you can log in directly.)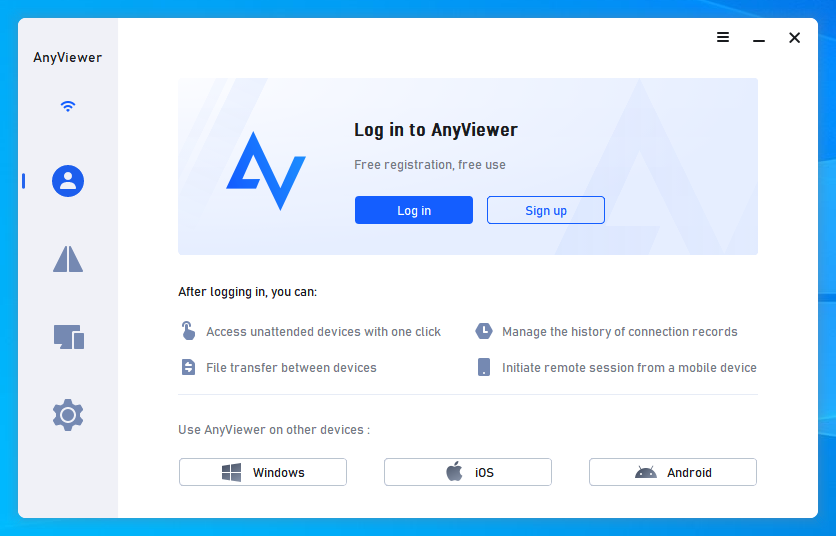 Step 3. Fill in the signup information.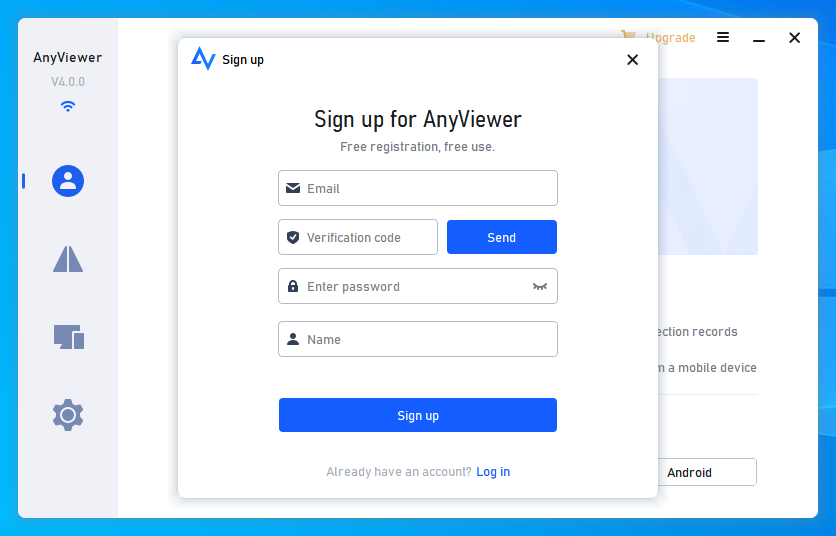 Step 4. Then you can see you successfully logged in to AnyViewer. Your device will automatically be assigned to the account you've logged in to.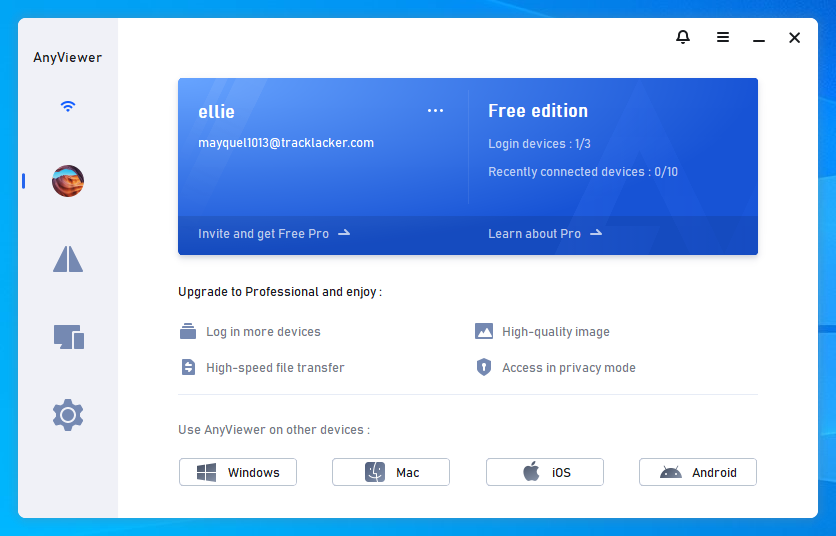 Step 5. Choose your target computer, and then click File transfer.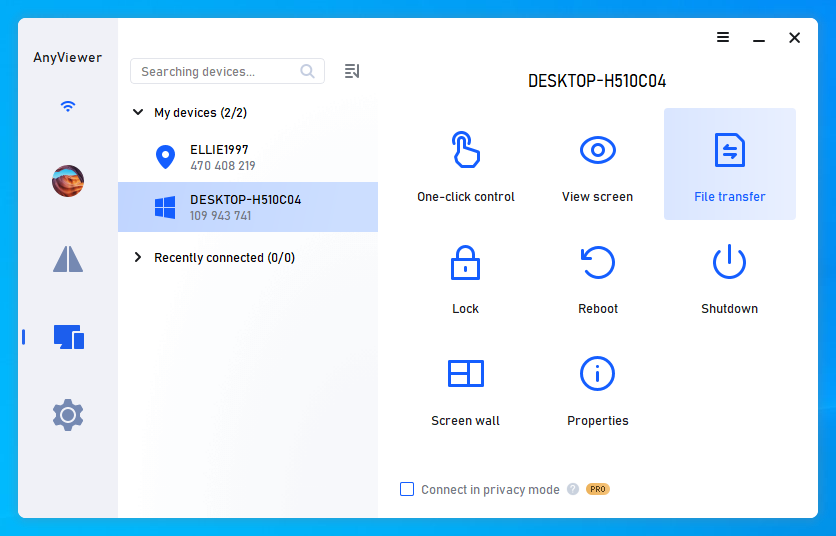 Tips:
You can also click
One-click control
to achieve
unattended remote access
to your office computer. Then you can completely control it just like you're sitting in front of it. After the connection is successful, you can also click the
Files
button in the menu bar to transfer files.

Step 6. Then a File Transfer dialog box will appear. The path of the Controller computer is shown on the left of the box, and the path of the Recipient computer is shown on the right. You're able to transfer files between devices freely by clicking the arrows after choosing the target files.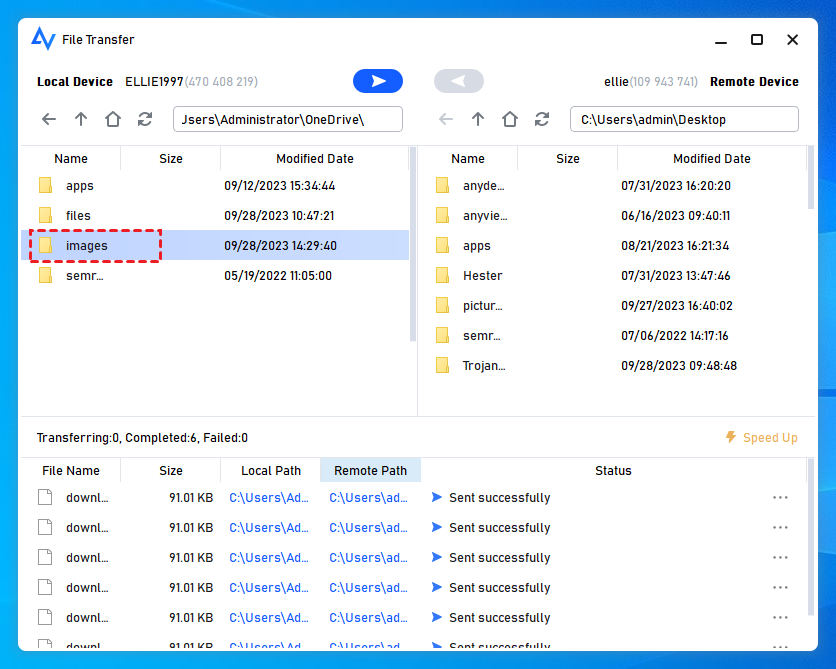 Closing words
This post primarily introduces two options to fix large file transfer to USB software failed error. The first is to format the USB flash drive and then transfer large files. The second is transferring large files between computers directly via the file transfer software AnyViewer without using external devices. Choose the one you like better.