Is VNC encrypted?
VNC is a popular remote access system frequently used for technical support, equipment monitoring, distance learning, and other purposes. Is VNC encrypted? The VNC graphical desktop-sharing system uses the Remote Frame Buffer (RFB) protocol to operate a remote machine across a network. Exposing VNC to the Internet has long been considered a security issue. Cyble has detected over 8,000 Internet-accessible VNC installations with authentication deactivated.
What are the VNC vulnerabilities?
Is VNC secure? Not exactly. Experts examined several popular VNC implementations, including TightVNC, UltraVNC, TurboVNC, etc. A total of 37 VNC security failures were discovered in most of them, some of which had existed since 1999.
VNC applications comprise a server installed on the computer that accesses the remote control and a client operating on the device from which it connects. Vulnerabilities are much less common on the server side, which is typically more straightforward and has fewer problems. Even though an attack on the server is frequently impossible without authorization, specialists discovered holes in both the applications under consideration.
All of the bugs are associated with improper memory utilization. Exploiting them results in failures and service denial, which is more positive. In more severe situations, attackers may access the device's data without authorization or inject malware into the victim's system.
Below are two key attack vectors:
The VNC server is being attacked by an attacker on the same network as it to get access to the server and run code with server privileges.
Using a VNC client, a user connects to the"server" of an attacker, who then uses the client's security flaws to attack the user and run code on the user's computer.
How to make VNC connection secure
Although experts concentrate more on using VNC in businesses, any organization or individual employing this technology is subject to the same hazards. Here is some advice for securing VNC programs to prevent fraudsters from using vulnerabilities against you.
►When creating your VNC account, choose a complicated, one-of-a-kind password (not one you use for any other online service).
►Purchase an Enterprise subscription that offers high-level security techniques and then enable 2-step verification for yourself.
►Look up the available remote connections for your devices, and block them when remote access is not required.
►Check the versions of all remote access programs, not only VNC, to make sure they are current. Stop utilizing them if you have any concerns regarding their dependability. If you continue to deploy them, upgrade to the most recent version.
►Connect to only trusted or tested VNC servers.
AnyViewer: The most secure remote access option for Windows
If you are concerned about VNC security risks, we advise switching to a secure VNC alternative. There are many remote access software on the market. AnyVeiwer could be the best option to protect your data and privacy during remote connections.
AnyViewer preserves data security using end-to-end encryption with a sophisticated 256-Bit Elliptic Curve Cryptography (ECC) algorithm and has never had a data security incident. Besides, it offers more robust security features for business plans that allow users to access remote computers in privacy mode to better protect privacy by blacking out the remote screen and disabling the remote keyboard & mouse.
With intuitive interfaces, AnyViewer is very easy to use. You can perform unattended access over the Internet, file transfer, multiple sessions, etc. in simple steps.
Download and install AnyViewer on your devices:
Step 1. On the host machine, click Sign up to create a new account and log in.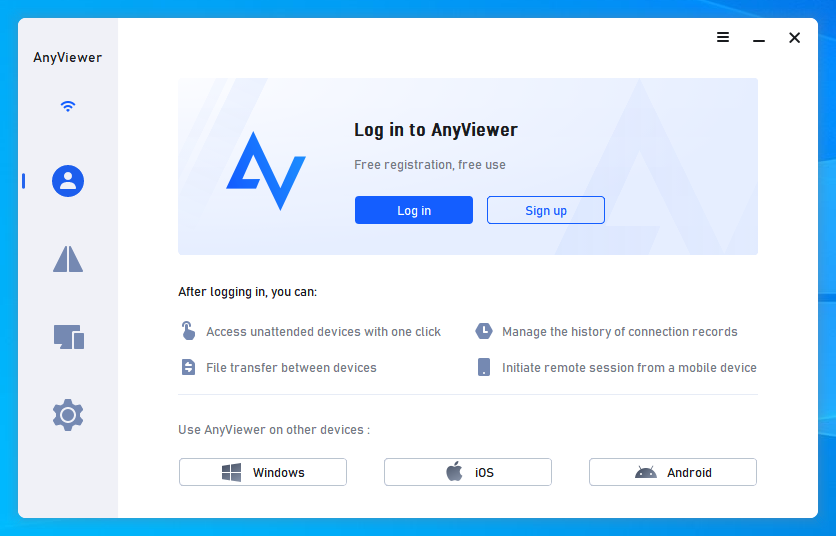 Step 2. Use the same account to sign in to the client computer. The account will be assigned to your device once you successfully logged in.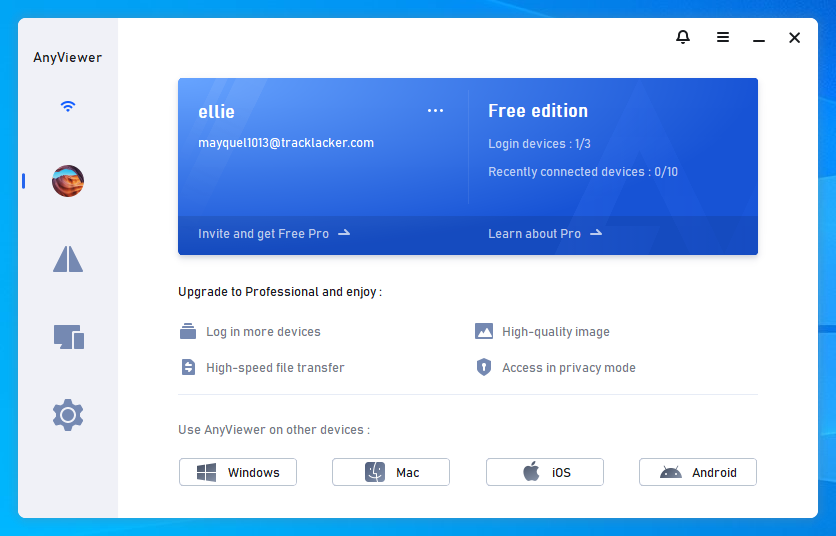 Step 3. You can see the list of assigned devices by going to the Device interface. Click the device you wish to connect to and then click One-click control.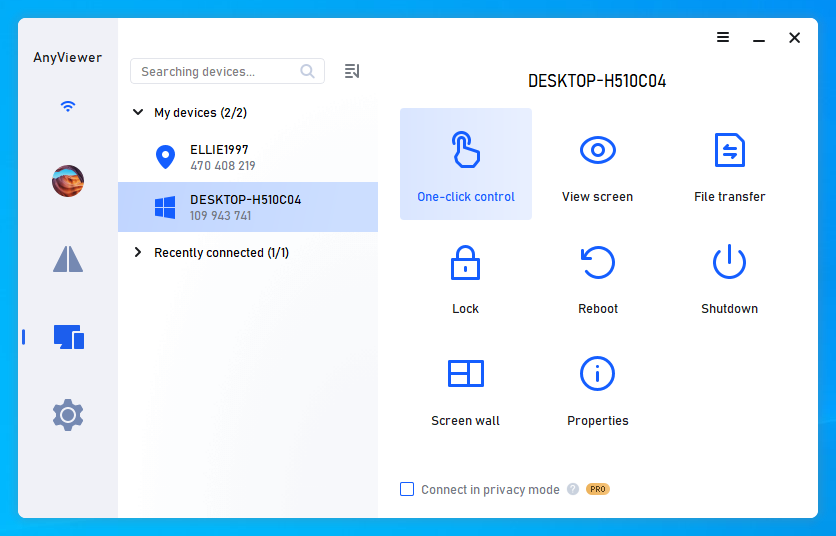 Note: We suggest upgrading your account if you have more than two remote PCs. After that, for a modest fee, you can remotely control up to 10 devices simultaneously and one-click control up to 100 devices.
Conclusion
Is VNC encrypted? VNC makes remote access simple. The drawback is that opening up VNC to the Internet has long been considered a security risk. So, we recommend switching to AnyViewer to access your remote computer safely.