Overview of UltraVNC and TightVNC
Both UltraVNC and TightVNC are free and open-source remote access and screen-sharing Software. They allow you to see the desktop of a remote machine and control it with your local mouse and keyboard. UltraVNC and TightVNC utilize the VNC (Virtual Network Computing) system, a graphical desktop sharing system that utilizes the remote frame buffer protocol, to provide a high-caliber, remote desktop monitoring service.
UltraVNC vs. TightVNC: a full comparison
UltraVNC and TightVNC are free tools providing similar functions. If you have difficulty choosing between UltraVNC and TightVNC, you may want to know the differences between TightVNC and UltraVNC. Here's a full comparison of UltraVNC and TightVNC in compatibility, security, speed, and features.
Compatibility
UltraVNC mainly supports Windows operating systems, including Windows 95**/98**/Me**/NT4**, Windows XP, Windows Vista, Windows 7/8/8.1/10/11, and Windows Server 2003/2003 R2/2008/2008 R2/2012/2012 R2/2016/2019/ 2022. A simple web browser running on any platform that supports Java (Linux, Mac OS, etc.) can connect to an UltraVNC server using the embedded Java viewer and transfer files.
TightVNCruns on Windows XP and all later versions, including Windows XP/Vista/7/8/8.1/10/11 and corresponding versions of Windows Server. As a result, TightVNC can be used with virtually any Windows version (both 32-bit and 64-bit systems are supported). Note that on Windows XP, you should have the latest Service Pack installed.
Security
UltraVNC adopts DiskStation Manager (DSM) encryption, which allows viewers and servers to establish a secure communication link that provides protection against unauthorized access. But UltraVNC has security vulnerabilities. For instance, the VNC server code in version 1211 has several memory leaks (CWE-665) that allow an attacker to read the stack memory and exploit it to reveal information. In combination with another vulnerability, this can be used to read stack memory and bypass ASLR.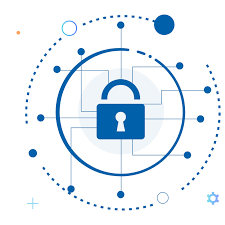 Although TightVNC encrypts VNC passwords sent over the network (VNC uses a DES-encrypted challenge-response method for password encryption in which the password is limited to 8 characters and the effective DES key length is 56 bits), the rest of the traffic is sent unencrypted. Thus, using TightVNC over the Internet may pose a security risk. To address this issue, the TightVNC team plans to implement built-in encryption in future versions of TightVNC. Besides, installing an SSH server and using SSH tunneling for all TightVNC connections from untrusted networks is also recommended to increase security.
Speed
Let's take a look at TightVNC vs. UltraVNC speed. Actually, UltraVNC and TightVNC are both optimized for speed.
If using UltraVNC, you are advised to install their Mirror driver. The control session becomes very fluid and flicker-free as a result.
To better support slower network connections, the TightVNC server and viewer employ specialized data encoding techniques.
Features
UltraVNC allows you to transfer files and folders between the viewer and the server. It also compresses the files and folders prior to transfer, and you get maximum flexibility with minimal bandwidth. In addition, UltraVNC has an embedded text chat system with an intuitive graphical user interface (GUI) that allows easy and fast communication between local (viewer) and remote (server) computers.
With its distinctive features, such as session sharing, TightVNC might be the best option for your remote administration requirements. By default, TightVNC disconnects existing remote sessions when a new session is created. This setting can be changed to enable simultaneous viewing and control of the server by multiple remote users. Alternatively, you can block new remote sessions until the first session is completed. Besides, it also supports unattended remote access and file transfer.
Bonus tip: AnyViewer is the best VNC solution for Windows
If you are looking for the best VNC solution for Windows with more features, you're advised to use AnyViewer. It is free, fast, and secure remote desktop software. It is secured by ECC encryption and protects your data from loss. Besides, it also has many features like file transfer, unattended remote access, screen sharing, remote restart, etc.
Step 1. On both computers, download, install, and launch AnyViewer. Go to Log in on the Controller computer, and then click Sign up (if you have already signed up on its official website, you can log in directly).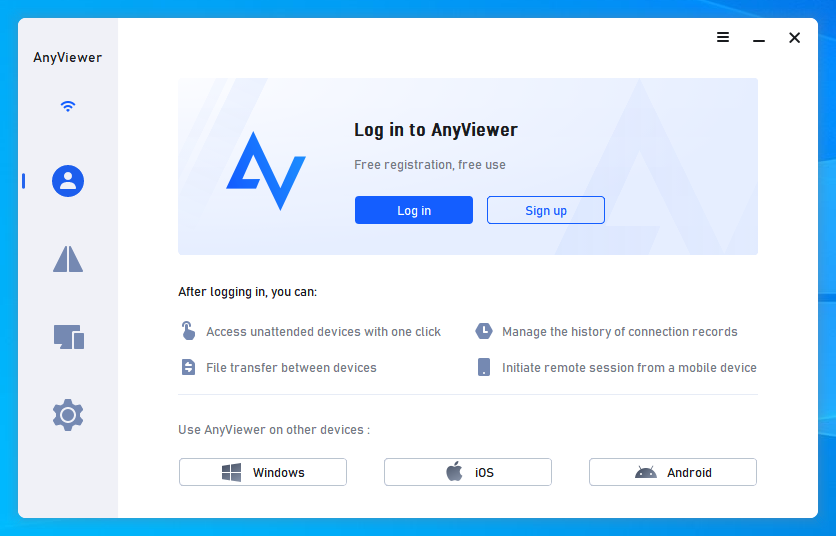 Step 2. Fill out the signup form.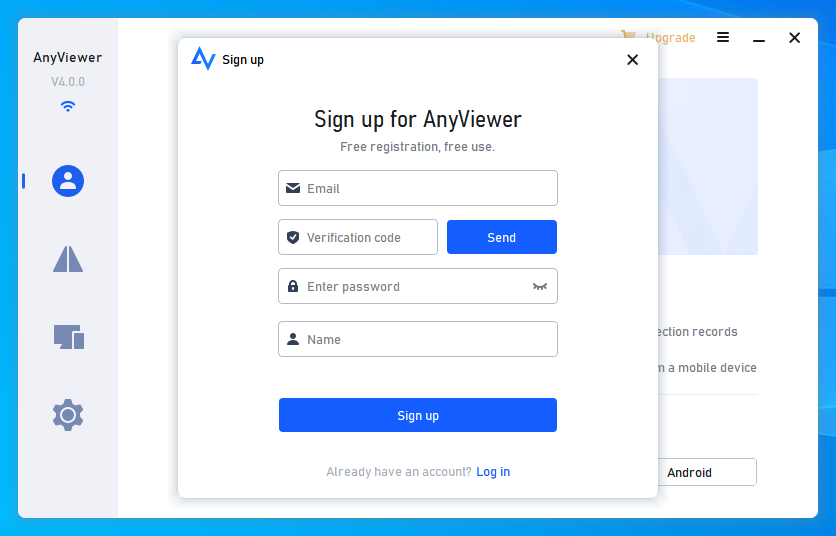 Step 3. You should now see that you have successfully logged into AnyViewer. Your device will be assigned to the account to which you have logged in automatically.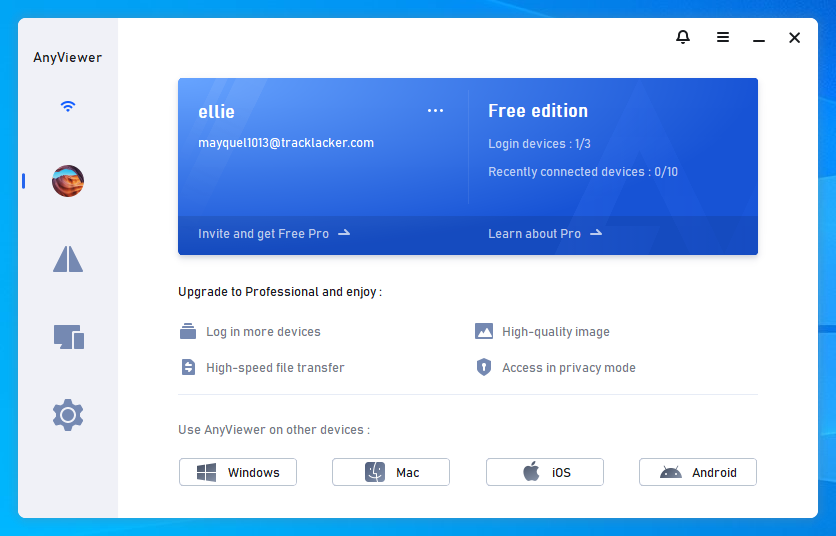 Step 4. Sign in with the same AnyViewer account on both computers, then click the One-click control for unattended remote access.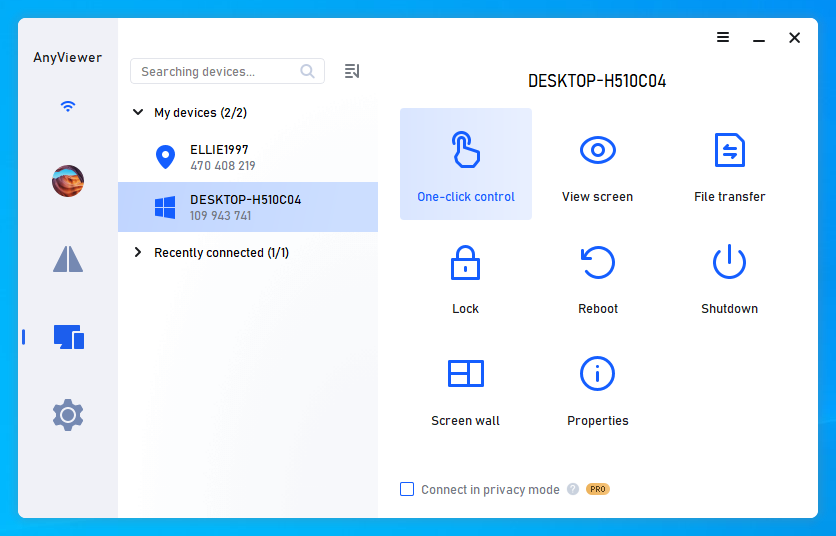 Step 5. The remote desktop will appear once the connection is established. After that, you have complete control over it.
Notes:✎...

It is recommended to upgrade your account to a Professional or Enterprise plan. What can a professional or enterprise plan brings to you:

More devices will be allowed to assign to the same account for unattended access.
More connection channels for more devices to be able to start remote connection at the same time.
One device can connect to more devices simultaneously.
Black the remote PC screen and disable the remote keyboard & mouse click to protect privacy.
Transfer 1TB files at 10 MB/s.
The bottom line
This post primarily compares UltraVNC vs. TightVNC in compatibility, security, speed, and features. Besides, we also introduce AnyViewer, the best free VNC solution for Windows. AnyViewer provides a fast and stable connection and offers more impressive features. Try it right now.