What does UltraVNC authentication failed from?
Hi there. Whenever I attempt to use UltraVNC to control a computer remotely, I receive the message 'authentication rejected.' What does it mean? How can I fix it? Thanks for your advice."
- Question from a user
The UltraVNC "Authentication rejected" message means you can contact the remote computer, but the connection is rejected due to a wrong password. This post will discuss how to fix this problem. Please keep reading.
How to fix UltraVNC authentication rejected
Sometimes you set a server login password but face UltraVNC viewer authentication rejected, mainly because you choose to install the service during the installation, and the password cannot be written into ultravnc.ini. Therefore, the password you entered will be detected as a wrong password. In this case, you need to reset the password to resolve the issue.
Step 1. Close the message box and exit UltraVNC program.
Step 2. Open the UltraVNC installation package in your system. Locate and open the application "uvnc_settings.exe". (The default path is c:\Program Files\uvnc bvba\UltraVNC\uvnc_settings.exe)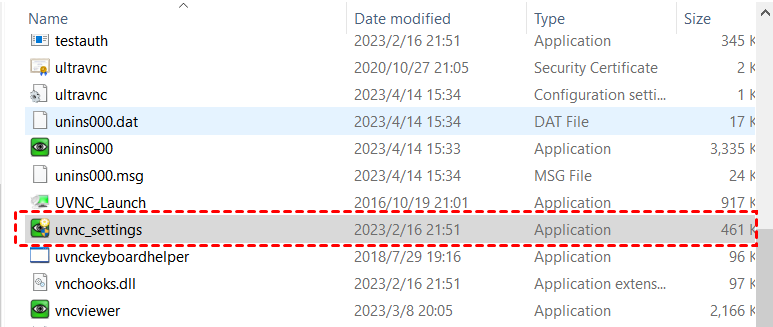 Step 3. Go to the Security tab and reset your VNC Password. Click OK to take effect.
Step 4. Restart UltraVNC and try to log in to the remote computer again.
Bonus tip: The best UltraVNC alternative for Windows
UltraVNC is free remote access software for Windows. However, users may have trouble connecting since it requires a complicated setting on the UltraVNC server. For instance, you may face the common UltraVNC error "authentication rejected".
If you are looking for a powerful UltraVNC alternative, try AnyViewer, and you won't regret it.
UltraVNC vs AnyViewer comparison
Here is a detailed comparison between UltraVNC and AnyViewer.
►Compatibility
UltraVNC is designed for Windows only.
AnyViewer supports Windows, Android, and iOS devices, allowing PC-to-PC and iOS/Android-to-PC remote control.
►Security
UltraVNC has DiskStation Manager (DSM) encryption, allowing viewers and servers to establish a secure communication connection while protecting against illegal access. But occasionally, the security firm reports that more than 20 security flaws have been found in UltraVNC, raising concerns about system security.
AnyViewer provides end-to-end security with 256-Bit Elliptic Curve Cryptography (ECC) encryption, and it never experienced a data breach issue.
►Ease of use
UltraVNC is not a handy remote access solution. To use UltraVNC, you need to have some network skills because it requires a complex set on its server side, and you must configure a static IP address for unattended access. Besides, you need to perform router port forwarding on the serverand change the firewall settings.
AnyViewer is very simple to use with an intuitive interface. You only need to create an account to log in, and then you can start unattended remote access with one click. Besides, AnyViewer allows connections over the Internet without VPN or port forwarding.
►Features
Features

UltraVNC

AnyViewer

Unattended remote access

√

√

File transfer

√

(You can transfer files in a remote session.)

√

(You can transfer files in a remote session or use file transfer mode without taking the remote control.)

Multiple sessions

×

√

Multiple monitors support

×

√

Remote reboot

×

√

Chat

√

√
In short, UltraVNC is not ideal for basic use and could be complicated for most people. If you want to connect to your personal computer when away, deploy remote access in your company, or offer remote support to others, AnyViewer could be better. You can flexibly choose a plan that fits your needs most.
How to perform AnyViewer one-click remote access
As we said, AnyViewer is easy to setup. Here is how to start a remote session with AnyViewer.
Step 1. Download, install, and start AnyViewer on your devices:
Step 2. On the host server, click Sign up to create a new account and then login.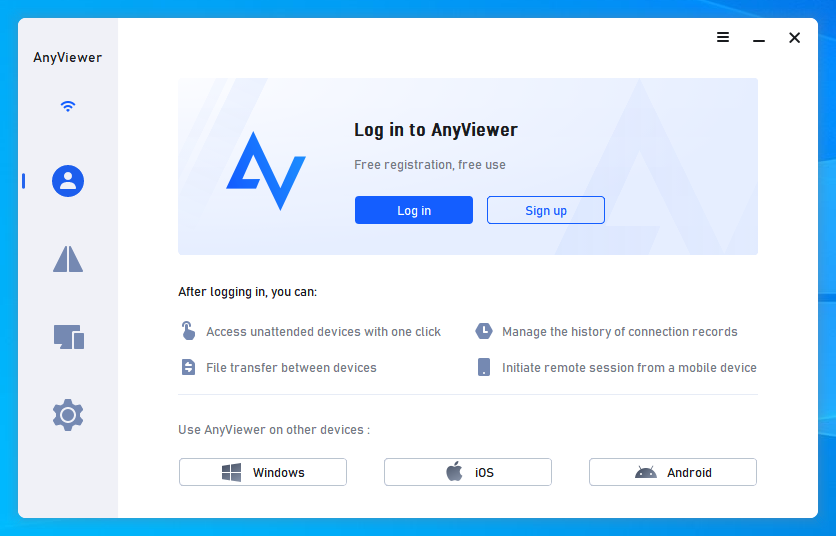 Step 3. On the client computer, log in to the same account as on the host. You device will assign to the account when successfully logged in.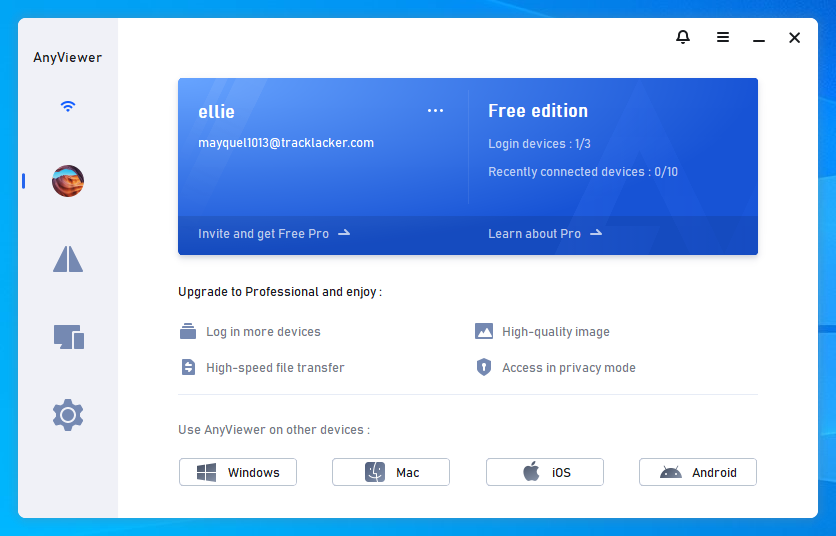 Step 4. Go to the Device interface, and you can see the list of assigned devices. Click the machine you want to connect to and click One-click control.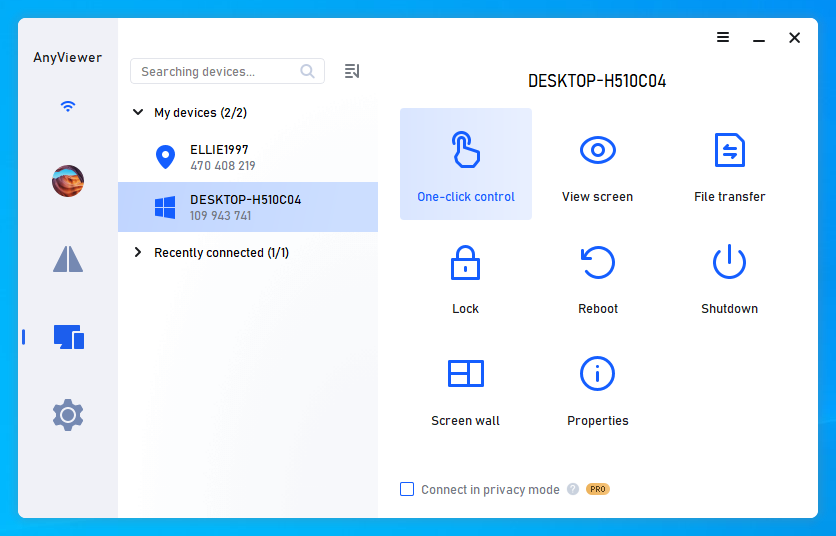 Now you can control the remote computer as if sitting in front of it.There are many considerate options in the upper toolbar. For example, you can transfer files, chat with your partner, hide the wallpaper, change the screen resolution, etc.
★Tips: AnyViewer offers a completely free version with rich features. It also has the cost-effective Professional and Enterprise plan for businesses to enjoy more rights, such as:

Set up to 100 assigned devices for one-click control.
Create more concurrent sessions.
Access in privacy mode allows blacking the physical screen and disabling the physical keyboard of the remote device.
Enjoy high-image quality.
Conclusion
This post introduced how to fix UltraVNC authentication rejected. You can reset the password with the instructions and try reaccessing your remote computer. If it still does not work, we recommend you use an UltraVNC alternative, for instance, AnyViewer, that allows you to start a remote session without errors conveniently.