How do I uninstall Splashtop?
Hello everyone! I've been struggling with removing Splashtop from my device. Can someone please share a step-by-step guide on how to uninstall Splashtop? Any help would be greatly appreciated! Thanks in advance!"
- Question from a user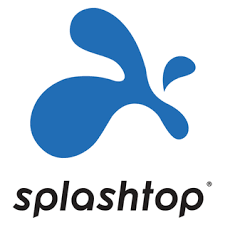 By utilizing the Splashtop software, you gain the ability to utilize your applications and access files remotely from your computer. Nonetheless, you might encounter instances of Splashtop lag, difficulties in establishing connection with Splashtop servers, and various other errors that may lead you to consider uninstalling Splashtop.
Uninstalling Splashtop goes beyond a simple deletion process from your computer. Merely dragging and dropping the app into the Trash can lead to complications that may require expertise beyond your own capabilities. Hence, this article will guide you through a complete and secure uninstallation of Splashtop on Windows and Mac.
How to uninstall Splashtop on Windows [3 ways]
Do you know how to uninstall Splashtop on Windows? It is a simple and straightforward process. There are three distinct methods available to remove Splashtop from your Windows computer: utilizing Windows Apps & Features, employing Splashtop tools, or utilizing the Command Prompt. Below, we will explore each of these options in detail.
Way 1. Use Windows Apps & features
Navigate to the Control Panel and access the Settings menu. Go to the "Apps" section. Locate the specific Splashtop application that you intend to remove and select it. Once selected, click on the "Uninstall" option.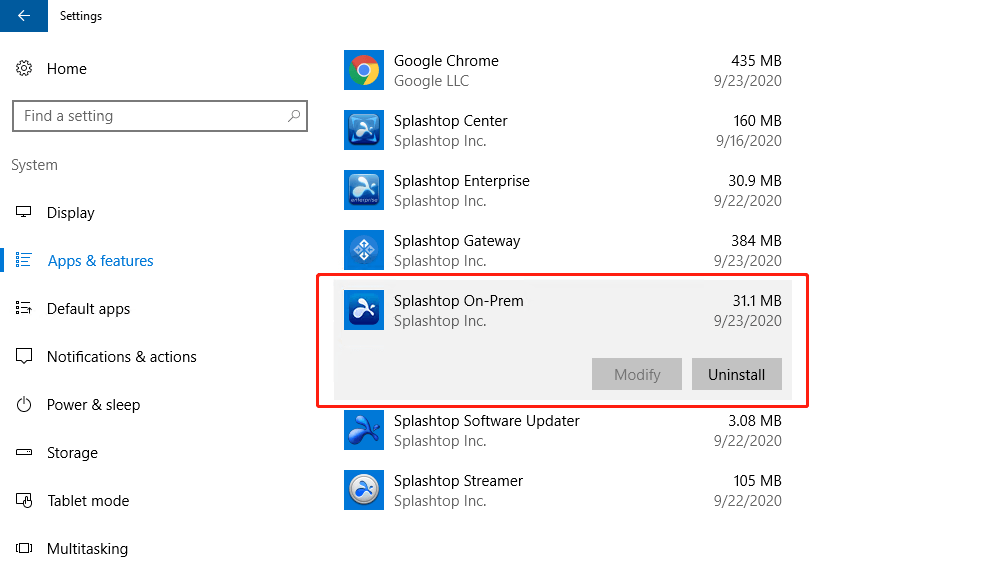 Way 2. Use Splashtop tools
To facilitate the uninstallation process of Splashtop applications on Windows, Splashtop offers two convenient tools. You can download them by accessing the following links:
Once downloaded, extract the contents of the zip files and run the respective EXE file on your Windows system. Simply click on the "Clean" button, and the tool will automatically initiate the removal process.
Way 3. Use Command Prompt
In the event that you possess a Splashtop installer, you have the option to uninstall Splashtop with command line. If your intention is to uninstall Splashtop Streamer V3.3.6.0 for Splashtop On-Prem, it is crucial to have a copy of the .exe installer file specifically for Splashtop Streamer V3.3.6.0 for Splashtop On-Prem.
Step 1. Simultaneously press the "Win + R" keys to open the Run dialog box. Then, type "cmd" and press "OK".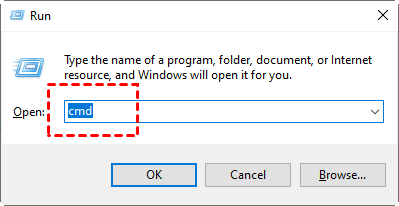 Step 2. Execute the following command line to silently uninstall the Splashtop application:
Name_Of_File.exe msiexec /qn /x setup.msi
Please ensure to replace "Name_Of_File" with the actual name of your Splashtop installer file.
How to uninstall Splashtop on Mac [2 ways]
Do you know how to uninstall Splashtop on Mac? You can manually remove Splashtop or use Splashtop uninstaller.
Way 1. Manually uninstall Splashtop
It is important to note that simply dragging and dropping a program to the Trash on your Mac does not completely remove its associated service files. To ensure the complete uninstallation of Splashtop software from your Mac, it is necessary to delete its service files as well, as their presence can potentially cause issues if left behind.
Follow these manual instructions to uninstall Splashtop on Mac::
Step 1. Quit the Splashtop app. Go to the "Applications" folder, locate "SplashtopStreamer.app," right-click on it, and select "Move to Trash."
Step 2. To fully remove Splashtop, you need to locate and manually delete its remaining files on your Mac system. Open Finder from the menu bar and select "Go" followed by "Go to Folder." In the provided box, enter the path "/Library..." This will direct you to the appropriate directory where you can find remnants of the application. Click the "Go" button. Look through the following subfolders for Splashtop-related files:

/Users/Shared/SplashtopStreamer
Step 3. To access another specific folder in the Finder, repeat the previous procedure and enter "~/Library." This will grant you access to the hidden Library folder, which contains the remaining Splashtop files. Check the following sub-folders for Splashtop-related files and delete them:
~/Library/Application Support/Splashtop

Step 4. Finally, to completely remove the Splashtop program from your Mac, empty the Trash bin and restart your Mac for the changes to take effect.
Way 2. Use Splashtop uninstaller
To save time and ensure the thorough removal of all remaining Splashtop files, you have the option to utilize its native uninstaller. This uninstaller can be found within the Splashtop Streamer dmg file.
Open the Splashtop Streamer dmg file. Double-click on "Uninstall Splashtop Streamer.app." Within a minute, the application will be completely removed from your system.
Bonus tip: The superior Splashtop alternative for Windows is worth trying!
Are you in search of a powerful Splashtop alternative that surpasses the capabilities of Splashtop? Look no further! Switch to AnyViewer, the ultimate remote access software for Windows users. Packed with an array of advanced features and an intuitive interface, AnyViewer is designed to elevate your remote access experience to new heights.
Furthermore, AnyViewer offers several free features, including unattended access, file transfer, multiple sessions, real-time chat, etc., to foster efficient teamwork regardless of physical location.
Embrace a world of convenience, efficiency, and reliability by downloading AnyViewer for free on your devices!
Step 1. Launch AnyViewer on the remote computer. Create a new account and log in using the credentials you just registered.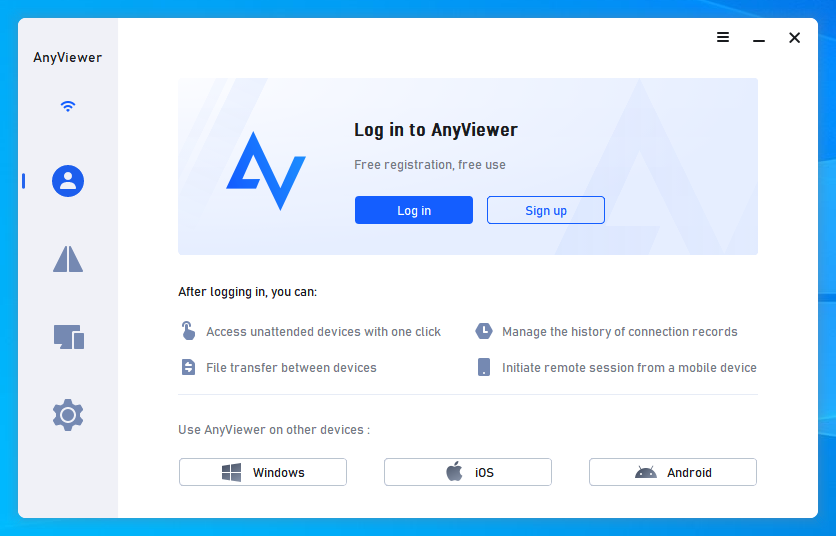 Step 2. On your local computer, open AnyViewer and sign in using the account you recently created. The program will automatically assign the remote computer to your account.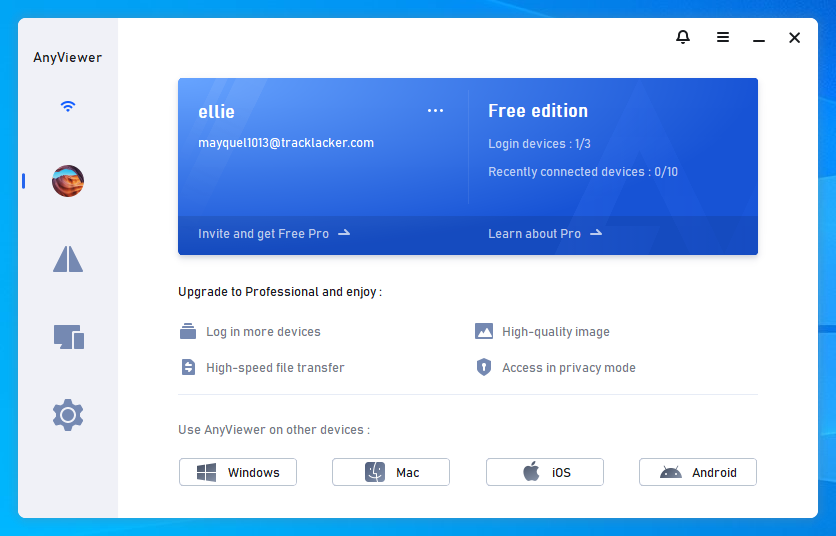 Step 3. Navigate to the "Device" section. Select the specific computer you wish to connect to, and then opt for the "One-click control" feature.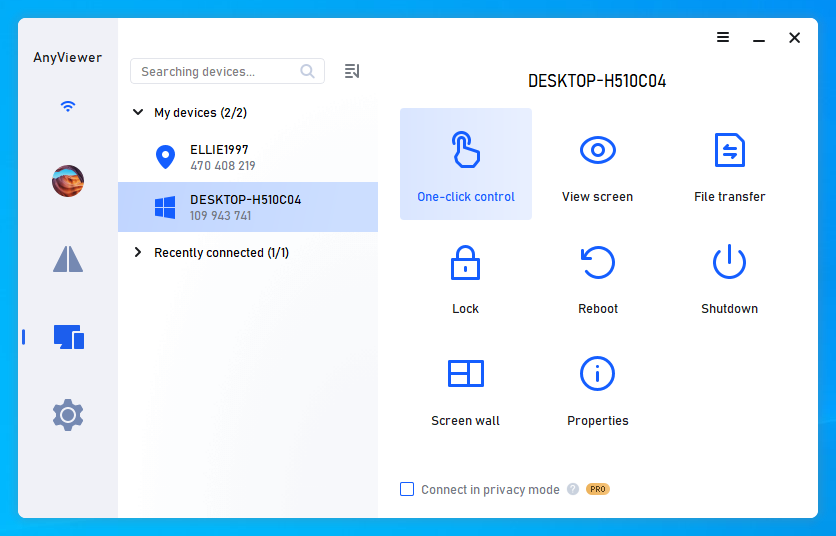 Tips:
If you have more than two remote PCs, it is highly recommended to consider
upgrading your account
. By upgrading, you unlock the ability to establish up to 10 simultaneous connections and gain access to as many as 100 unattended devices. Don't miss out on the opportunity to optimize your remote computing experience with these expanded capabilities.
Conclusion
That's all for how to uninstall Splashtop on Windows and Mac. Bid farewell to Splashtop and experience a seamless transition with AnyViewer—a robust alternative that offers effortless removal, superior functionality, and an intuitive user interface. Embrace the future of remote desktop solutions today!