The issue: unable to reach Splashtop server
Hey everyone! I'm encountering a problem with my remote access. I've been using Splashtop to connect to my office computer, but recently I got an error message 'unable to reach Splashtop servers'. Has anyone else experienced this issue or found a solution? Your insights would be greatly appreciated. Thanks in advance!"
- Question from a user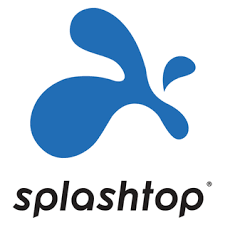 How to fix "Unable to reach Splashtop servers" error [7 solutions]
If your Splashtop login failed and get an error message like "unable to reach Splashtop server."This is probably caused by an unstable network, expired certificate, blocked firewall, etc. This guide will walk you through the necessary troubleshooting steps to resolve this issue and get your Splashtop remote access up and running smoothly again.
Solution 1. Check your internet connection
The first step is to ensure that you have a stable and active internet connection.
Step 1. Access the Windows Settings application and navigate to the "Network & Internet" section.
Step 2. Within the left-hand menu, locate and select "Status" to gain access to the comprehensive overview of your connection status displayed on the right-hand side of the screen.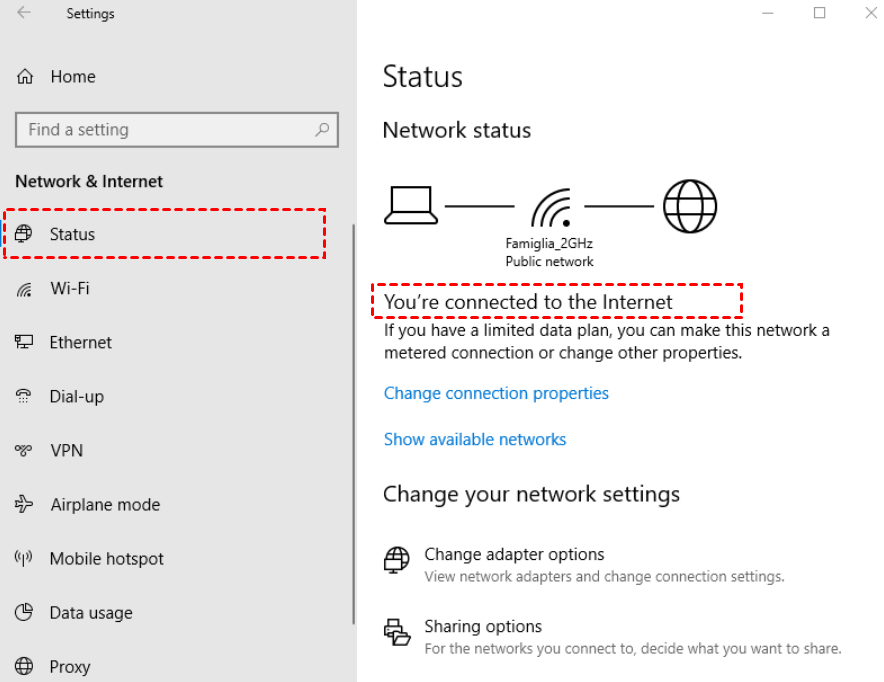 In the event that you encounter difficulties with your network, it is advisable to scroll down within the "Status" interface and initiate the "Network troubleshooter" function. By doing so, Windows will proactively endeavor to identify and resolve any underlying network connectivity issues that may be hindering your connection.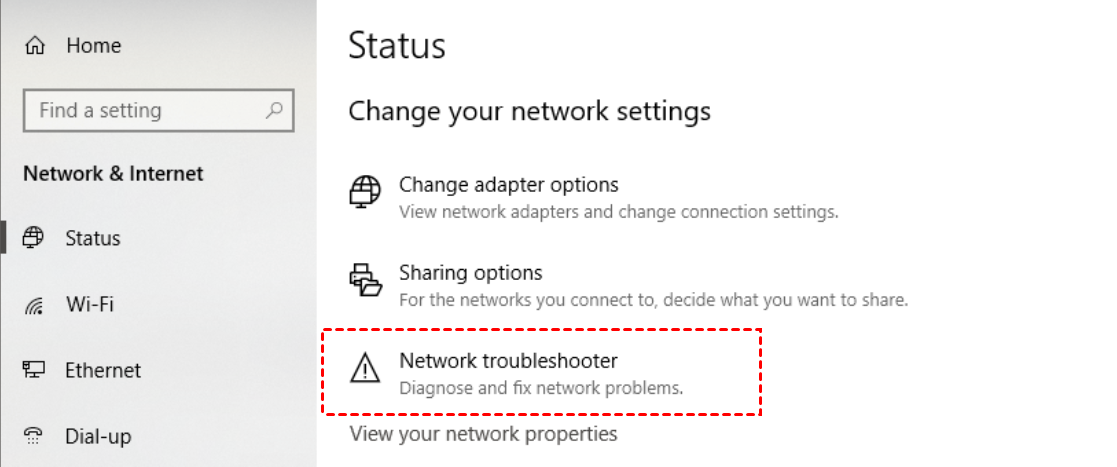 Solution 2. Run Splashtop check tool
To assess the status of the server, a convenient option is to utilize the Splashtop check tool.
Proceed to visit the official Splashtop check website. Make use of the check tool that is readily available on the website.
Solution 3. Open port 443
If you are encountering Splashtop not working Windows 10, 11, resolving the problem involves ensuring that port 443 is open and permits both HTTP over TLS and non-HTTP over TLS.
Step 1. Search for the application titled "Windows Firewall with advanced security" and launch it.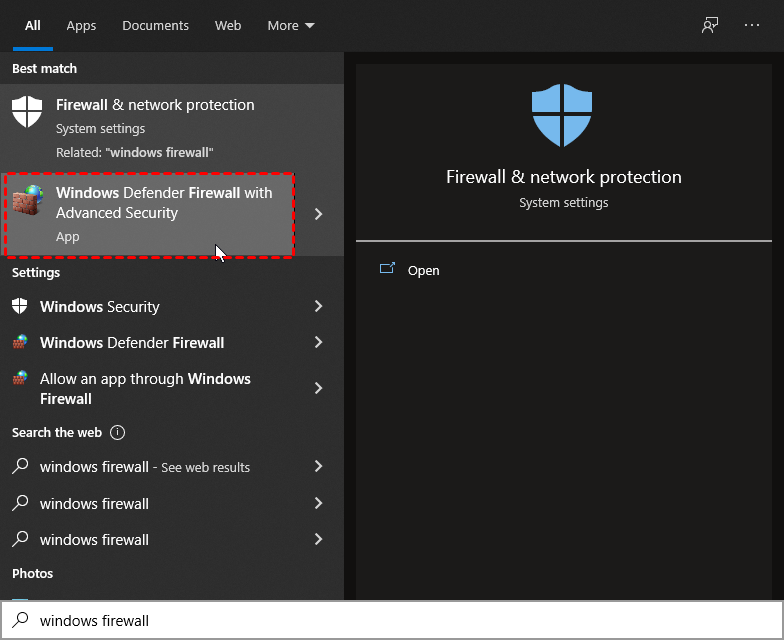 Step 2. Navigate to the "Inbound Rules" section and create a new rule.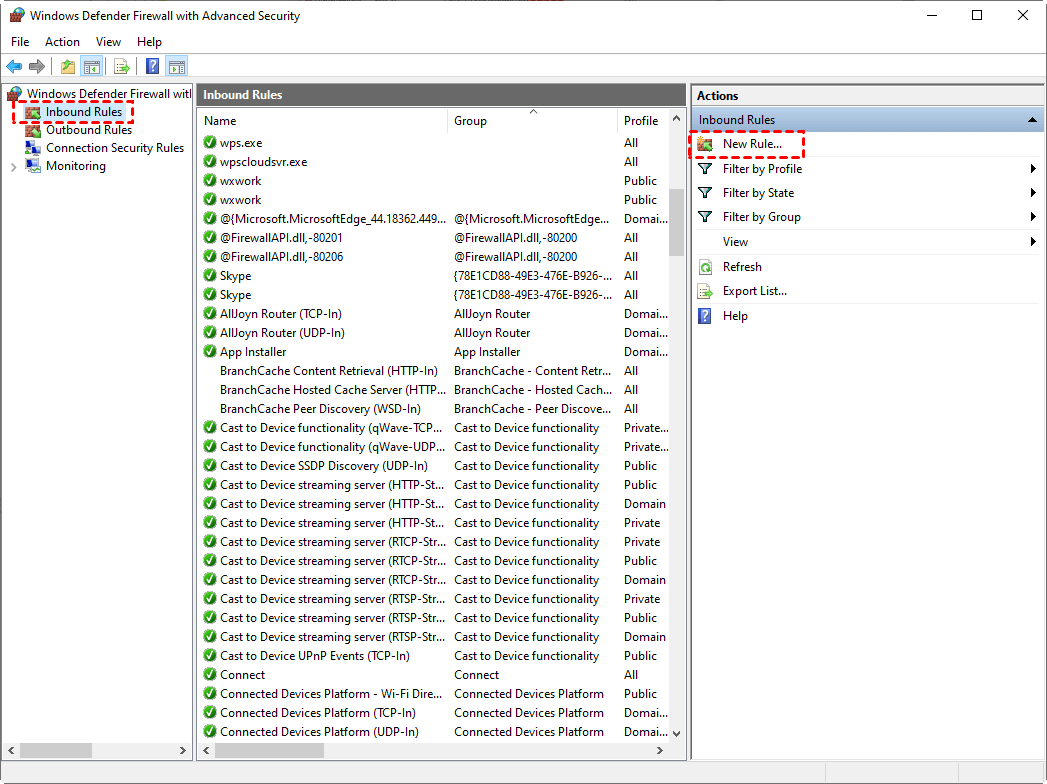 Step 3. Opt for the "Port" option and proceed to the subsequent step.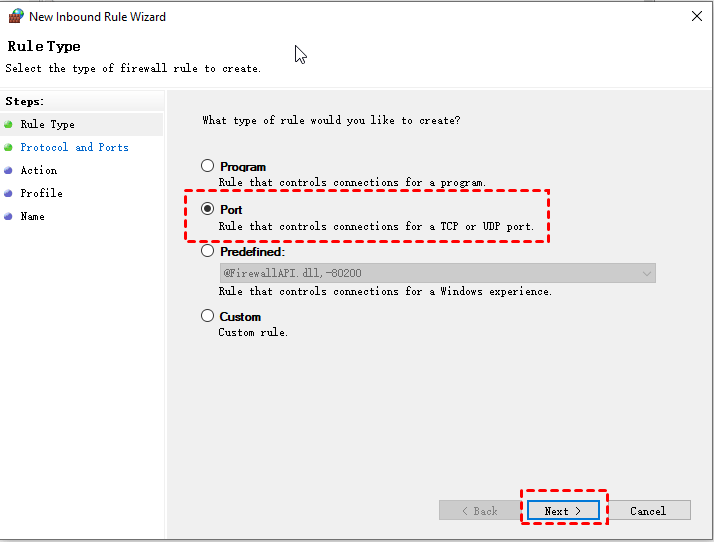 Step 4. Specify "Specific local ports" and input "443" as the designated value.
Step 5. Enable the "Allow the connection" option and move forward to the next step.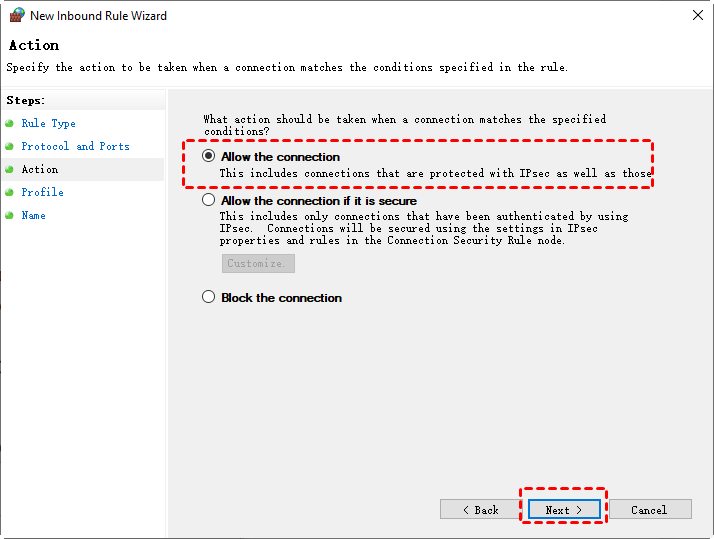 Step 6. Configure the network types as per your specific requirements, ensuring that they align with your intended usage.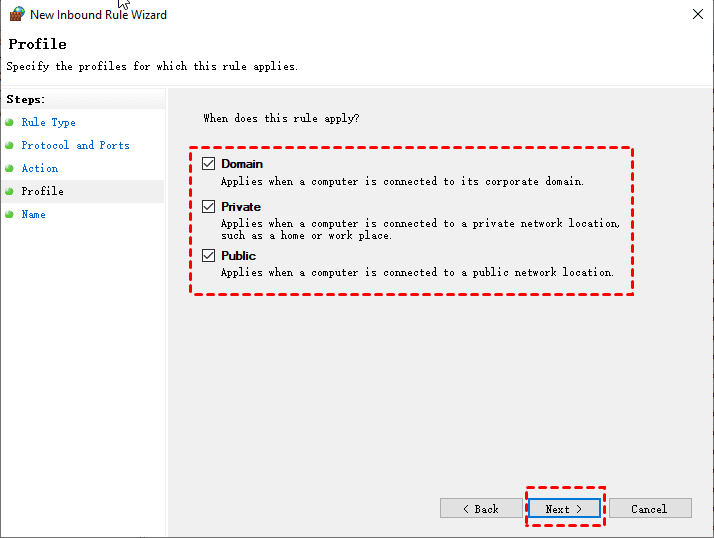 Solution 4. Allow Splashtop in firewall and antivirus software
Sometimes, firewall or antivirus software may block the connection to Splashtop servers, resulting in the "unable to reach Splashtop servers"error message. Temporarily disable your firewall and antivirus software, then attempt to connect to Splashtop again.
Step 1. Initiate the Control Panel and proceed to select "System and Security," followed by "Windows Defender Firewall." On the left-hand side of the interface, locate and click on "Allow an App or Feature Through Windows Defender Firewall."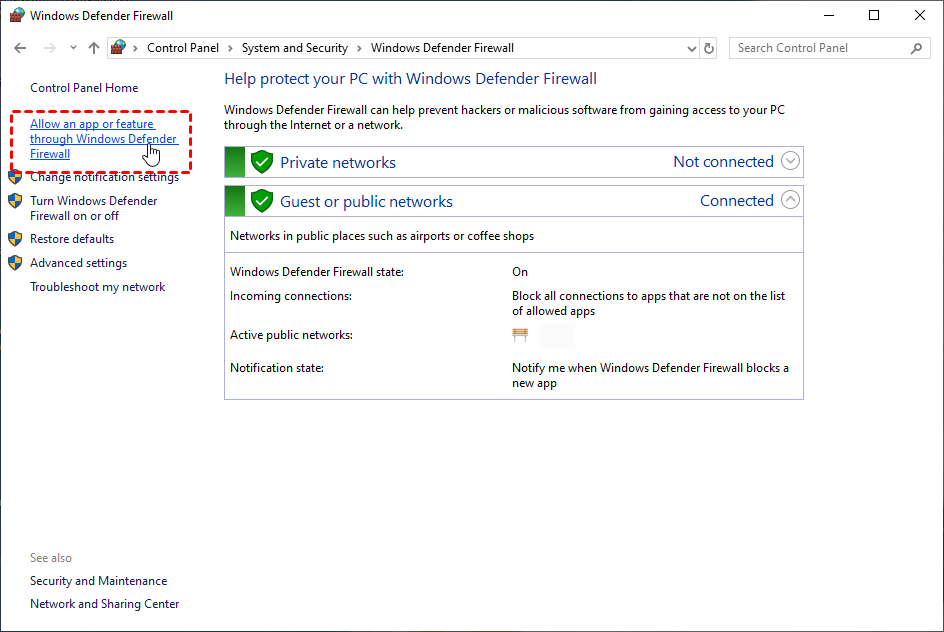 Step 2. Click on "Change settings" and verify that Splashtop is enabled within the list of permitted applications.
Step 3. Open your third-party antivirus software and access the relevant icon on the left-hand side. From there, navigate to the shield settings tab.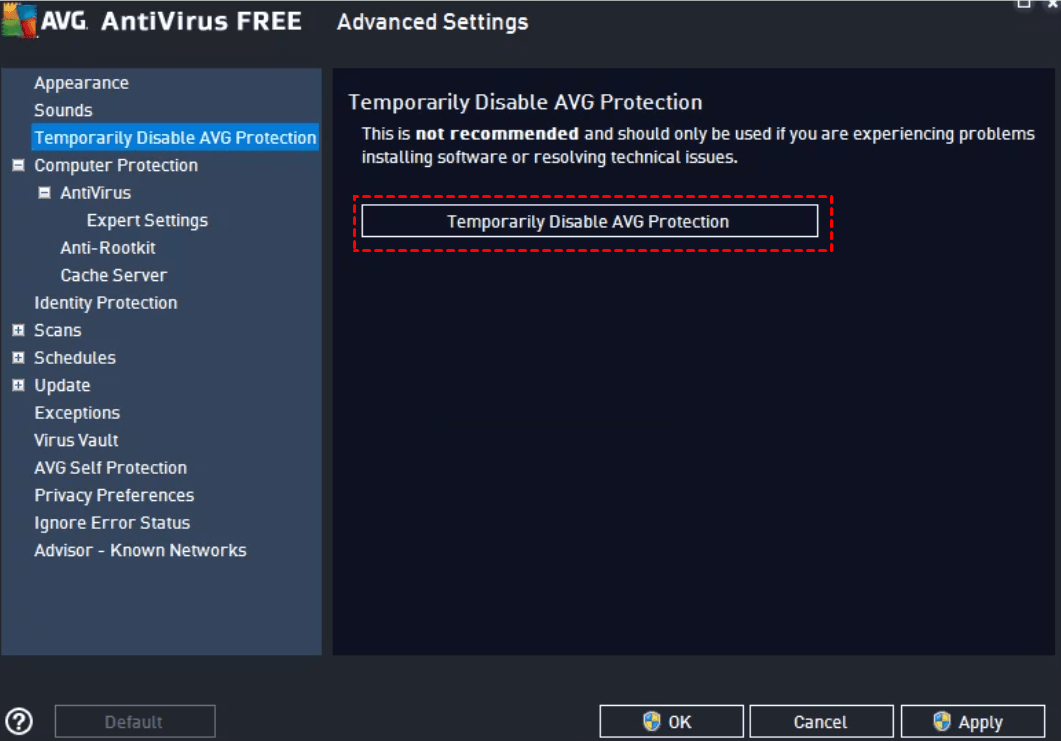 Solution 5. Check your Windows update
When encountering issues with Splashtop not functioning properly, it is important to consider the possibility of an outdated Windows system as a contributing factor. To rectify this situation, it is advisable to update your Windows operating system.
Access the Settings menu on your Windows device. Locate and select the "Windows Update" option. Check for any available updates, and if there are any, proceed by choosing the latest update from the provided list. Once you have selected the appropriate update, click on the "Install now" button to initiate the installation process.
Solution 6. Verify date/time of the computer
Verifying the accuracy of your computer's date and time is crucial as an incorrect setting can adversely impact communication with various cloud servers, including Splashtop.
Step 1. Open the Control Panel and locate the "Date and Time" option.
Step 2. Click on "Change time zone" and select the appropriate time zone that corresponds to your location. Confirm your selection by clicking "OK."
Solution 7. Check and correct the certificate error
If you encounter difficulties logging into your Splashtop Account on Windows XP,it is necessary to examine the certificate on your computer.
Step 1. Verify whether the certificate on your computer has expired or is untrusted. In the case of using Internet Explorer, access the Tools menu, proceed to Internet Options, navigate to the Content tab, and click on the Certificates button.
Step 2. Display the Trusted Root Certification Authorities tab and search for the keyword "Go Daddy" to locate the relevant value. Check if it has already expired.
Step 3. To rectify the certificate error, start by removing any Go Daddy Class 2 certificate present in the Trusted Root Certification Authorities section.
Step 4. Using any browser, download the following certificate: GoDaddy Class 2 Certification Authority Root Certificate - G2.
Step 5. After downloading the certificate, click on 'Install Certificate' or double-click on the downloaded certificate. Choose 'Local machine' for the Store Location. Select 'Place all certificates in the following store,' click Browse, ensure that Show physical stores is checked, and select Trusted Root Certification Authorities> Local Computer. Click OK to proceed.
Step 6. Reboot your computer. Afterwards, attempt to log in to the Splashtop Streamer using either the deployment code or your Splashtop account to check if the issue has been resolved.
Bonus tip: Get the ultimate error-free Splashtop alternative
Are you tired of encountering the frustrating "Unable to reach Splashtop servers" error? Look no further! We present to you AnyViewer, the ultimate remote access software. With AnyViewer, you can bid farewell to those frustrating connection issues and experience uninterrupted remote control of your devices.
Designed with a user-centric approach, AnyViewer guarantees a smooth and error-free remote access experience.Whether you're a business professional or a tech-savvy individual, AnyViewer caters to your needs, offering unparalleled performance and stability. Its user-friendly interface makes navigation a breeze, while its advanced security measures keep your data protected at all times. Further more, AnyViewer offers several free features such as one-click control, file transfer, multiple sessions, real-time chat, etc.
Free download AnyViewer on your devices to experience the difference and unlock a world of convenience, efficiency, and reliability!
Step 1. Launch AnyViewer on the remote computer and proceed to create a new account. Log in using your newly registered credentials.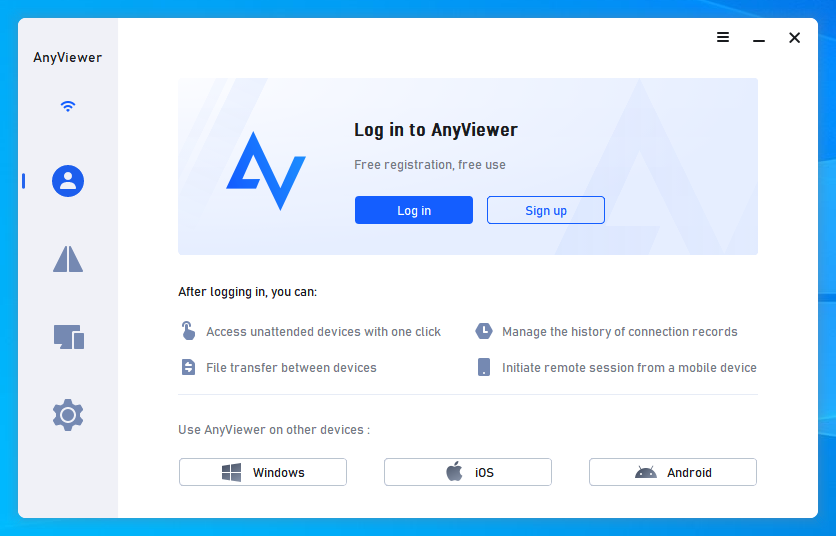 Step 2. On your local computer, open AnyViewer and sign in using the account you just created. The program will automatically assign the remote computer to your account.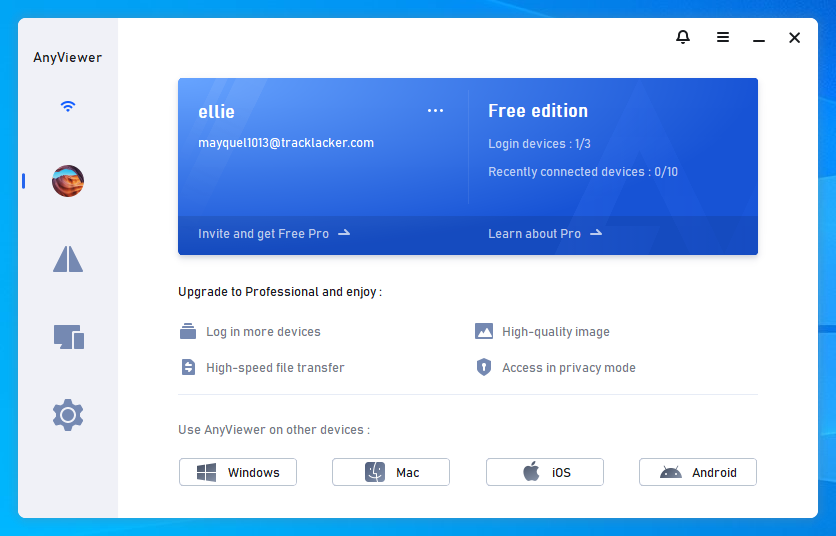 Step 3. Navigate to the "Device" section. Select the specific computer you wish to connect to and then choose the "One-click control" option.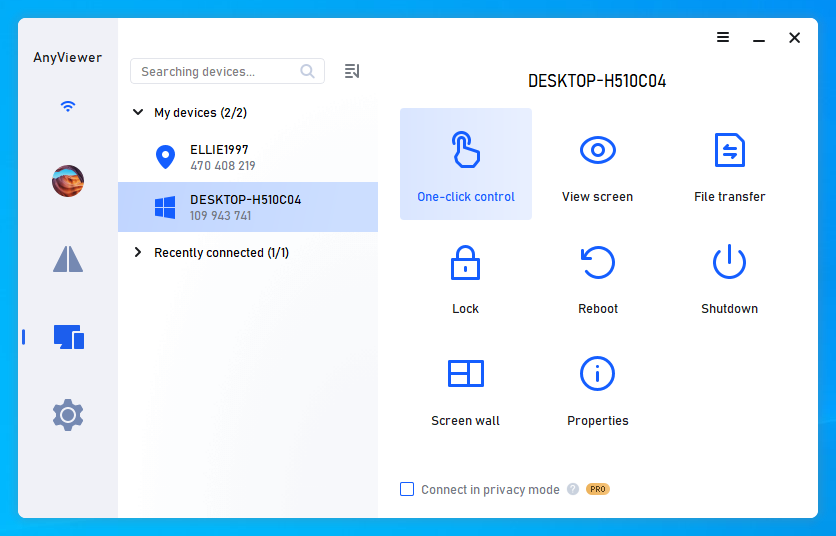 Tips:
If you have more than two remote PCs, it is advisable to consider
upgrading your account
. This upgrade provides the opportunity to create up to 10 simultaneous connections and gain access to up to 100 unattended devices. Such an upgrade enhances flexibility and efficiency in managing multiple remote computers.
Conclusion
That's all for how to fix "unable to reach Splashtop servers" error. We recommend you embrace seamless remote access with AnyViewer. Experience reliability, efficiency, and uninterrupted connectivity like never before. Make the switch today and unlock a world of convenience.