How do I uninstall GoToMyPC?
Hey everyone, I could use some help with a software issue. I recently switched to a different remote access tool and now I want to free up space by removing GoToMyPC from my system. Can anyone guide me on how to uninstall GoToMyPC safely and completely? Thanks in advance for your expertise!"
- Question from a user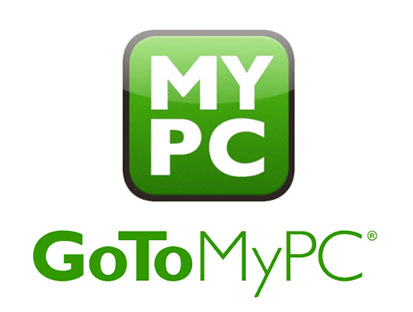 If you're facing GoToMyPC not working and need to uninstall this software to resolve them, fret not! We've got you covered with an effective solution to completely remove the software and ensure all its files are thoroughly deleted from your Windows or Mac computer.
Case 1. How to uninstall GoToMyPC on Windows 10, 11 [4 ways]
Here is how to uninstall GoToMyPC on Windows 10, 11.
Way 1. Uninstall from Windows Apps & features
For the manual removal of GoToMyPC from your Windows device, adhere to these instructions:
Step 1. Access the Start Menu and input "Apps and features."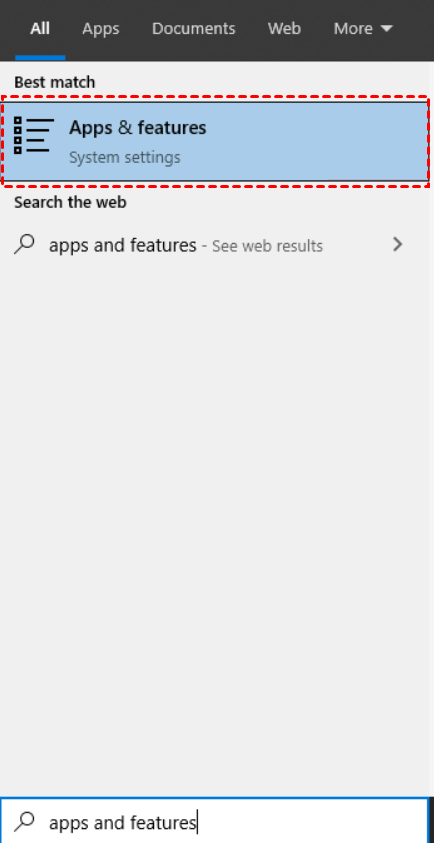 Step 2. Locate GoToMyPC within the list, and give it a click. Next, proceed with selecting the "Uninstall" option, thereby initiating the removal process.
Way 2. Uninstall from Control Panel
Another option involves using the "Add/Remove Programs" feature found in the Control Panel to uninstall GoToMyPC. Follow these steps for a seamless removal process:
Step 1. Access the Control Panel, find "Programs," and click on "Uninstall a program."
Step 2. Identify any components labeled "GoToMyPC," right-click on each of them, and opt for "Uninstall."
Way 3. Use GoToMyPC uninstaller.exe
In the majority of cases, computer programs include uninstall.exe or uninst000.exe files within their installation folders. Initiating the uninstallation process involves executing these files.
Step 1. Navigate to the installation folder of GoToMyPC. Identify the uninstall.exe or uninst000.exe file and double-click on it to commence the uninstallation process.
Way 4. Use the uninstall command
If you wish to remove GoToMyPC from your Windows computer using the command line, follow these steps:
Step 1. Press Win + R, type in "regedit," and hit OK.
Step 2. Navigate to the following registry key to locate GoToMyPC: HKEY_LOCAL_MACHINE\SOFTWARE\Microsoft\Windows\CurrentVersion\Uninstall
Step 3. Double-click on the UninstallString value and copy its Value Data.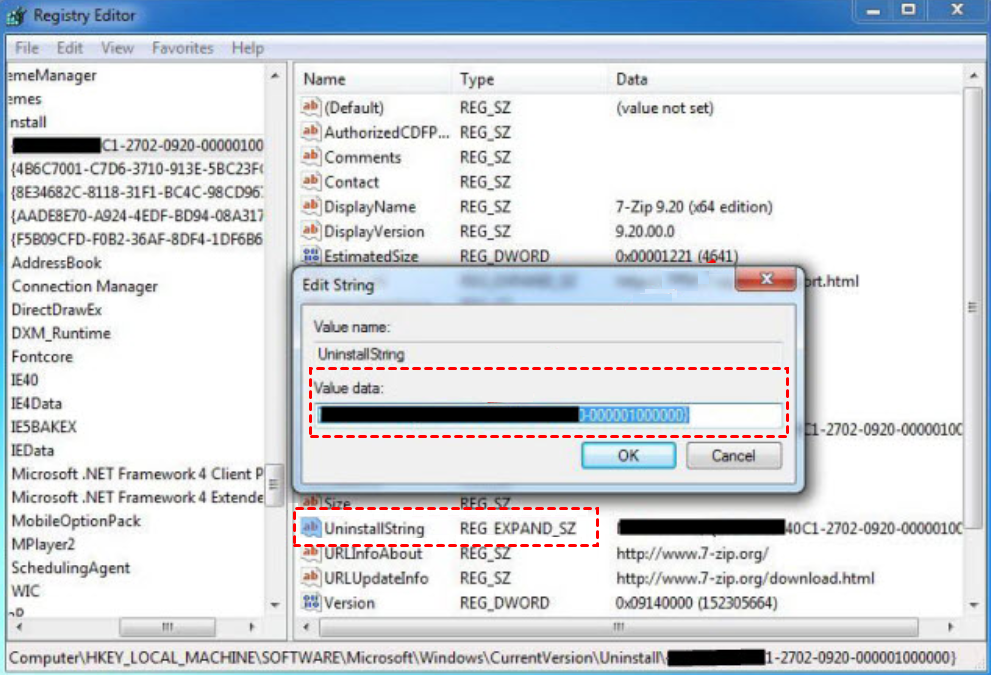 Step 4. Press Win + R, paste the copied Value Data in the box, and click OK.
Step 5. Proceed with the wizard that appears to successfully uninstall GoToMyPC.
Case 2. How to uninstall GoToMyPC on Mac
Here is how to uninstall GoToMyPC on Mac. Follow these step-by-step instructions:
Step 1. Download the GoToMyPC removal tool and extract the contents from the .zip file.
Step 2. Execute the GoToMyPC Removal Tool.
Tip: Some users may have settings that prevent applications from unsigned developers. If you encounter this, right-click on the tool, select "Open," and you should receive a prompt to proceed anyway. If this doesn't work, access the Apple menu, go to System Preferences, then System and Security, General. Click the lock in the bottom left if settings are greyed out, and modify the "Allow apps downloaded from" option to "Anywhere." Remember to revert this setting to its original state after disconnecting with the user.
Step 3. Empty the trash to permanently eliminate any GoToMyPC Viewer files.
Step 4. If you had chosen to remove GoToMyPC Host software before attempting to reinstall, reboot the computer.
Are you looking for the best GoToMyPC alternative?
Embrace a new era of remote access and bid farewell to the constraints of GoToMyPC with the unrivaled GoToMyPC alternative - AnyViewer. This cutting-edge remote access software is revolutionizing the way you connect to your devices. Whether you're a tech-savvy professional or an everyday user, AnyViewer has you covered with its flawless performance, top-notch security, and user-friendly interface. Experience the unparalleled potential of remote access with AnyViewer!
Step 1. Launch AnyViewer on the remote computer. Create a fresh account, and once registered, log in using your newly credentials.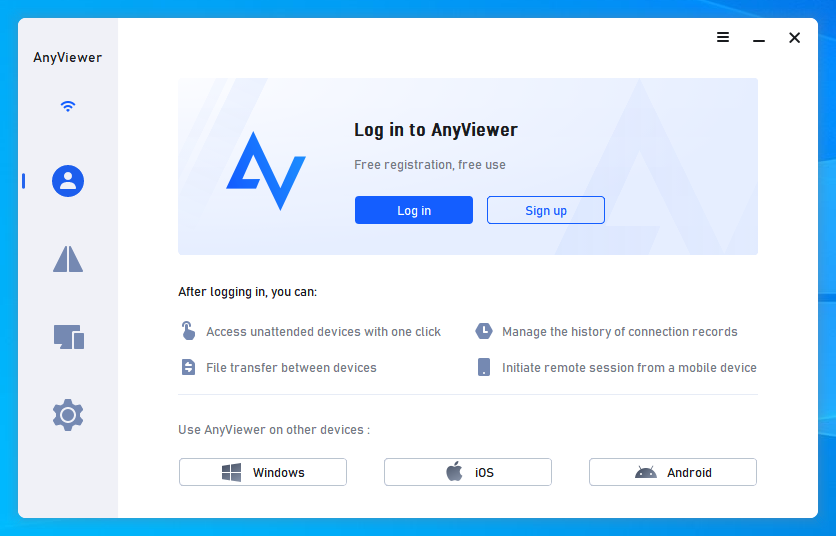 Step 2. On your local device, launch AnyViewer and sign in using the account you just created. This action automatically assigns the remote computer to your account.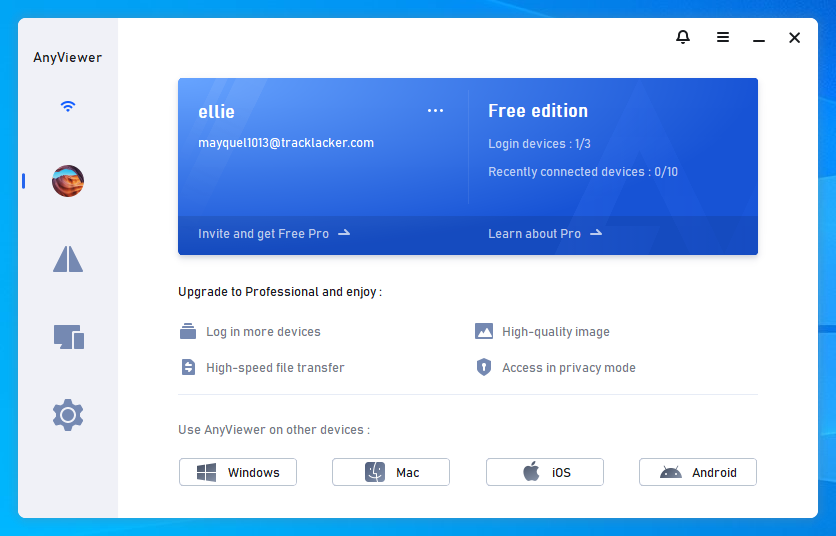 Step 3. Head to the "Device" section, where you can handpick the specific computer you desire to connect with. For an effortlessly smooth connection, click "One-click control".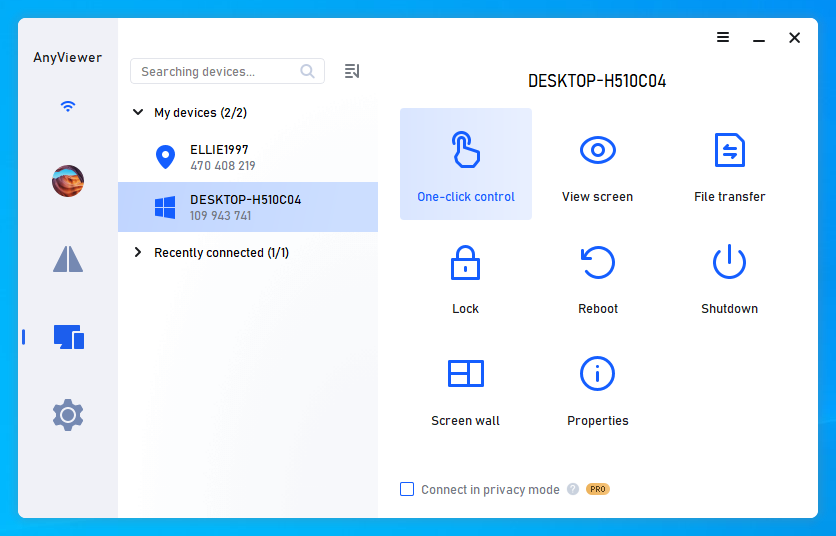 Useful tip:
If you have more than two remote PCs to manage, consider upgrading your account for enhanced capabilities:
➤Assign more devices. A free account has 3 assigned devices, while Pro/Enterprise supports 10/100 assigned devices.
➤More connection channels. The Enterprise version allows 10 channels.
➤More simultaneous sessions. A professional or Enterprise plan can enjoy 5/10 simultaneous sessions.
➤Connect in privacy mode. It will better protect your privacy by blacking the remote PC and disabling the remote keyboard & mouse.
➤High-speed file transfer. Transfer unlimited files at once at a higher speed of up to 10 MB/s.
Conclusion
And there you have it - a comprehensive guide on how to uninstall GoToMyPCfrom both Windows and Mac computers. It's time to bid farewell to the limitations of LogMeIn and make the switch to AnyViewer, the ultimate alternative. With AnyViewer, you'll enjoy flawless remote access, robust security, and unparalleled user-friendliness. Elevate your remote experience to new heights - make the switch today!