Why is my cursor disappearing on Remote Desktop?
I use Remote Desktop to connect my new Windows 11 desktop computer from my Windows 10 PC. When the connection is established, I find my cursor goes invisible. Why is my cursor disappearing? How to fix mouse cursor disappearing on Remote Desktop? Cheers."
- Question from a user
According to the experiences of different users, driver issues and wrong settings are two common triggers for the cursor disappearing when establishing a Remote Desktop connection. If you have the same problem, don't worry, we will explore all you need to know.
How to fix mouse cursor disappearing on Remote Desktop
When the Remote Desktop mouse not working, you won't be able to access anything. There, we provide you with four practical solutions to this problem.
Solution 1. Edit Windows theme
The pretty simple fix is to edit the theme of the mouse cursor.
Step 1. Open Settings, and click Personalization.
Step 2. Click Themes, and click Mouse cursor.
Step 3. Select a scheme and click OK.
Then you can back to the remote connection to check whether the cursor reappears.
Solution 2. Change mouse settings
When encountering Windows 10/11Remote Desktop mouse issues, you can also change mouse settings in the Windows environment on the host computer.
Step 1. Launch Control Panel and click Ease of Access.
Step 2. Then go to the Ease of Access Center.
Step 3. Under Explore all settings, select Make the mouse easier to use.
Step 4. Check Turn on Mouse Keys.
Solution 3. Update mouse drivers
Mouse disappearing might also be happening as the mouse drivers are not getting refreshed when the RDP session is set up. You can manually update the mouse driver to work properly.
Step 1. Press Win + X, and select Device Manager from the list.
Step 2. Double-click Mice and other pointing devices, right-click the mouse device you are using, and select Update driver.
Step 3. Select Search automatically for drivers.
Step 4. Follow the on-screen instructions to update the driver and then restart your computer to take effect.
Say goodbye to cursor disappearance with reliable RDP alternative
Tired of dealing with the frustrating issue of disappearing mouse cursors during remote desktop sessions? Look no further than AnyViewer for a seamless and hassle-free experience. The powerful remote access software AnyViewer guarantees a smooth and reliable connection, ensuring that your mouse cursor stays visible and responsive throughout your remote sessions.
Beside, AnyViewer has the following benefits:
Easy-to-use. It offers initiative interface and easy operations for users to perform remote tasks, requiring no technical experience.
Over-Internet. It enables connections in different networks without setting up VPN or port forwarding.
Safe & Stable. It is developed by a professional technical team and secured by ECC encryption, promising you a safe and stable connection without interruption and data leakage.
All-in-one. It supports multiple remote features, including unattended remote control, file transfer, and screen sharing.
High-image-quality. It will show the image in high resolutions with the best performance in a remote session, and you can manually change the image quality according to your network condition.
Try AnyViewer today and experience the ease and productivity of uninterrupted cursor control.
Step 1. On the remote computer, click Log in from the left pane, and click Sign up to register a new account.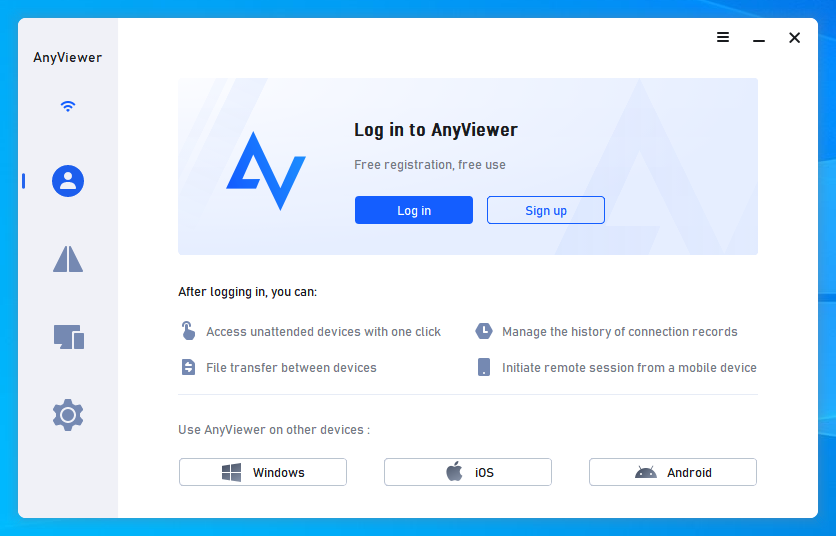 Step 2. Fill the information and click Sign up.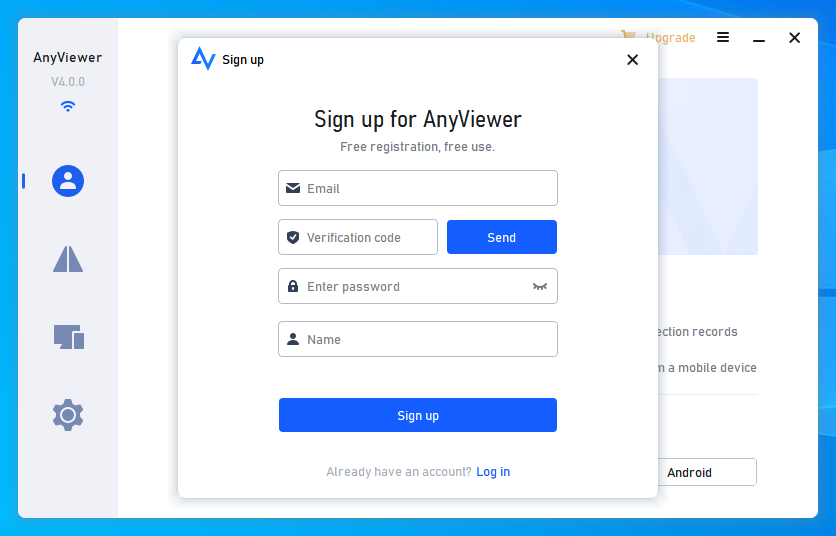 Step 3. On the local computer, log in to the same account. Then You can see the assigned devices when successfully logged in.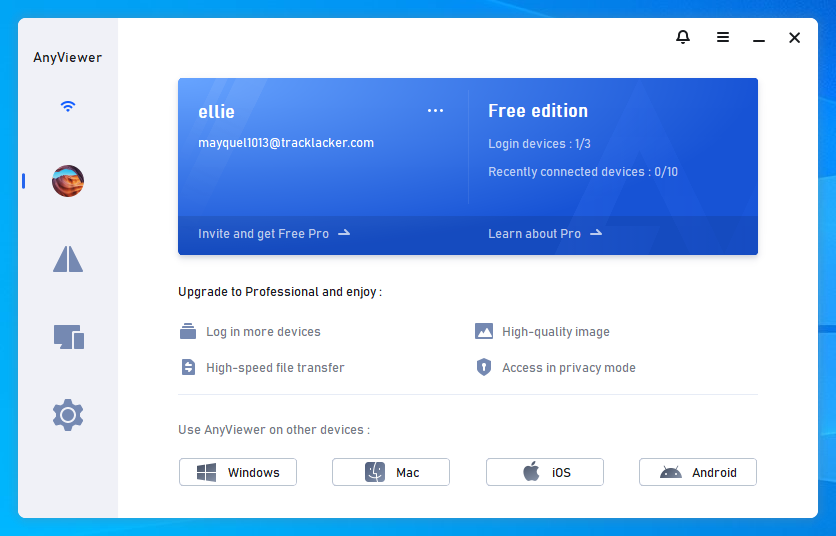 Step 4. Go to Device tab, select the target computer you want to connect to, and click One-click control to performunattended remote access.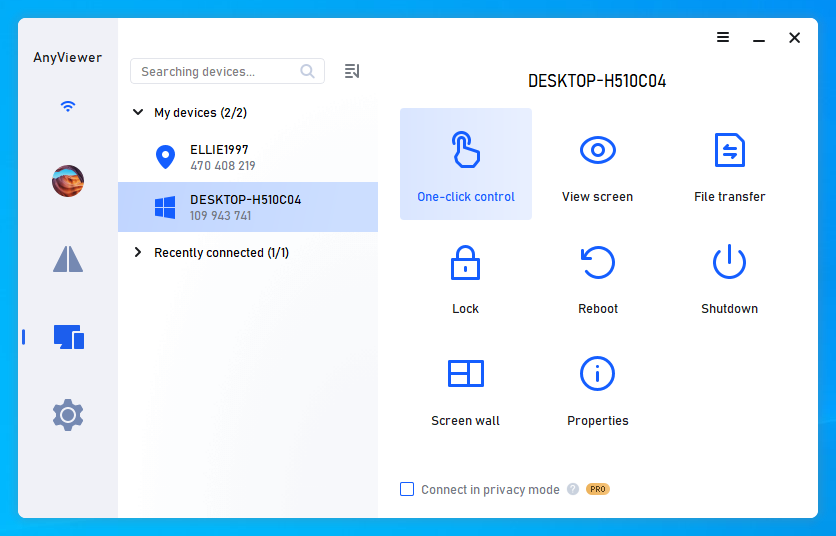 Now you can remote control the computer like you were sitting in front of it.
There are several available shortcuts in the upper toolbar: change the image quality, chat, transfer files, lock/restart/shut down computer remotely, etc.
Notes:✎...Please note that if you have more than two remote computers, we recommend upgrading your account. AnyViewer offers cost-effective business memberships that provide additional benefits and advanced privileges at an affordable cost.

Assign up to 100 devices for one-click control.
Establish more concurrent sessions.
Create connections in privacy mode to darken the screen and disable the keyboard and mouse of the host PC.
Enjoy high-quality image performance.
Conclusion
This post introduces how to fix mouse cursor disappearing on Remote Desktop. In a remote connection, being unable to utilize your mouse can be a serious issue. We hope these procedures have been helpful. For the simplest solution to avoid similar errors, try AnyViewer.