How do I move my mouse from one laptop to another?
I have two computers. I wonder if I can move my mouse from one laptop to another to control both computers with only one keyboard and one mouse?"
- Question from Quora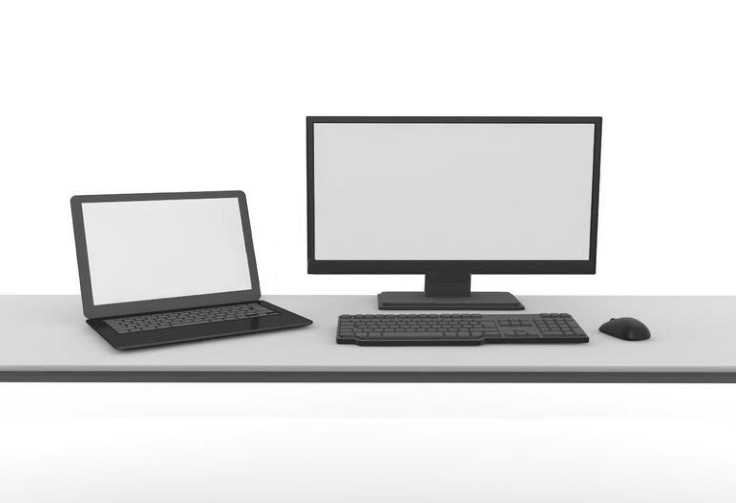 For many of us, our daily work involves more than one computer. That means we must constantly switch between monitors, mouses, and keyboards. But here we are to make this easier. You can control both computers with only one keyboard and one mouse. Keep reading.
How to control mouse on another computer[3 methods]
Can you control 2 computers with one mouse and keyboard? YES! Let's see three methods to control mouse on another computer and the keyboard.
Method 1. Control another mouse and keyboard using remote desktop software
The first trick is to remote into the other computer you need to access. You can use the remote desktop software to open up a connection to other computers and ultimately control the mouse and keyboard of the remote computer from the local computer. We suggest you use the free tool AnyViewer. It is easy to use and works like a charm.
Besides, AnyViewer allows you to copy and paste texts and drag and drop to share files between computers.
Step 1. Install and run AnyViewer on both of your computers. Navigate to Log in and then Sign up on the Controller computer (if you have already registered on the official website, you can log in directly).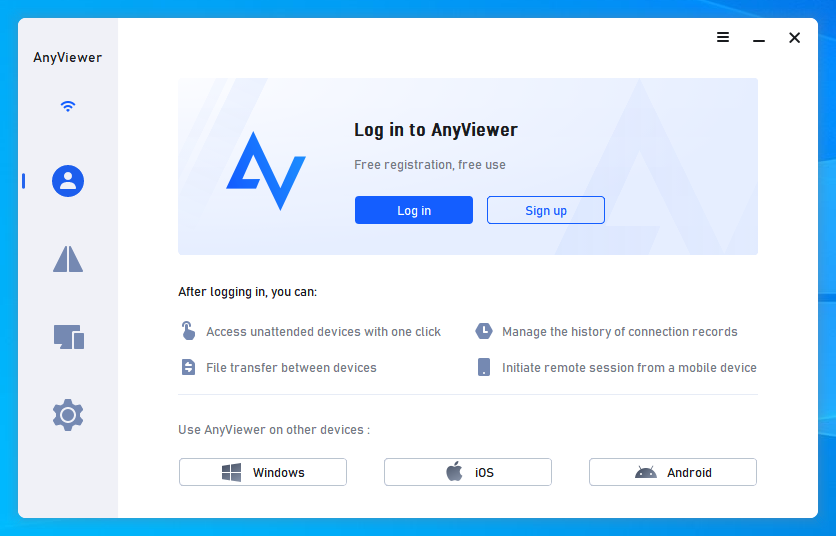 Step 2. Fill out the sign-up form.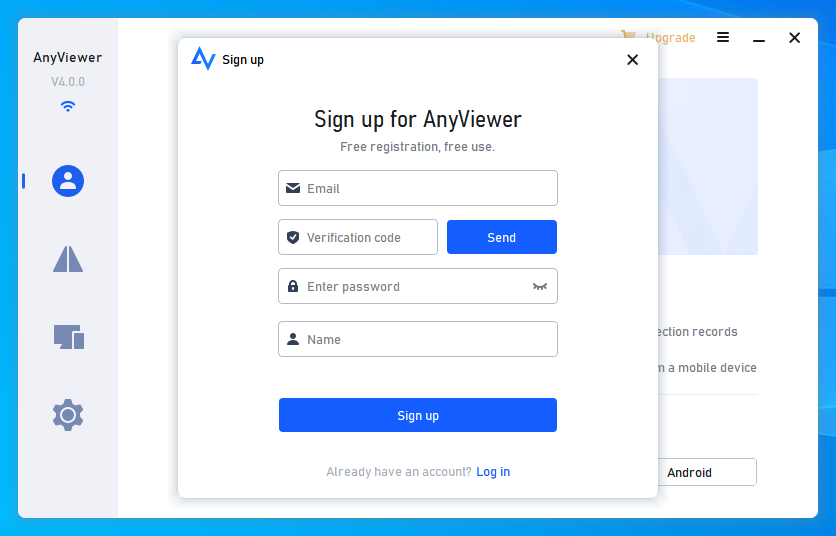 Step 3. You should now see that you have successfully logged into AnyViewer. Your device will be assigned to the account to which you have logged in automatically.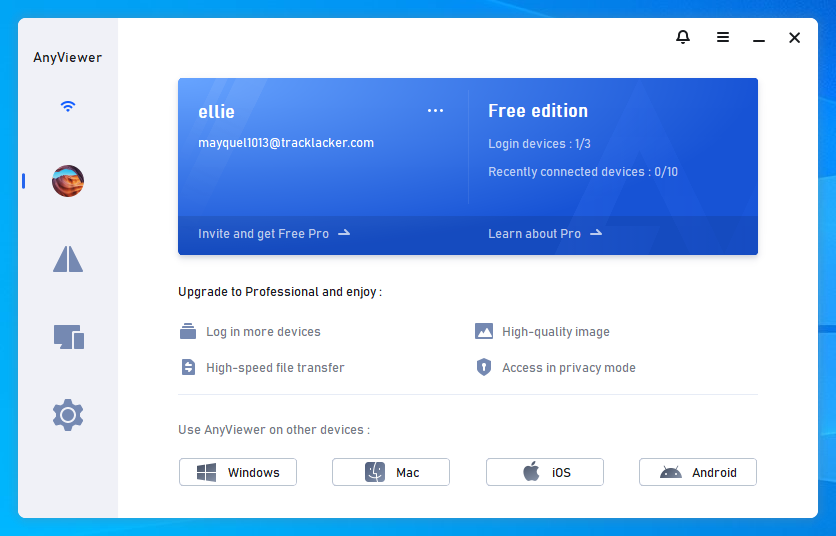 Step 4. Log in to the same AnyViewer account on the two devices, then you can click One-click control to achieve a direct connection.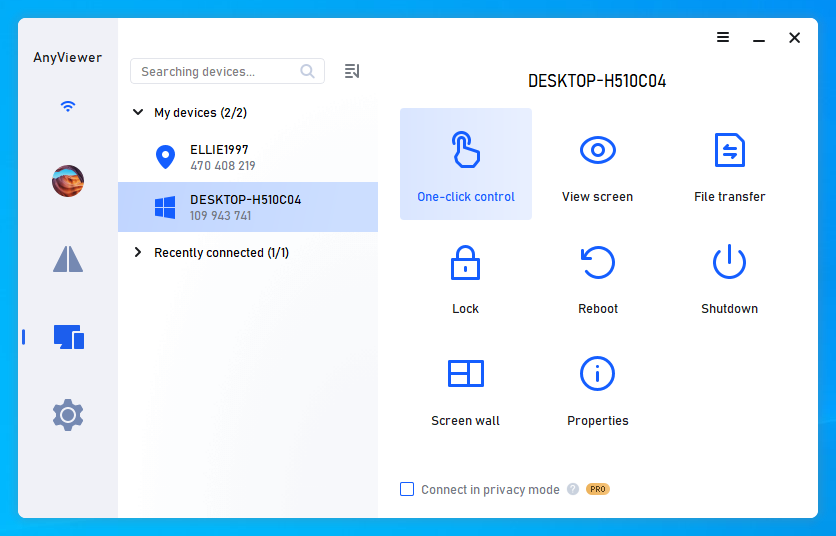 Step 5. Now you can completely control the mouse and keyboard of the remote computer.
Notes:✎...

You can also upgrade your account to a Professional or Enterprise plan to enjoy more rights:

Faster file transfer speed.
Connect in privacy mode to black the screen and disable the mouse and keyboard on the remote side.
Initial more concurrent connections to one computer.
Method 2. Shares your mouse and keyboard between computers with Mouse Without Borders
Mouse Without Borders allows you to share your mouse and keyboard between computers running Windows for free. Mouse without Borders is a product that enables you to use a mouse and keyboard to control up to four computers, making you the captain of your computer fleet. This means that you can use Mouse without Borders to copy text or drag and drop files.
Of course, there are similar tools like Synergy, Logitech Flow, and Input Director. Here we'll take Mouse without Borders as an example to show you how to use single keyboard mouse on two computers.
Step 1. After downloading and installing the application, a quick wizard assists you in configuring it for use on your network. To complete the initial setup on the first PC, click No.
Step 2. You can then use the security code generated by this to connect to the first PC from the subsequent PC.
Step 3. On the second PC, you will want to enter the code generated on the first PC and the computer name.
Step 4. You can now begin using the application because that is all there is to it.
Method 3. Control mouse and keyboard using a KVM Switch
A KVM (keyboard-video-mouse) switch is hardware that enables you to control multiple computers using just one keyboard and mouse. It takes things a step further by allowing you to switch between screens. A KVM requires you to run cables from the KVM box to each computer while also connecting your mouse, keyboard, and screen to the box. Then, by pressing a physical button on the box, you can switch between computers.
From the perspective of computer access and management, there are two main types of KVM switches:
The single-user KVM switch: This type of KVM switch is typically used for small installations, like SOHO or remote offices. It enables one person to connect to as many computers as are required to create a single console. For instance, one user can access up to 8 servers using the MasterConsole® CAT MCCAT18.
The multi-user KVM switch: This is used for bigger installations and data centers where managing multiple computers or servers calls for multiple users. A great example is the Paragon® II UMT1664, which enables 16 users to access up to 64 servers.
But the KVM switch has its shortcomings, for example:
KVM switches cannot be guaranteed to work with all keyboard, mouse, monitor, and computer combinations.
Extra cables and hardware can make your workspace look cluttered.
The switching process can be cumbersome or slow. It's not ideal if you have to switch frequently.
A reliable KVM switch can be expensive.
Closing word
There are plenty of other programs in this space, but for most people, one of the solutions listed above should be adequate enough to control mouse on another computer. We strongly advise you to use AnyViewer because it is simple to use.