What is the fastest file transfer software?
I had to perform a clean installation of Windows and reformat my external hard drive because of my other issues. I misplaced everything I brought. What is the fastest way that I could transfer some of my files while I'm in the UK and my PC is still in Ireland? Can anyone propose high speed file transfer free download? Thanks."
- Question from Windows Forum
AnyViewer - High-speed file transfer software free download
In some cases, you need to send important files to customers as soon as possible, or you need to transfer files from the work PC remotely when you are traveling. But you may encounter many problems during the session, for example, you can not transfer large files, or the transfer speed is too slow.
In this case, we recommend you use the professional remote file transfer software AnyViewer to achieve fast file transfer without errors.
Easy-to-use. It supports one-click file transfer mode with the same account.
Secure. It is secured by ECC encryption, protecting your data from leakage.
Fast & Stable. It has a high speed file transfer mode and a stable connection, a free account can transfer 100 files at once without lagging. You can even achieve faster transfer speed when your devices are on LAN.
Multi-function. It also allows you to control any PC remotely or share screen with other computers.
Download AnyViewer on both your devices and let's start the file transfer process.
How to transfer files between computers via AnyViewer [3 ways]
Depending on your specific needs for file transfer in different situations, there are three transfer ways for you.
►Preparation work: Sign up for AnyViewer
No matter how you transfer files via AnyViewer, first you need to register for AnyViewer.
Step 1. Open AnyViewer on your computer, go to Log in and click Sign up. (You can log in directly if you have signed up before.)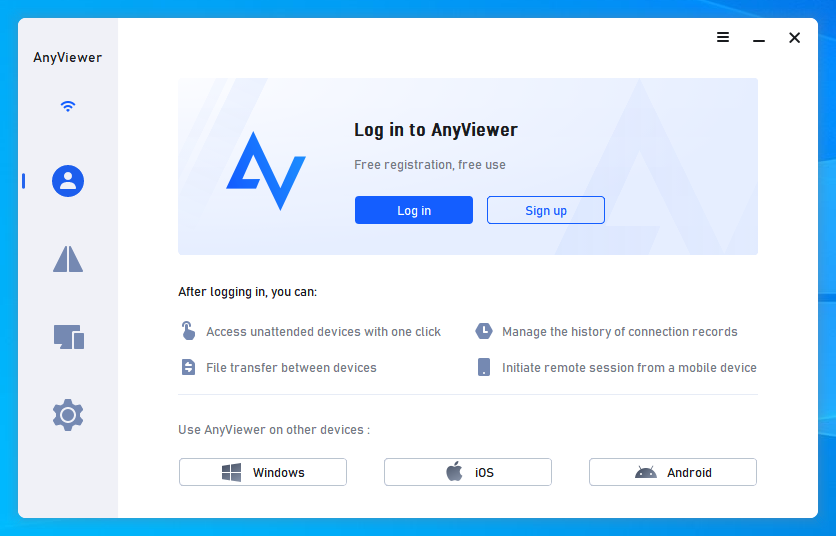 Step 2. Fill the information and click Sign up.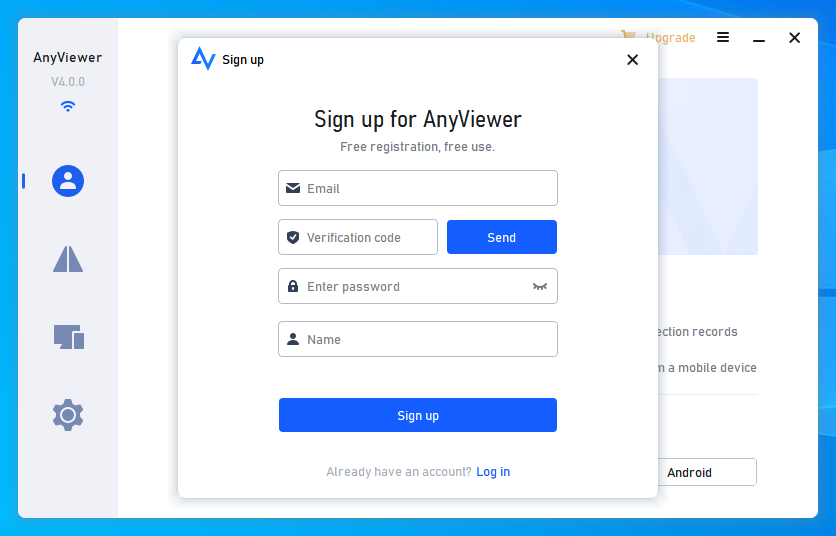 Step 3. When you logged into AnyViewer, you can see the assigned devices of your account.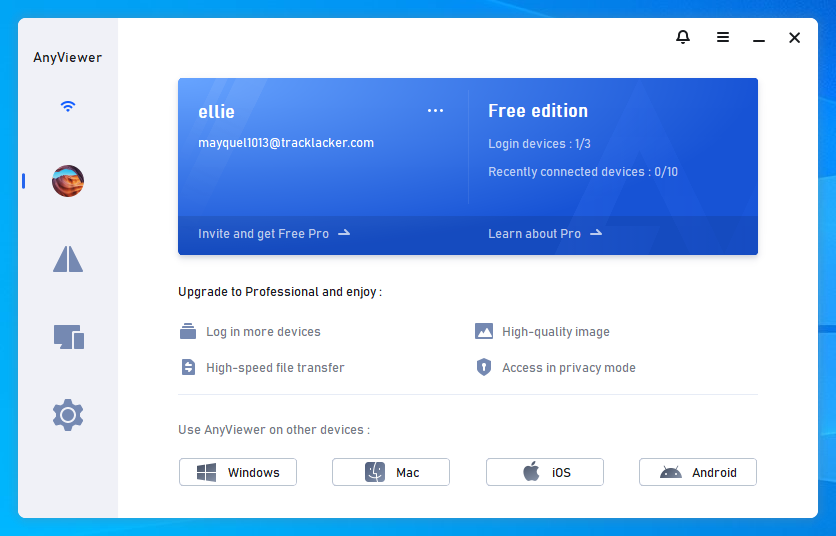 ►Way 1. One-click file transfer with the same account
This method is convenient and efficient when you need to frequently transfer files from remote to local. Besides, it requires your devices to be logged in to the same AnyViewer account.
On the client PC, go to Device, select the computer you want to perform file transfer, and then click File Transfer.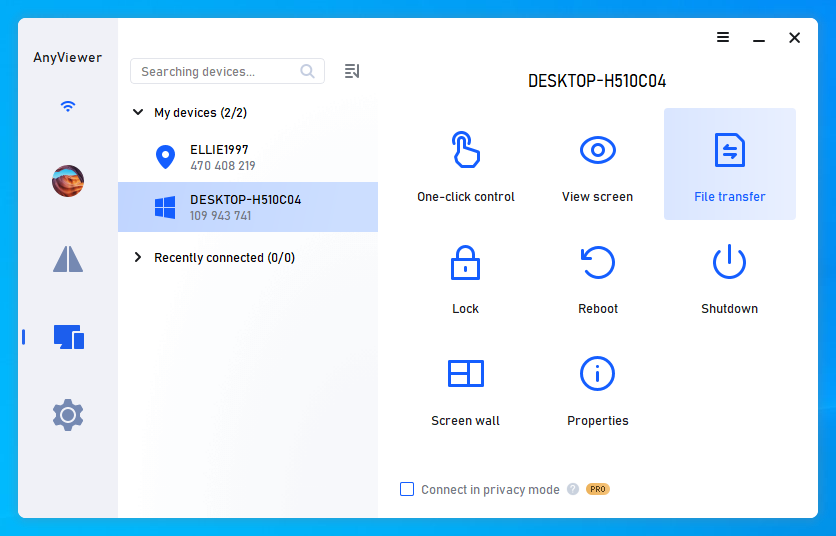 ►Way 2. File transfer with the partner ID
If you don't want to share your account with someone else, we advise you to transfer with the partner ID without logging into the same account.
Step 1. On the client PC, enter the partner ID of the host, tick File transfer, and click Connect.
Step 2. A Connection Request appears to ask you whether to Send a request to your partner or Input security code. Choose the way you desire.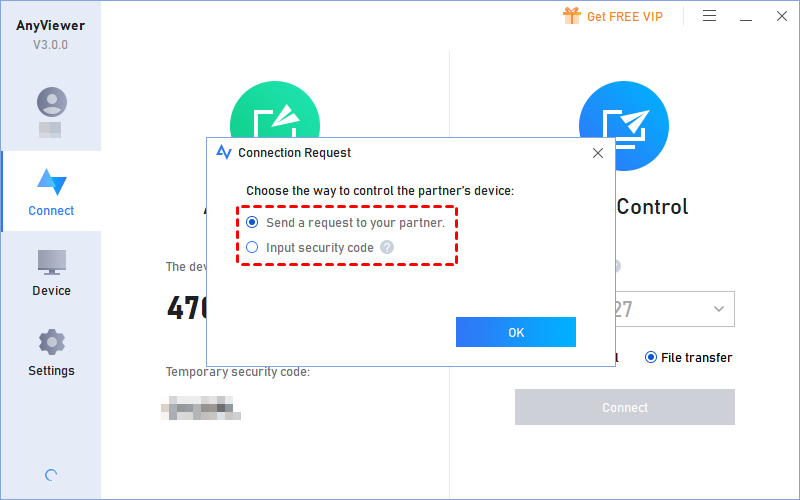 ►Way 3. Transfer files during a remote session
AnyViewer also offers you multiple ways to remotely control other devices, including set up unattended remote access. Once the connection established, file transfer is also available.
Step 1. Log in to the same account on your devices. On the client PC, go to Device, select the target computer, and click One-click control to achieve unattended remote access.
Step 2. When you want to transfer files, open the upper toolbar, and click Files.

No matter which option you choose, a File Transfer window will appear. The host PC is displayed on the left, while the client PC is displayed there on the right. To send the selected files to the client PC, click the right arrow after selecting the files you wish to send, and vice versa.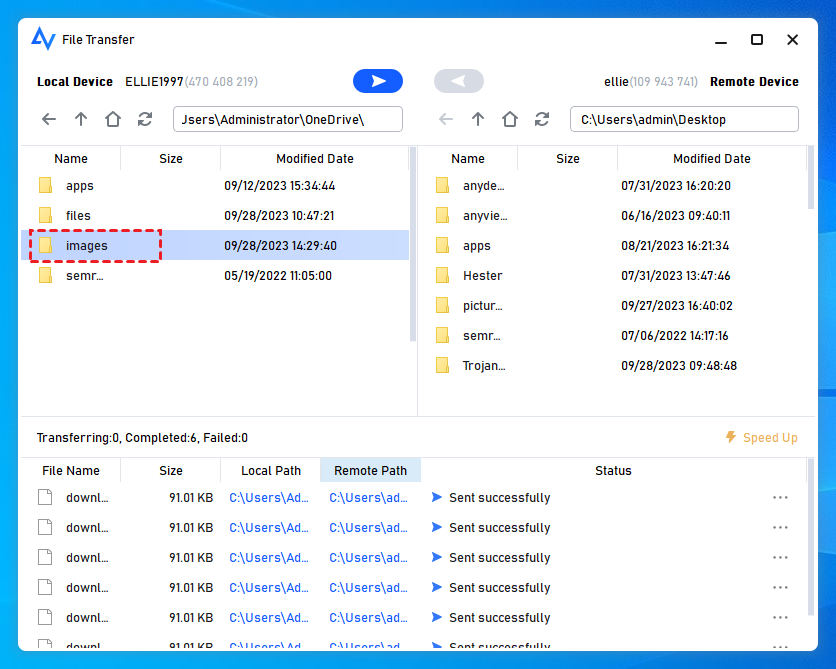 The related status is at the bottom of the box. You can right-click it to pause or remove the files.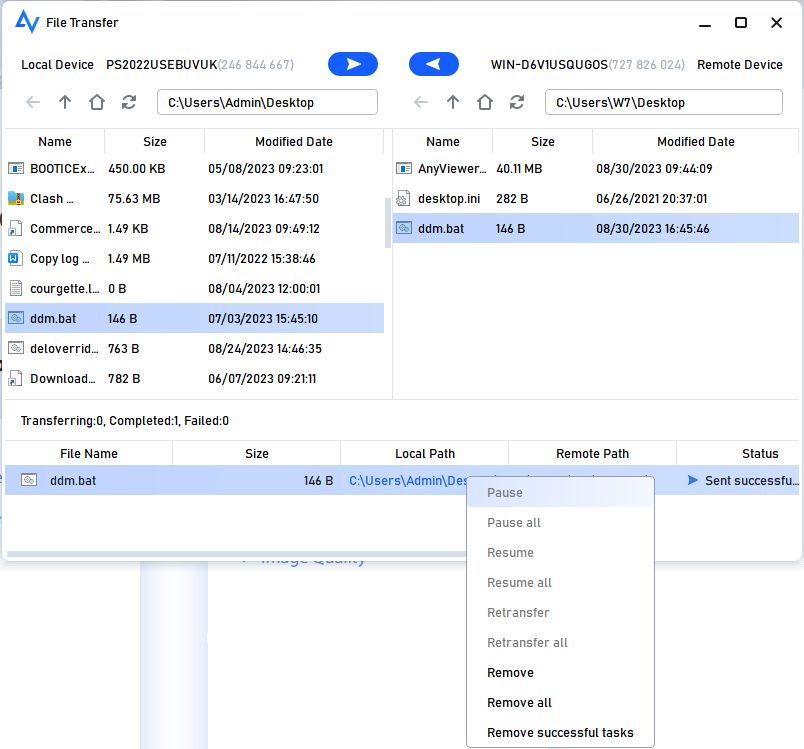 Conclusion
This post introduces high speed file transfer software free download. If you want to transfer files between your devices quickly and safely, AnyViewer could be the best choice for you. And you can also perform convenient PC-to-PC, Android-to-PC, and iOS-to-PC remote control via AnyViewer.