How do I use mulitple monitors with remote desktop with Citrix?
Hi, I've started work for a new place, and they allow bring my own PC. I have a Windows 10 computer. I tried connecting it to another screen but I don't know how. Heard that Citrix workspace supports dual monitors. How to achieve Citrix remote desktop multiple monitors?"
- Question from a user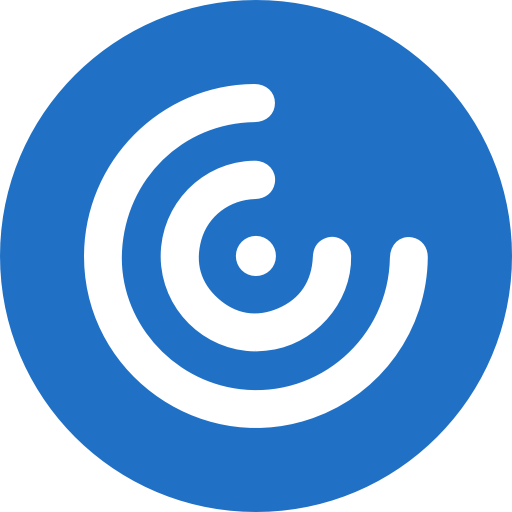 How to perform Citrix remote desktop multiple monitors on Windows 10, 11
Citrix Receiver (also known as Citrix Workspace) enables users to securely shares a common computer interface with multiple monitors. By using this product, users have a single entry to their desktops, and data of any device from any network. We will explain how to use dual monitors with Citrix Receiver Windows 10/11 in this part.
Part 1. Install and sign in
To perform Citrix remote desktop multiple monitors, firstly you need to install and sign in Citrix Workspace App for Windows.
Step 1. Go to the Citrix Workspace website to download the latest version for Windows.
Step 2. Right-click the Citrix Workspace app.exe and select Run as administrator.
Step 3. Follow the prompts, accept the license agreements, and click Start to complete the installation.
Step 4.When the installation is complete, click Add Account.
Step 5. Enter your workspace URL or email address, and click Add.
Step 6. Fill in the information and click Log On.
Now you're ready to start Citrix remote desktop multiple monitors windows 10/11.
Part 2. How to use dual monitors with Citrix receiver Windows 10, 11
When you successfully log onto Citrix Workspace, follow the next steps to perform Citrix remote desktop multiple monitors.
Step 1. Have a second monitor plugged into your computer.
Step 2. Launch Citrix and open the desktop you would like to use.
Step 3. If your Citrix Desktop is now full screen on one monitor, click the black bar at the top and select the Window button to reduce the size of the desktop window.
Step 4. Click the top of the window and drag it between the two monitors that span partially across each monitor.
Step 5. Retract the black bar, then select Full Screen.
Now you can successfully perform your desktop on both of your monitors.
Bonus tip: An easier way to achieve remote desktop multiple monitors
While Citrix only supports dual monitors between two connected computers, which is not convenient if you need to view a Windows computer with more than two monitors. Therefore, is there any other way to access the remote computer with multiple monitors? The answer is sure! We recommend you use the professional remote access software AnyViewer to do this job. The distinguished benefits of AnyViewer are as follows.
Easy-to-use. It has easy operations to set up and establish remote connections.
Compatible. It supports multiple Windows systems, including Windows OS and Windows Server OS.
Security. It is secured by Elliptic Curve Cryptography (ECC) encryption, preventing your data loss during the whole remote session.
Efficient. It ensures you a stable connection supported by a strong technical team.
User-friendly. It offers a chat box for text communication and it won't lock the PC during connection.
Multi-function. In addition to accessing computers with multiple monitors, you can also use AnyViewer to transfer files from PC to PC directly, and you can get unattended remote access to several devices with the functionalities of sharing screen, playing computer games, or managing another computer remotely whenever you want.
Step 1. On the host computer, go to Log in on the left pane, and click Sign up to register a new account (you can log in directly if you have already signed up).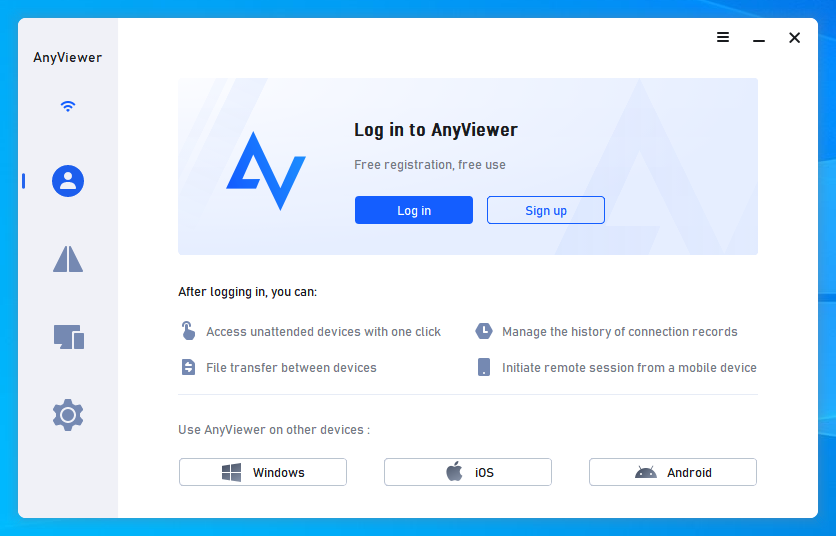 Step 2. Fill in the sign-up information.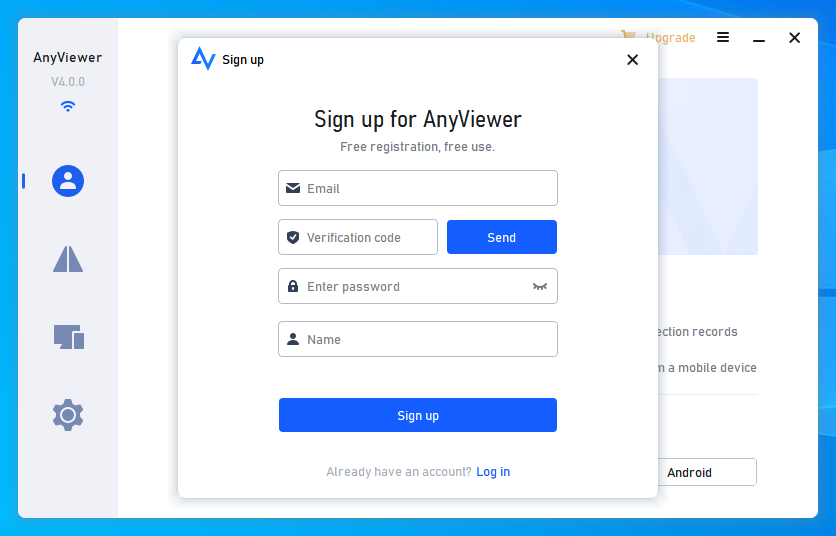 Step 3. When you successfully logged in to AnyViewer, your devices will automatically be assigned to the same account you've logged in to.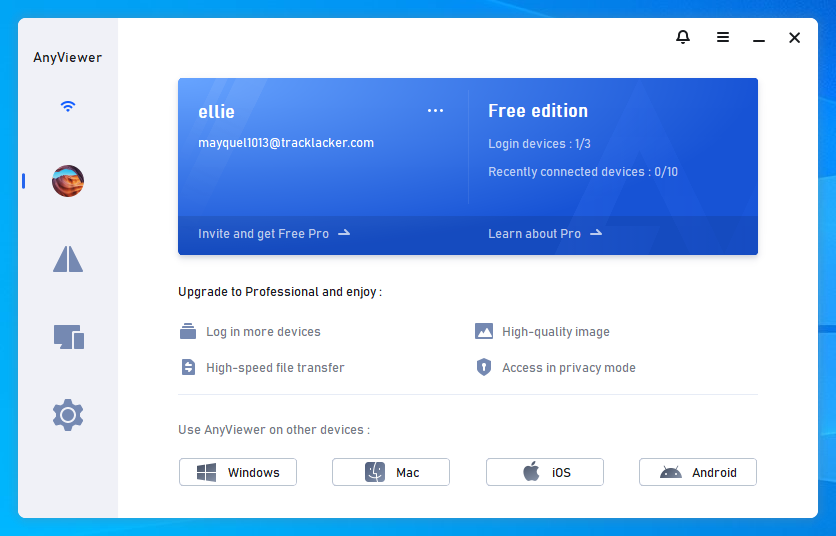 Step 4. Log in to the same account on the two devices, and click One-click control to achieve unattended remote access.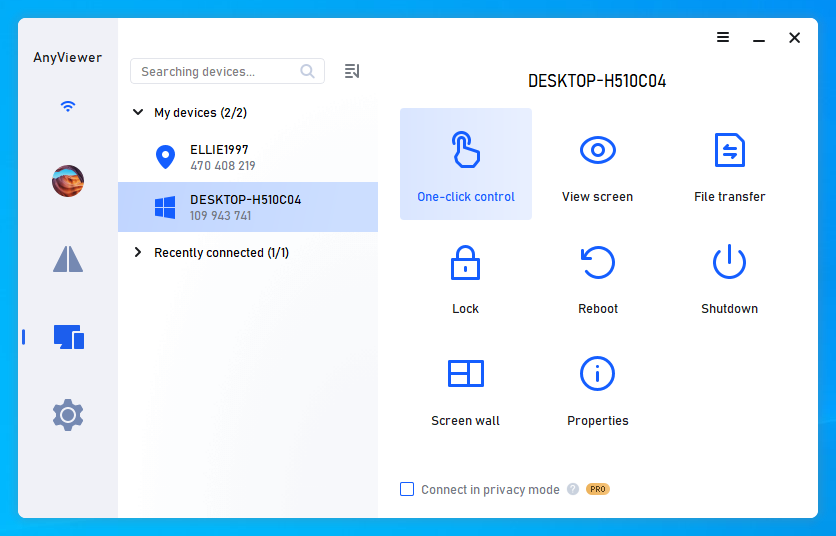 Now you can view multiple monitors on the remote computer and manage them as if you were sitting in front of them. If you want to only view one screen on the window, you can click Screen and click the screen that you want to display.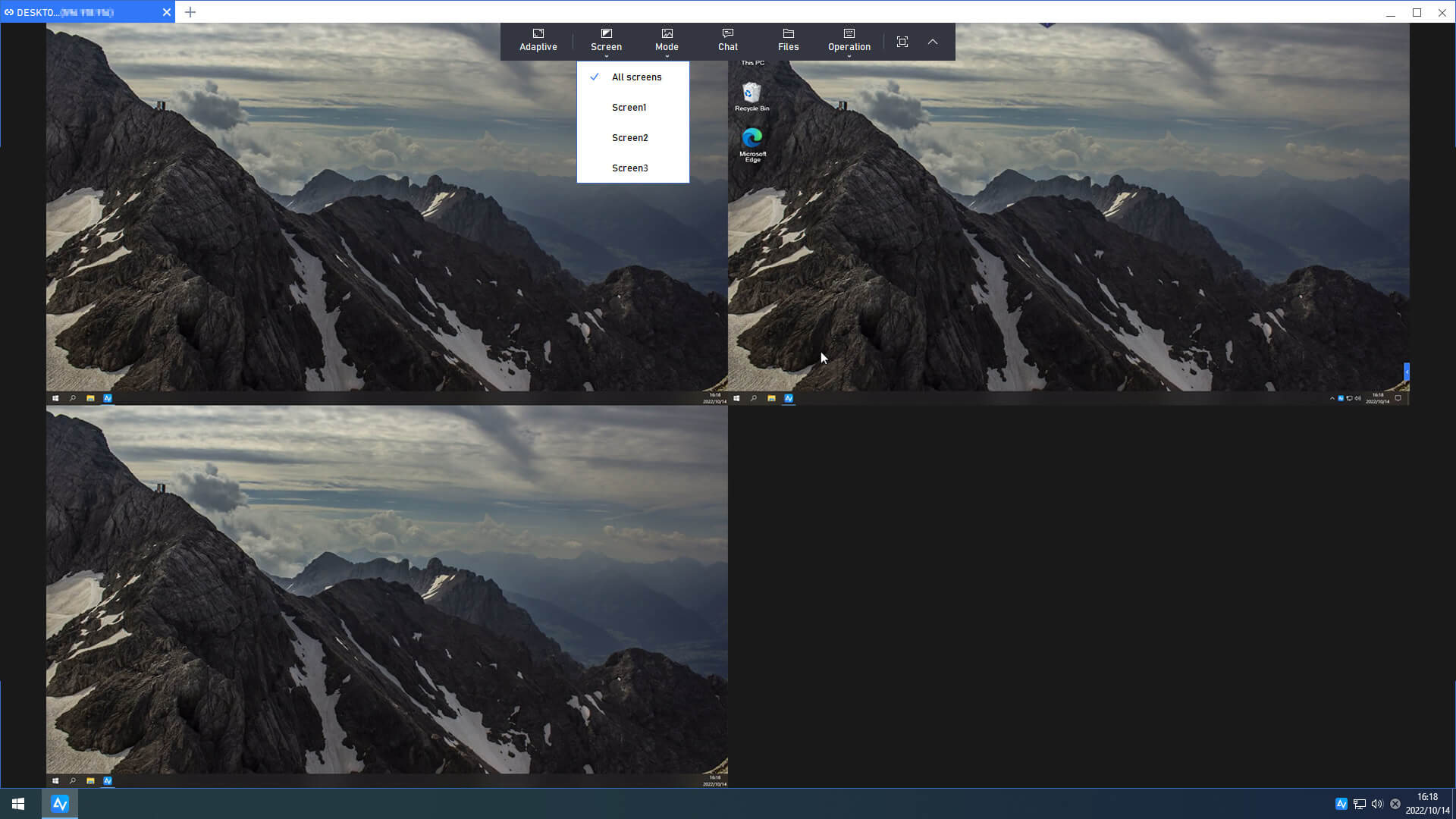 Notes:✎...

You can also upgrade to a Professional or Enterprise plan then the following rights will thereafter be yours:

Assign more devices to achieve remote connections.
Enjoy more concurrent connections. Only 2 channels are allowed for free and professional use, therefore, we recommend you upgrade to the enterprise version to enjoy 10 concurrent connections.
Connect to other devices in privacy mode to protect your data and privacy during the connection.
Transfer unlimited files at once at a higher speed up to 10 MB/s.
Wrapping up
This post talks about how to perform Citrix remote desktop multiple monitors. While Citrix only supports multiple sessions on two connected monitors, which is not convenient when the monitors are in different places. Therefore, we recommend you use AnyViewer to achieve remote multiple sessions at the same time from anywhere.