Why TeamViewer is not installing?
Hey everyone, I'm having an issue with installing TeamViewer on my Windows 10 PC. Every time I try, I can't install TeamViewer! Has anyone else experienced this problem? Any insights or solutions would be greatly appreciated!"
- Question from a user
How to fix can't install TeamViewer [4 solutions]
TeamViewer stands as a potent remote desktop application, facilitating smooth remote control, rendering it indispensable for both personal and business use. In case you are unable to install TeamViewer on Windows 10 or 11, fret not! We have curated a set of effective remedies to ensure TeamViewer is operational on your system.
Solution 1. Make sure you install TeamViewer correctly
For a seamless TeamViewer installation on your Windows system, adhering to the correct procedure is crucial. Follow these steps precisely to ensure a successful setup:
Step 1.Download the most up-to-date version directly from the TeamViewer website.
Step 2. Initiate the installation process by double-clicking on the downloaded file.

Step 3. During the installation, carefully select your preferred installation options and then proceed by accepting the license agreement.
Step 4. Tailor the TeamViewer version to your specific needs and click on the "Finish" button to complete the process.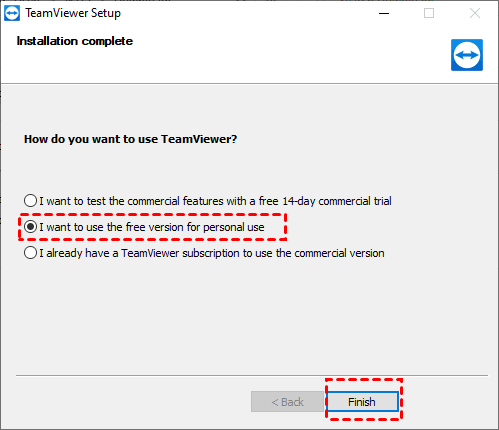 Solution 2. Perform clean boot
To determine whether a third-party service is the culprit behind the issue, conducting a clean boot can be beneficial. Follow these steps:
Step 1. On the taskbar's Search box, type "msconfig," and then select "System Configuration" from the displayed results.
Step 2. In the "General" tab, enable "Selective startup" and ensure "Load system services" is checked.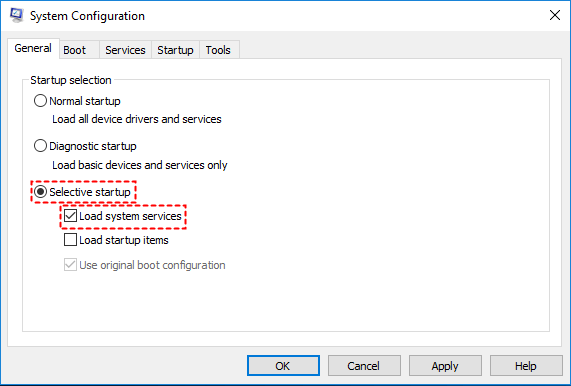 Step 3. Proceed to the "Services" tab, where you should tick "Hide all Microsoft services," then click on "Disable all," and finally, confirm with "OK."
Solution 3. Disable the Windows firewall
On occasion, your antivirus software might interfere with the functioning of third-party programs. TeamViewer may be blocked by firewall. To investigate whether this is the case, you can attempt temporarily disabling the Windows firewall. Follow these steps:
Step 1. Access the Windows firewall settings by typing "Windows Firewall" in the Search field within the menu bar.
Step 2. Locate and click on the "Turn Windows Defender Firewall on and off" option.
Step 3. Within both Private and Public network settings, select the "Turn off Windows Firewall" radio buttons. After making these changes, reboot your system to ensure the alterations take effect.
Solution 4. Reset the Microsoft Store app
If you're looking to install TeamViewer from the Microsoft Store but are unable to locate the software, consider resetting your Microsoft Store app. Here's how:
Press the Windows key+ R. Type in "wsreset.exe" and click "OK."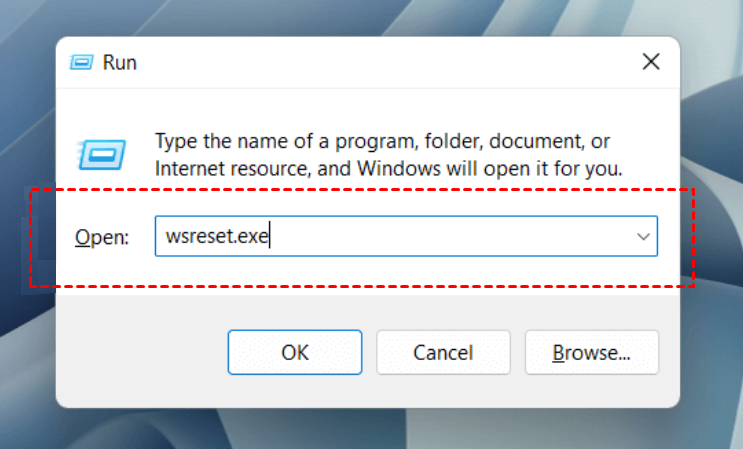 Discover AnyViewer: Unleash seamless remote access with lighting-fast installation
Hey there, tech enthusiasts, remote workers, and IT wizards! Are you tired of wrestling with complicated and erroneous installation processes when you just need to connect remotely? Say goodbye to those TeamViewer troubles and welcome the smoother, sleeker TeamViewer alternative - AnyViewer!
AnyViewer emerges as professional remote access software. With its lightning-fast installation, intuitive operations, robust security, and a plethora of advanced free features(including unattended access, remote desktop file transfer, multiple session, real-time chat), AnyViewer is a compelling choice for individuals and businesses alike.
DownloadAnyViewer today and unlock a new era of remote collaboration and efficiency!
Step 1. Launch AnyViewer on the remote computer. Create a fresh account, and once registered, log in using your newly credentials.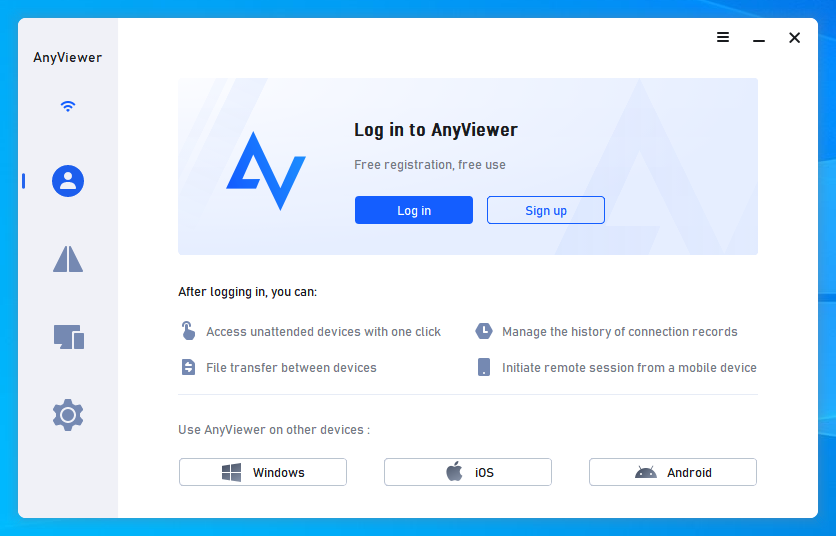 Step 2. On your local device, launch AnyViewer and sign in using the account you just created. This action automatically assigns the remote computer to your account.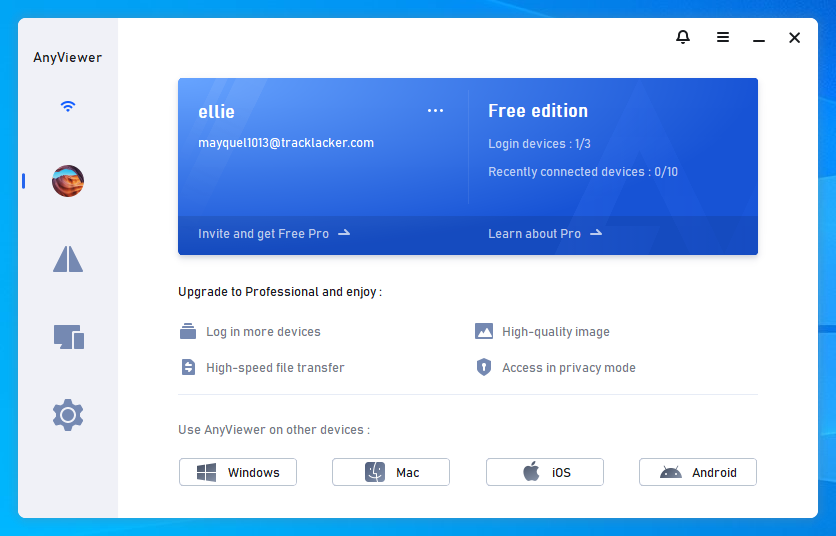 Step 3. Head to the "Device" section, where you can handpick the specific computer you desire to connect with. For an effortlessly smooth connection, click "One-click control".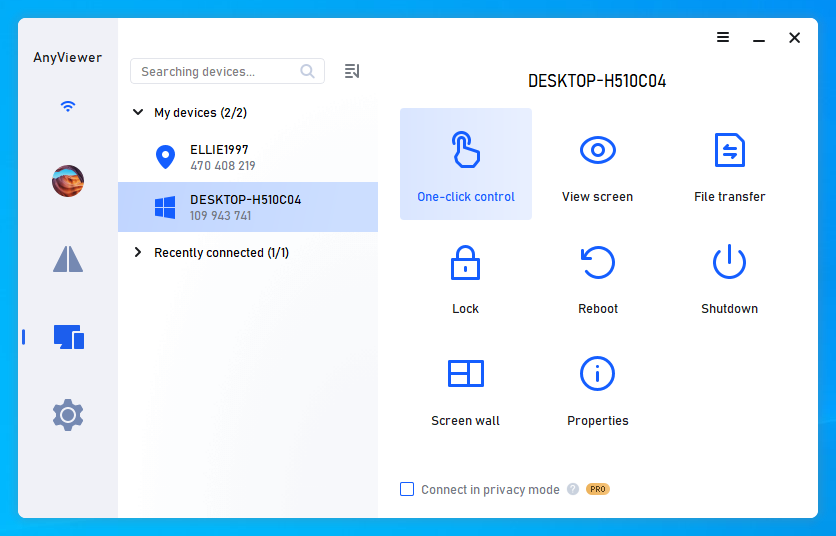 Useful tip:
If you have more than two remote PCs to manage, consider upgrading your account for enhanced capabilities:
➤Assign more devices. A free account has 3 assigned devices, while Pro/Enterprise supports 10/100 assigned devices.
➤More connection channels. The Enterprise version allows 10 channels.
➤More simultaneous sessions. A professional or Enterprise plan can enjoy 5/10 simultaneous sessions.
➤Connect in privacy mode. It will better protect your privacy by blacking the remote PC and disabling the remote keyboard & mouse.
➤High-speed file transfer. Transfer unlimited files at once at a higher speed of up to 10 MB/s.
Conclusion
That's all for how to fix TeamViewer can't install, If you are still facing installation issues with TeamViewer,try AnyViewer—seamless setup, intuitive interface, and reliable performance. Experience effortless remote connections without the hassle. Embrace a new era of smooth remote access today!