Bomgar troubleshooting
Bomgar, now known as BeyondTrust Remote Support, assists support teams of all sizes in improving corporate performance by providing secure, managed remote support to practically any device or system anywhere in the globe.
However, sometimes, Bomgar may not be well-working for you due to some issues. You may encounter problems like Bomgar not responding, Bomgar not connecting, Bomgar screen sharing not working, etc. Keep reading to check out some cases of Bomgar troubleshooting.
4 common Bomgar problems & fixes
BeyondTrust troubleshooting isn't that difficult. Here are four of the most common Bomgar problems you may encounter. Fixes are also introduced.
Problem 1. Bomgar representative console not working
The first common problem is Bomgar representative console needs to be fixed. If you encounter this problem, you must ensure you are logged into the representative console.
Step 1. After installing the BeyondTrust representative console, launch it from its directory location as defined during installation. By default, in Windows, you can access the console from Start Menu > All Programs > BeyondTrust > support.example.com, where support.example.com is the hostname of the site from which you downloaded the console.
Step 2. Enter your login and password in the popup.
Step 3. If your account has two-factor authentication enabled, enter the code from the authenticator app.
Problem 2. Bomgar very slow
"I have been using Bomgar remote software for about 6-9 months, and it seems slow on the remote end.I have one of the highest-speed cable internet connections that can be bought in my area (approx 25Mbps). The problem is not on my end with the Internet. Anyone else who uses Bomgar - have you had any performance issues?"
If you have encountered Bomgar slow problem, you'll need to change the screen resolution. When logging in to offer support, click on the performance button. If you're running Bomgar 10.2<, you can select a Low Bandwidth Screen Sharing performance option, which will change all the colors to grayscale.
Problem 3. Bomgar screen sharing not working on Mac
One of the most common problems is Bomgar screen sharing needing to be fixed on Mac. Bomgar is not working on Mac because macOS security features force users to take additional steps to permit full use and control of the BeyondTrust screen sharing application. The good news is it's one of the easiest errors to fix.
Fix 1. Enable Bomgar Screen Sharing On Mac
Step 1. Hit System Preferences (located on the Screen Recording prompt).
Step 2. While inside System Preferences, select Security & Privacy. Click the lock icon in the lower-left corner of the window. Type in the appropriate computer password when prompted to make alterations.
Step 3. Navigate to the Privacy tab (located at the top of the window). Choose Screen Recording from the left-hand menu. Enable the Remote Support Customer Client by checking the box beside it.
Step 4. From the left-hand menu, choose Accessibility. Enable the box beside Remote Support Customer Client. Hit the lock icon.
Fix 2. Ensure the participating Macs aren't in sleep mode
Step 1. Navigate as follows: Apple menu > System Preferences > Energy Saver > Power Adapter.
Step 2. Find the line "Prevent your Mac from automatically sleeping when the display is off", select the checkbox, and confirm.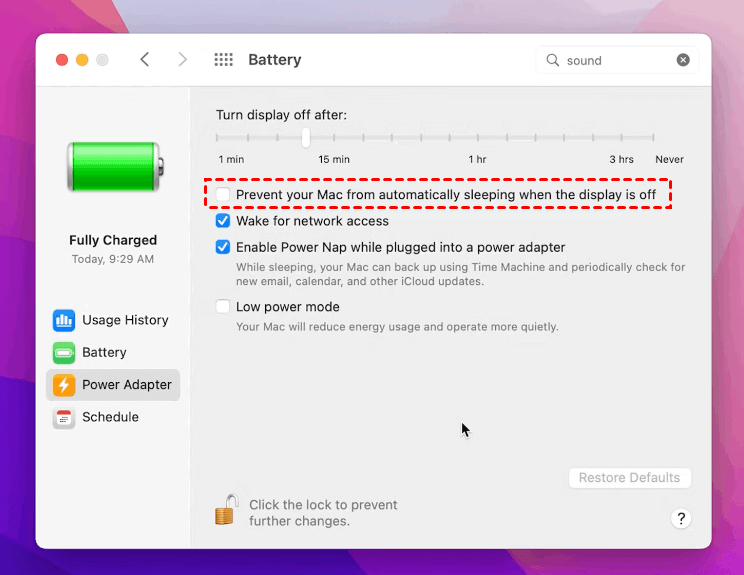 Problem 4. Bomgar getting black/blank screen on mobile version
One of the most typical issues with the Bomgar mobile app is this one. The software should launch with a blank screen shortly before failing, with or without an error notice. There are many ways to approach this problem.
Fix 1. Re-launch the Bomgar mobile app
Most of the time, it's just a temporary loading problem. You can try to close the app that is causing the problem. Now reopen the app. It almost always works.
Fix 2. Reboot your mobile device
Perform a hard reboot on your mobile device. This will completely restart the app. After rebooting the device, you can open the app; it should work correctly.
Fix 3. Uninstall & reinstall the Bomgar mobile app
Android generally recovers all settings after reinstalling and login into an app. You can try it and see if it helps. Even in extreme cases, you should try installing older software versions if the re-installation phase fails.
AnyViewer: Best Bomgaralternative for remote support
AnyViewer is the free remote support software for Windows, iOS, and Android. If you want to remotely access a Windows computer from another Windows computer or an iOS or Android phone, AnyViewer is your best choice.
Why choose AnyViewerover Bomgar?
Let's compare AnyViewer and Bomgar and see why AnyViewer is the best alternative to Bomgar.
Note: You can also change your account's plan to a Professional or Enterprise to enjoy more rights, including concurrent sessions, privacy mode, faster file transfer speed, etc.
How to achieve unattended remote access via AnyViewer
AnyViewer unattended remote access is much easier than Bomgar unattended remote access.
Step 1. Install and launch AnyViewer on both computers. Go to Log in, and then click Sign up. (If you already have signed up on its official website, you can log in directly.)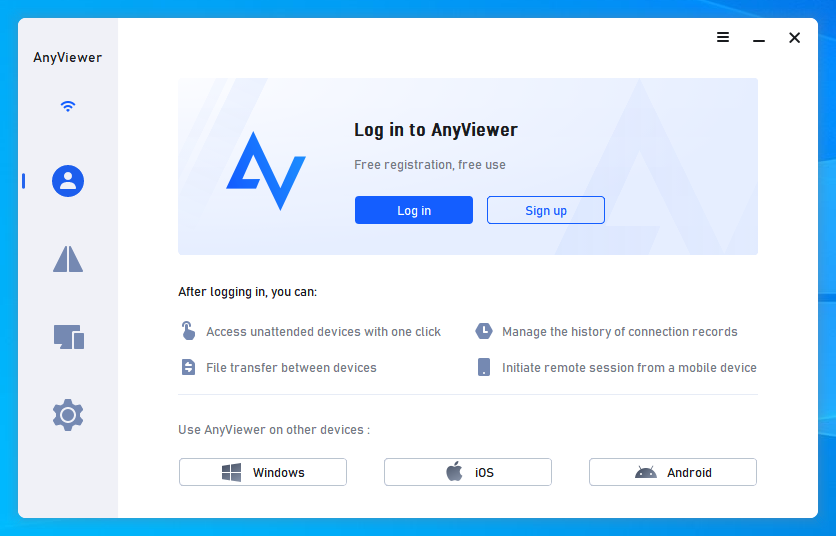 Step 2. Fill in the signup information and click Sign up to create an AnyViewer account.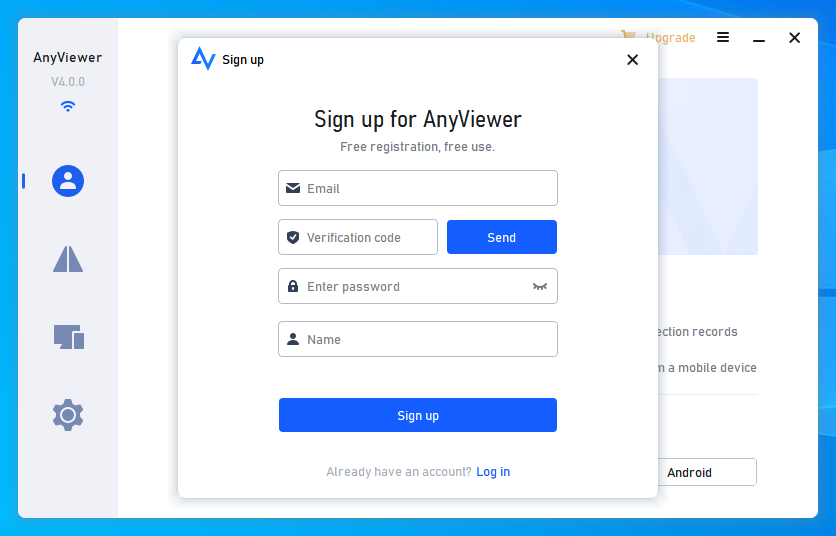 Step 3. Then you can see you successfully logged in to AnyViewer. Your device will automatically be assigned to the account you've logged in to.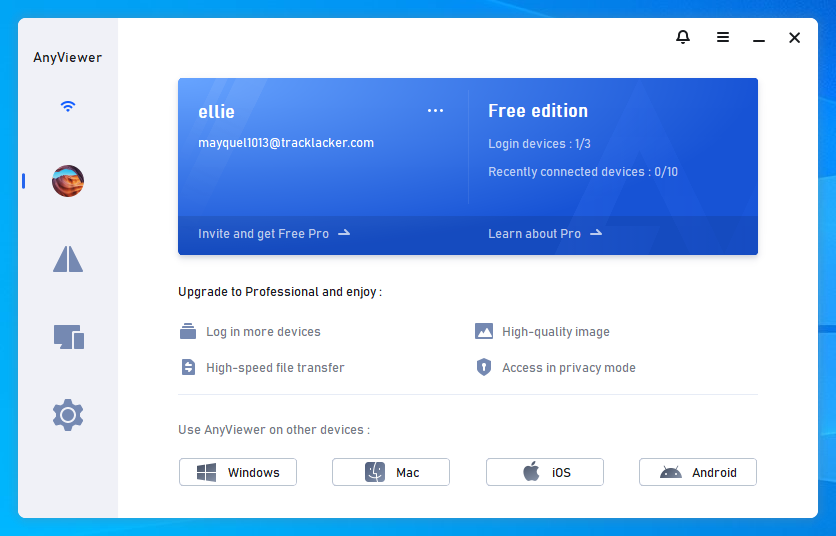 Step 4. Log in to the same AnyViewer account on the two computers. Then you can achieve a one-click connection by clicking One-click control after going to Device and clicking the computer that you want to access.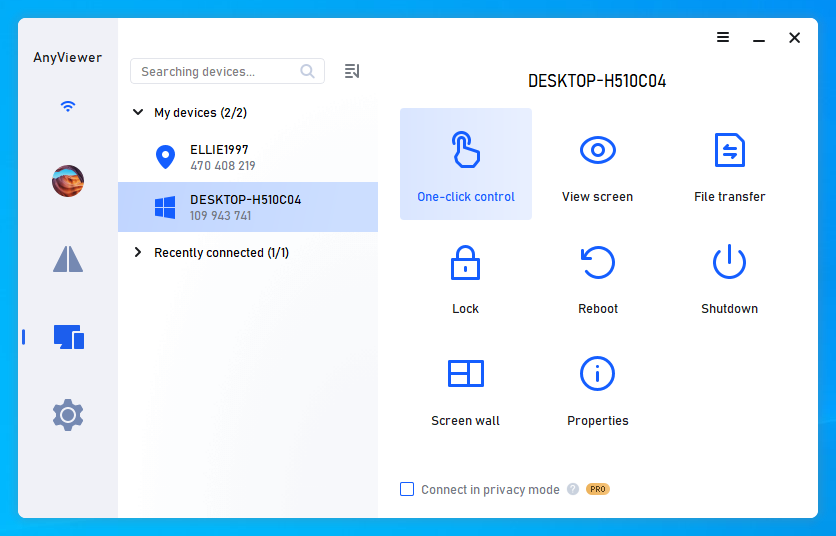 The bottom line
This post is mainly about Bomgar troubleshooting. Four common problems and fixes are introduced. Besides, it also introduces the best Bomgar alternative, AnyViewer. AnyViewer is the best free remote support software. Its free version has many advantages over Bomgar, not to mention Bomgar doesn't even have a free version at all. Download it and try it.