How do I fix black screen on Remote Desktop Windows Server?
Hello! I have a Windows Server 2019 machine. Sometimes when I log in to the device with Remote Desktop, it only shows a black screen. How can I fix the black screen RDP Windows Server 2019 problem? Thanks in advance."
- Question from a user
How to fix black screen RDP Windows Server 2019, 2022 [6 solutions]
Remote Desktop Connection is a useful program for Windows Server that allows users to access another computer without needing additional downloads remotely. However, a black screen on RDP can ruin everything. Here are a few quick fixes for Windows Server 2019, 2022 RDP black screen.
Solution 1. Update your Windows Server
The outdated Windows system is one of the most important reasons for the RDP black screen. Try to update your Windows Server to fix this problem.
Go to Settings > Windows Update. If there are available updates, select the latest one and click Install now.
Solution 2. Change the RDP settings
Configure the following settings while you take RDP on Windows Server.
Step 1. Search for "Remote Desktop Connection" in the start menu and open it.
Step 2. Click Show Options.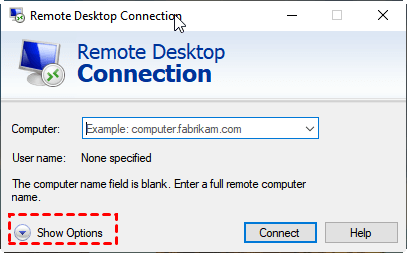 Step 3. Go to the Display tab, and switch the Highest Quality (32-bit) to True Color (24 bit) or less.
Step 4. Then go to the Experience tab, and uncheck the Persistent bitmap caching option.
Step 5. To save these changes, return to the General tab and click Save.
Solution 3. Try Ctrl + Alt + End
Ctrl + Alt + End combination can effectively fix the Windows server 2019 RDP black screen after login.
Step 1. In your RDP session window, press Ctrl + Alt + End keys.
Step 2. Then you can see a menu. Click Cancel.
Step 3. Close RDP and re-open it, then you can regain your remote desktop.
Solution 4. Run diagnostic command
You can check the mistakes and repair them by using the diagnostic command.
Step 1. Right-click the start menu and click Command Prompt(Admin).
Step 2. Enter the command "sfc/scannow" and wait for the 100% complete to see the results.
Step 3. If there are corrupt files, restart your computer and re-open the Command Prompt. Enter the following command to repair them.
DISM /Online /Cleanup-Image /RestoreHealth
Solution 5. Change the Registry Editor settings
Changing the Registry settings can also fix the black screen RDP Windows Server 2019.
Step 1. Press Win + R, type in"regedit", and hit OK.
Step 2. Navigate to: HKEY_LOCAL_MACHINE > SOFTWARE > Microsoft > Terminal Server Client. Create a new DWORD (32-bit) value, name it UseURCP, and set its decimal value to 0.
Solution 6. Check Event Viewer
You can also open the Event Viewer to check the errors.
Step 1. Right-click the start menu and click Event Viewer.
Step 2. Navigate to Applications and Services Logs > Microsoft > Windows > RemoteDesktopService-RdpCoreTS. See if there are any issues like:
'Failed GetConnectionProperty'in CUMRDPConnection::QueryProperty at 2884 err=[0x80004001]', 'Connection doesn't support logon error redirector'in CUMRDPConnection::GetLogonErrorRedirector at 4199 err=[0x80004001]
Step 3. If there are errors, disable the URCP by opening PowerShell and running the following command.
New-ItemProperty 'HKLM:\SOFTWARE\Microsoft\Terminal Server Client' -Name UseURCP -PropertyType DWord -Value 0
Bonus tip: An error-free RDP alternative for Windows Server
Though Remote Desktop is convenient for users to connect to a remote computer, it has many drawbacks. For instance, it isn't easy to set up outside the network, and you need to use a VPN or perform port forwarding. It's not available for Windows Home/Standard versions. Besides, it lacks several features. For example, it locks the remote screen, restricts running multiple concurrent sessions, etc.
In this case, we recommend you look for an alternative to Remote Desktop. Many professional remote desktop tools are on the market, but we highlight AnyViewer for its easy configuration and useful features.
Compared to Remote Desktop, AnyViewer has the following advantages:
Compatible. It is available for Windows OS (including Windows Home/Standard), Windows Server OS, iOS, and Android.
Easy to use. It provides an intuitive and easy-to-use interface.
Over-Internet connection. It supports the connection in different networks without VPN and port forwarding.
Multiple concurrent sessions. It allows remote control multiple computers simultaneously.
Large file transfer. It enables transferring large files quickly, and you can perform file transfer without the remote control.
Download AnyViewer on your devices:
Here is how to set up AnyViewer and start unattended remote access.
Step 1. Start AnyViewer on the remotecomputerthat will receive the control, click Sign up to create a new account, and log in.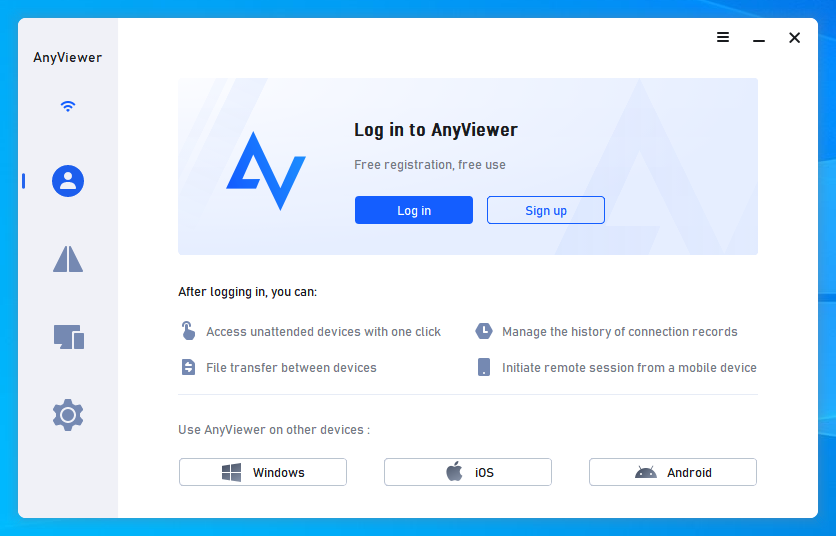 Step 2. Start AnyViewer on the local computer that will initiate the control, and log in to the same account you just registered.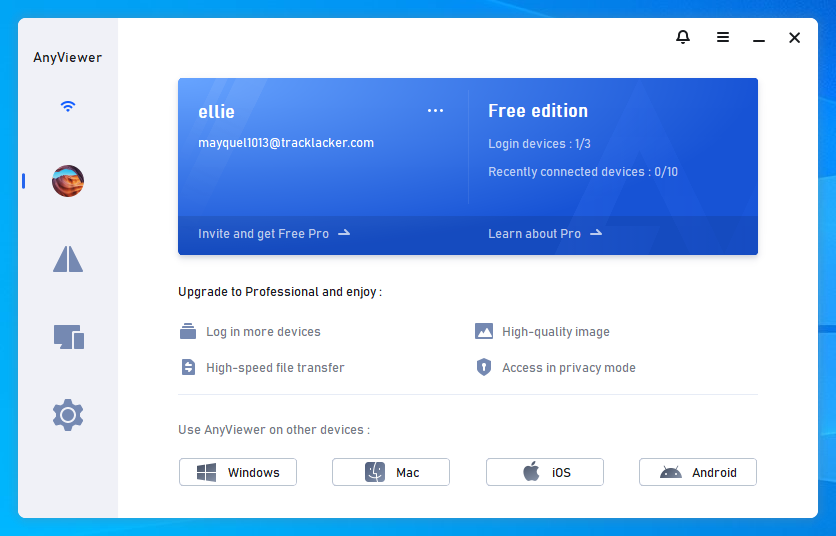 Step 3. Go to the Device section, select the remote computer you want to connect to, and click One-click control.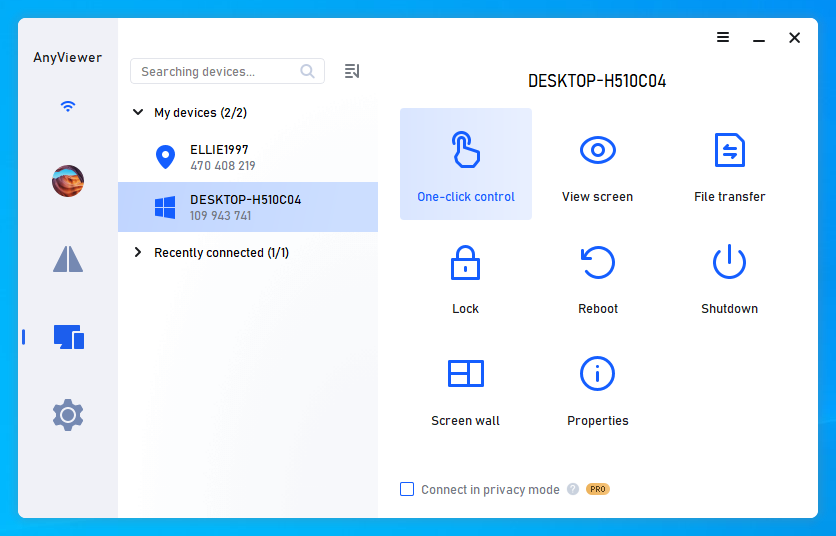 Now you can control the remote PC as if sitting in front of it. There are a few considerate options in the upper toolbar. For example, you can chat with your partner.
Tips:
If you plan to use AnyViewer for businesses. We recommend you upgrade to the budget-friendly
Professional or Enterprise plan
to enjoy more advanced rights:
Assign up to 100 devices for unattended access.
Establish more concurrent sessions.
Access in privacy mode to well-enough protect data and privacy.
Start a connection with high-image quality.
The bottom line
We hope this post helped to fix the black screen RDP Windows Server 2019. Resolving an issue will waste a lot of time. Therefore, we recommend you pick an error-free RDP alternative. The powerful AnyViewer could be the best option.