What is remote IT support?
Remote IT support, also referred to as remote technical support, empowers IT professionals to deliver assistance and address issues related to computer systems and software applications without the necessity of being physically present on-site. This service is commonly delivered through diverse communication channels, including phone, email, chat, and dedicated remote access software.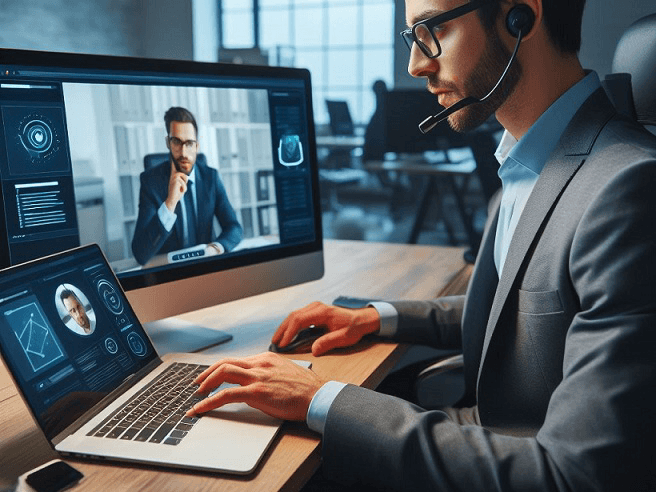 For seamless functionality, remote IT support must provide IT agents with the requisite permissions to remotely access and troubleshoot an extensive array of devices, applications, and systems. This encompasses servers, desktops, laptops, tablets, smartphones, and networks. This capability empowers IT professionals to swiftly diagnose and resolve issues without the need for physical visits to the device's location.
Benefits of providing remote IT support
As previously mentioned, remote IT support offers numerous advantages for organizations, IT professionals, and end-users. Here are our top five benefits:
Increased Efficiency: IT professionals can quickly troubleshoot and resolve issues, eliminating the need to travel to the physical location of the device or system. This saves time, increases productivity, and allows IT professionals to handle more support requests.
Cost Savings: By optimizing agent productivity, you can reduce the number of agents needed to support end-users. This minimizes salary expenses and removes the need for IT teams in every facility.
Increased Flexibility: Remote support allows IT professionals to offer assistance from anywhere, at any time. This flexibility is especially beneficial for organizations with employees in different time zones or remote locations.
Improved Customer Service: End-users receive faster support without waiting for an on-site technician to arrive or having to travel themselves, leading to higher satisfaction with the support system.
Enhanced Security: Remote support enables IT professionals to monitor and manage systems, applications, and networks remotely, identifying security risks and preventing breaches before they occur.
AnyViewer: Best remote software for IT support
We found AnyViewer to be the best remote IT support software. AnyViewer is the go-to choice for businesses seeking to offer clients IT remote support services. As a cutting-edge provider, it introduces revolutionary free remote support software, ensuring swift and secure solutions for IT support and management.
AnyViewer caters to a diverse spectrum of IT professionals, ranging from seasoned experts to leaders and novices, streamlining efficiency and making objective attainment effortless.
Why AnyViewer is worth choosing?
Reasons to Choose AnyViewer for Remote IT Support:
Strong Security Measures: AnyViewer places paramount importance on data security through the implementation of end-to-end encryption, strengthened by a robust 256-bit Elliptic Curve Cryptography (ECC) algorithm. Additionally, it enhances data security by mandating two-factor authentication.
Optimal Performance: AnyViewer employs an optimized connection mechanism that automatically connects the user to the most appropriate server for a faster, more seamless remote control experience. AnyViewer ensures timely response and delivers a smooth 60 FPS frame rate for efficient support operations.
Intuitive Interface: AnyViewer's intuitive design makes navigating complex IT issues a breeze, minimizing training requirements and enabling IT professionals to adapt swiftly.
Cross-platform Ability: AnyViewer provides seamless cross-device compatibility, supporting various Windows versions, including Windows and Windows Server. Moreover, it extends its compatibility to iOS and Android platforms.
What features does AnyViewer offer for remote IT support?
AnyViewer extends free services to individuals and small businesses, making it an accessible solution for various purposes. Whether providing remote IT support to family members or clients, the free version includes the following features:
One-click control: You can view and control remote desktop sessions with one-click control, allowing you to troubleshoot and fix problems even if no one is present on the other end when they occur. This feature is especially useful for efficiently managing unattended systems.
Text chat & Sound Synchronization: During remote IT support sessions, AnyViewer ensures effective communication through real-time text chat and synchronized remote device audio. This feature promotes clear interaction between support providers and end users, enhancing the overall support experience.
Multi-Session Capability: Engage in multiple remote support sessions simultaneously, allowing IT professionals to handle multiple system issues concurrently and improve efficiency.
Efficient Shortcuts: AnyViewer offers quick shortcuts for essential operations, such as accessing Task Manager, initiating Command Prompt, or remotely shutting down a computer, streamlining the remote support process.
File Transfer: Facilitate secure and efficient file transfer between local and remote systems, enabling the exchange of necessary files, updates, or patches during a remote IT support session.
Mobile Device Support: AnyViewer is compatible with iPhones and Android devices, enabling remote support to a Windows device from a mobile device, providing flexibility and accessibility.
For medium-sized and large businesses, AnyViewer offers the following additional features if you purchase the Enterprise plan:
Group Management: Streamline device organization for sizable teams by effortlessly adding devices to different groups using deployment codes.
Mass Deployment with MSI: Simplify large-scale deployment through automatic installation via an MSI package, ensuring a seamless and efficient setup process.
Privacy Mode: Prioritize privacy and security during remote support sessions with AnyViewer's Privacy Mode, which allows access to remote devices while blacking out their physical screens and disabling the physical keyboard for a confidential and secure support session.
How to use AnyViewer for IT remote support
To use AnyViewer for remote IT support, follow the steps below:
On the remote computer:
Step 1. Firstly, download, install and run AnyViewer on the remote computer.
Step 2. Head to the "Log in" section, and click on "Sign up" to create your AnyViewer account.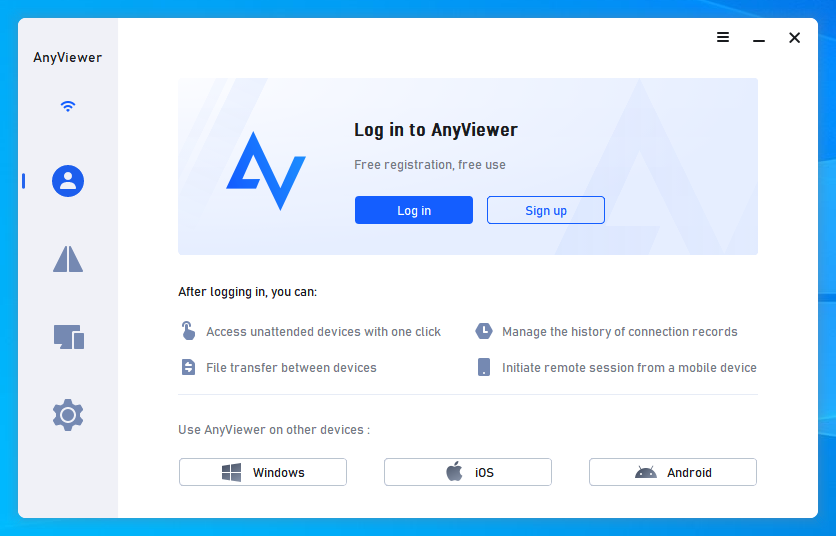 Step 3. Once you log in with the same account, your device will be linked automatically to the account you're logged into.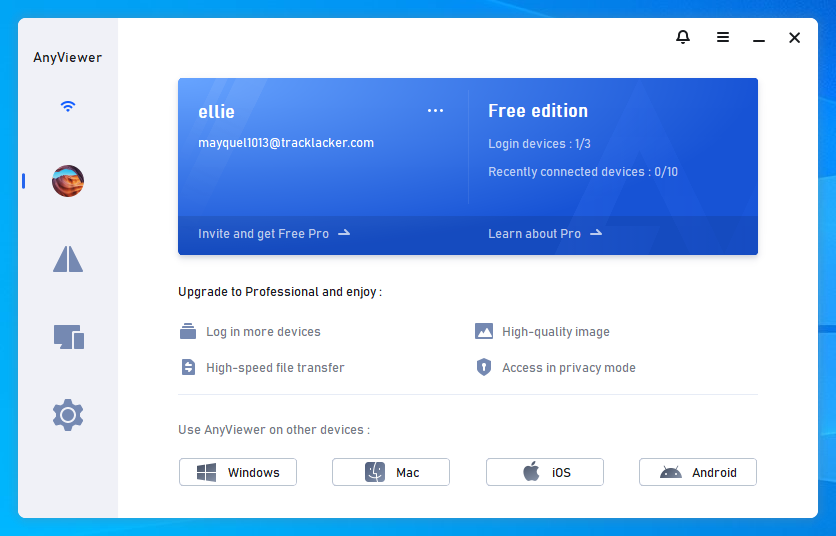 On the local computer:
Step 1. Download AnyViewer on your local computer, and log in using the same account credentials as the remote computer.
Step 2. Start a remote support session by selecting the remote computer you want to connect to and clicking "One-click control."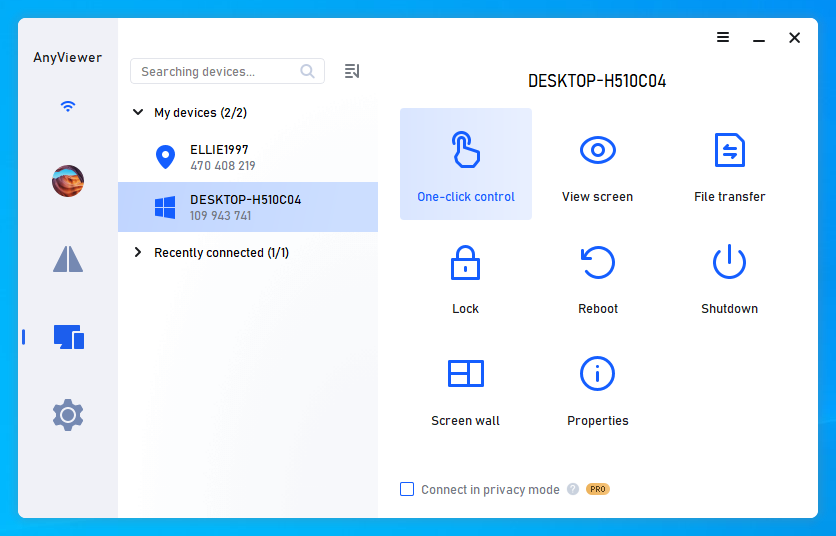 Conclusion
Overall, we found AnyViewer to be the best remote IT support software. if you are looking for the best IT remote support software, AnyViewer will be your best choice. AnyViewer offers robust security, seamless performance and a user-friendly interface. Whether you are an individual, a small business or a large enterprise, AnyViewer has features to suit every need, ensuring efficient and secure remote IT support.
No need to keep searching, the best answer is already in front of you.