Overview: AnyDesk vs. LogMeIn
Helping someone fix a computer problem remotely over the phone takes skill and patience because you can't see what's happening. That's where remote access apps come in. Here are two of the most popular remote desktop software, AnyDesk vs. LogMeIn.
What is AnyDesk?
Anydesk is a safe and simple software that allows you to connect to your computer from anywhere and at any time. It offers dependable remote desktop connections, allowing users to operate efficiently and without wasting time. It enables users to give excellent customer care and quick resolutions anywhere.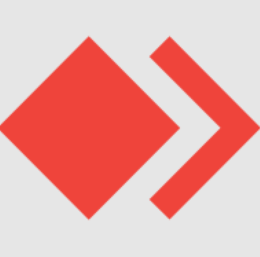 What is LogMeIn?
LogMeIn, Inc. is a recognized leader in remote-work technology. Its famous products include LogMeInPro, enabling secure access and file sharing for enterprise needs; LogMeIn Rescue, providing seamless remote support on any PC or mobile device, LogMeIn Central, enabling remote IT instantly with remote monitoring and management; etc. Here we'll primarily introduce LogMeIn Pro.
LogMeIn Pro is a comprehensive and secure remote access platform that assists enterprises in real-time streamlining of distant work, learning, and customer engagement rates. The tool allows files to be stored, shared, and quickly accessed across all devices. Besides, it makes accessing the most commonly visited websites, cloud, and desktop applications easy.
Comparison of AnyDesk vs. LogMeIn Pro
The choices may vary depending on your specific needs. Here's a detailed comparison of LogMeIn vs. AnyDesk. Please read it carefully before making a choice.
Operating systems
What are the system requirements of AnyDesk and LogMeIn Pro?
AnyDesk
AnyDesk is free to use on platforms such as Windows, MacOS, Linux, FreeBSD, iOS, and Android.
LogMeIn Pro
LogMeIn Pro provides quick and easy remote access to your PC or Mac from your browser, desktop, iOS, and Android devices.
Security
Security is another issue that concerns many users regarding remote technology.
AnyDesk
AnyDesk states it follows the highest security standards. All connections are encrypted with TLS 1.2 Standardized Protocol Technology, preventing unauthorized access. It alsousesRSA 2048 asymmetric key exchange encryption to verify every connection.
Besides, it uses 256-bit AES Transport Encryption to ideally encrypt your data stream, making your data difficult to be decrypted. It also uses Two-Factor Authentication, double-protecting your device.
LogMeIn Pro
LogMeIn solutions use industry-standard encryption and authentication techniques and protocols for all connections.
LogMeIn Pro communicates using the SSL/TLS (OpenSSL) protocol. Online banking and web-based commerce both adhere to the same protocol. It offers authentication and defense against listening in, tampering with, and forging messages.
Pricing plan
How much will it cost respectively for AnyDesk and LogMeIn Pro?
AnyDesk
AnyDesk comes in four plans. All paid plans are billed annually.
AnyDesk Free is for private use with limited features.
AnyDesk Solo is $10.90 monthly for 1 licensed user with 3 login devices.
AnyDesk Standard is $21.90 monthly for 20 licensed users in a team.
AnyDesk Advanced is $51.90 per month for 50 licensed users.
AnyDesk Ultimate package is tailored to your needs.
LogMeIn Pro
LogMeIn Pro, however, does not have a free plan. There are three paid plans available.
LogMeIn Pro for Individuals costs $30 a month (billed annually) and grants access to up to 2 devices.
LogMeIn Pro for Power Users costs $70 a month (billed annually) and grants access to up to 5 devices.
LogMeIn Pro for Small Businesses costs $129 per month (paid annually) and gives you access to up to 10 devices.
Features
Let's compare the features of AnyDesk Advanced and LogMeIn Pro for Small Businesses, the most expensive pricing plans for AnyDesk and LogMeIn Pro.
AnyViewer vs. AnyDeskvs. LogMeIn: Best AnyDesk & LogMeIn alternative
What is better than AnyDesk and LogMeIn? The answer is AnyViewer. AnyVieweris the best free remote desktop software for Windows, iOS, and Android. It allows you to access a remote desktop from any device and anywhere for remote support and work from home without any restrictions.
Why choose AnyViewerover AnyDesk & LogMeIn?
Let's compare AnyViewer, AnyDesk, and LogMeIn Pro.
Note: You can also change your account's plan to a Professional or Enterprise plan to enjoy more rights, including concurrent sessions, privacy mode, faster file transfer speed, etc.
What are the benefits of switching to AnyViewer?
Reliability and High Performance
AnyViewer grants quick and stable access to remote computers with high-quality images. It has an improved connection algorithm that automatically connects to the best server, allowing for a faster and smoother remote control experience. You'll always get high-performance remote connections.
User-Friendly Computer Management
AnyViewer features multiple connections. It lets you easily manage all your users and devices simultaneously. Besides, there is also no need to memorize passwords for unattended access. You can connect with one click if the computer is assigned to the account.
Robust Security
AnyViewer keeps data security with end-to-end encryption via strong 256-Bit Elliptic Curve Cryptography (ECC) algorithm. Besides, it takes other measures to protect data and information security, for example, screen auto-lock.
How to achieve unattended remote access via AnyViewer
Step 1. Download, install, and launchAnyVieweron both computers.
Step 2. On the Controller computer, go to Log in, then click Sign up (if you already have signed up on its official website, you can log in directly).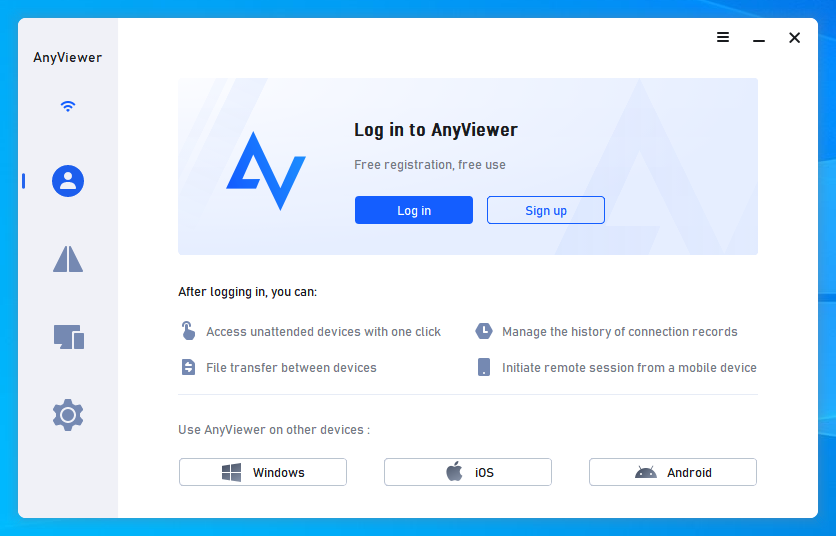 Step 3. Fill in the signup information.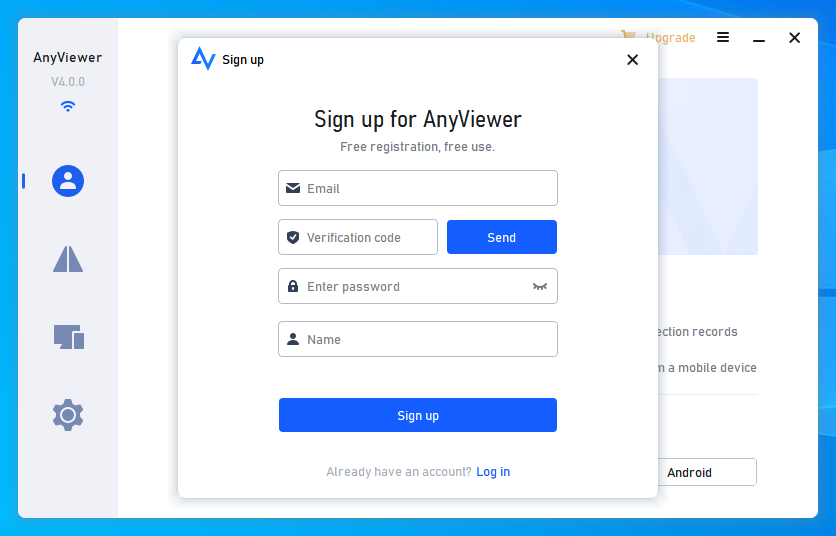 Step 4. Then you can see you successfully logged in to AnyViewer. Your device will automatically be assigned to the account you've logged in to.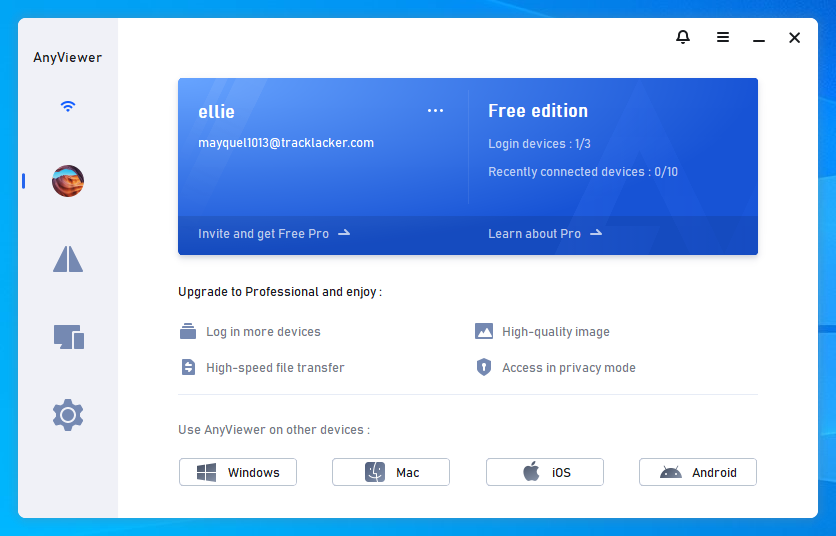 Step 5. Log in to the same AnyViewer account on the two devices; then you can achieve a direct connection by clicking One-click control.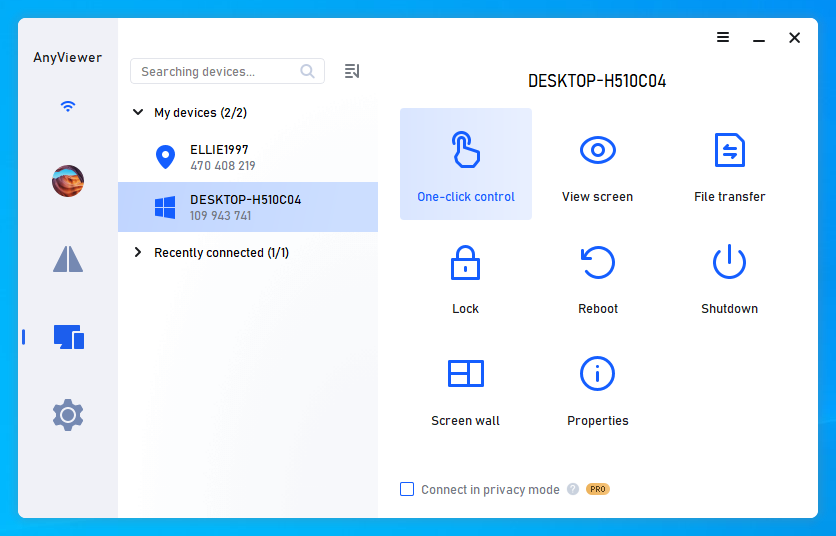 Step 6. After connecting successfully, you'll see the remote desktop.
The bottom line
This post compares two remote access software, AnyDesk vs. LogMeIn Pro. However, determining what is best for you necessitates considering your budget and the characteristics you require.
If you are seeking a free choice, AnyViewer is highly suggested. It is the best free alternative to LogMeIn Pro. Its free version has many advantages over AnyDesk. It is the best choice for you.