Error: Invitations to sessions are disabled
I'm still navigating the world of AnyDesk. I've managed to establish connections between my personal computers. However, when someone else endeavors to connect to my system, they are met with an error message: 'Invitation to the session - Error: Session invitations are disabled for user XXXX.' How can I resolve this?"
- Question from Reddit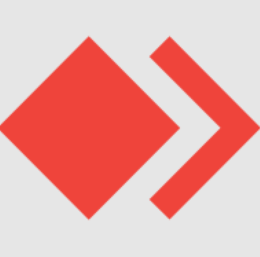 AnyDesk boasts the remarkable feature of enabling direct invitations to fellow clients. Upon sending an invitation to your intended connection, the recipient receives both a notification within their AnyDesk client and a visually subtle pop-up notification at the bottom right corner of their primary display. The recipient then retains the freedom to either accept or decline the connection request. But if the user is plagued with the issue of disabled session invitations, it's apparent that something has gone awry.
How to fix AnyDesk session invitations are disabled
Below, we present three potential fixes for resurrecting the dormant session invitations on AnyDesk. Navigate through these step-by-step solutions to triumph over the predicament.
Solution 1. Enable interactive access
If your AnyDesk session invitations remain disabled for the user, the first course of action involves investigating whether interactive access on the remote end is properly enabled.
Step 1. Navigating to the "Settings" panel.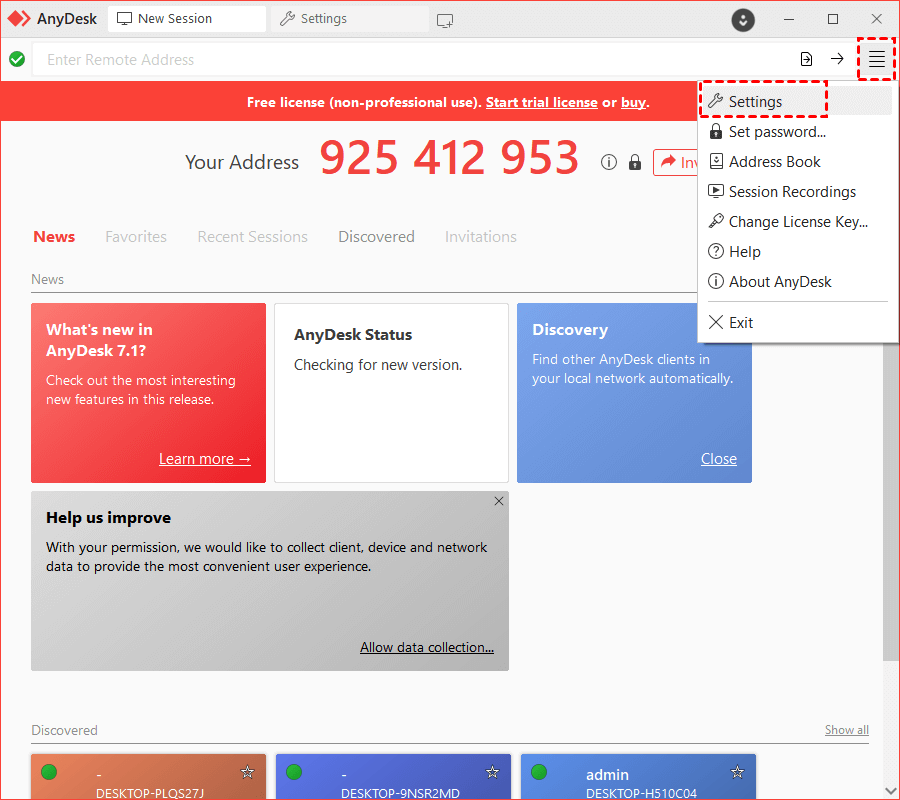 Step 2. Within the Settings, opt for the Security tab and proceed to Unlock Security Settings.
Step 3. Delve into the "Interactive Access" section and opt for the "Always show incoming session request" setting.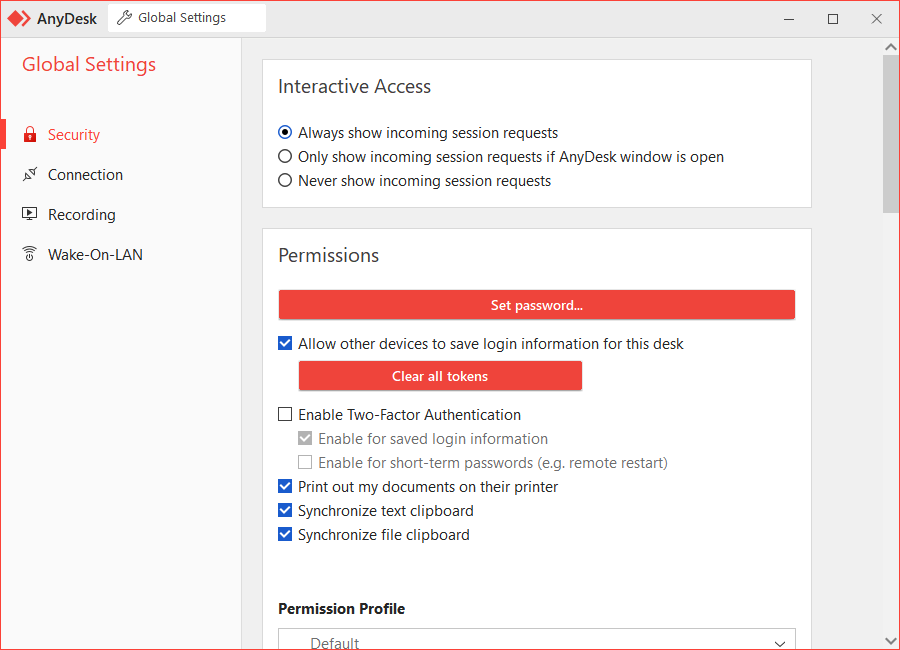 Solution 2. Try another connection method
Should conventional session invitations continue to evade you, AnyDesk furnishes alternative pathways for connection. In case session invitations remain inaccessible, consider alternative methods, such as establishing a direct connection using the AnyDesk ID or engaging in unattended remote access. The latter method involves setting up unattended access on your end and providing the necessary credentials to the remote user for direct login.
Step 1. On the remote terminal, navigate to Settings, then Security, and proceed to Unlock Security Settings. Within the Permissions section, select Set password.
Step 2. Set a password for unattended access. Choose the "Unattended Access" permission profile and apply the settings.
Step 3. On your local machine, input the Remote Address of the remote device.
Step 4. Input the password set on the remote device. For future convenience, activate the "Log in automatically from now on" option and confirm.
Solution 3. Try an AnyDesk alternative
If you're searching for an alternative to AnyDesk, consider looking into a tool like AnyViewer. AnyViewer serves as a free remote access software equipped with a range of features for remote control, assistance, and file management. These features include file transfers, text-based conversations, and the ability to manage multiple sessions.
One significant advantage of AnyViewer is its usability for both personal and commercial purposes. Unlike AnyDesk, which offers free access solely for non-commercial use, AnyViewer's capabilities extend to a wider range of applications. AnyDesk blocks connections if it detects commercial use.
AnyViewer supports both attended and unattended remote access scenarios. Whether you need to provide remote support to a client or connect to an unattended work computer from home, AnyViewer has you covered with options like sending connection requests or enabling one-click connections.
Step 1. Begin by installing AnyViewer on both computers you intend to link.
Step 2. If you're not already registered, sign up for an AnyViewer account, or directly login if you're an existing user.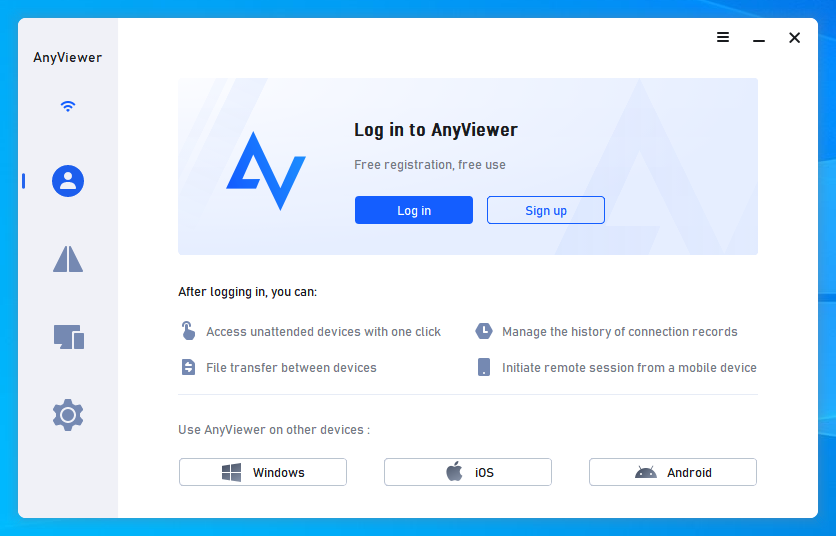 Step 3. Ensure that you've successfully logged in and associated your devices with your account.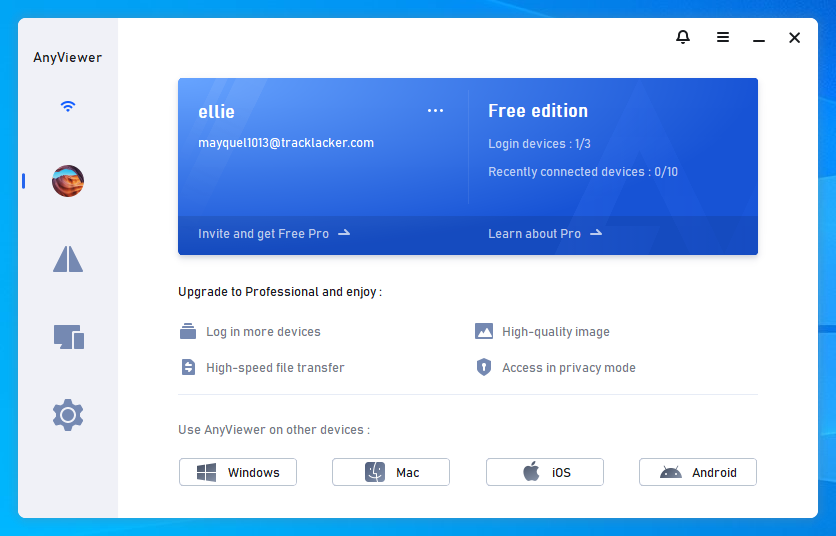 Step 4. Navigate to the Devices section, then pinpoint the specific remote computer you wish to establish a connection.
Step 5. With a simple click on One-click control, you can seamlessly initiate the connection between your selected devices.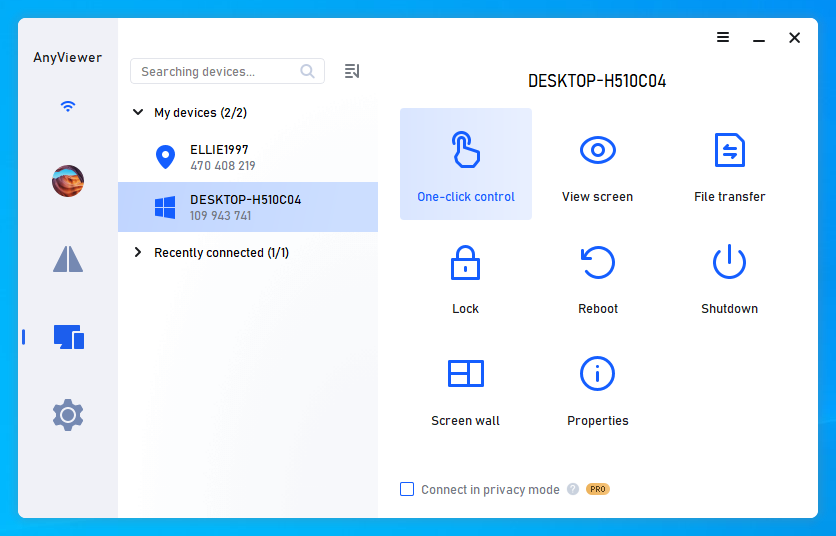 ★Tips:

It's important to consider that opting for a Professional or Enterprise plan introduces a range of valuable advantages, including:

Increased device assignments for unattended access.
Streamlined management of multiple concurrent remote sessions.
Enhanced file transfer speeds for efficiency.
A dedicated privacy mode that guarantees secure and confidential connections.
And much more...
The bottom line
In conquering the issue of AnyDesk session invitations are disabled, the revealed solutions offer a path to renewed connectivity. Amidst this, consider AnyViewer as your solution. Tailored for personal and commercial use, AnyViewer simplifies remote access. Embrace seamless connections by opting for AnyViewer – your key to hassle-free interactions.