Anydesk: Black screen issue
I have been facing one weird issue since yesterday. When I try to connect to a remote machine using ChromeOS, I get this black screen. Not sure why is AnyDesk black screen Chromebook happening. Any ideas to fix it?"
- Question from Reddit
How to fix AnyDesk black screen [3 solutions]
It is pretty annoying when encountering AnyDesk black screen issue. But don't worry. Here we'll introduces three solutions to help you fix it.
Solution 1. Reinstall AnyDesk
If AnyDesk showing black screen, the easiest solution might be to reinstall that program entirely. Sometimes a fresh install is the best solution for black screen and other errors.
Step 1. Open Control Panel > Programs > Programs and Features, and right-click AnyDesk > Uninstall.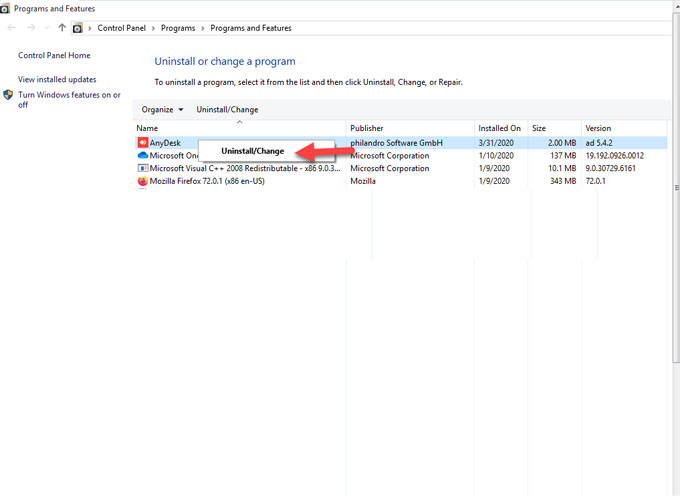 Step 2. Download AnyDesk from its official website.
Solution 2. Connect a Monitor Emulator
According to AnyDesk Support, AnyDesk black screen issue may get fixed if there's an active display connected. The solution is to connect a headless Monitor Emulator to your computer and make the system think it's connected to an up to 4K display if it defaults to a low resolution. This will fix the problem instantly.
Solution 3. Resort to an AnyDesk alternative
The final option for you is to choose an AnyDesk alternative. When selecting an AnyDesk alternative, the sheer number of options can be enough to make your head spin. Fortunately, finding your ideal tool doesn't have to be tough. After a comprehensive comparison, we have picked the best AnyDesk alternative.
Similar to AnyDesk, AnyViewer is a remote desktop program for Windows that enables safe, stable, and worldwide access to any device from anywhere. But the most significant difference is that AnyViewer is free for personal and business use, while AnyDesk charges for commercial uses. Whether using AnyViewer to provide remote support to your family or clients, you can get free services.
Besides, AnyViewer offers many impressive features:
✍
▪ Quick installation.
▪ Fast connection speed.
▪ One-click for unattended remote access.
▪ Chat available in the remote session.
▪ File transfer support.
▪ Shortcuts of essential apps like Task Manager.
▪ Support controlling multiple computers at the same time.
▪ Multi-monitor and monitor switch supported.
▪ Mobile support is for both iOS and Android devices.
Now, download the AnyDesk alternative, free remote access software - AnyViewr, and walk through how it works.
Step 1. Install and launch AnyViewer on both computers. Go to Log in, and then click Sign up. (If you already have signed up on its official website, you can log in directly.)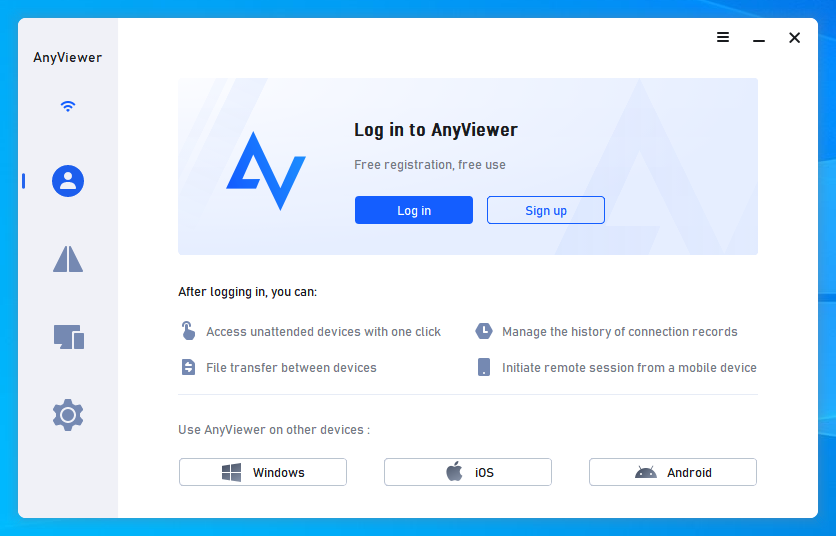 Step 2. Fill in the signup information and click Sign up to create an AnyViewer account.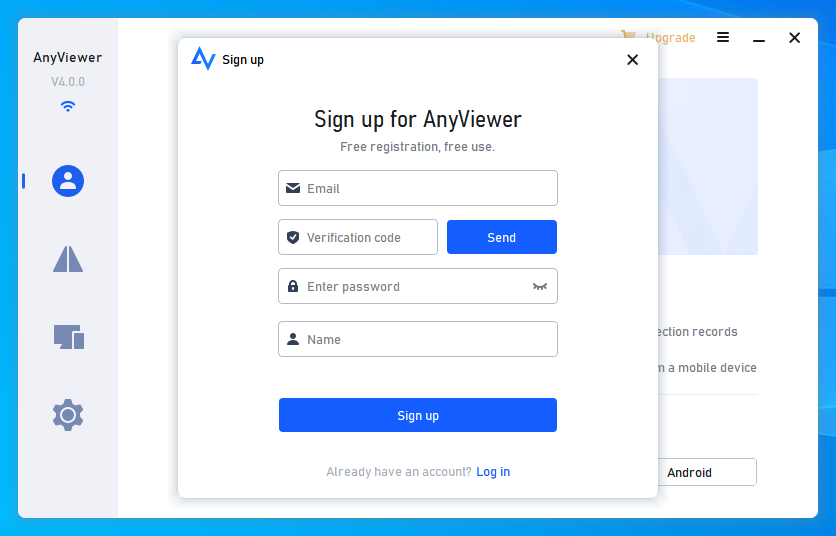 Step 3. Then you can see you successfully logged in to AnyViewer. Your device will automatically be assigned to the account you've logged in to.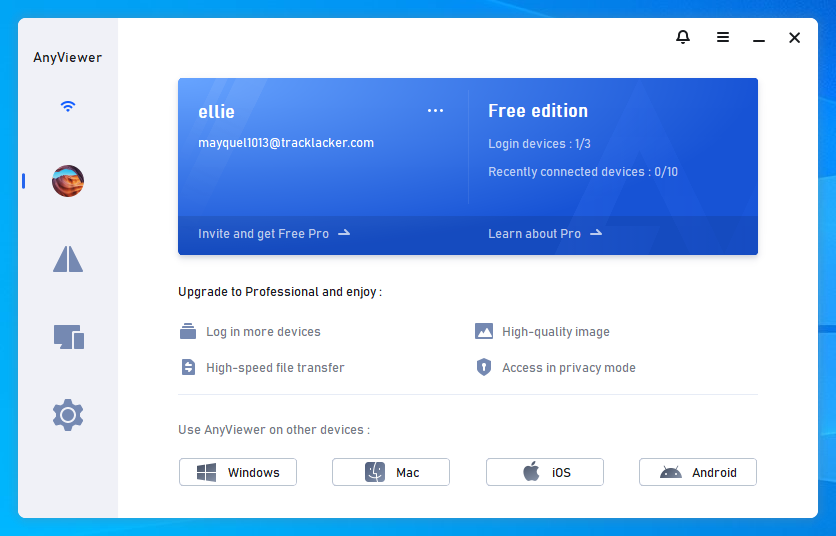 Step 4. Log in to the same AnyViewer account on the two computers. Then you can achieve a one-click connection by clicking One-click control after going to Device and clicking the computer that you want to access.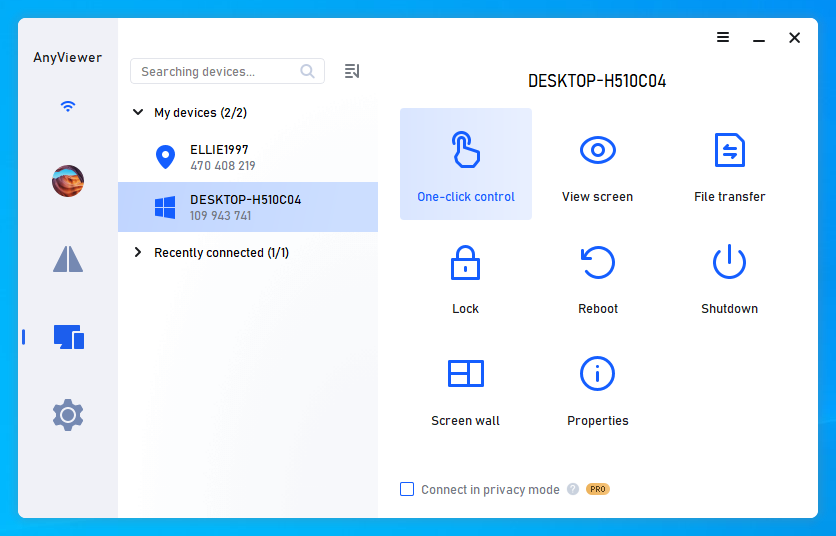 Step 5. During the remote session, you are able to change the resolution by clicking Screen. If you don't know the appropriate screen resolution, you can also click Adaptive to adapt automatically.

Step 6. You can also click Mode to change the image qualities.
Notes:✎...

It is recommended to upgrade your account to a Professional or Enterprise plan. What can a professional or enterprise plan brings to you:

More devices will be allowed to assign to the same account for unattended access.
More connection channels for more devices to be able to start remote connection at the same time.
One device can connect to more devices simultaneously.
Black the remote PC screen and disable the remote keyboard & mouse click to protect privacy.
Transfer 1TB files at 10 MB/s.
The bottom line
This post primarily introduces three solutions to fix AnyDesk black screen. If reinstalling and connecting a Monitor Emulator don't work, you should choose the best AnyDesk alternative AnyViewer. If you're looking for a remote access program that offers free, stable, and safe remote access, try AnyViewer immediately.