How can I remotely access Device Manager?
I have a Windows 10 computer. I am trying to use Device Manager on a remote Windows 10 computer. How can I remotely access the Device Manager?"
- Question from a user
How to access Device Manager remotely on Windows 10, 11
Users can monitor and manage devices attached to their PCs using the Device Manager, an add-on to the Microsoft Management console. It provides a centralized, well-organized picture of all the computer hardware. This section will demonstrate how to access Device Manager remotely Windows 10/11.
Step 1. Enter "computer management" in the search bar and then click Run as administrator.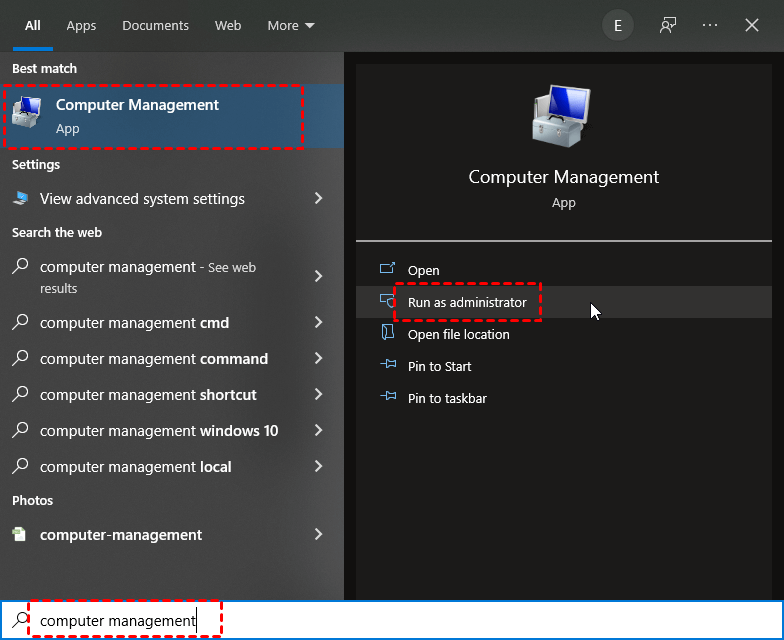 Step 2. Choose Connect to another computer under Action from the top menu.
Step 3. Type in the username of another computer you want to connect to. You can also click Browser to find the name of the computer. Click OK after that.
Step 4. The Computer Management window of the remote PC can be seen now. At the top of the console tree, the name of the remote computer is shown. You can have complete control over the PC's local resources.
Step 5. Click the item you wish to utilize the tool on (such as Event Viewer), and then view the information connected to it.
Bonus tip: Solutions to Remote Access Service error
It's easy to run Device Manager. But some errors might prevent you from accessing the remote Device Manager Windows 10/11. Here we provide you with several solutions to fix the problem.
Way 1. Restart the computer
Restarting electrical equipment, including computers, is the simplest way to address any issue. Try restarting it to see whether the Remote access service issue has been fixed before attempting more complex repairs.
Press Win and then click Power > Restart.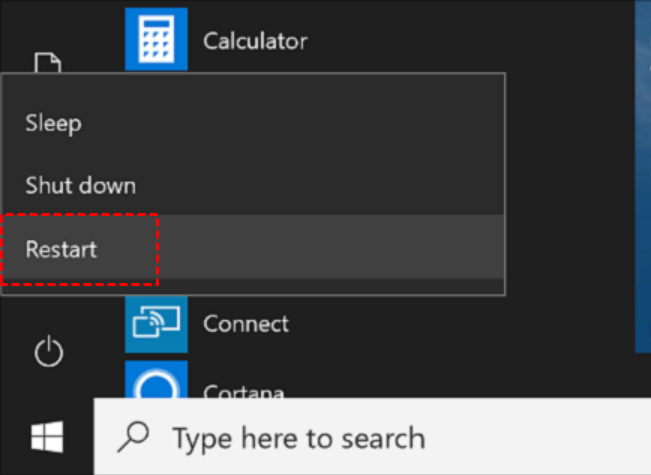 Way 2. Update Windows system
Step 1. Search update in the search bar and then click Check for updates.
Step 2. If there is an update for your Windows, click Install now and restart your computer. If not, try the next method.
Way 3. Reinstall Network Adapters
Sometimes the remote access service error is caused by network adapters and reinstalling or updating them fixes the error completely.
Step 1. Open Device Manager by typing its name into the search box.
Step 2. Double-click Network adapters. Find WAN Miniport (IP) and WAN Miniport (PPTP), then right-click them and select Uninstall.
Step 3. Right-click on Network adapters and then select Scan for hardware changes to reinstall them.
Now you can try to access Device Manager remotely again.
AnyViewer: Use remote Device Manager on Windows 10, 11 without errors
Since errors appear frequently during the connection with the remote Device Manager onWindows10/11. Here we recommend you use professional remote access software AnyViewer to use remote Device Manager without errors. It is highly appreciated for the following benefits:
Easy-to-use. It has easy operations to set up and establish remote connections.
Secure. It is secured by Elliptic Curve Cryptography (ECC) encryption, preventing your data loss during the whole remote session.
Compatible. It supports multiple Windows systems, including Windows OS and Windows Server OS.
Stable. It ensures you a stable connection supported by a strong technical team.
Multi-function. In addition to managing your device remotely, AnyViewer also allows you to transfer files from PC to PC directly, share screen, communicate via the chat box in a remote session, etc.
After download and installation, follow the next steps to remotely access another PC via AnyViewer.
Step 1. On the host computer, go to Log in on the left pane, and click Sign up (log in directly if you already have signed up).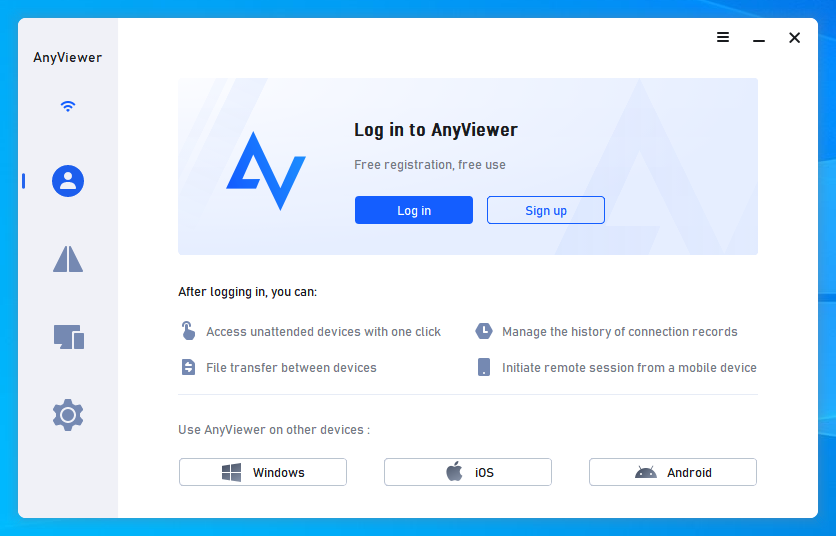 Step 2. Fill in the sign-up information.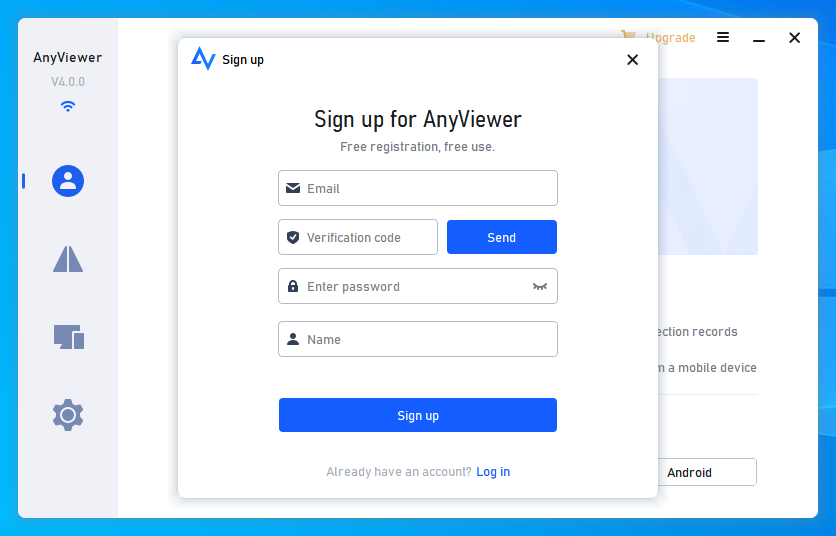 Step 3. When you successfully logged in to AnyViewer, your devices will automatically be assigned to the account you've logged in to.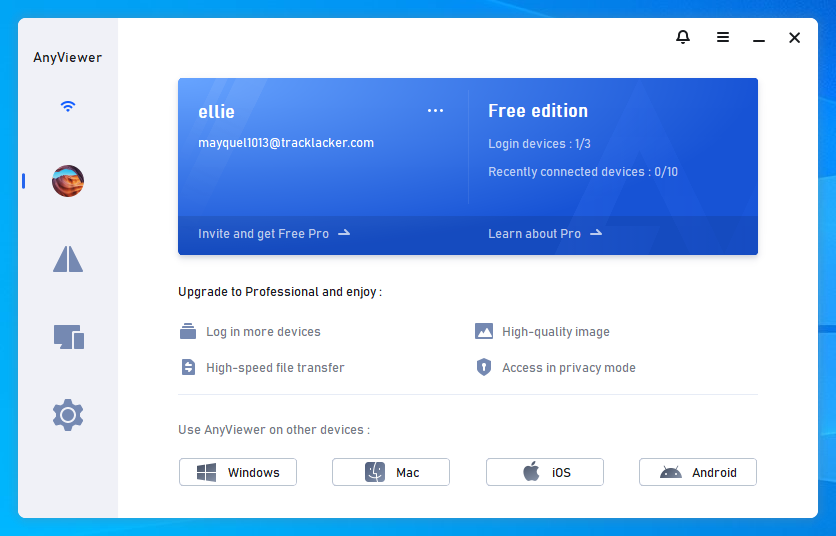 Step 4. Log in to the same AnyViewer account on the two devices, and click One-click control to achieve unattended remote access.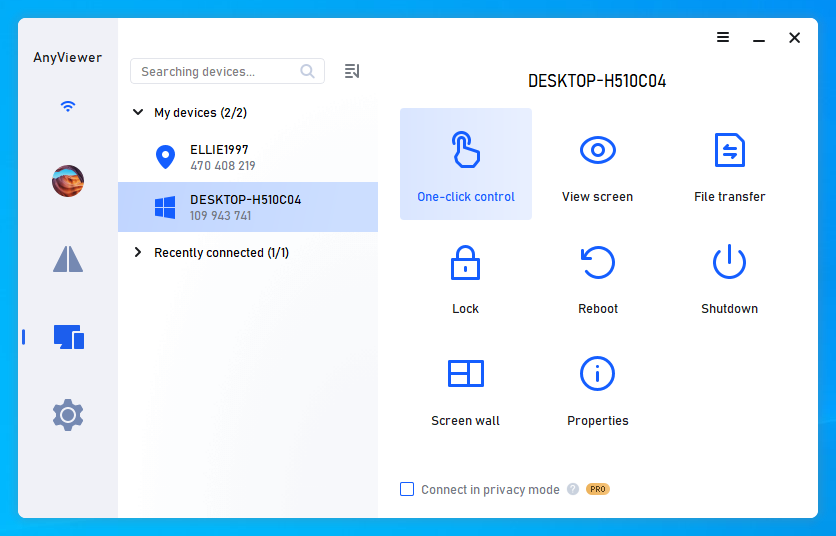 Step 5. After you got full control of the remote PC, you can run any program and manage it as if you're using it actually.
Besides, you can use other quick operations with just one click on the toolbar. For example, open the Task Manager, run CMD, lock the remote PC, etc.

Notes:✎...

You can also upgrade to a Professional or Enterprise plan then the following rights will thereafter be yours:

Assign more devices to achieve multiple remote connections.
Enjoy more concurrent connections. Only 2 channels are allowed for free and professional use, therefore, we recommend you upgrade to the enterprise version to enjoy 10 concurrent connections.
Connect to other devices in privacy mode to protect your data and privacy during the connection.
Transfer unlimited files at once at a higher speed of up to 10 MB/s.
Conclusion
This post is a tutorial to access Device Manager remotely on Windows 10/11. It's easy to connect to the remote Device Manager directly, but it's usual to encounter errors during the connection. Therefore, to use remotely manage your computer in a stable way, you can try AnyViewer.