How do I access the control panel of a remote computer?
I am a network manager, and I need to access users' Control Panels remotely to remove unauthorized software. Now I tried this with PsExec, but it is not working, so I didn't know if I could do what I wanted with PsExec or not. If not, how can I access Control Panel remotely on Windows 10 and 11?"
- Question from Spiceworks
It is sorry to tell you that PsExec can't help you access Control Panel on a remote computer on my system. What you need is professional remote desktop software that would let you remotely access and completely control the remote computer, then access Control Panel.
Access Control Panel remotely on Windows 10/11 via remote desktop software
When selecting professional remote desktop software, the sheer number of options can be enough to make your head spin. What is the best remote desktop software that would allow you to access Control Panel remotely on Windows 10 and 11? Luckily, we have found the one for you.
There is a free yet professional remote access software called AnyViewer, which is built to remotely access Windows computers from anywhere at any time. Once connected to a remote computer via AnyViewer, you'll take full control of it and feel like you're actually sitting in front of it. You can open the Control Panel, remotely manage the computer, or check the Task Manager.
AnyViewer has the following impressive features:
▪ ✍Quick installation. AnyViewer is quite easy to set up and use.
▪ ✍Fast connection speed. AnyViewer provides users with fast and stable remote connections.
▪ ✍One-click for unattended remote access. AnyViewer allows users to remotely connect to an unattended remote computer.
▪ ✍Instant chat. AnyViewer allows users to chat via text during remote sessions.
▪ ✍File transfer support. AnyViewer allows users to transfer files between computers.
▪ ✍Operation shortcuts. AnyViewer provides a series of shortcuts of essential apps like Task Manager, CMD, This PC, etc.
▪ ✍Multi-sessions. AnyViewer supports controlling multiple computers at the same time.
▪ ✍Multi-monitor. AnyViewer supports multiple monitors and monitors switch.
▪ ✍Mobile support. AnyViewer Mibile supports both iOS and Android devices.
Let's see how to access Control Panel on Windows 10 and 11 via AnyViewer.
Step 1. Install and launch AnyViewer on both computers. Go to Log in, and then click Sign up. (If you already have signed up on its official website, you can log in directly.)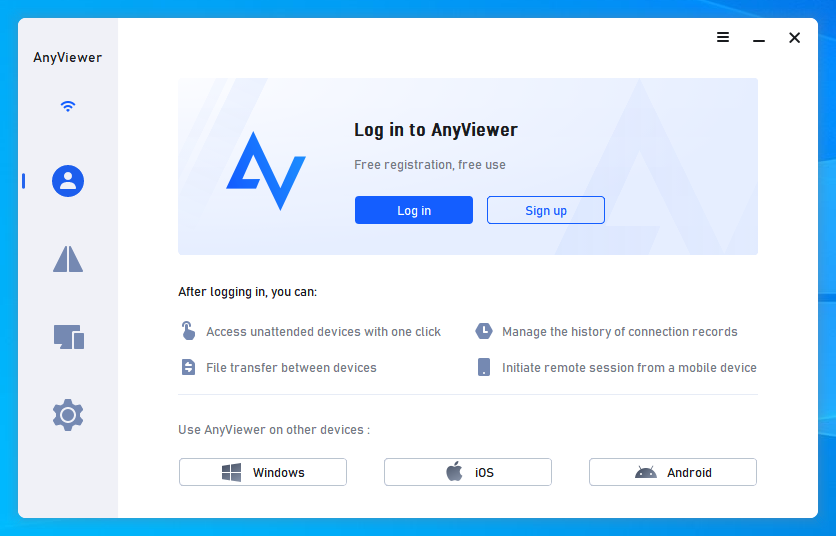 Step 2. Fill in the signup information and click Sign up to create an AnyViewer account.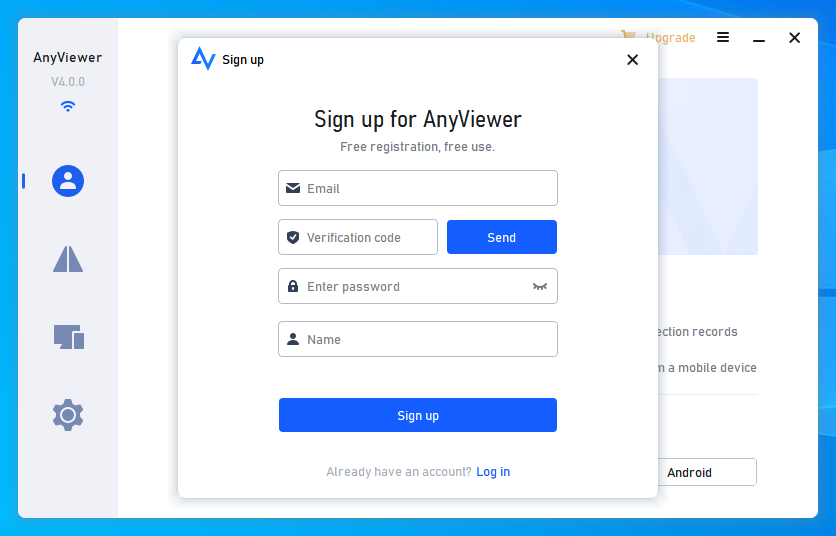 Step 3. Then you can see you successfully logged in to AnyViewer. Your device will automatically be assigned to the account you've logged in to.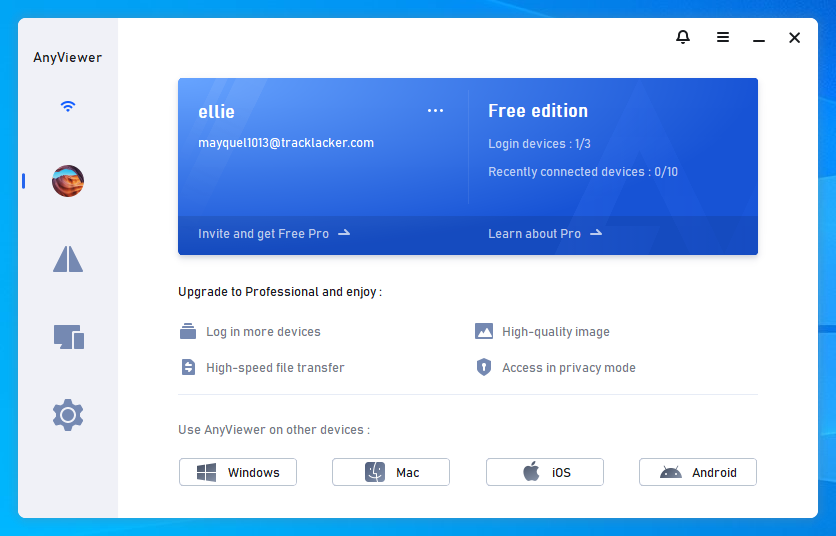 Step 4. Log in to the same AnyViewer account on the two computers. Then you can achieve a one-click connection by clicking One-click control after going to Device and clicking the computer that you want to access.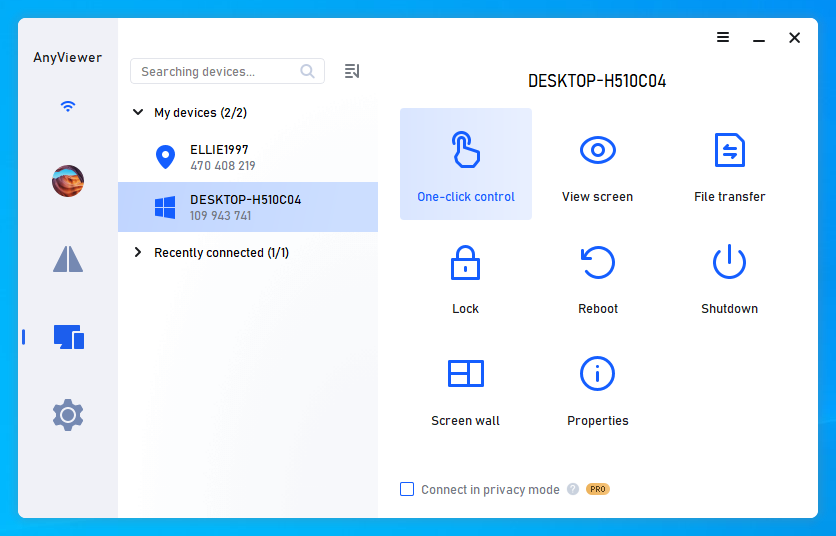 Step 5. After you have successfully connected to the remote computer, you can open the Control Panel and do whatever you want.
Tips: If you are connected to a Windows computer from an iPhone, iPad, or Android phone, you can also remotely access the Control Panel from your mobile devices.
Step 6. You are able to change the resolution by clicking Screen. If you don't know the appropriate screen resolution, you can also click Adaptive to adapt automatically.

Step 6. You can also click Mode to change the image qualities.
Notes:✎...

It is recommended to upgrade your account to a Professional or Enterprise plan. What can a professional or enterprise plan brings to you:

More devices will be allowed to assign to the same account for unattended access.
More connection channels for more devices to be able to start remote connection at the same time.
One device can connect to more devices simultaneously.
Black the remote PC screen and disable the remote keyboard & mouse click to protect privacy.
Transfer 1TB files at 10 MB/s.
Conclusion
This post provides you with a stepwise tutorial on how to access Control Panel remotely on Windows 10 and 11 via AnyViewer. With it, you can easily access a remote computer and open its Control Panel.