How can I send a 50 GB file?
I have a 50GB file and want to transfer it from one computer to another. What is the most efficient method for transferring large files between computers?"
- Question from Reddit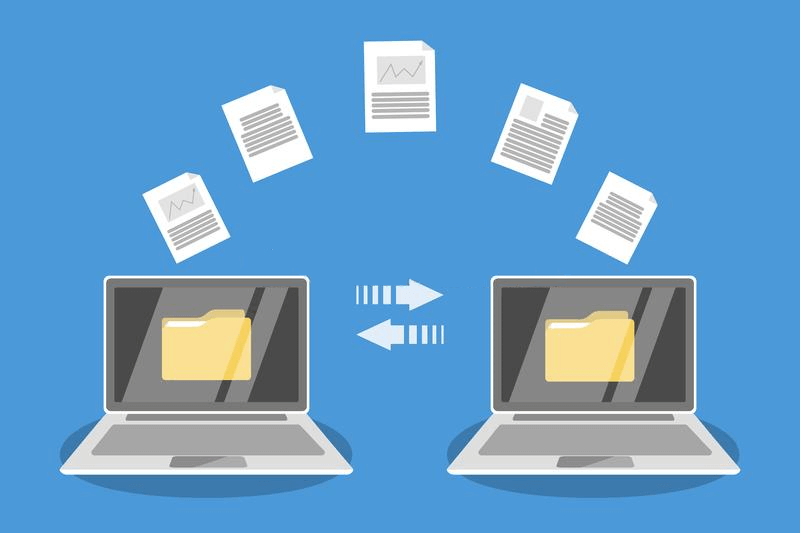 4 ways to perform a 50GB file transfer
Transferring large files between computers is not as difficult as you may think. If you need to perform a 50GB file transfer, you can use the following 4 ways.
Way 1. Transfer large files via remote file transfer software [recommended]
AnyViewer is the file transfer software as well as remote desktop software. It is a perfect tool for large file transfers. Why?
The max size of a single file that AnyViewer allows you to transfer is 1TB.
The max number of files transferred at one time is unlimited.
The max file transfer speed is 10 MB/s.
The price is quite reasonable. You can also get a 15-day unconditional money-back guarantee.
All you need to do it to upgrade to a professional or enterprise plan. More rights and features are waiting for you. For example, higher file transfer speed, high-image quality, privacy mode, etc.
Step 1. Download, install, and launch AnyViewer on both Windows computers.
Step 2. On the computer receiving files, go to Log in, and then click Sign up. (If you already have signed up on its official website, you can log in directly.)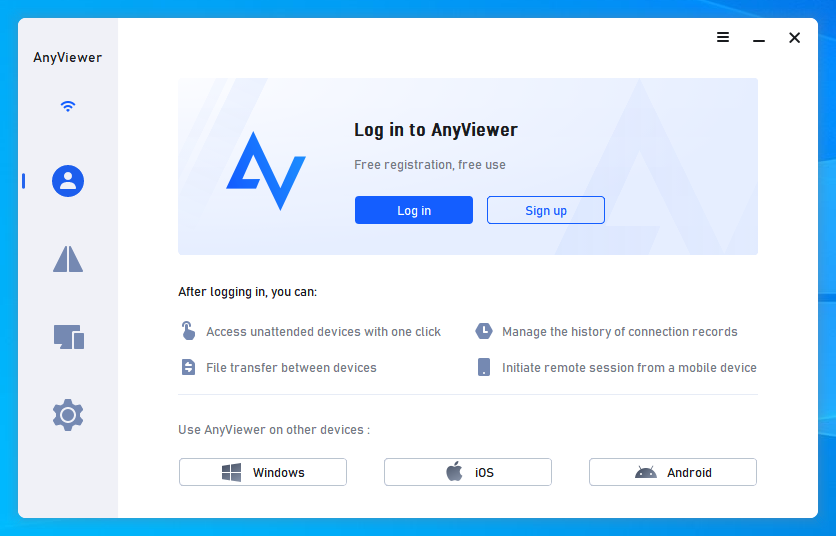 Step 3. Fill in the signup information.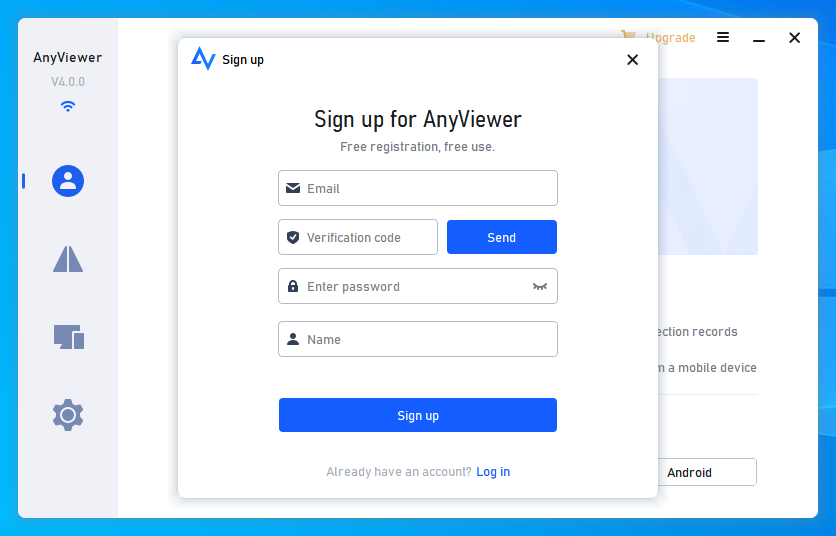 Step 4. Then you can see you successfully logged in to AnyViewer. Your device will automatically be assigned to the account you've logged in to.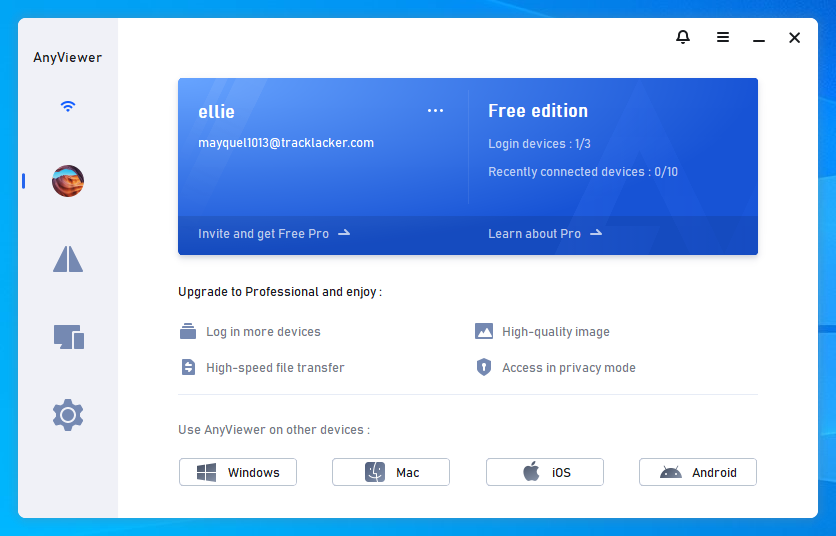 Step 5. On the computer sharing files, log in to the same account. Go to the Device tab, choose your target computer, and then click File transfer.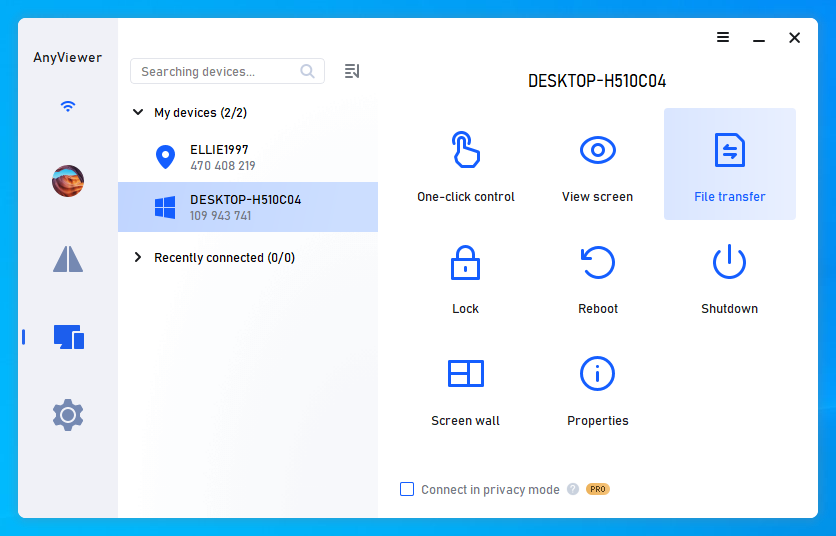 Tips: You can also enable unattended remote access to your office computer by selecting One-click control. Then you can fully control it as if you were sitting in front of it. If the connection is successful, you can also transfer files by clicking the Files button in the menu bar.

Step 6. Then a File Transfer dialog box will appear. The path of the computer sharing files is shown on the left of the box, and the path of the computer receiving files is shown on the right. You're able to transfer files between devices freely by clicking the arrows after choosing the target files.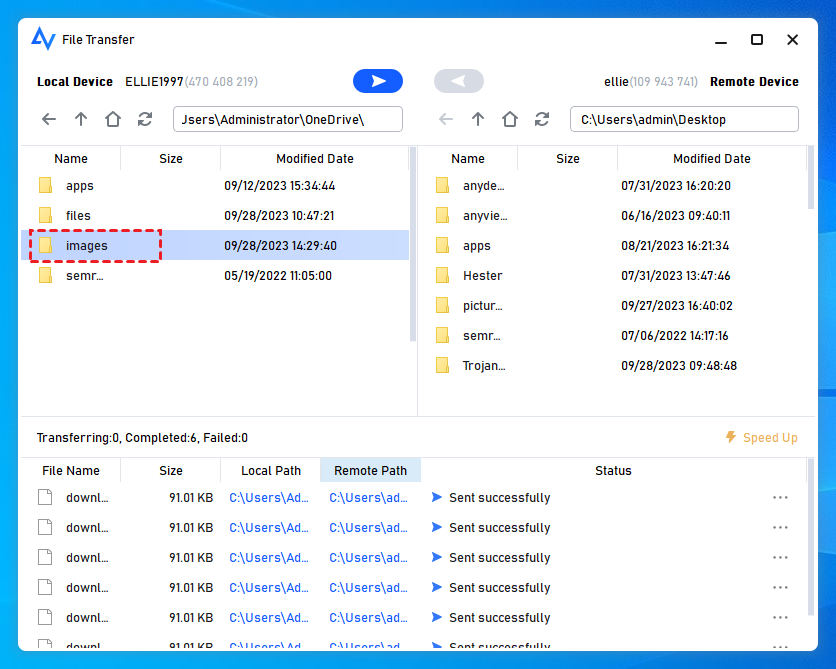 Way 2. Sync large files to another computer using cloud storage services
One simple solution is to upload the file to a cloud storage service, which the other person can then access and download from a different device. Different cloud storage services, such as Box (10GB), Dropbox (2GB), Google Drive (15GB), iCloud (5GB), and OneDrive, provide users with varying amounts of free storage space (5GB). If you need to transfer a 50GB file, you may need to upgrade to a paid plan.
Let's take Google Drive as an example to show you how to transfer 50GB file online using a cloud storage service.
Step 1. Open the main interface of Google Drive, find and click My Drive in the left sidebar, click My Drive again, and select Upload files or Upload folder in the expanded menu.

Step 2. For example, click Upload files, and a window will pop up automatically. Select the file you want to upload and click Open in the lower-right corner.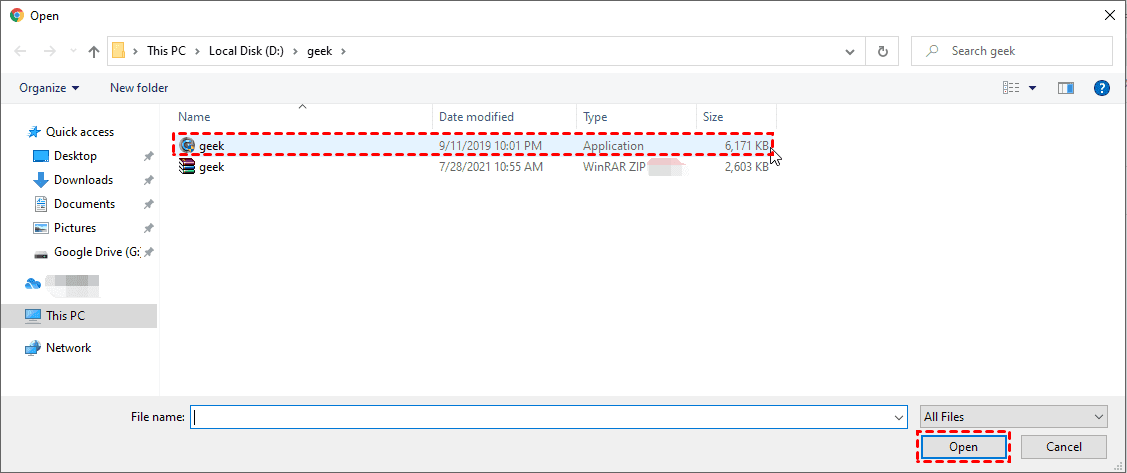 Step 3. You can see the file upload progress in the lower right corner. After the upload is completed, you can find the file in the main interface.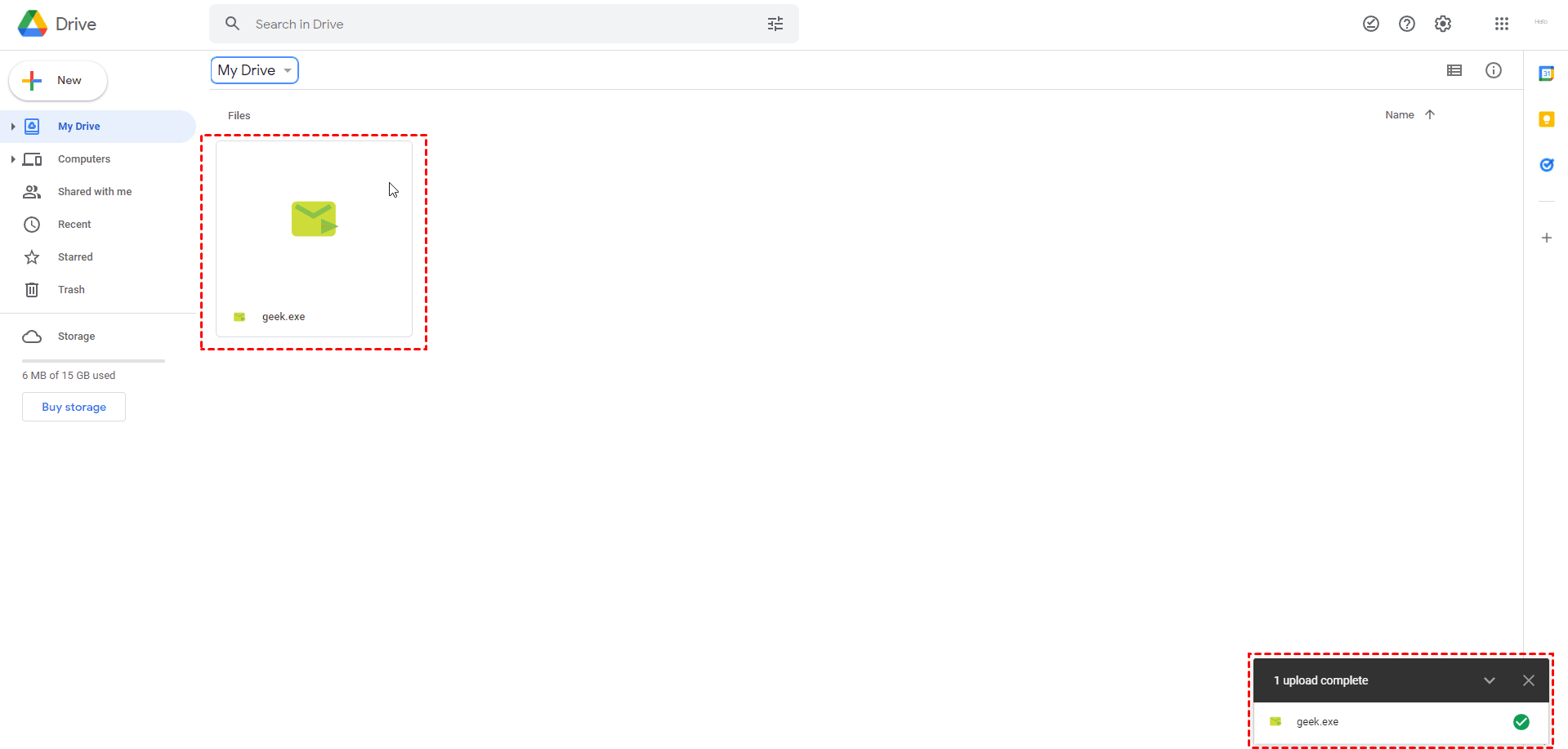 Step 4. Open Google Drive on the other computer and log in to the same Google account. Find the file you've transferred, right-click the file, and select Download in the expanded menu to realize remote file transfer between different computers.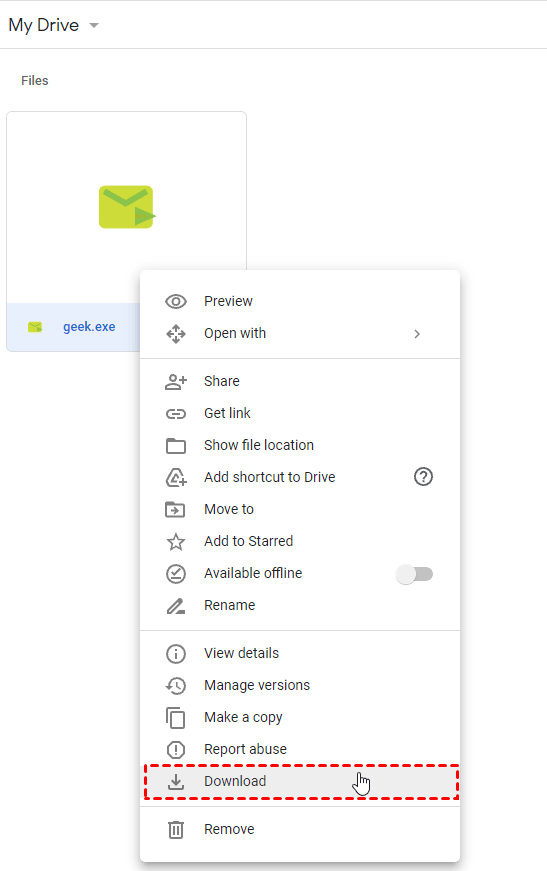 A third-party file transfer website is another option for transferring a 50GB file online. Upload the file you want to send and enter your name, email address, and recipient's name and address. The site hosts the file online and provides your recipient with a link to download it. For example, DropSend. Note that DropSend has a free trial, allowing 50 files send a month and 25GB of storage space. If you need to transfer a 50GB file, please check its official site on paid plans.
Way 3. Move large files between computers using a USB flash drive
There's a way to send 50GB file free. But the premise is that you have a USB flash drive. But some users have reflected that they have encountered errors when transferring large files to USB. Please note that if your USB flash drive is with the FAT32 file system, you're unable to transfer a 50GB file into it even though it has enough unused space. Because the maximum file size supported by FAT32 for a single file is 4GB. As a result, you must first format your USB drive to another file system, such as NTFS or exFAT. You can use the tool AOMEI Partition Assistant.
Step 1. Connect the USB drive to your computer and make sure Windows recognizes it. To open Windows File Explorer, double-click This PC/My Computer, then right-click the USB flash drive and select Format.
Step 2. Then, choose the NTFS in the File System drop-down menu. Click Start.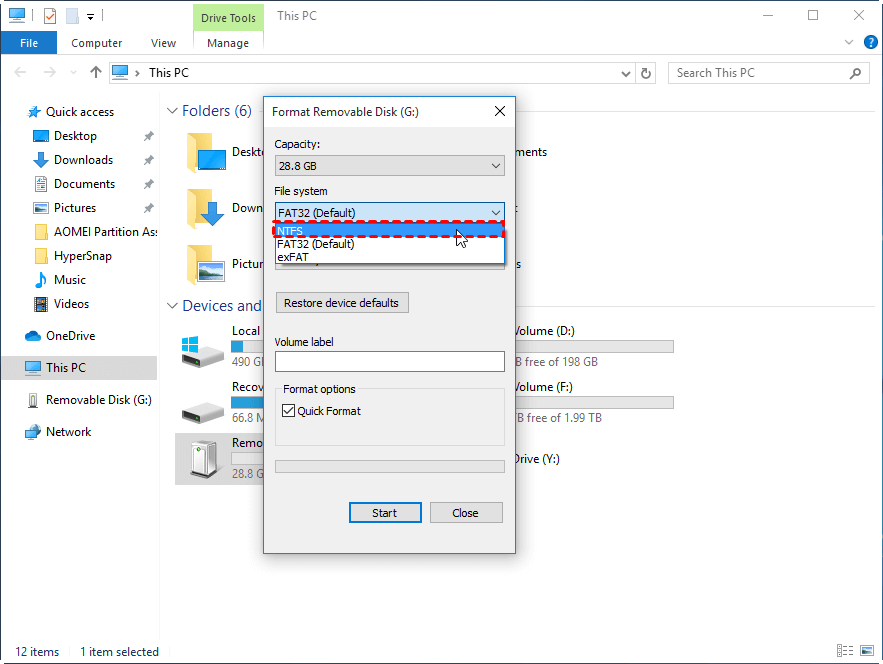 Step 3. Windows will warn you that the data on the USB will be erased totally after formatting. Click OK to continue. After converting, you can transfer large files to your USB drive and move the data you have backed into it.
Step 4. Then plug out the USB from the computer that shares files and then plug it into the computer that receives files. Move out the files to achieve file transfer.
Conclusion
This post primarily explains how to perform a 50GB file transfer remotely. You can choose from the file transfer tool AnyViewer, cloud storage services, and movable USB devices. We highly recommend you choose AnyViewer. It allows you to transfer files between two computers directly without third-party media. Besides, it not only allows you to transfer files between computers remotely but also allows you to control the remote device.