What is remote support?
Remote support involves the utilization of remote desktop software, granting technicians immediate access to a remote device, regardless of their location or the time. This eliminates the necessity for physical travel to the device in need of assistance.
Within a remote session, technicians gain the ability to assume control of the remote device, allowing them to execute necessary tasks such as installing updates, troubleshooting issues, and conducting maintenance tasks. Furthermore, most remote support solutions offer supplementary features aimed at enhancing the efficiency of IT professionals during remote support endeavors. These encompass functionalities like file transfer, remote sound, chat capabilities, session recording, screen sharing, and an array of others.
What are the types of remote support?
Remote support can generally be sorted into three types:
On-demand remote support
Screen sharing
Unattended remote support
On-demand remote support
On-demand remote support in the IT world means that when someone on the customer's side is ready, technicians step in to help out. They can start a session right away or pick a time that works better for everyone.
Screen sharing
Screen sharing is a nifty tool that lets technicians show their own computer screen to the folks they're helping remotely. It's handy for giving a demo whenever it's needed.
Unattended remote support
Unattended remote access means getting into a computer from afar without needing someone at the other end. With this, you can sort out problems, install updates, and do lots of other stuff on a customer's computer when they're not using it, so they don't have to stop what they're doing during their workday for the session.
What are the benefits of remote support?
Remote support delivers a multitude of advantages to organizations, IT professionals, and end-users, and our top five include:
Increased efficiency
Cost-effectiveness
Enhanced flexibility
Elevated customer service
Heightened security
Increased efficiency
IT pros can swiftly diagnose and fix problems without the hassle of traveling to the device's location. This time-saving approach boosts productivity, enabling IT professionals to address more requests in less time, thereby minimizing downtime for end-users.
Cost-effectiveness
Remote support can optimize salary investments by allowing agents to handle multiple issues simultaneously, reducing the requirement for a large number of agents to serve all end-users. Furthermore, it diminishes the necessity for physical IT team offices in every facility.
Enhanced flexibility
Remote support empowers IT professionals to offer assistance from any location, around the clock. This flexibility proves especially advantageous for organizations with employees spread across various time zones or working in remote areas.
Elevated customer service
The support system can significantly enhance end-user satisfaction by delivering swift assistance, eliminating the need for waiting on-site for an IT professional, or requiring end-users to relocate to the office for help.
Heightened security
IT professionals can use remote support to oversee and manage systems, applications, and networks from a distance. This proactive approach enables them to detect potential security threats and avert security breaches before they manifest.
What is the best remote support software for you?
What is the best remote support software? When it comes to free remote support software, AnyViewer stands out as a top choice. This free, comprehensive solution covers both attended and unattended remote support needs. AnyViewer empowers users to provide real-time remote support or receive assistance remotely from any location and at any time, effectively reducing downtime and enhancing overall productivity.
AnyViewer emerges as an exceptional free remote support solution for several compelling reasons:
Versatile device support: It enables support provision from a variety of devices, including computers, tablets, and mobile devices.
Speedy connections: It boasts swift connections with low latency driven by a high-performance engine.
Secure sessions: Robust encryption, including ECC end-to-end encryption and Two-factor Authentication, ensures the security of all remote support sessions.
Feature-rich functionality: AnyViewer offers valuable features like file transfer, text chat, screen sharing, multi-session, remote sound, and more.
Convenient shortcuts: Users benefit from easy-to-access shortcuts for practical operations such as lock, restart, task manager, and CMD, streamlining the remote support process.
Here's a step-by-step guide to help you provide both unattended and attended remote support using AnyViewer
How to provide unattended remote support
Step 1. Install AnyViewer on your devices.
Step 2. Register and log in using the same account on both devices.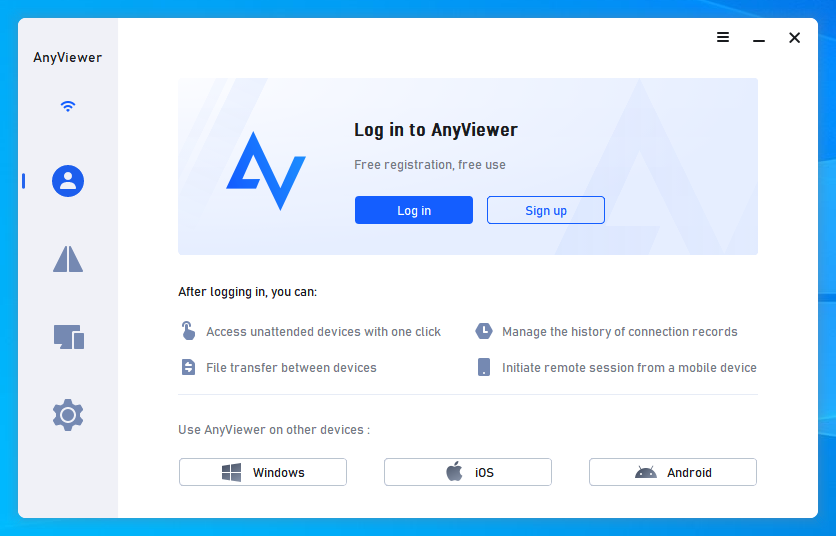 Step 3. On your local device, find the remote computer you want to connect to in the Devices section and use the One-click control feature to initiate the connection.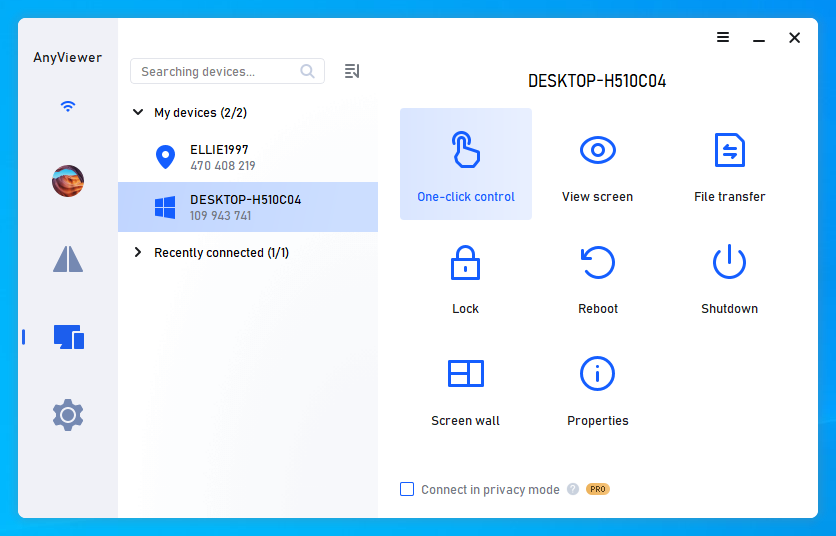 ★Tips:

Consider upgrading to a Professional or Enterprise plan to access a host of additional benefits, including:

Manage more devices easily.
Transferfiles quicker.
Keep your data safe with privacy mode.
Enjoy top-quality visuals.
Streamline control with device groups in an enterprise context.
How to provide attended remote support
Step 1. Install AnyViewer on both computers.
Step 2. Share the remote device ID.
Step 3. Enter the remote device ID on your computer and click Connect.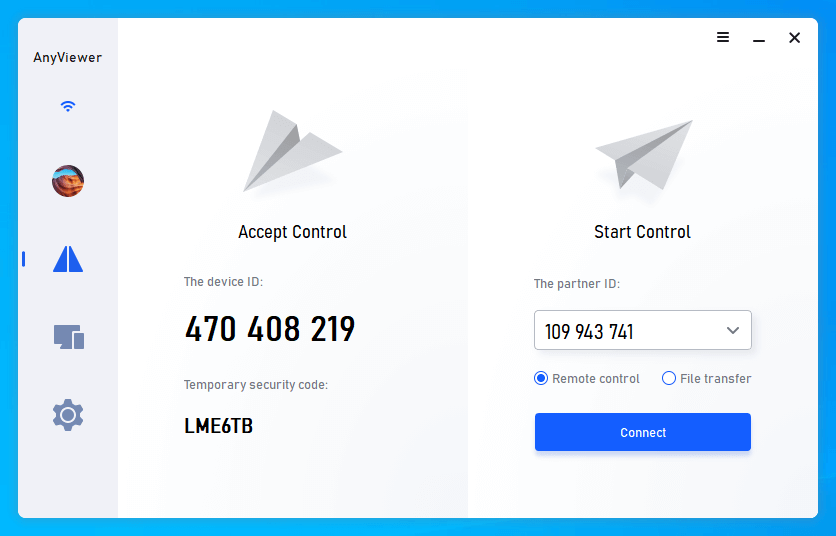 Step 4. Choose Send a request to your partner.
Step 5. Confirm the connection request on the remote side.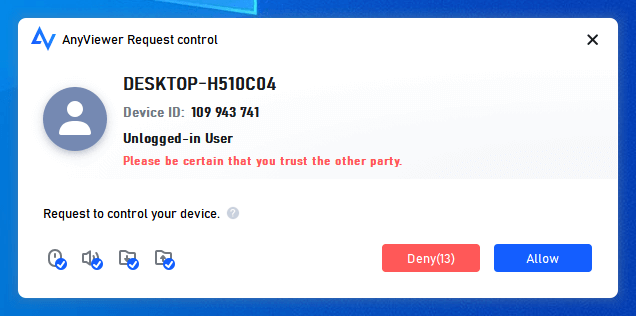 Step 6. Now you can fix remote computer issues.
★Tips:

Some features like file transfer are only available for logged-in users. If you want to use these features, you're advised to log in to an AnyViewer account.
The bottom line
What is remote support? Remote support, in essence, involves the provision of assistance, troubleshooting, and problem resolution to individuals or organizations from a geographical distance. It is gaining traction for its ability to offer customers fast, convenient, and tailored assistance, all without requiring an in-person representative.
Equipping yourself with the appropriate tools is crucial for streamlining your support procedures and ensuring comprehensive coverage. AnyViewer shines as the premier free remote support software, delivering dependable, user-friendly, and secure solutions.